Calling all couch potatoes! We've got the ultimate guide to all the hot new TV shows coming in 2019, and let me tell you, it's going to be a good year. Not only have we had the television event of the decade, Game of Thrones season 8, but we're also getting another season of Jessica Jones, a HBO series based on the Watchmen graphic novel, and the first Disney+ streaming service series Star Wars: The Mandalorian.
In fact, there's so many amazing new TV shows coming this year (don't forget Stranger Things season 3 and The Witcher Netflix series!), you might be struggling to keep them all straight. Don't panic though because we've got you covered with a breakdown of the best new TV shows, in release date order, right here. Start scrolling and make sure you don't miss a single one!
Upcoming movies | New games 2019 | Movie release dates | Video game release dates | Upcoming horror movies | Upcoming video game movies | New on Netflix | New Marvel movies | New Star Wars movies | New Disney movies | New DC Extended Universe movies
Jessica Jones season 3
Where and when can I watch it? TBC May 2019 on Netflix
Although all of the Netflix-Marvel series have now been officially cancelled(*sob*), we're still getting Jessica Jones season 3. It's going to be an interesting release considering it's the only show which will hit the streaming service after being cancelled and we're obviously not getting any more. Will season 3 tie everything up in a nice neat bow or will it tease a season 4 storyline we'll never get to see?
We just don't know as there's been very little promotion so far. All we know is that it'll be back "very soon" thanks to a recent Tweet from Marvel teasing us with the promise of seeing everyone's favourite alcoholic superhero return. Here's hoping the season gives Jones the excellent send-off she deserves.
Read more: Jessica Jones season 2 ending explained - everything you need to know before season 3
Good Omens
Where and when can I watch it? May 31, 2019 on Amazon Prime Video
This Amazon Prime original is based on the novel of the same name by Terry Pratchett and Neil Gaiman - something of a fantasy writing dream-team - and follows the exploits of the demon Crowley (David Tennant) and the angel Aziraphale (Michael Sheen). While opposing forces, the pair have grown accustomed to life on earth and end up working together to try and prevent the impending apocalypse.
With Tennant and Sheen joined by John Hamm as the Archangel Gabriel, Frances McDormand as the voice of God, and Benedict Cumberbatch as Satan, Amazon have clearly spared no expense when it comes to casting, and the trailer promises banter galore! If you're a fan of American Gods, then this is definitely one to watch out for, and if you're not... well, hopefully Amazon will do a better job at adapting this Gaiman material.
Read more: The 30 best shows on Amazon Prime Video right now
Agents of S.H.I.E.L.D. season 6
Where and when can I watch it? TBC May 2019 on ABC (US)/TBC (UK)
Coulson is dead. Again. But that's not stopping Clark Gregg returning for Agents of S.H.I.E.L.D. season 6. The sixth season of the MCU spin-off will premiere this May and as you can see from the first trailer, Gregg is back playing a mysterious new character, with the actor telling Digital Spy: "[I] suddenly find myself playing this other very mysterious person, who is not Phil Coulson."
Who and what the S.H.I.E.L.D. team will be facing in this new season is still unknown, but it's clear that the loss of Coulson (and Fitz who's still lost and frozen in space) continues to weigh on them. Don't worry though, if you're concerned that season 6 could be the last time we see the gang as, no matter what, Agents of S.H.I.E.L.D. season 7 has been confirmed.
Black Mirror season 5
Where and when can I watch it? June 5, 2019 on Netflix
After all the excitement and theorizing Black Mirror: Bandersnatch brought about, Black Mirror fans have been eagerly awaiting the next inevitable series to hit Netflix. Thankfully news broke that Charlie Brooker had already been hard at work on the fifth season, and we just recently saw the release of the first teaser trailer that confirmed it will be hitting small screens everywhere in June.
We already knew there was a rumour circulating that Miley Cyrus may even pop up thanks to a hint she made about the project during a radio interview with Howard Stern. And would you look at that! She's in the trailer. Other faces you might recognise include Topher Grace, Damson Idris, Anthony Mackie, Madison Davenport, Pom Klementieff, Yahya Abdul-Mateen II, Angourie Rice, Ludi Lin, and Nicole Beharie. That's quite a line-up. The fifth season is said to include three new stories, and from what we can see in the trailer, it looks set to continue to explore the effects of social media. You can also see a little robot helper. Hmm. Wonder what will happen there.
It's sure to be just as mind-bending as the seasons that came before it.
Stranger Things season 3
Where and when can I watch it? July 4, 2019 on Netflix
The gang is back for another dimension-hopping adventure in 2019 with Stranger Things season 3. In addition to the original four, Eleven will return, and it's hotly rumoured that her lost sister Kali (AKA, Eight) will also be back to resolve her storyline. Plus, we can expect three new characters played by Maya Hawke, Jake Busey, and Cary Elwes, fleshing out the town of Hawkins with new blood.
There's no word on what might come out of the Upside Down, nor how the secret government agencies will attempt to exploit it, but we've recently had a Stranger Things season 3 trailer, which hints that the gang is growing up... and growing apart. Other things worth noting include the fact that Hopper and Joyce look like they're finally getting together, and there's definitely something bad going down at the Mall, because, of course!
Read more: The best Stranger Things theories to turn your world Upside Down
Pennyworth
Where and when can I watch this? 28 July on Epix (US) / TBC (UK)
A Batman prequel series following the story of Bruce Wayne's butler Alfred Pennyworth? We're in. Set in London in the 1960s, the show focuses on Alfred Pennyworth's life in the lead-up to serving the Wayne family, and how he formed a security company that Bruce's father happens to be a client of. Ooh.
The period piece is being brought to us by TV series Gotham's Bruno Heller and Danny Cannon, and stars Jack Bannon and Paloma Faith. We've already gotten two teaser trailers for the series which make the future butler's exploits look suitability stylish with a similar dark flare to Gotham. It's being billed as a crime drama, which makes sense given that it follows a security company. It'll be interesting to see how this one turns out.
The Boys
Where and when can I watch this? July 26 on Amazon Prime
Seth Rogen and Evan Goldberg (who brought us the latest adaption of Vertigo and DC's Preacher), have once again joined forces to bring another series to our small screens based on a comic book later this year - and it's shaping up to look quite interesting.
The Boys follows the story of a group of vigilantes who band together to track down superhero who they believe are abusing their powers. Starring Karl Urban, Laz Alonso, Tomer Capon and Chace Crawford, with a guest appearance from Simon Pegg, the show looks to be delivering a gritty superhero affair with some humour thrown in. The trailers we've seen so far make it look pretty promising, and the dark, tongue-in-cheek comic its based on is sure offer up some interesting plot-lines.
Disenchantment season 2
Where and when can I watch it? September 20, 2019 on Netflix
Simpsons creator Matt Groening is bringing his latest fantasy themed animated show back for a second season, and Netlfix has finally revealed that we'll be returning to its fictional setting of Dreamland this September.
When we left Bean, Elfo and Luci they were stuck in some tricky situations which will no doubt be addressed and potentially resolved in the next season. We don't know too much about the plot yet as we haven't had any sort of trailer for the upcoming episodes, but Disenchantment's Twitter account posted a little teaser poster showing Lucy setting out on voyage with the tagline "her throne is calling". Oooh.
The first season did fall a little flat in places, but it held a lot of promise, so here's to hoping the second one is a little bit more magical.
The Walking Dead season 10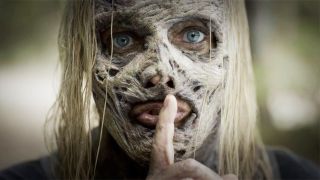 Where and when can I watch it? October 2019 on AMC (US)/October 2019 on Sky Atlantic (UK)
The Walking Dead season 9 might still have one episode left, but that hasn't stopped AMC from confirming season 10 for later this year. Yes, forget giving it's fans (and cast) a break, AMC doesn't like to leave us without at least one Walking Dead series to talk about, but with the season 9 finale still to come, there's very little we can say about this new TV show.
It goes without saying that it'll continue the exploits of the remaining apocalypse survivors, but how many of them will make it out of season 9 alive? We'll have to wait and see, but with new showrunner Angela Kang proving she has what it takes to make one of the biggest TV shows in the world great again with the current season, we're expecting big things from season 10.
Read more: Everything we know about The Walking Dead movies so far
Watchmen season 1
Where and when can I watch it? TBC 2019 on HBO (US)/TBC 2019 on Sky Atlantic (UK)
Based on the comics, rather than spinning off the movie of the same name, Watchmen follows a group of superheroes who live in an alternate reality where their powers are outlawed and vilified. The events take place 30 years after the comics, and we already know that Don Johnson, Jeremy Irons, and Regina King are all signed up to play (presumably older) characters in the show.
Showrunner David Lindelof has said that Watchmen will be contemporary, ask new questions, and "explore the world through a fresh lens". So expect something pretty special, as evidenced by the brief glimpse we get in HBO's 2019 preview trailer. Given that the broadcaster is launching Game of Thrones S8 in April, it's sensible to assume this is coming after the war for Westeros comes to an end.
Continue to Page 2 for more new TV shows