Now is the right time to get into 4K gaming. Why? Because it's Cyber Monday, of course! With all those Cyber Monday gaming deals flying around there are plenty of incredible bits of tech at massive discounts, meaning you can get your very own 4K gaming rig at an absolute steal. Sticking to your budget has never been so easy.
Mind you, digging around on various sites to try and find the best combination of deals is hard. We're not going to lie and say it isn't. To make it easier for those of you who want to have your very own 4K setup, we've scoured the web to find the best complete 4K bundle for your dosh. These include TVs, games, streaming subscriptions, and consoles to basically include everything you could possibly need for under $1000 (or under £750 if you're in the UK).
If you're not scared to spend a bit more, we've also got alternative 4K bundles on offer that are around the $1350/£1150 mark. You know, just in case. Click here to get straight to the UK deals.
Best PS4 Cyber Monday Deals | Best Xbox One Cyber Monday Deals | Best Nintendo Switch Cyber Monday Deals | Best 4K TV Cyber Monday Deals
US - The $1000 4K set-up
TV - Samsung UN49MU7000 40 inch 4K UHD TV - $497.99
Your TV is the most important part of any 4K set-up. Doesn't matter what stuff you actually want to watch or play - it's the way your stuff is displayed that counts. There is actually a reasonable difference between 4K TVs, with some offering features that significantly enhance your experience, if you know what to look for. This 49 inch Samsung (check the full review here) set has amazingly bright HDR colors, it's easy to use, and the TV design itself is really attractive. You're not going to get a better set for less than about $700, so this is a bargain.
Buy it US: $497.99 from Amazon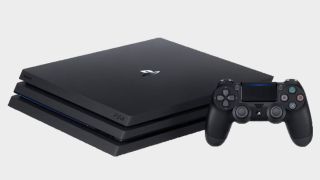 PS4 Pro console - $349.99
Ok, so the cheapest way to get 4K right now is via the PS4 Pro. While the Xbox One X offers loads of great features, it's expensive, and you'll need that extra cash to get as great a TV as you can. The vanilla, no games, model of the Pro is the best deal right now, especially as you can pick up some brilliant 4K and HDR enabled games for it much cheaper now.
Buy it US: $349.99 from Amazon
The Last of Us Remastered - $22.99
You've got your console and TV, and now you want something to really show off your 4K pairing. Do yourself a favor and grab The Last of Us Remastered for about $23 from Amazon. It's a brilliant game, made even more lovely when you play in 4K. Just try to ignore the fact that you're shooting humans who may know exactly what they're doing and have no control over their bodies. Ahem.
Buy it US: $22.99 from Amazon
Netflix Ultra - $13.99 p/m
Sadly, Netflix recently raised its prices through most major countries in the West. That includes the US, where a monthly subscription now costs $13.99 for Netflix Ultra - the premium service that allows you to access HDR and 4K content. Still, it's worth the few extra bucks. Shows like The Defenders, Punisher, and and Sense 8 look amazing in HDR, and there are heaps of movies being added to the service every week.
Buy it US: $13.99 p/m direct from Netflix
TOTAL COST: $980.91
But what if you have $1350 to spend?
TV - you really should be considering this Samsung 55 inch curved TV, if you have the money. The picture quality is incredible and the viewing angles are enhanced by the curved design. Seriously, get it now for $697.99 from Walmart.
Console - with the added budget you can go all-in and grab an Xbox One X (which is the most powerful console in the world). This deal includes COD WW2 and Star Wars Battlefront 2 and it's $549 from eBay. Nice!
Game + extra storage - because you are looking to spend more, grab this 1TB external harddrive to double your storage. It's $54.99 from Amazon. And you should also bag Uncharted: The Lost Legacy, which is on offer for a mere $19.99 from Gamestop.
Total cost: $1,335.96 (includes Netflix Ultra)
UK - The £750 4K set-up
LG 49UJ630V 49 inch 4K TV - £419.00
Again, you need the best TV your budget can buy, and this LG set is a real bargain. It was £799 back in July, and now you can pick up the 49 inch version for a measly £429. Ok, doesn't sound that cheap but you get a great set with vibrant HDR and full 4K display for less than £500. It's easy to use, looks lovely, and has built-in Freeview as standard, obviously.
Buy it UK: £419.00 from Amazon
PS4 Pro with Gran Turismo - £299.95
Because we're keeping your budget sub-£750, the PS4 Pro is the only real console option here. Yes, you could splash out on an Xbox One X, but that will seriously eat into your TV budget, and there isn't enough of a difference between the consoles right now to justify that extra spend. This bundle comes with Gran Turismo, so you can appreciate just how stunning speeding cars look (but try not to get too distracted otherwise you'll crash, okay?).
Buy it now UK: £299.95 from John Lewis
Netflix Ultra - £9.99 p/m
Yes, you should probably sign up for Netflix Ultra because it's one of the few ways to get 4K and HDR movies and TV in the UK. At £9.99, it's well worth it, especially as Netflix has both its own TV shows like The Punisher and GLOW, but also stuff like Star Trek Discovery and Sense 8 - all of which is in 4K and looks stunning.
Buy it now UK: £9.99 p/m direct from Netflix
TOTAL: £738.98
But what if you have £1150 to spend?
TV - this Panasonic 4K set is wonderful. It's 55 inches wide, and the depth of both the colours and blacks are amazing. Well worth the money at £629.00 from Currys / PC World.
Console - go on, splash out on this Xbox One X bundle. It comes with the console, Forza 7 (which looks incredible in 4K), Evil Within 2 and a NowTV entertainment pass. It's £497.99 from GAME.
Total cost: £1,136.98 (includes Netflix Ultra)