The best PS5 price and bundles really can make a major difference to your bank account. It can also be the difference between walking away with an accessory, a game or two or saving a good chunk of cash. With Sony looking to reach PS5 demand for the first time since the console launched, there's arguably never been an easier time to pick up the next-gen console.
While still not completely straightforward to secure, we've identified many PS5 restock patterns as well as how to avoid sketchy online resellers who overcharge for the system, so you can walk away with a console in hand. More importantly, you can get a PS5 console or PS5 bundle at the cheapest price.
In terms of overall stock levels, 2023 is already shaping up to be the best yet with many retailers having stock readily available now. Not only that, but you will find plenty of discounts across the PS Plus deals, the best PS5 games, as well as the best PS5 accessories, all of which give you exactly what you need for Sony's next-gen machine.
It's also worth noting that the RRP of PS5 consoles increased in multiple regions in the Summer of 2022. This has now come into full effect and bumped up the prices in Europe (including the UK), Canada, Mexico, China, and Japan. US prices of the PS5 remain unchanged. Sony is blaming this on the current global economic situation, but with supply and demand still not evening out, this price rise is going to sting for a lot of folks.
Away from the console's price, if you've managed to secure a console, then you'll still find useful information here on where to find the best PS5 deals available to kit out your setup right here.
PS5 bundles and deals
We're starting to see more and more genuine PS5 bundles, which is excellent news. While we had previously only seen the likes of the Ratchet & Clank: Rift Apart (with a physical copy of the game) bundle and the Horizon Forbidden West bundle, we've now got more with FIFA, God of War Ragnarok, and Call of Duty all getting in on the action. We even got a new one in February 2023 in the form of two PS5 DualSense controllers being included.
As a result, the future of PS5 bundles looks very bright right now. Whereas before we had random retailer-only bundles consisting of slightly-adjacent products like monitors or weird accessories, we now have several bona fide, and official, PS5 bundles.
That's not to rule out retailer-made PS5 bundles though: you can still get some wonderful, fulsome bundles made at stores or online retailers that will be worth a look if you're going big on a new-gen upgrade. Plus, looking to the future, there's plenty of reason to go big with a PS5. For starters, all the upcoming PS5 games (including Final Fantasy 16 and Marvel's Spider-Man 2) are shaping up to be something special. Secondly, the system's blindingly fast loading times improve the user experience by leaps and bounds even on older PS4 games.
US PS5 deals and bundles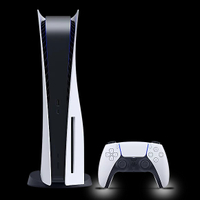 PS5 standalone console | $499.99 at PlayStation Direct
To get the console by itself, simply head to Sony's own PlayStation Direct store to make the purchase. It's currently available at its MSRP but there are better offers out there that throw in a game or two.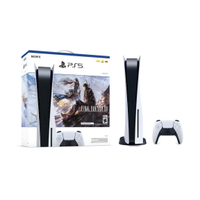 Final Fantasy 16 PS5 bundle | $559.99 at Best Buy
Sony's new Final Fantasy 16 PS5 bundle is now up for pre-order with delivery expected on launch day. It's a great way to secure the console and what is likely to be one of the biggest games of 2023. The Final Fantasy 16 PS5 bundle will release on June 22nd, 2023.

Also available: GameStop | PS Direct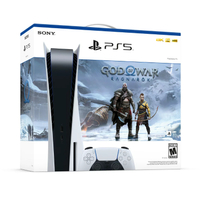 God of War Ragnarok PS5 Bundle | $559.00 at Amazon
Amazon has God of War Ragnarok PS5 bundle stock readily available. It was $50 cheaper last week, so might be worth holding on for Memorial Day 2023.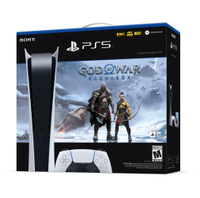 God of War Ragnarok PS5 Digital Bundle | $459.00 at Amazon
For those after the digital version of the console with God of War Ragnarok, head to Amazon to secure a console now. Stock is readily available and available to all, no Prime membership or invitation is needed.
Also available: PS Direct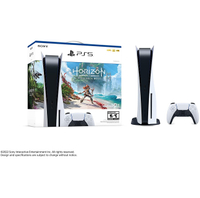 Horizon Forbidden West PS5 Bundle | $549.99 at Best Buy
This PS5 bundle with Horizon keeps coming in and out of stock, proving the popularity of Aloy's action adventure. With the DLC, Forbidden Shores, launching on PS5 exclusively in April, it's a great time to jump in.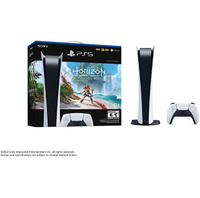 Horizon Forbidden West PS5 Digital Bundle | $449.99 at Amazon
If you don't mind sacrificing a disc drive, then the PS5 Digital Edition is the one for you. It's currently sold out at most places, but Amazon has some stock.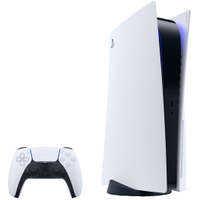 Elden Ring PS5 Bundle | $559.98 at Best Buy
While not an official Sony bundle, Best Buy is giving away a PS5 disc console with Elden Ring, arguably the biggest game to come out of 2022. This will keep you busy for at least 100 hours, so it's money well spent.
UK PS5 bundles and deals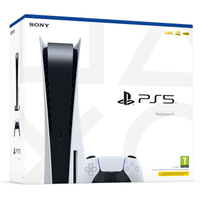 PlayStation 5 | £479.99 £469.00 at BT Shop
Save £10.99 - The BT Store has granted the first price drop we've seen for a PS5 disc console since Sony increased the price in August 2022. Hopefully a good sign of things to come. You only need to have a BT account to be able to make the purchase.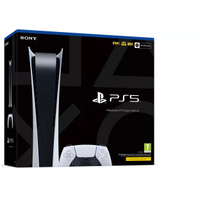 PS5 Digital | £389.99 at Argos
Not a lot of deals on PS5 Digital consoles at the minute but Argos does have stock ready to go. If you're happy to sacrifice a disc drive and go all-in on digital games, this is the best option for you. It's a saving of £90 over the standard PS5.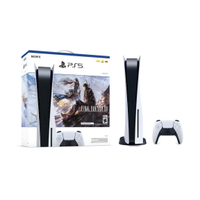 Final Fantasy 16 PS5 bundle | £539.99 at PS Direct
Looking to secure the Final Fantasy 16 bundle in the UK? Then head to the PS Direct store which has the exclusive pre-order page live. We're expecting other retailers to follow soon. The Final Fantasy 16 PS5 bundle will release on June 22nd, 2023.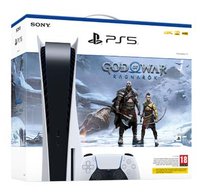 PS5 + God of War Ragnarok| £549.98 £499.99 at BT
Save £50 - Get a PS5 with one of the best games on the console for under £500. This is a good way to get the God of War sequel for £20. You don't need to be a BT customer either.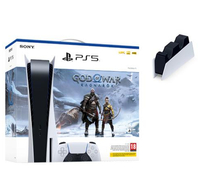 PS5 + God of War Ragnarok + Charging Station | £574.97 £499.99 at BT Store
Save £75 - A great saving at the BT Store can be had with this PS5 bundle. You're taking home a PS5 disc console (£479.99), a copy of God of War Ragnarok (£69.99) and a PS Charging Station (£24.99) all for less than £500. This is one of the best bundles in the UK right now.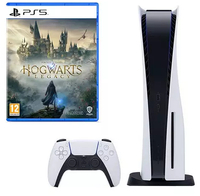 PS5 + Hogwarts Legacy | £539.99 £514.99 at Smyths Toys
Save £25 - For fans of the Wizards World, this unofficial Hogwarts Legacy PS5 bundle is one to consider, packaging the game and a disc console together while saving you a decent £25.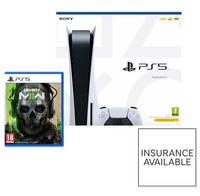 PS5 + Call of Duty: Modern Warfare II (2022) | £539.98 £519.99 at Very
Save £20 - Want the latest Call of Duty on a next-gen console? Very has a discounted price on a PS5 bundle with the shooter, knocking £20 off the asking price. Not bad if that's the game you want.
PS5 accessory deals
What is the PS5 price?
The PS5 price is $499.99 in the US, £479.99 in the UK, and $749.99 in Australia. If you can live without a disc drive and are happy to only have access to digital games then you might want to consider the PS5 Digital Edition price of $399.99 in the US, £389.99 in the UK, and $599.99 in Australia.
For sure, both aren't cheap, but we were certainly bracing for even higher prices before Sony finally confirmed them. Given the immense popularity and scarcity, we certainly wouldn't expect any sort of price drop for the next few years though.
No matter how you look at it, that's very comparable to the Xbox Series X price. And even though the PS5 Digital Edition is still a fair bit more than the Xbox Series S price, it's not bad going considering the fact that this is the same PS5 console bar a disc drive.
Regardless of which system you get, they're all great value; the PS5 and Xbox Series X rival the best gaming PCs in terms of tech. Considering the fact that graphics cards like the brand-new RTX 3080 cost many hundreds of dollars alone, we dread to think how much all of the PS5's components would cost separately. Not that anyone can buy RTX 3080 stock right now.
The high price of a PS5 is in part due to Sony teaming up with hardware giant AMD again to create best-in-class PS5 specs. More specifically, a modified third-generation Ryzen 3 processor and advanced Navi-based graphics that has enabled ray tracing, a supremely fancy lighting system.
The real game-changer is the addition of the PS5 SSD, though. This slashes load times by a considerable amount. If you want a taste of how SSDs can speed up your life, be sure to check out our guide to the best PS4 SSD.
Sure, some have complained that the PS5's 825GB SSD isn't as big as the 1TB NVMe equivalent in the Xbox Series X. But let's look on the bright side. The PS5 price would be even higher if Sony had opted for a larger SSD.
Curious about how the two next-gen consoles stack up against each other? Be sure to check out our guide on PS5 vs Xbox Series X.
PS5 Digital Edition - what's the difference?
Simply put, the PS5 Digital Edition lacks a disc drive and is cheaper than the regular full-fat version. In fact, it's $100 / £90 less expensive. While this isn't an earth-shattering discount, that's because it's otherwise identical.
Unlike the Xbox Series X and the entry-level Series S, the PS5 Digital Edition is every bit as powerful as the standard PlayStation 5 console; so far as we can tell, there haven't been any cutbacks in terms of raw specs. That means it can handle every next-gen game in 4K with all the associated benefits. Basically, you're getting the same console without the ability to play physical discs.
However, much like with the Xbox One S All-Digital from the current generation, we can't see this digital alternative being a decent choice. PSN games in most territories cost significantly more than their physical counterparts (obscenely so in the UK), and prices take much longer to drop. Not to mention the fact that you shut yourself out from playing pre-owned games, your old DVDs, and 4K Blu-rays.
However, even though the all-new, revamped PS Plus service and tiers are approaching something of a proper rival to Xbox Game Pass, we'd still recommend sticking with the standard PS5 if at all possible. It leaves you with more flexibility.
How specs impact the PS5 price
Hoping for a slightly lower PS5 price? We (and our bank balances) hear you. However, it's actually fair value when you break everything down. If we were to build the PS5 from components that are on the market right now, it'd be much, much more expensive.
Let's look at the GPU first. Right now, you'd be staring down the barrel of an RTX 2080 equivalent graphics card (e.g., the best graphics cards) to handle ray tracing at any kind of decent frame rate or resolution. To produce ray tracing at 4K - before we even get to the 8K Sony has promised - you'd need a powerful chip like a Radeon VII, or whatever the Navi equivalent will be inside the PS5. Want it to hit 30 frames per-second and medium-high settings? You'd be looking at $800 / £600+ at a minimum.
Now, onto that SSD. If you go bargain hunting right this second, you'll pay $350 / £300-ish for a 1TB NVMe SSD from the likes of Samsung. Yes, you can go cheaper, but Sony is claiming that the PS5's SSD will outperform all current PC SSDs. As such, $350 / £300 or more is about right.
With that in mind, we're already looking at $1,000 / £1,000+ build. And that's before you take other parts into account. We assume 32GB of RAM at a minimum, a Ryzen 7 equivalent CPU with 8 cores (which we know about), and all the cooling, power, wireless tech, and casing required to keep everything together. That's another $500 - $800 / £400 - £700 at least.
Then there's the DualSense controller. It contains haptic feedback that's going to replace the traditional vibrations we've had for a long time, increasing immersion in games literally through touch and feel. The adaptive triggers will also seek to offer differing resistance depending on what you're doing in-game, like drawing a bow or driving over gravel. That's bound to increase the PS5 price.
This doesn't mean the PS5 should cost over $1,000 / £1,000 though. Given the strides in GPU development and the inevitable cost-cutting Sony has arranged, the PS5 is a fair bit cheaper than that. Plus, the cost for future models will keep going down as the company figures out manufacturing tricks to lower the price of production.
Are there any bundles with PS5?
Yes! There are plenty of PS5 consoles and game bundles now! We had to wait for ages to see them but these official PS5 bundles with God of War Ragnarok, Horizon Forbidden West, and Call of Duty: Modern Warfare II thrown in are straight from Sony - i.e. not like a collection of things thrown together by retailers to create 'bundles'.
On top of this, the savings are real too, as a PS5 + Horizon Forbidden West bundle shaves off a handful of your local currency when bought together (the game is a digital download code though, naturally). This bodes well for other PlayStation first-party games to create their own bundles down the line too, such as Marvel's Spider-Man 2.
Looking for some particular PS5 gear? Check out the best PS5 headsets, the top PS5 wireless headset contenders, and the best TVs for PS5 money can buy right now.