Cyber Monday gaming PC deals are almost upon us, which means it's nearly time to turn your attention to the second round of holiday sales heading our way. We're already seeing plenty of offers in today's massive event that are well worth your time, though, so if you're keen to dive in you'll find all our top picks from around the web just below.
In previous years, we've seen great discounts on gaming PCs during Cyber Monday. If you're looking for an entry level PC as you transition from console, you'll definitely be in luck. Discounts on entry level configurations are commonplace, but you never know what you might find at this time of year. You may find, even if you only have the funds for an entry-level machine, that your budget stretches further than you expect. We'd advise that you keep an open mind, and don't rule out certain specs that may seem too expensive at the moment.
If you're interested in more Cyber Monday offers, it's worth keeping an eye on Cyber Monday gaming laptop deals, as well as the Cyber Monday CPU deals and Cyber Monday gaming keyboard and mouse deals.
Early Cyber Monday gaming PC deals in the US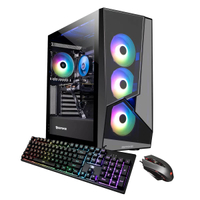 (opens in new tab)
iBUYPOWER SlateMR247i Gaming Desktop | $999.99 $749 at Walmart (opens in new tab)
Save $250.99 - If 'under $1000' is your magic price point for a gaming PC then this iBUYPOWER is perfect. That price drop gets you an Intel i5 processor, RTX 3050 8GB GPU, a 480GB SSD and 8GB of DDR4. YOu also get Windows 11, a mouse and Keyboard to help you get set up.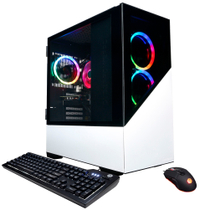 (opens in new tab)
CyberPowerPC Gamer Master Gaming Desktop | $1,149.99 $849.99 at Best Buy (opens in new tab)
Save $300 - The discount on this CyberPowerPC bring a ready-to-go gaming PC with a AMD Ryzen 5 5600X processor and NVIDIA GeForce RTX 3060 in at under $850, which is great deal. There's also 16GB of DDR4 RAM, a 1TB SSD and custom RGB case lighting to show it all off.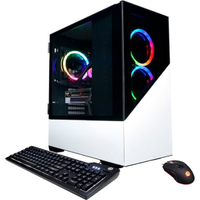 (opens in new tab)
CyberPowerPC RTX 3070 gaming PC | $1,449.99 $1,199.99 at Best Buy (opens in new tab)
Save $150 - With a Ryzen 7 5700 processor and RTX 3070 GPU, this CyberPowerPC is sitting at a particularly strong price at Best Buy. It's also been reduced by $100 since we found it last week. You're also getting a 16GB RAM / 1TB SSD memory and storage combination here to boot.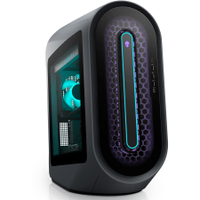 (opens in new tab)
Alienware Aurora R13 | $1,871.99 $1,299.99 at Dell (opens in new tab)
Save $572 - The Alienware Aurora R13 is one of our top gaming PC picks. In this deal from Dell, you save $572 on a machine with an RTX 3060 Ti, a 512GB SSD, 16GB of DDR5 RAM, and an Intel Core i7 processor.

Early Cyber Monday gaming PC deals in the UK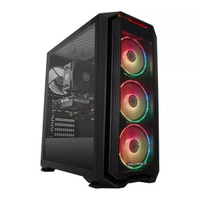 (opens in new tab)
PC Specialist Tornado R3 GTX 1650 gaming PC | £699 £599 at Currys (opens in new tab)
Save £100 - This is an entry level build, with a Ryzen 3 processor and GTX 1650 GPU. However, you're still getting a solid 512GB SSD in here, where we would usually only see 256GB. With a £100 saving you're grabbing the PC Specialist Tornado R3 in all its RGB glory for just £599.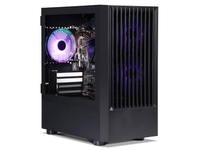 (opens in new tab)
Horizon Noir i3 RX 6600 Gaming PC | £880 £679.99 at CCL (opens in new tab)
Save £200 - This is low-end gaming setup is perfect for some undemanding gaming with an Intel Core i3 and AMD Radeon RX 6600. So more for old games and the less demanding end of the spectrum. The RX 6000 does comes with a code to claim up to two games, though, to sweeten the deal even more.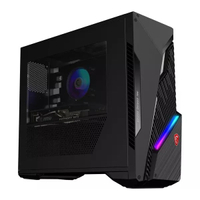 (opens in new tab)
MSI Mag Infinite S3 RTX 3060 gaming PC | £1,299 £1,199 at Currys (opens in new tab)
Save £100 - There's an excellent 1TB SSD and RTX 3070 GPU inside this MSI Mag machine - great value considering you're saving £100 on that £1,299 at Currys. With an i7-12700F CPU and 16GB RAM, you're getting plenty of support under the hood as well.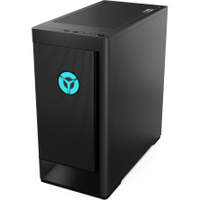 (opens in new tab)
Lenovo Legion T5 | £1,659 £1,399.97 at Box (opens in new tab)
Save £260 - Here you have an AMD Ryzen 7 5800 Octa Core Processor, a Radeon RX 6800 XT GPU, and 16GB of RAM. That RAM is standard for Lenovo's Legion machines, and has to be one of their biggest strengths when it comes to their architecture.

Cyber Monday gaming PC deals: FAQs
When will Cyber Monday Gaming PC deals be live?
Cyber Monday is on November 28 this year. Although, as Black Friday and Cyber Monday have been merging closer together in recent years, we'd recommend you have your wits about you for the week leading up to Black Friday as well, which is happening on the 25th.
Should I wait until Cyber Monday to buy a gaming PC?
Given that Cyber Monday happens right after Black Friday (which starts earlier and earlier every year), we personally wouldn't recommend waiting specifically for Cyber Monday gaming PC deals. We don't expect stock shortages to be as big an issue as they have been in previous years, but Black Friday and Cyber Monday are competitive, and we'd always bet on the early birds to catch the worms.
If it's Cyber Monday or nothing - Smaller virtual storefronts, such as Newegg and Overclockers UK, are more likely to have deals and stock. Previously we've seen these two in particular with offers on customizable configurations of ABS and OcUK machines.
If you're desperate, keep one eye fixed on the storefronts from early on in the week of Black Friday. With the other eye, if you can, pay attention to our coverage, as we'll be bringing you the best deals we can find as and when they drop.
Cyber Monday gaming PC deals: What to expect
Amazon and Dell (in the US) tend to be the frontrunners in terms of hosting the largest Cyber Monday gaming PC deals. However, the vast majority of deep discounts on prebuilt gaming PCs tend to fly off the shelves on Black Friday. Demand for gaming PC deals goes up every year, so if there's a great offer that goes live on the Friday, we'd be shocked if stocks last until Cyber Monday. That doesn't mean that new deals aren't available on Cyber Monday, but it is something to be aware of as the weeks count down.
With 40 series GPUs releasing over the next month, and 30 series GPUs finally in a stable supply state, we'd expect to see plenty of deals and offers on solid gaming PCs. SSD is in a fantastic place price-wise at the moment as well, so we have high hopes that Cyber Monday will bring about some amazing deals for gaming PC shoppers.
Down below, we've pulled out lists of the best Cyber Monday gaming PC deals we saw in the UK and US last year. If you want a good idea of what was on offer, and how much you could potentially save, please do read on.
---
Optimize your battlestation for less with Cyber Monday gaming monitor deals and Cyber Monday gaming RAM deals.