A few Cyber Monday gaming PC deals are still hanging around, and could help you save hundreds. Cyber Monday this year gave us a great continuation of what we saw for Black Friday. There were discounts on a whole range of prebuilt desktop units at loads of retailers, and we saw some of the best gaming PCs equipped with RTX 30 series graphics cards come down to their most affordable prices yet.
However, there's not much time left to make the most of these deals since Cyber Monday has officially ended. If you're late to the party, we would suggest acting fast before all of the offers disappear. If you're not married to a new desktop, then we have plenty of other things to look at around the site, like Cyber Monday gaming laptop deals if you're after something more portable. Alternatively, you could always grab a smaller upgrade with the few Cyber Monday CPU deals that are still live. Or, there's always the peripherals while they're going cheap - why not grab some of the last Cyber Monday gaming keyboard and mouse deals?
Whatever you're in the market for, you don't have a lot of time. Deals are disappearing fast, so without further ado, here are the last Cyber Monday gaming PC deals we're seeing right now.
Cyber Monday gaming PC deals in the US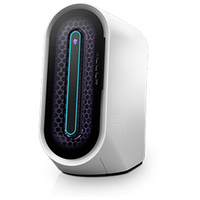 Alienware Aurora R13 | $1,479.99 $999.99 at Dell
Save $480 - Smashing through the four-figure mark - in the best way - this Alienware Aurora R13 is a cracking deal. It makes a couple of compromises in terms of its 8GB of RAM, and pretty meager 256GB SSD (but you can change these in the customisation stage) but getting an Alienware gaming PC with an RX 6500 XT graphics card and i5-12400F CPU all for less than $1000 is great.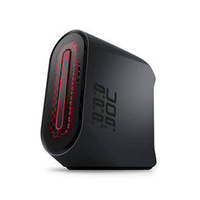 Alienware Aurora Ryzen Edition R14 | $3,829.99 $2,699.99 at Dell
Save $1,130 - But if you're after the beefiest matching you can get while saving the most amount of cash, then you'll need to definitely consider this AMD build from Alienware. Bagging you a bunch of premium components in the shape of an RX 6900 XT GPU, Ryzen 9 5900X CPU, 64GB of RAM (!), and a 1TB SSD + 2TB HDD storage combo, this is a great discount on a beast.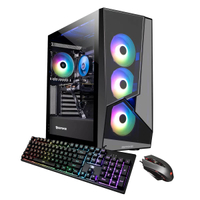 iBUYPOWER SlateMR247i Gaming Desktop | $999.99 $749 at Walmart
Save $251 - If 'under $1000' is your magic price point for a gaming PC then this iBUYPOWER is perfect. That price drop gets you an Intel i5 processor, RTX 3050 8GB GPU, a 480GB SSD, and 8GB of DDR4. YOu also get Windows 11, a mouse, and a keyboard to help you get set up.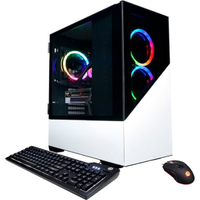 CyberPowerPC RTX 3070 gaming PC | $1,449.99 $1,199.99 at Best Buy
Save $250 - With a Ryzen 7 5700 processor and RTX 3070 GPU, this CyberPowerPC is sitting at a particularly strong price at Best Buy. It's also been reduced by $100 since we found it last week. You're also getting a 16GB RAM / 1TB SSD memory and storage combination here to boot.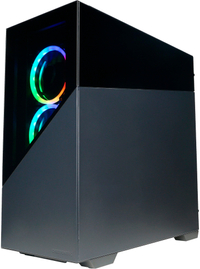 CyberPowerPC Gamer Supreme RTX 3070 Gaming Desktop PC | $1,649.99 $1,329.99 at Best Buy
Save $320 - Best Buy is offering a pretty good discount on this CyberPowerPC desktop computer that's powered up with a Nvidia RTX 3070 already. With an Intel Core i7-12700KF processor and 16GB RAM too, plenty of modern games shouldn't be a problem for this rig, and you can store them all on the 1TB SSD.
Cyber Monday gaming PC deals in the UK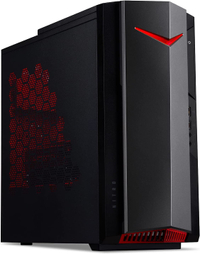 Acer Nitro N50-640 Gaming PC | £999.99 £784 at Amazon
Save £215 - This is a superb deal if you're looking for a low-budget, entry-level gaming PC. This Acer Nitro PC definitely isn't the most powerful, but it packs a respectable 512GB SSD + 1TB HDD, and GTX 1660 Super graphics card.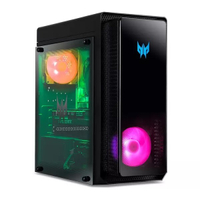 Acer Predator Orion 3000 RTX 3070 gaming PC | £1,599 £1,399 at Currys
Save £200 - That saving snags you this Acer Predator Orion PC with an i7, RTX 3070 graphics card and Predator FrostBlade RGB fans to make it look cool. There's also a 1 TB HDD and 512 GB SSD so you can have stortage volume and speed.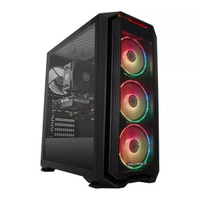 PC Specialist Tornado R3 GTX 1650 gaming PC | £699 £599 at Currys
Save £100 - This is an entry-level build, with a Ryzen 3 processor and GTX 1650 GPU. However, you're still getting a solid 512GB SSD in here, whereas we would usually only see 256GB. With a £100 saving you're grabbing the PC Specialist Tornado R3 in all its RGB glory for just £599.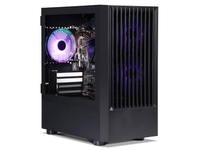 Horizon Noir i3 RX 6600 Gaming PC | £880 £679.99 at CCL
Save £200 - This is low-end gaming setup is perfect for some undemanding gaming with an Intel Core i3 and AMD Radeon RX 6600. So more for old games and the less demanding end of the spectrum. The RX 6000 does come with a code to claim up to two games, though, to sweeten the deal even more.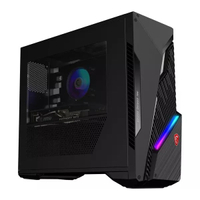 MSI Mag Infinite S3 RTX 3060 gaming PC | £1,299 £1,199 at Currys
Save £100 - There's an excellent 1TB SSD and RTX 3070 GPU inside this MSI Mag machine - great value considering you're saving £100 on that £1,299 at Currys. With an i7-12700F CPU and 16GB RAM, you're getting plenty of support under the hood as well.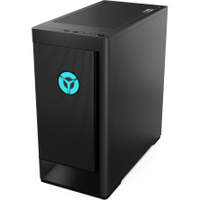 Lenovo Legion T5 | £1,599 £1,399.97 at Box
Save £200 - Here you have an AMD Ryzen 7 5800 Octa Core Processor, a Radeon RX 6800 XT GPU, and 16GB of RAM. That RAM is standard for Lenovo's Legion machines, and has to be one of their biggest strengths when it comes to their architecture.

Cyber Monday gaming PC deals: FAQs
When will Cyber Monday Gaming PC deals be live?
Cyber Monday was on November 28 this year. Although, as Black Friday and Cyber Monday have been merging closer together in recent years, deals were appearing for the whole week leading up to Black Friday as well, which is happened on the 25th.
Should I wait until Cyber Monday to buy a gaming PC?
Given that Cyber Monday happens right after Black Friday (which starts earlier and earlier every year), we personally wouldn't recommend waiting specifically for Cyber Monday gaming PC deals. Black Friday and Cyber Monday are competitive, and we'd always bet on the early birds to catch the worms.
If it's Cyber Monday or nothing - Smaller virtual storefronts, such as Newegg and Overclockers UK, are more likely to have deals and stock. Previously we've seen these two in particular with offers on customizable configurations of ABS and OcUK machines.
If you've missed out, keep one eye fixed on the storefronts from early on in the week of Black Friday next year. With the other eye, if you can, pay attention to our coverage, as we'll be bringing you the best deals we can find as and when they drop.
Cyber Monday gaming PC deals: What to expect
Amazon and Dell (in the US) tend to be the frontrunners in terms of hosting the largest Cyber Monday gaming PC deals. However, the vast majority of deep discounts on prebuilt gaming PCs tend to fly off the shelves on Black Friday. Demand for gaming PC deals goes up every year, so if there's a great offer that goes live on the Friday, we'd be shocked if stocks last until Cyber Monday. That doesn't mean that new deals aren't available on Cyber Monday, but it is something to be aware of as the weeks count down.
With 40 series GPUs releasing over the next month, and 30 series GPUs finally in a stable supply state, we'd expect to see plenty of deals and offers on solid gaming PCs. SSD is in a fantastic place price-wise at the moment as well, so we have high hopes that Cyber Monday will bring about some amazing deals for gaming PC shoppers.
Down below, we've pulled out lists of the best Cyber Monday gaming PC deals we saw in the UK and US last year. If you want a good idea of what was on offer, and how much you could potentially save, please do read on.
---
Optimize your battlestation for less with Cyber Monday gaming monitor deals and Cyber Monday gaming RAM deals.