Black Friday Nintendo Switch deals usually offer up some of the most valuable bundles of the year, and we don't expect 2023 to be any different. Last year's discounts saw the return of the $299 / £259 Mario Kart 8 bundle, with some rare discounts on the OLED model up for grabs as well. By the time Black Friday 2023 rolls around we should see even better offers on the shelves - after all, each console will have yet another year under its belt.
Before last year, we hadn't seen any major discounts on the standard Nintendo Switch system. However, following a permanent price drop to £259 in the UK, those savings started rolling in towards the tail end of the year. Add in bundles offering the latest and greatest games at a discount, and plenty of savings on third party controllers and accessories, and last year's Black Friday gaming deals were particularly kind to the hybrid system.
We're expecting to see more of the same come November 2023. With more time on the shelves comes the potential for higher and higher savings, and these consoles will be ripe for the picking by the time Black Friday Nintendo Switch deals roll around again.
Black Friday Nintendo Switch deals: FAQ
When will Black Friday Nintendo Switch deals start?
Black Friday Nintendo Switch deals will officially land on November 24 this year, but we generally see sales properly kicking off from the Monday before. You'll find the odd Black Friday-level discount from October onwards, but we'd recommend starting your serious search from Monday November 20.
Should you buy a Nintendo Switch before Black Friday?
It may be tempting to jump the gun here, and grab yourself a new console before Black Friday Nintendo Switch deals even hit the shelves. Whether that's a good idea or not depends on where you are.
We see very few bundle offers running through the US on a day to day basis - in general, you're more likely to find discounted games and accessories packaged in with your device during the November sales. That means anyone on the hunt for a value-busting bundle should hold off until the big day (or start looking from the start of Thanksgiving week). However, we have been seeing Walmart offering some solid prices on the Nintendo Switch OLED in recent months. If you spot a discount dropping you down to around $330 or below, it's well worth jumping in early - we don't expect this to be beaten by too much in November.
Over in the UK, we see bundles and discounts on the new OLED model all the time. There are plenty of opportunities to save before competing with the masses over Black Friday. If you spot a bundle offering a completely free game worth more than £30 by itself, you'd do well to dive in early. These are the kinds of offers we're expecting to see come November, so you might as well get a few extra weeks with your device and beat the crowds.
Black Friday Nintendo Switch deals: what to expect
We may well see some of the best Black Friday Nintendo Switch deals yet in 2023. While the US hasn't typically enjoyed many discounts in previous years, back in May 2022 we watched this price briefly drop from the $299 MSRP to $259, meanwhile the UK has been enjoying a permanent price drop from £279 to £259 year-round. That means we could well see similar and even deeper savings running through the November sales.
We're also predicting good things for those after a bundle offer. The classic Mario Kart 8 bundle did the rounds once again in last year's offers, but rather than disappearing before the main holiday sales began like last year, this package stuck around for a couple of weeks. That means we're more likely to not only see the same offer available for longer in 2023, but we stand a better chance of it landing on the shelves before November as well.
Black Friday Nintendo Switch OLED deals: what to expect
The newer OLED model could be silver bullet in this year's sales. Black Friday Nintendo Switch deals are coming at just the right time here. The console has been reliably on the shelves for a year now, following a rocky start, and has just hit its first birthday. That wouldn't usually send us running for discounts from Nintendo - we traditionally see very few discounts on hardware here after all. However, the Nintendo Switch OLED is also bucking that trend.
We've seen this device drop as low as $330 / £289 (usually $349.99 / £309.99) in 2022 already, with those discounts landing mere months after launch. That's certainly a saving we aren't used to see on these best-selling handhelds, and one we're excited to see again in November.
Black Friday Nintendo Switch Lite deals: what to expect
The Nintendo Switch Lite has a sadder story. While we previously enjoyed plenty of discounts on this cheaper handheld-only device, those prices have remained stubborn for a while. Stock hasn't been great over the last year, but seems to have steadied itself over the previous weeks, so we'd recommend moving in on any discounts you see well ahead of official Black Friday Nintendo Switch deals. We don't know what availability is going to be like on the big day.
The cheapest price we've seen on the Nintendo Switch Lite this year was $189.99 / £179.99 over the usual $199 / £199 MSRP. That's not a mega saving, and we've seen far larger discounts (albeit briefly) in the year before. It's worth noting, though, that certain colorways are easier to find on sale - the yellow, coral pink, and turquoise models seem to be the most vulnerable to discounts, so we expect these versions to be the hottest on Black Friday itself. We do see the odd saving on other models, but they're far less reliable.
Black Friday Nintendo Switch deals: which accessories will be on sale?
We'll also be seeing all the regular savings on the best Nintendo Switch accessories, however controllers are likely to see the biggest savings in this year's Black Friday Nintendo Switch deals.
Official Nintendo items like the Pro Controller and Joy-Con have been stuck at the same sales prices throughout the year. These devices rarely drop down to a new price tier, so we can expect the same $59.99 price tag on the Pro Controller at Amazon and a $69 cost for Joy-Con at Walmart. These are tried and tested offers that return sale after sale, so we would be surprised if prices dropped further in 2022.
However, third party controllers like those on offer from PowerA and PDP often come in significantly cheaper and older releases can plummet in price during larger sale events. PDP's wired gamepads will be available for well under $20 this year, considering we've seen $17.99 sale prices popping up throughout the course of 2022.
If you're after some extra audio options, it's also worth keeping an eye on Black Friday gaming headset deals and Black Friday earbuds deals as well.
How to find the best Black Friday Nintendo Switch deals
Not every Black Friday Nintendo Switch deal is going to be perfect for everyone. In fact, one player's dream bundle would be a last resort for another. That means it's important to head into the sale knowing what you want, but with the flexibility to make sure you still get great value.
However, before we dive into what makes a good bundle, and how you can make sure you're getting the best price possible, it's worth noting that you might have to turn up a little early to get the best Nintendo Switch Black Friday deals.
Last year we saw the season's only bundle (in the US) run out of stock just a few hours into the event. A standard edition console with a copy of Mario Kart 8 Deluxe and three months of Nintendo Switch Online is the holy grail here, but this $299 package has only ever appeared during holiday sales and generally only sticks around for a few hours at a time.
That means you'll need to move fast to pounce on any headline offers, especially if they're landing before the main event. With that said, we are expecting more Black Friday Nintendo Switch deals on consoles themselves this year, so there should be a little more room to snag the perfect offer here.
If you already know which game you're going to be diving into first, it makes sense to look for that title bundled in with your console. However, it's worth noting the release date of your day one purchase, as there is a sweet spot in bundle inclusion - in both the US and UK. Generally we see the latest and greatest titles included in the highest value bundles; games that wouldn't normally see discounts by themselves just yet but are still around $10 / £10 off when bought with a console.
These are rare, but often the best Black Friday Nintendo Switch deals around. If, however, you're after something from the last couple of years, things could go either way. Retailers may include older games for free in their Black Friday bundles, as these titles will likely be heavily discounted by themselves anyway. However, if you are still paying for the game itself within that package price it's essential that you double check you can't pick both items up for less.
We often see retailers tripping over each other a little here - sometimes even the same retailer will offer a lower price for a game than it is currently being sold at with a bundle. You'll likely still be able to find Nintendo Switch stock at $299 / £259 (though straight discounts are more of a possibility than ever this year), so make sure you really are getting the best value possible by shopping around a little before heading to checkout.
Last year's best Black Friday Nintendo Switch deals in the US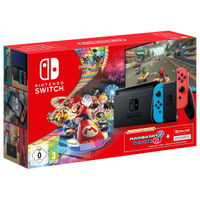 Nintendo Switch | Mario Kart 8 Deluxe | 3 months Nintendo Switch Online | $299 at Walmart
This Black Friday mega bundle was back on the shelves for 2022, and Walmart had the $299 sales price we were all looking for. Packing a standard edition console, a copy of Mario Kart 8 Deluxe, and three months of Switch Online, this was the best bundle we'd ever seen on the shelves. It only comes out for the holiday sales, and it rarely lasts long.

Last year's best Black Friday Nintendo Switch deals in the UK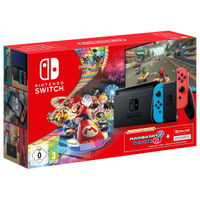 Nintendo Switch | Mario Kart 8 Deluxe | 3 months Nintendo Switch Online | £259.99 at Very
We only ever see this Nintendo Switch bundle over Black Friday, which meant you had a rare chance at securing one of the best deals of the year here. Considering the £49.99 price of Mario Kart 8 Deluxe and the £6.99 three month Online subscription, you were saving plenty of cash here.

It's best to use the time between today and the big weekend to get some research done. We're rounding up all the best Nintendo Switch headsets and cheap Nintendo Switch controllers so that you can get ready for the big weekend.
We're also getting you prepped for all this year's Black Friday PS5 deals and Black Friday Xbox deals to boot. Or, if you're after something more Steam-flavored, take a look at everything we expect to see from Black Friday gaming laptop deals and Black Friday gaming PC deals in 2022.