Black Friday Pokemon card deals are some of the best you can expect all year, and we're always taken aback by how decent they actually are. In fact, they've only gotten better over time.
You'll want to be quick, though. Pokemon might have maintained its slot as one of the best card games out there, but that means the competition for those reductions is fierce. In much the same way, it's a good idea to do some research on where those Black Friday Pokemon card deals are going to appear - speed is of the essence if you want to avoid missing the most tempting Black Friday Pokemon deals.
That's why our experts have compiled all their best hints and tips here to help you score a discount during 2023's Black Friday Pokemon card deals, including everything from the retailers you should prioritize to last year's best offers. Basically? We've got you covered if you want to ace 2023's Black Friday gaming deals.
Black Friday Pokemon card deals - FAQ
When will Black Friday Pokemon card deals start?
Things change and people do too, but there's one thing you can always rely on - when Black Friday takes place. It traditionally occurs the day after Thanksgiving and on the final Friday of November. In other words, the 2023 Black Friday Pokemon deals will be here in force on November 24.
Although that's when the best offers will kick off, it's a good idea to keep an eye out before then as well. The savings start to make an appearance from mid-November onward, and then they roll into the week after (at which point they'll become 'Cyber Monday' reductions).
Black Friday Pokemon card deals - what to expect
The Pokemon Trading Card Game doesn't get reduced in price very often, so that makes any discount you can lay your hands on worth considering. Because most sets old and new hold their value throughout the year, don't hesitate to pounce on any saving that appears this November - even if it's a small one.
In our experience, we've found that the majority of discounts are on tins or pre-made decks of cards... especially if they come with freebies like t-shirts. Boosters occasionally get a reduction too, but those offers seem rarer.
Actually, 'rare' is a good way to describe Black Friday Pokemon card deals. They aren't all that common, so don't hesitate if you see any kind of discount at all. It might be the best you'll get.
If you're a newcomer, you should definitely check out the Pokemon Battle Academy box this Black Friday though; it's a super effective introduction (apologies, it was too tempting) to the game itself and gives you everything you need to play right away. Because it often gets a price cut and has been reduced during Black Friday before, we'd say to keep an eye on it as we enter the November sales season.
Last year's best Black Friday Pokemon card deals
Want a more specific example of what goes on offer during the Black Friday Pokemon card deals? No problem. We've rounded up our favorite offers from 2022 below, and they should help you know what's coming this year.
USA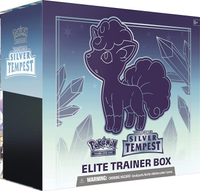 (opens in new tab)
Sword & Shield Silver Tempest Elite Trainer box | $44.98 $34.20 at Walmart
Save $10.78 - This offer was excellent for those starting out on their card game adventure, especially if you were looking to play rather than collect. With eight Silver Tempest booster packs you'd still get some interesting pulls, and the whole thing came in an adorable Alolan Vulpix-themed collector's box.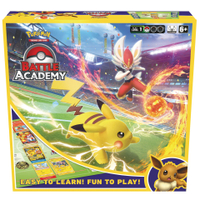 (opens in new tab)
Pokemon Battle Academy 2022 | $19.99 $13.99 at Amazon
Save $6 - For those wanting to start out in the Pokemon TCG (or anyone looking to get a gift for a loved one who's interested in playing), this is the perfect option... and luckily enough, was heavily discounted in the Black Friday Pokemon card deals. Look out for the new version in 2023's offers.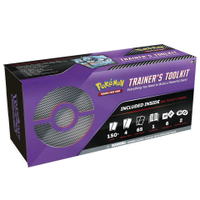 (opens in new tab)
Trainer's Toolkit | $29.99 $20.99 at Best Buy
Save $9 - Regardless of whether you're new to the game or just want to supercharge your existing collection, this Trainer's Toolkit is a must-have... and seeing it drop by $9 in November last year made it one of the better Black Friday Pokemon card deals. Besides getting you useful cards to boost your deck basic Energy to power them, it featured 65 card sleeves, a deck builder's guide, and more accessories to help you out. That's it was lowest price by a dollar, too! In other words, the sale isn't just about the cards themselves.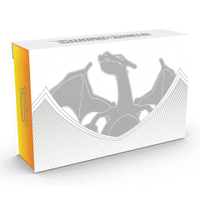 (opens in new tab)
Sword and Shield Ultra-Premium Collection (Charizard) | $133.95 $119.99 at Amazon
Save $14 - This mega-pack saw a big 10% drop for the Black Friday Pokemon card deals in 2022, reducing it to its lowest ever price by a long way. The contents included 3 etched foil promo cards of Charizard V, VMAX, or VSTAR, a themed playmat, 65 card sleeves, a Gigantimax Charizard coin, and more, so you were getting lots for your money.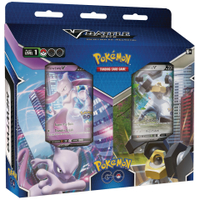 (opens in new tab)
Pokemon Go V Battle Deck - Mewtwo vs. Melmetal | $39.99 $27.99 at Best Buy
Save $12 - Buying for a fan of both the Pokemon TCG and Pokemon Go? Packs like this make the perfect gift thanks to including two ready-made decks to battle with, so keep an eye out when the 2023 offers arrive.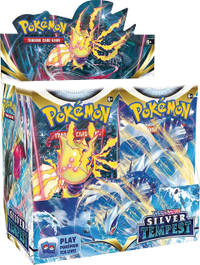 (opens in new tab)
Sword & Shield Silver Tempest Booster Display Box | $149.99 $106.73 at Amazon
Save $43 - If it's all about the thrill of opening as many booster packs as possible, look no further than juggernauts like this. They've been known to get decent offers during Black Friday, so keep an eye out for them.

UK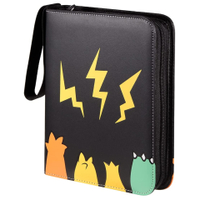 (opens in new tab)
Geecow Pokemon card binder | £21.99 £17.59 at Amazon
Save £4.40 - The official Amazon Black Friday Pokemon card deals included this very handy 20% discount on a binder able to hold 400 cards last year, so although it might not be the most glamorous discount, it was one of the most useful. Plus, the overwhelmingly positive reviews suggest you were getting something of real quality. Basically, be willing to look beyond cards themselves for maximum value.

---
There are plenty of other offers to choose from, including Black Friday board game deals, Black Friday Lego deals, and 2023's D&D Black Friday deals. Take a look if you want some gift-giving inspiration! Of course, we're also rounding up everything we expect to see in this year's Black Friday video game deals as well.