If you're a regular play, you're probably very familiar with the Fortnite rifts already. They started appearing at the tail end of season 4, dragging things into them, spitting things out, and generally tearing up the place. Now, for Fortnite season 5, they're hanging around all over the Fortnite map and changing the game again. They are now, in fact, actual game mechanics that you can use as an a kind of evasive manoeuvre. Read on for a quick guide on how to use the Fortnite rifts:
How to use the Fortnite rifts
The Fortnite Rifts basically act as mini portals, or map-controlled jump pad, as you'll fall from the sky into the same area as the portal was found, providing a quick escape route if an enemy squad has you pinned.
It was originally thought that the rifts might be able to traspprt you to different areas of the Fortnite map - which would be especially handy now that the storm moves as well as shrinks in the later stages of a match - but it seems Epic is using these rifts as a kind of reset for players, rather than an actual portal.
Interestingly, you can actually hear when another player has used a portal - and thus they can hear you - and it's this terrifying kind of ripping noise that can be hear from quite a way away, letting you know that someone has taken to the skies and can probably see you legging it towards the ring right now.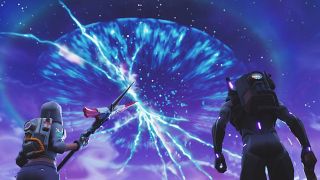 Where are the Fortnite Rifts locations?
At the moment, it seems like the Fortnite rifts pop up at random across the map during a match. In our testing this morning, we've seen a couple of rifts appear, but not in the same place twice. Don't worry though, because we'll be updating this article with the most spawned locations as we find them.
I8 - Two to the northeast of Paradise Palms
Near the Easter Island head in XXXX
I6 - On the hill between the racetrack and Retail Row with the cactus ringed building
B5 - North of the mountain with the ship
B6 - Two by the Easter Island heads by Greasy Grove
F5 - The mountain west of Dusty Divot
I2 - East of Risky Reels
G10 - Where the desert meets the grass near Lucky Landing
G10 - East of the tall padoda northeast of Lucky Landing, by a truck on a ledge