Our FIFA 22 guide hub continues to grow, despite FIFA 23 being just around the corner. The latest addition is FIFA 22 Shapeshifters, with a selection of Ultimate Team cards moving players to funky new positions. That's far from the only mode covered here. Below you can also unearth the best wonderkids for career mode, scout all the highest-rated male and female players, and much more. Scroll on down for all your FIFA 22 guide needs.
Review
FIFA 22 review
Need know whether EA's new football sim is worth buying in the first place? Then be sure to give our FIFA 22 review a read. It covers all the game's major elements, and is especially praiseworthy of improved goalkeepers, enhanced 11-on-11 AI, and small details such as net physics. However, Ultimate Team monetisation remains an ongoing concern.
Gameplay
FIFA 22 tips
Improvements don't just take place on the pitch this year. For instance, the best part of career mode is being able to create your own team and swap them in for any of the game's 30+ leagues. Carshalton Atheltic in the Bundesliga? Go for it. For the optimum means of setting up your new club, as well help with on-field mechanics such as finesse shots, head over to our FIFA 22 tips rundown.
FIFA 22 formations
Every new edition of FIFA sees old strategies nerfed, and inevitably followed by a community race to find the next meta tactic. We're a little more open-minded than that, believing a one-size-fits-all approach promotes tedium, and so have picked out seven different recommended formations for you to toy with, both online and off. Pick them all apart in the best FIFA 22 formations guide.
FIFA 22 skill moves
There are four new FIFA 22 skill moves: the Skilled Bridge, Four-Touch Turn, Scoop Turn Fake, and First-Time Spin. The first three can be nailed by any player with a four-star skill moves rating, but you need five stars in order to pull off that final one. Hit that link above to find out exactly how to do so, and access a complete list of every skill move in this year's game.
FIFA 22 celebrations
Four is again the magic number here, with a quartet of gloat-tastic moves added to your post-goal options. They're called Fingers, Time Check, Picture, and Point. As with skill moves, you can find out how to do the four newcomers, plus old favourites such as the Thumb Suck, Scorpion, Karate Kick and Flying Dive, via our comprehensive FIFA 22 celebrations list.
FIFA 22 stadiums
Yes, Elland Road features in FIFA 22 from the outset – although technically it's not a new addition, as Leeds United's home ground was patched into last year's game in early 2021. Similarly, the Brentford Community Stadium is coming soon to FIFA 22. Already included are official stadia for Benfica, FC Porto, Arminia Bielefeld and Cadiz – we've profiled them as part of your complete FIFA 22 stadiums list.
FIFA 22 managers
31 managers have their real faces scanned this year, although finding them can be confusing – for instance, Ole Gunnar Solskjaer is no longer Manchester United boss in exhibition matches, but can still be grabbed as a Premier League manager in Ultimate Team. Hit our FIFA 22 real manager faces guide for the full list.
Ratings
FIFA 22 best teams
Bayern Munich claimed the honour of being the best team in FIFA 21 – and while in real life the German side were unable to repeat their 2019-20 Champions League triumph, they cling on to top spot in the FIFA 22 best teams list. That's despite Paris St Germain adding Lionel Messi to a forward line also including Kylian Mbappe and Neymar over the summer. (The French giants do, however, nab second.)
FIFA 22 best players
While FC Bayern remain FIFA 22's best team, talismanic Polish forward Robert Lewandowski falls one place short of first place where individual players are concerned. The FIFA 22 ratings list is spearheaded by new PSG import Lionel Messi with an overall of 93, just ahead of Lewa's marginally improved 92 score. Returning Manchester United hero Cristiano Ronaldo takes third place, with 91.
FIFA 22 women ratings
The above guide doesn't only cover the best 22 male players in EA's sports sim – it also charts the top FIFA 22 women ratings too. (Hit this link to head straight there.) Three talented ladies duke it out for top billing, with Netherlands' Vivianne Miedema, England's Lucy Bronze, and Wendie Renard of France all sharing a hefty overall rating of 92.
Ultimate Team
FIFA 22 coins
Cheekily, EA has attempted to nerf longstanding methods of building up currency in Ultimate Team – for instance, you can no longer purchase standard Bronze or Silver packs. Don't be dismayed, however. It's still highly possible to rack up the pretend cash without spending real money, as explained in our step-by-step FIFA 22 coins guide.
FIFA 22 meta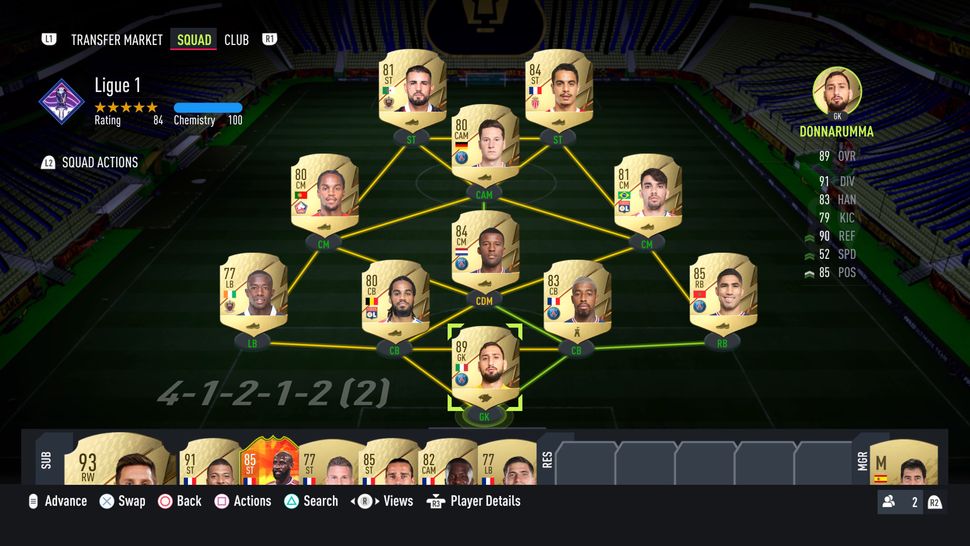 Sweaty tactics, formations and players are never going to be considered original – but for the average gamer they can work as a fast track to Divisional Rivals and weekend league glory. Want in on the fun? Then leap over to our FIFA 22 meta guide.
FIFA 22 Icons
Yet again, four is the number in focus here, as EA welcome Cafu, Iker Casillas, Robin van Persie and Wayne Rooney to the FIFA 22 Icons list. That means we get 105 Icons in total, although as ever you could buy the real Manchester City for the amount it'll cost you for digital Ronaldo, Gullit and Pele. Our annual FIFA 22 Icon Swaps guide will follow as soon as the first set arrives in Ultimate Team.
FIFA 22 Icon Swaps
The most sought-after campaign every season is Icon Swaps, where grinding for wins turns into tokens, and tokens are then turned into legendary players. FIFA 22 Icon Swaps 1 launched on Wednesday, December 15 with the key headliners being Wayne Rooney, Marcel Desailly and Rio Ferdinand. Click that link for comprehensive details of how it all works, and the latest on FIFA 22 Icon Swaps 3.
FIFA 22 Heroes
As well as the 105 FIFA 22 Icons, we get an additional batch of retro players via a surprise fresh card type. Tim Cahill, David Ginola and Jorge Campos are among the new old faces added as FIFA 22 Heroes – hit that link to view the full list. The key factor differentiating them from Icons is they're assigned to a specific league. For instance, you need to surround Cahill with Premier League players if you want to build a squad with maximum chemistry.
FIFA 22 TOTY
January 2022 brought the promo everyone spends half a season saving for, in FIFA 22 TOTY (Team Of The Year). Highlights include five Paris St Germain players such as Lionel Messi and Kylian Mbappe, while Chelsea, Manchester City and a certain Bayern Munich goal machine all receive at least one card, too.
FIFA 22 TOTS
The season-ending biggie dropped in early May. FIFA 22 TOTS brings together the most consistent players over the last nine months from all the world's biggest leagues, and some slightly less notable ones too. As of May 30, its best card of all was Real Madrid's Karim Benzema, with a crazy OVR of 98.
FIFA 22 FUT Birthday
Ultimate Team turned 13 in March, and to celebrate EA marked the occasion in a similar way to last year – releasing a host of players with upgraded 5-star skill moves or 5-star weak foot. There were also SBC tokens which could be saved up then traded in for Cristian Ansaldi or pack-based rewards. It's all explained in GR's FIFA 22 FUT Birthday guide.
FIFA 22 Future Stars
Wonderkids are a hot commodity in career mode, and Ultimate Team is no different, with these cards representing talented youngsters at the peak of their potential. Jude Bellingham, Emile Smith Rowe and Patson Daka are among the Premier League starlets who make the FIFA 22 Future Stars list.
FIFA 22 OTW
OTW stands for Ones To Watch, and is a type of Ultimate Team card which auto-upgrades throughout the season depending on player performance. For instance, when a Ones To Watch player appears in the Team Of The Week (FIFA 22 TOTW), his OTW gets a boost to match that rating. Lionel Messi, Cristiano Ronaldo and Romelu Lukaku are among the elite names who make the official FIFA 22 OTW list.
FIFA 22 RTTK
Brand new to the series this year, FIFA 22 RTTK stands for Road To The Knockouts, and is a precursor to the inevitable RTTF (Road To The Finals) campaign. Cards upgrade based upon real-life Group Stage performances in the Champions League, Europa League and UEFA Conference League, with Son Heung-Min the most exciting inclusion.
FIFA 22 RTTF
Following up on Road To The Knockouts cards are Road To The Finals items, or RTTF for short. Continuing a theme, they upgrade from February until the season's end depending on club results in the Champions League, Europe League or UEFA Conference. See them all in our FIFA 22 RTTF guide.
FIFA 22 Numbers Up
In a first for the series, EA and Adidas have come together to see a bunch of players receive in-season boosts based on their real-life footwear type. Adidas Copa wearers get an increased passing rating, Adidas Predator players earn a souped-up dribbling stat, and those who don Adidas X boots score an increased pace rating. Hit the link for the complete FIFA 22 Numbers Up cards list.
FIFA 22 Rulebreakers
There's no FIFA 22 Ultimate Scream campaign this year – instead the annual Halloween campaign is called FIFA 22 Rulebreakers. It operates in a similar way to its predecessor, with popular players given fictional ratings that change how they feel in-game. For instance, defensive midfielder Casemiro gets a new card with a boosted shooting stat of 86 (compared to 73 on his base card), but a physicality downgrade from 90 to 86.
FIFA 22 Headliners
Much like Ones To Watch players, FIFA 22 Headliners update dynamically throughout the second half of the season based on real-life performances – although these aren't based around recent transfers, like OTW cards. Mohamed Salah, Joao Cancelo and Vinicius Jr are three of the campaign's standout names.
FIFA 22 Captains
In another promo fresh for this year's game, EA celebrate some past and present greats who've skippered their club or country. These special cards are known as FIFA 22 Captains. Tim Cahill and Freddie Ljungberg are among the retired stars to be awarded new cards, while West Ham midfielder Mark Noble receives one too in his final season at the club.
FIFA 22 Shapeshifters
Cards placing players in funky new positions are always popular in EA's soccer series, and this year they arrived in the form of FIFA 22 Shapeshifters. The campaign got underway in June, with Lionel Messi scoring a 99-rated CF card. Also of note: Cristiano Ronaldo moving out to the left wing, and Marko Arnautovic being re-commissioned as a centre-back.
FIFA 22 Next Generation
Fancy some FIFA freebies? The FIFA 22 Next Generation campaign sees every Ultimate Team player granted a free card featuring a standout young player, simply for playing the game before January 14, 2022. Among the names on offer are Manchester City's Phil Foden, Chelsea's Christian Pulisic, and some up-and-comer called Kylian Mbappe.
FIFA 22 Prime Gaming
What's that? You want even more freebies? Okay. You need to be an Amazon Prime subscriber for this one, but if you are then monthly goodies are all yours for nada, thanks to FIFA 22 Prime Gaming. Hit that link to see how it all works, and what I've earned in my monthly packs – such as 85-rated Atletico Madrid forward Antoine Griezmann.
FIFA 22 chemistry styles
Shadow. Hunter. Hawk. Those of a certain vintage will be flashing back to 1992 episodes of Gladiators right now, but these names mean something completely different in Ultimate Team. They're types of card which improve specific stats for your individual players – and you can see how it all works using our FIFA 22 chemistry styles guide.
FIFA 22 kits
Want to at least look the part while you're getting drubbed 0-7 in weekend league? Then you need our FIFA 22 kits guide. Old favourites from years past such as Kaizer Chiefs and New Zealand inevitably return, while there are also appearances from Inter Milan, Crystal Palace, Al Ain and the mighty East Bengal.
Career mode
FIFA 22 career mode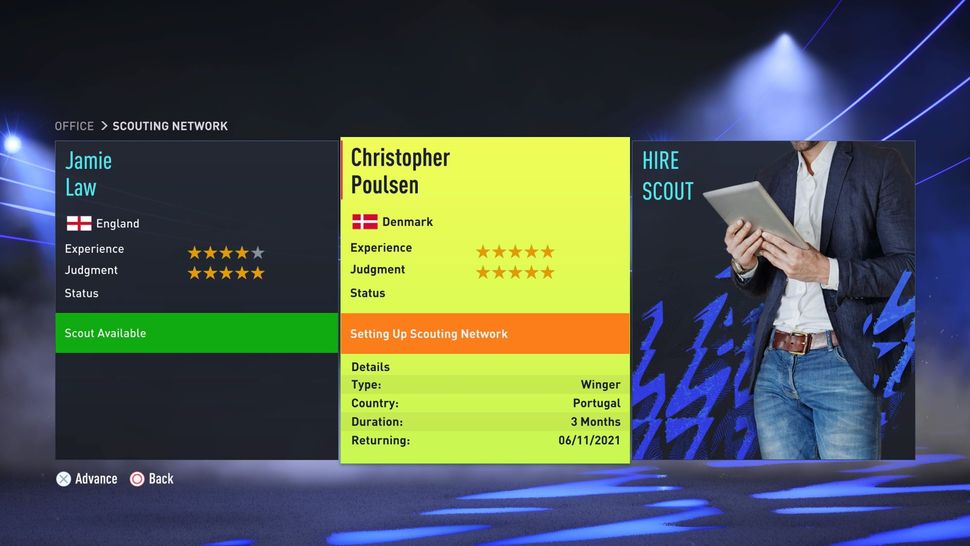 After a mediocre decade, EA's management-focussed arm of FIFA is gradually edging back towards late-2000s form. Its best new addition is the ability to create your own club, right down to authentic kits made by Nike, Adidas and Hummel. If you fancy sticking with tradition, our FIFA 22 career mode guide covers the best existing clubs to play as, along with essential scouting and transfer tips.
FIFA 22 best young players
Wanna nab Gianluigi Donnarumma and Kylian Mbappe for your career mode side? Good luck with that, given their eye-popping salaries at PSG. Thankfully, they're only two of the promising names on our FIFA 22 best young players list. Sorted by position, it provides you with 50 career mode wonderkids who'll add something to your squad from the outset, and ensure long-term success. Or profit. Or both.
FIFA 22 leagues
Wondering which competition you want to start career mode in? There's one new option this year, as the Indian Premier League lands in FIFA for the first time. As for FIFA 22 Juventus, they again don't exist: the Italian giants are exclusive to eFootball 2022. As outlined in our FIFA 22 leagues story, AS Roma, Atalanta and Lazio are also absent, with Napoli also becoming exclusive to Konami's series from 2022 onwards.