The FIFA 19 Weekend League is the most competitive football mode you'll find on any video game. Every weekend, players duke it out across 30 games in an attempt at earning the very best rewards possible. It's a dog-eat-dog world in FUT Champions, so you're going to need some FIFA 19-themed assistance. It doesn't have to be quite so intimidating though, which is why we're here to help with our FIFA 19 Weekend League tips.
FIFA 19 tips | FIFA 19 review | FIFA 19 Career Mode guide | Best FIFA 19 formations | FIFA 19 wonderkids | FIFA 19 The Journey rewards | FIFA 19 Ultimate Team coins | FIFA 19 Squad Battles | FIFA 19 TOTW | FIFA 19 SBC | FIFA 19 Icons | FIFA 19 ratings | FIFA 19 kits | FIFA 19 stadiums | FIFA 19 Weekend League tips | FIFA 19 Weekend League rewards | FIFA 19 Web App guide | FIFA 19 player faces | FIFA 19 Usain Bolt
In my FIFA 19 Weekend League rewards guide, I detailed my experience in the FIFA 19 Weekend League. Since then, I've qualified for another four rounds of FUT champions, earning even more attractive rewards – such as a 89-rated, red Raheem Sterling card. Below are my lessons learned along the way, and there are some FIFA 19 weekend league tips here that will help to steer noobs and experienced players alike. Just go easy if you ever come up against some guy called 'OPM_Ben' on PS4, yeah?
1. Choose your kits wisely
A simple one to start: be aware that the both kits worn in FIFA 19 weekend league fixtures – yes, including your opposition's – are dictated by you. No awkward Division Rivals clashes here. As a result, be sure to select them before getting your FUT Champions campaign underway, with as much contrast between the two kits as possible. I usually go red vs white/grey (for instance Belgium home vs Germany home), or yellow against navy blue. Need more inspiration? Here's our look at the best FIFA 19 kits.
2. Master one specific formation
The foundation of strong weekend league play is knowing your formation, tactics and players in as much detail as possible. Pick one using the help of GR's FIFA 19 formations guide, then stick to it game after game. You swiftly learn where your players like to make their runs, and how best to create chances: I use a Serie A-based 4-5-1 set-up, with Edin Dzeko (87) up front and Jose Callejon (86) and Lorenzo Insigne (88) on the flanks. Most goals come from crosses, but I also know that when Dzeko drops deep those two wingers will look to bomb on behind their full-backs, at which point I look for an incisive diagonal through ball. It's instinctive now, and should be for you after 20-25 games.
3. Stay in the game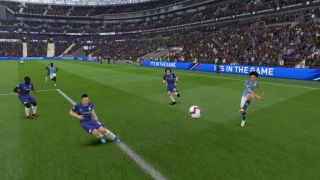 The easiest way to guarantee a losing streak in FUT Champions is by throwing the match away in your head once an opponent takes the lead. It leads to over-ambitious passing, crackerjack shots from distance, and desperation tackles in dangerous areas – with 0-1 quickly turning to 0-2 or 0-3 if you lose your head. (As is the case in any real sport.)
Unless you fall behind in the 88th minute, there's always time to craft an equaliser – so resist the temptation to throw the game and/or your controller. Many weekend leaguers play with their defensive tactic set to High Press, meaning opposition teams regularly tire in the last 30 minutes of game time. It's at this point that you can very swiftly turn a 0-1 deficit into a 2-1 win should you play your cards right. Substitution cards, that is. Which leads us neatly onto the next point.
4. Don't use subs too early…
When you're a goal down at half-time it's always tempting to look for a quick fix. If you find yourself in such a scenario, again remember that 'stay in the game' advice: there's no need to rush into a 'solution' which may end up backfiring. Instead, keep faith in the belief that your opponent will tire, and prepare to unleash your subs on 60-65 minutes.
Pace has been nerfed to a degree this year, but it's at this stage of the game where speed really matters: I have a FIFA 19 Futmas card from the Bundesliga, Bruma, which is only 82-rated but causes havoc against tired defenders with its 95 speed. 'Super subs', as they're known in the community, are a very real phenomenon, and you definitely want to be able to call upon a couple in the last 25 minutes of games.
5. …except when you need you Plan B
Mastering a single tactic is important, so too keeping your nerve when going a goal down. Yet there are still occasions when it all goes a bit Huddersfield Town and you find yourself two behind after 20 minutes. Again, you need a plan for this: specifically, a change of formation and attacking ethos. It's in these instances that an early substitution or two is justifiable.
For me, the necessary approach is switching to 4-4-2 at half-time and adopting an attacking mindset. Referring back to my Serie A squad, I remove a central midfielder (Sami Khedira) and add Luis Muriel. The Colombian striker is only 83-rated overall, but his 92 Sprint Speed provides the perfect accompaniment to Dzeko's flick-ons and through balls. In this way I've gone on to lose some games 0-4, but also turned matches around which should have been long over – such as a 1-4 hammering which I clawed back to 4-4 and then won on penalties, after extra time.
6. Manually cover the near post
An issue with all online sports games is that players hammer any slight weakness in the engine to their advantage – and one such issue in FIFA 19 is the success rate of corners delivered to the near post. Across a weekend league you are *guaranteed* to concede a handful of goals to the mammoth Virgil van Dijk (this year's meta CB) in this way. While you can't eliminate that eventuality, you can reduce its chances.
To do so, take control of the man nearest the corner taker (L1 on PS4), then manoeuvre him to a spot just in front of the goalpost. As it's delivered hold down L2 to jockey any challenging opponent, then hit circle (or square, if you're using alternate controls) to head the ball away. Even against a van Dijk or David Luiz (another meta choice) you'll clear the ball 90% of the time.
7. Beware the kick-off goal
Even more annoying than conceding near-post corners is having your opponent charge upfield and punt one home straight from the kick-off – a legacy issue with FIFA since the PS3 days. There's again no way to completely prevent this, but my method is to control the nearest striker (Dzeko in that Serie A squad) and run him back towards my central defenders immediately after play begins. Once he's set, I switch to a central midfielder to try to cut off passing avenues through the middle – with that striker becoming an additional shield as he returns upfield. If you can't win the ball then concede a cheap foul. Naughty, perhaps, but you've a better chance of defending a free kick than an open-play shot at goal from the edge of your D.
8. Don't fear the hoof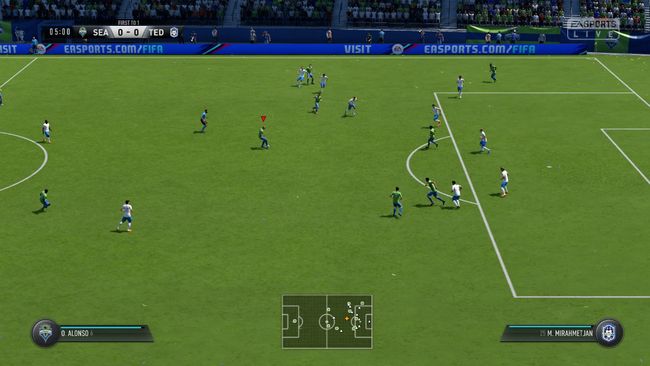 Another simple defensive tip: don't be afraid to hammer the ball downfield when under pressure, or taking a goal kick. Youtube videos show many elite players recycling possession across their back four, then putting together complex 25-part passing moves to score wondergoals; while it's tempting to try to mimic these, more often than not they in fact create chances for your opponents. If you're being swarmed in your own box, clear your lines. There's nothing more infuriating than keeping your composure for 65 minutes then tossing a game away by passing straight to an opposition striker.
9. Plan for penalties
There can be no draws in weekend league. And with the FIFA 19 engine loving a spot of drama – a last minute equaliser here, a series of shots against the woodwork transforming a win into a stalemate there – a few penalty shootouts every weekend is inevitable. So you'd be a lemon to approach these without any sort of strategy.
For me, it's keeping it straightforward: when controlling your keeper, select the same direction (low left, low right, or stay central) for all five opponent spot kicks. It's immensely likely that they put at least one kick that way. As for taking kicks, I alternate direction but never go down the middle – precisely because your opponent's keeper will always stay still for at least a kick or two. It's not failsafe, but means I win four in every five shootouts. Or did, until everyone reads this… (!)
Don't forget your can also perfect your penalties from the Practice Arena in the main menu. Simply run your player into the box, then press any direction on the D-pad.
10. Use the post-goal shortcut
Want to show a touch of sportsmanship and move your games along faster? Then skip celebrations after scoring by hitting L1 and R1 at the same time to jump straight to your opponent's kick-off. It mightn't win you many games in itself, but will at least prevent you looking a fool when you dab following an unmissable tap in – only to capitulate and lose 2-1.
FIFA 19 is out now. Need to raise some finance in order to improve your weekend league squad? Then your next stop should be our FIFA 19 Ultimate Team coins guide.