20. Battlefield 1
Battlefield 1 takes the epic shooter series back to World War 1, and the result is some of the grittiest, bloodiest FPS action you'll ever see. This instalment has a great little story mode, which follows the exploits of several troops fighting on all fronts of the conflict, but it's all about the multiplayer with Battlefield. The variety of maps and modes is staggering here - especially with all the content added by the various DLC packs (most of which are now completely free for ALL users). Whether you prefer to stick as a soldier, or choose to drive tanks or pilot aircraft, there's a role for you in the chaotic online arena. The highlight of it all is Operations mode, which sets massive 64-player conflicts over the course of several maps, giving a real sense of back and forth battle.
PS4 Pro enhanced: No
Also consider: Call of Duty WW2
19. Detroit: Become Human
The latest adventure from Quantic Dream is a fascinating story game that centres on Detroit in the year 2038. Society has created Androids to do all their menial tasks and low-paid jobs, but Detroit: Become Human explores what happens when the Androids gain sentience and start to break their programming. One of the most beautiful games on PS4, Detroit is all about progressing the story, rather than having full control over the action, so you need to be prepared to involve yourself in a proper, engaging story before you play. Embrace Detroit's narrative, relish the choices it forces you to make, and this could be one of the most unique, interesting games you'll ever play on PS4. It's impossible to see even half the game in a single playthrough too, so there's heaps of value here.
PS4 Pro enhanced: Yes
Also consider: Heavy Rain Remastered
18. Assassin's Creed Odyssey
The newest Assassin's Creed is an absolute monster of a game. With about 100+ hours of stuff to do in ancient Greece, and the choice of two lead characters, there's amazing value here too. While the pair of leads - Alexios and Kassandra - are both strong personalities, it's the world that's the real star here. Whether you're dashing across it on a steed, or sailing around it in your own, fully-crewed ship, the sheer variety of things to see and do is staggering. There's a full RPG system to tinker with, adding more depth than any previous Creed, and a revamped combat system that really highlights the nuances of the character customization options. While the formula has come a long, long way from the series' pure stealth origins, making this the most action-heavy Assassin's Creed to date, the heart of the franchise is still in there, with world-ending conspiracies and engaging sub-plots ever present. Sure, there's a lot of competition for your game time in 2018, but Assassin's Creed Odyssey is a high-watermark for AC games and deserves your attention.
PS4 Pro enhanced: Yes
Also consider: Assassin's Creed Origins
17. The Division 2
With The Division 2, Ubisoft absolutely nailed how to make a sequel. It took everything that was right with the original game, and made it better, but also managed to iron out all the niggles and problems people had, to make a game that's full of stuff to do, a lengthy endgame and story missions that are utterly brilliant. And what's more, it's always getting better. There's a whole year's more content still to come, including new story missions, eight-player raids, more exotics and more. It's a seriously fantastic looter shooter that's going to keep on giving for years to come.
PS4 Pro enhanced: Yes
Also consider: Destiny 2
16. Bloodborne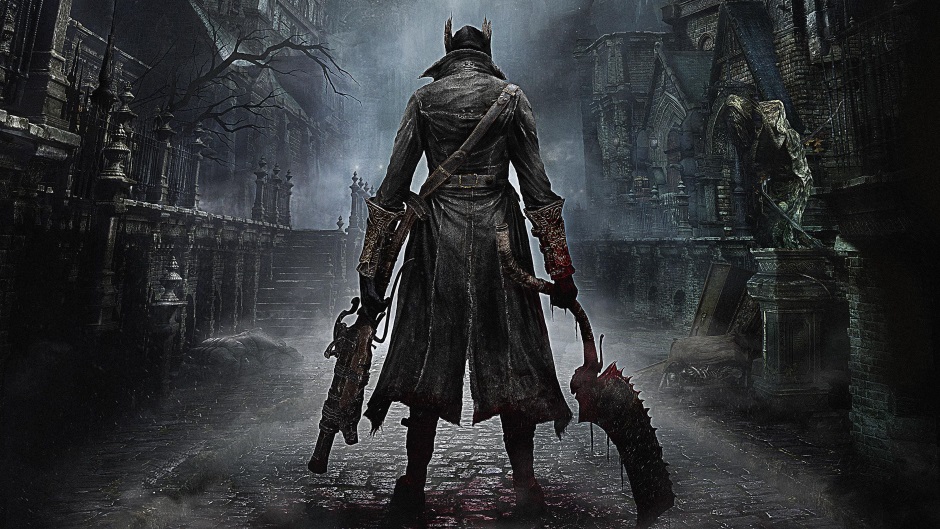 Bloodborne was PS4's first truly great, bespokely created exclusive. In Yharnam, From Software has made one of the most unerringly atmospheric worlds on PlayStation. This is a city that drips with dread; every corner potentially hiding a grotesque beast or fascinatingly twisted piece of lore. Though there may be fewer weapons than in Dark Souls, the new Trick variants (capable of morphing between long and short-form states) are among the most empowering virtual slaughtering tools you'll ever find. With the finest third-person melee combat in all of games, drool-worthy art design and the most twisted monsters in the biz, this is a gorgeously gothic must-have. Bit hard, mind.
PS4 Pro enhanced: No
Also consider: Dark Souls 3, Salt & Sanctuary
15. Persona 5
Admit it, if you're familiar with the Persona series, you probably saw this comiiiiiiiin'. And if you're not familiar, here's the jist: you are a high school student who (between class and socializing with friends) fights monsters, capturing or otherwise convincing them to lend their power to your quest. And what is that quest, you may ask? Why, to fight against a world run by adults who have let their hearts grow cold, of course. To do this, you enter a realm tied to each major antagonist's twisted psyche, facing down their literal demons. So yeah. One part Pokemon, one part high school simulator, one part Psychonauts, all backed by a groovy soundtrack.
PS4 Pro enhanced: No
Also consider: Final Fantasy 15
14. Resident Evil 7: Biohazard
The original survival horror is back to reclaim its throne as one of PS4's best scarefests with this first person reboot. Resident Evil 7 is a complete reinvention for the series, drawing in the terror close with a new camera and a palette of fear that's very much aware of modern horror films. The game follows Ethan as he searches for his missing wife in a Louisiana swamp, a trip that soon goes very wrong when the Baker family show up. This is a much more low key, slow burning sort of fear than the last couple of game's action blow outs, focusing on a more slasher movie style pursuit through a large, crumbling house. But, despite the overhaul, things like inventory management, puzzles, weapons and items still feel unmissably Resi. It's a great Resident Evil game, but more importantly, a great horror game in its own right.
PS4 Pro enhanced: Yes
Also consider: Outlast
13. Nier: Automata
Nier: Automata may not be the most expansive, content-filled, or open-ended RPG in the world (or even on this list), but it's definitely the best game to star an android dressed in gothic Lolita fashion while waxing philosophical about the nature of humanity, morality, and free will. Combat is fast, fluid, and satisfying, while a unique and award-winning soundtrack ranges from exciting to melancholy to mystical to inspiring. This is the type of game where you take side quests from a robot that models itself after early 20th century French philosopher Jean-Paul Sartre before flying off in your power armor to battle a giant kaiju machine with lasers and 10-foot long katanas. It's weird, wild, and not to be missed.
PS4 Pro enhanced: Yes
Also consider: God of War
12. Uncharted 4: A Thief's End
Uncharted 4's true successes lie in the details. Oh, sure, you have the big action set-pieces that the series is known for, where everything hero Nathan Drake touches falls apart around him in Michael Bay levels of destruction. And the attention to detail in those moments - how wood splinters into pieces under gunfire, or how Nathan's clothing gets caked in mud during a high-octane car chase - certainly makes it shine as a bit of impressive tech to show off to your friends. But it's how Uncharted nails the small moments that makes it truly great. For the first time in the series, Naughty Dog has given the series' characters some room to grow as actual people, filling in the details where you least expect them to, and these smaller moments make the big ones feel all that more impactful. As explosive as Uncharted 4 is, it's also deeply personal - and it's a hell of a showpiece for your PS4, to boot.
PS4 Pro enhanced: Yes
Also consider: Uncharted: The Nathan Drake Collection
11. Ghost of Tsushima
Ghost of Tsushima takes an Assassin's Creed-style Japan, with a Red Dead Redemption 2-sized world, and blends in an entire library's worth of Akira Kurosawa movies to create the perfect swan song for the PS4. It manages to give you a new love of feudal Japan, and with a world so full of things to do, every moment you spend in its world is a treat. It would be understandable for developer Sucker Punch to feel nervous about releasing a game so close to the critically-acclaimed The Last of Us 2, and as PS5 glimmers on the horizon, but it shouldn't. This is a worthy swan song for the PS4, and a tribute to the Japanese culture it so clearly reveres.
PS4 Pro enhanced: Yes
Also consider: Assassin's Creed Origins
Click through to page 3 for the best PS4 games 10-1...