The best VR games teleport us into our favourite fantasy realms, cityscapes and dystopias. They drop us into gorgeous digital landscapes - safe in the knowledge that despite the pain derived from kicking over the living room table, getting shot or beaten up in these worlds is make-believe. With a multitude of virtual reality hardware to choose from in 2022, and an equally impressive array of games to play on it, we're now in a fresh golden age of VR gaming, which is why we've constructed this list of the best VR games available today.
From Half-Life to Tetris via Star Wars and beyond, here are the best VR games to wrap your eyes, and sensory-stimulating headsets, around right now.
Best VR games: Half-Life: Alyx
Available on: PC VR
Right off the bat, we need to bring up arguably the best VR experience available today: Half-Life: Alyx. Released in March 2020, the VR-exclusive Half-Life: Alyx takes place five years before the events of Half-Life 2 and - as the title suggests - puts you in the well-worn boots of Alyx Vance. Being an established character of her own, this is also the first time we've heard the main character of a Half-Life universe game speak since Half-Life: Decay, and Half-Life: Alyx takes full advantage of it with plenty of humorous and memorable exchanges.
Beyond the script, Alyx might be the most high-profile triple-A game to be released exclusively on VR platforms, and playing it is proof that having that singular development focus pays off. With smart mechanic innovations and an immaculately detailed world to interact with, Half-Life: Alyx is a more-than-worthy follow-up to Half-Life 2, even if it's not exactly the Half-Life 3 we're all still waiting for.
Star Wars: Squadrons
Available on: PC VR
Star Wars: Squadrons isn't a dedicated virtual reality game, but it still plays like one. The basic appeal of loading into the cockpit of one of your favorite starfighters and heading into battle is magnified a dozen times when it feels like you're really there, and thankfully the basic design of the game backs it all up. Star Wars: Squadrons loads up as much detail as possible into the actual instrumentation of your dashboard rather than relying on immersion-breaking UI, and the game's entire interface can be comfortably navigated from the standard seated position.
Depending on your particular comfort level for pulling off death-defying barrel rolls and near misses (and boring concerns like pixel count making it harder to pick out distant targets), you may not be quite as competitive in multiplayer as you are in the campaign. Everything is playable in VR, though, so you're still welcome to give it a try.
Phantom: Covert Ops
Available on: Oculus Quest, Oculus Rift
Remember how Metal Gear Solid starts out with Snake infiltrating Shadow Moses Island in a personal submarine? What if it was a kayak instead, and Snake never got out of it? That's basically Phantom: Covert Ops, a stealth action game where you row through a paramilitary compound with a silenced pistol in one hand and a paddle in the other. Well, you'll probably keep the pistol holstered most of the time so you can paddle better, but you get what I mean.
It sounds silly, but once you get past a few logic leaps required to make the whole premise work, you'll quickly be gripped by Phantom's tense and immersive campaign. You're just one operative surrounded by hostile forces, so you'll need to keep your situational awareness just as sharp as your aim to complete your objectives. In true Metal Gear style you're rewarded for walking the pacifist path, but certain nefarious High-Value Targets do let you give your weapons a relatively guilt-free workout.
Pixel Ripped 1995
Available on: PC VR, PS4, Oculus Rift, Oculus Quest
Pixel Ripped 1995 is all about playing old video games. While many modern retro-styled games recreate the simpler graphics and challenging mechanics of older generations, this one recreates the whole experience of being a kid who loves games in 1995. Sitting on the floor in your PJs, popping in the cartridge for your favorite game, continuing to play even while neighbor kids holler at you from outside and your mom frets about you wasting all of your time on that dang Nintendo - it's all here.
You don't spend all your time with your hands in front of your face like you're holding a controller, though - you also get to spend some time in the game worlds themselves, or a fusion of the two, playing as both a game-loving kiddo and the intrepid action hero Dot. With its retro appeal and comfort-friendly stationary play, Pixel Ripped 1995 is a great way to show VR off to fans of more traditional gaming.
Star Wars: Tales from the Galaxy's Edge
Available on: Oculus Quest
Don't let the fact that it's a theme park tie-in fool you: Star Wars: Tales from the Galaxy's Edge is an immersive and action packed open-world game that's worth playing even if you don't know Black Spire Outpost from a hole in the ground. In fact, it's the closest thing to Star Wars Skyrim out there (that isn't a mod, I mean) - and the only way to play it is in virtual reality. Actually, the only way to play right now is specifically through Oculus Quest, though there's a decent chance Tales from the Galaxy's Edge will follow the path of Vader Immortal and eventually be released for other platforms.
The only big complaint about Tales is that it leaves you wanting a lot more. Despite using many of the trappings of sprawling first-person RPGs, it has relatively few maps and limited progression compared to its bigger cousins. Still, what's there right now is easily worth your time, and hopefully more is on the way in the future.
Tetris Effect
Available on: PS4, PC VR
Tetris Effect is such a holistic experience of mind, body and soul that should be one of the first games you run to once you pick up a VR headset. Those who think that this is just another slightly modified iteration of Tetris will realize they are sorely mistaken when their goggles are steaming up with tears. As well as a robust number of typical Tetris game modes, the star of the show is Journey Mode, a campaign that explores various elements of human history, tied together through song and (sometimes) verse.
Every twist of the tetromino is a musical note, with each line clear being an endorphin burst. You are the instrument in Tetris Effect, and it's one of those games that really benefits from the enclosed nature of VR. Turn the lights down, stick some good headphones on, and clear lines like it's nobody's business. You won't regret it!
Superhot VR
Available on: PS4, Oculus Rift, Oculus Quest, PC VR
Given that Superhot is one of the most revolutionary indie smash hits in recent memory, it makes sense that when the action teleports into VR, the experience is only heightened. Superhot VR doesn't take the easy route of porting the same story and missions into the virtual realm, it actually molds an engaging new tale whilst keeping the same genius gimmick the PC game is known for.
In Superhot, time moves when you do, which is perfect if you want to feel like Neo or Max Payne, ducking and weaving bullets like a boxer. A surprisingly effective exercise session as well as a video game, Superhot VR is frantic, demanding, and most importantly great fun as you thrash around in your living room, take careful shots at your enemies and punching and disarming from all angles when you're surrounded.
Keep Talking and Nobody Explodes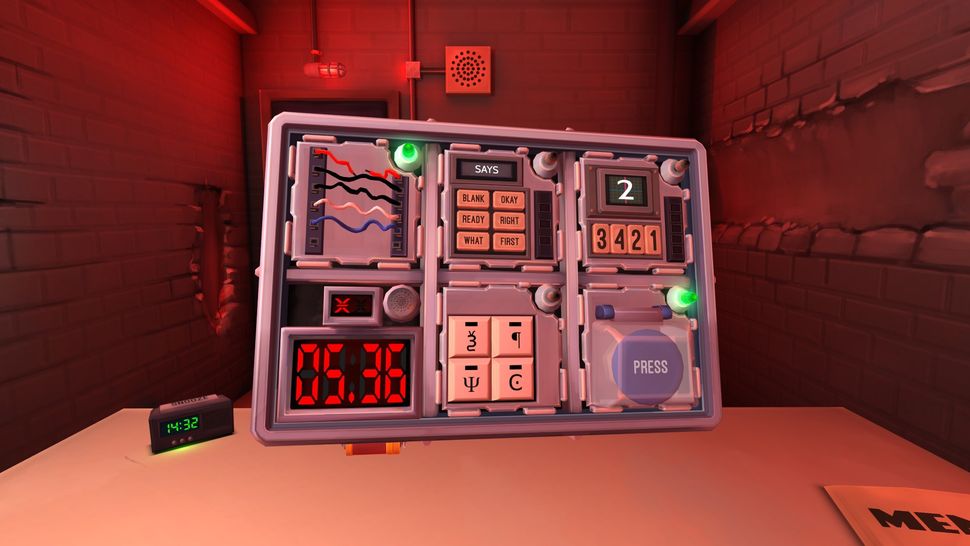 Available on: PSVR, Oculus Rift, Oculus Quest, PC VR
Working to disarm a bomb while receiving panicked instructions from your friends is even more intense in VR. For the uninitiated, Keep Talking and Nobody Explodes in PSVR tasks the headset-wearer with diffusing a ticking time bomb at the direction of other players reading off complex instructions from a separate screen.
It's available on non-VR platforms, but in VR the person disarming the bomb is the only one who can see the bomb, making the situation more unpredictable for the other players. Keep Talking and Nobody Explodes on PSVR is hectic, challenging, and ultimately one of the best party games you can play in VR and otherwise.
Blood and Truth
Available on: PSVR
Now regarded as one of Sony's flagship PSVR titles, Blood and Truth started as a spinoff from the demo disc caper The London Heist and quickly developed into its own game, with a celebrity ensemble of voice actors and some tactics that feel much more nuanced than your typical VR shooting gallery.
You'll explore spooky museums, high-rise flats and mob-controlled casinos as you work to win back your honour in this crime family tragedy (which also has plenty of love for the city of London). This is all complemented by the incredible soundtrack, a careful mix of soaring orchestral sounds with the exquisite grittiness of grime producer Zdot. Boy Better Know's very own JME even makes an appearance to score the chaos with his bars.
Resident Evil 7
Available on: PSVR
Capcom reinvented Resident Evil in several ways with Resident Evil 7. Not only did it present the game in first-person for the first time ever, it also lets players see it all in terrifying virtual reality. As arguably the first killer app for VR, the game still holds up today, years since launch, because no genre is better suited for VR than horror, and among recent horror games, few are as spine-tinglingly spooky as Resident Evil 7.
The setting feels different from other games in the series too, capturing more of a backwoods Texas Chainsaw aesthetic. Even if you're a Resident Evil alum, there's little hope that you can shed the scares so simply in Resident Evil 7 because there's little familiarity to be had in the eerie Baker home. When the many scares are happening right in front of your face, they're all the more terrifying.
The Walking Dead: Saints and Sinners
Available on: Oculus Rift, Oculus Quest, PSVR, PC VR
Before it arrived, few seemed to expect Saints and Sinners to be any good. As a Walking Dead spinoff in the world of VR, it was comprised of two things people are often skeptical about. But all that skepticism was proven wrong when the game launched and became a hit. So here it is, on our best VR games list.
The combat is gritty and unnerving, capturing the claustrophobic scenes we've seen so often on the TV series, in the comics, and in other games. In a way, it's almost a fitting zombie apocalypse simulator. Luckily, getting bit in Saints and Sinners isn't as fatal as it would be if Robert Kirkman's hordes ever actually started ambulating, but thanks to VR, it truly feels just as genuine - and genuinely scary.
Astro Bot: Rescue Mission
Available on: PSVR
Another PSVR exclusive that is reason alone to buy a headset, Astro Bot: Rescue Mission is an adorable Ape Escape-adjacent platformer from Sony's Japan Studio that will delight anybody with an imagination, regardless of age. Doing away with the (admittedly ancient and unreliable) Move controllers, Rescue Mission is perhaps the most holistic use of the DualShock 4 since the controller's launch.
Astro essentially lives inside the touch bar, and after swiping to get him out at the start of each mission, you must unlock and gesture to utilize his special abilities so solve puzzles and save his lost robot friends, with the player acting as a VR overseer in this vibrant world, which takes little Astro from underwater depths to mystic mountaintops and even haunted houses. It's the best VR platformer you can buy and has tons of replayability, especially if you plan to save every single bot (and who wouldn't - they're viciously cute).
Beat Saber
Available on: PSVR, Oculus Quest, Oculus Rift, PC VR
You've most likely heard of Beat Saber, but just because it's incredibly popular doesn't mean that it isn't still a total system seller. A very basic concept executed with care, Beat Saber is a rhythm game where you slash your way through tracks with two wrist-mounted lightsabers. Since becoming incredibly popular we've seen track packs from artists such as Virtual Self, Panic at the Disco!, and even virtual band K/DA from Riot's League of Legends.
If you're playing on PC, there's also an incredible modding community behind the game, with custom tracks and dual-blade lightsabers amongst other fascinating spins on the formula. Beat Saber manages to elevate songs you think you know into vibration-led sensory experiences that will make you appreciate them even further, which makes it one of the best VR games by a mile.
No Man's Sky Beyond
Available on: PSVR, PC VR
No Man's Sky's fumbled launch was a controversial learning moment for developer Hello Games, who then admirably worked to fix the game over the ensuing years, which has blossomed the original concept into something particularly beautiful and addicting. The Beyond update brought uncompromising VR to the game, another delight for invested fans.
Aside from the stunning feeling of boosting to warp speed out of a planet's orbit, you can go about your business with the added benefit of a head-mounted display. The game is a masterclass in making you feel insignificant, in that same beautiful way as when you look up at the stars in real life. Whilst the controls take a little getting used to, you'd be hard-pressed to find a more replayable game in VR, especially given the scale and scope of the procedural universe.
Skyrim VR
Available on: PSVR, PC VR
Bethesda's flagship VR title does exactly what it says on the tin. It's Skyrim, fully ported to VR with no questions asked. You can't get much better than that in terms of bang for your buck, so we had to put it on the best VR games list. Sure, it's about as janky as Skyrim itself, but really, the chaos of a Bethesda RPG is often half the fun, right?
Wallop mudcrabs with your fists and feel the force feedback like you've always wanted to. Shout Fus Ro Dah at a walrus in real life and in-game. The possibilities are endless, honestly and the tundra-laden world is what you make of it. Just make sure you don't get lost in there on your Dragonborn quest to Valhalla.
Make sure you also check out our guide to the best PSVR Games to play on your PlayStation virtual reality headset right now