The Fortnite juggernaut rumbles on, and we've now made it all the way to Fortnite Season 8! Avast mateys, as there's currently a pirate theme running through the game, and there's been all sorts of Fortnite map changes including a huge volcano forming and erupting, plus the addition of a lagoon and a series of Aztec pyramids amongst other things. No matter how long you've been playing for, there's always time to read a Fortnite guide and pick up some tips and tricks to help you reach that sought after Victory Royale. Plus, with regular changes being made to both the gameplay and the setting, there's always new things to learn and use to develop your playstyle. Whether you're looking for expert advice to up your game, or simply wondering how to play Fortnite in the first place, we're here to try and make diving into battle with 99 opponents a little less terrifying. We've got walkthroughs, tips, videos, and more, so grab your glider and skydive in to the ultimate Fortnite guide.
Fortnite pirate camps | Fortnite giant faces | Fortnite ping system | Fortnite merch | Fortnite headsets
Fortnite Battle Royale guides
If you're looking for help with Fortnite then you've come to the right place. We've spent hundreds of hours exploring the Fortnite map, experimenting with various tactics, and solving challenges to bring you a definitive selection of guides, covering all the information you'll need to fight your way to a Victory Royale.


Fortnite Tips
If you're new to Fortnite Battle Royale then you may be looking for some pointers to get started, or if you're a more experienced player then perhaps you'd like to top up your existing knowledge. Either way, take a look at our Fortnite tips for all the things you should know before playing.


Fortnite Battle Pass Challenges Guide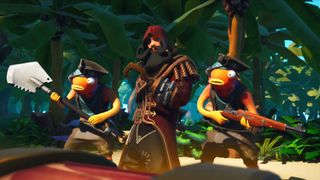 Every week, all Fortnite players get three Weekly Challenges to complete, with Battle Pass holders receiving an additional four Battle Pass Challenges to take on, which level up their characters and unlock new items such as outfits and emotes. Some are straightforward, whereas others require certain actions to be performed or collectibles to be found, and we've got everything covered in our regularly updated Fortnite Battle Pass Challenges guide.


Fortnite Party Assist
If you're having trouble completing any of the daily or weekly challenges, then Fortnite Party Assist could be just what you need to help you reach your target. By selecting one of your challenges from the menu and turning on Party Assist, the actions of your other Party members will count towards that challenge - so buddy up with some friends and you'll be ticking off the requirements fast.


Fortnite Discovery Challenges Guide
If you manage to beat all of the Battle Pass Challenges for a week, you'll also complete a Discovery Challenge. This awards you with a new loading screen, which hides a secret clue to reveal the location of some bonus Battle Stars or a unique banner. We've got all of these secrets solved in our Fortnite Discovery Challenges guide.


Fortnite Tier 100 Challenge Guide
What happens when you earn enough Battle Stars to reach Battle Pass Tier 100? The answer is you unlock one final set of challenges to complete to unlock the top tier skin - Luxe for Season 8 - and you can see exactly what they are in our Fortnite Tier 100 Challenges guide.


Fortnite Chest Locations Guide
One of the keys to achieving a Victory Royale is grabbing decent weapons, and the best way to do this is by popping open some chests. Follow our Fortnite chest locations guide to find all the possible chest spawn locations in each named area of the map.


Fortnite Weapons Guide
With so many different weapons available and only five slots to keep them in, it can be hard to decide what to take with you and what to discard. If you're looking for advice, then read our Fortnite weapons guide to find out which are the best guns and learn some strategies for victory.


Fortnite Llama Locations
If you're lucky enough to spot a llama piñata during a match then make a beeline to grab it, as they're super rare and contain lots of useful items and resources. For more information on these elusive llamas and what they contain, visit our Fortnite Llamas locations guide.


Fortnite Quadcrasher Locations
If you want a more impressive vehicle, then look for one of the Fortnite Quadcrashers as they're the real deal - a two-seater quad bike with a plough on the front and a rocket boost that can propel it through solid structures.


Fortnite Apple Locations
If you're running low on health, then finding some Fortnite apples could help you out. Admittedly, they only restore 5 health per fruit consumed which doesn't make them super useful, but they are sometimes required for challenges too so it pays to know where to find them.


Fortnite Mushroom Locations
Likewise, if you want to give your shields a boost then nomming down some Fortnite mushrooms could be just the thing you need. These handy fungi give you 5 shield per 'shroom consumed, which is really handy if you can grab a few when you can't see any potions around.


Fortnite Starter Pack
If you're looking to stock up on cheap V-Bucks, then the Fortnite Starter Pack is the game's best deal. This includes a couple of cosmetic items and 600 V-Bucks for low price, so take a look and see what's on offer. If you'd prefer to spend nothing at all, we also have information on how to get free Fortnite V-Bucks.


Fortnite Easter Eggs
Hidden around the island are a wealth of nods to past events in the Fortnite world, so if you want to track down some Fortnite Easter eggs we've picked out some highlights in our guide.


Fortnite Save the World guide
With all the hype surrounding Fortnite Battle Royale, it's easy to forget that there's a whole other PvE game available in Fortnite Save The World. Although Epic have repeatedly stated that this mode will become free to play at some point, for the time being you'll have to invest in a Founder's Pack if you want early access. For those playing right now, here's some help for fighting off the zombie hoards.


Fortnite Save The World Tips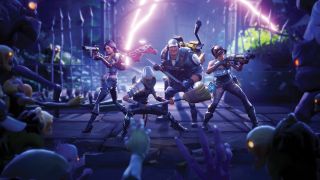 Fortnite Save the World features a whole host of layered menus, systems, and meta-game content, which aren't fully explained by the in-game tutorials and can seem overwhelming, so we've broken things down to make it more manageable. If you're playing the PvE mode then you should check out our Fortnite Save the World tips for hints on how to survive, thrive, and win.
Looking for more? Then find out how Fortnite's spectator cam messes with your brain to make you like your enemies.