13 Irksome Movie Title Clashes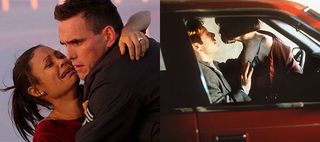 Crash (2005)
Not to be confused with: Crash (1996)
Plot comparison: In David Cronenberg's controversial fender-bender, people crash because they're horny. In Paul Haggis' Oscar-winner, they crash because they're racist.
If they switched directors: Haggis makes an earnest plea for safe-sex using a laboured "wear your seatbelt" metaphor. Cronenberg reveals his characters' inner racism through a virilent spore that bloodily corrodes them body and soul.
Irksome to whom?: Cronenberg, who was so incensed by Haggis' appropriation of his title that he called him an asshole.
After all, he'd showcased the gentleman's way of doing things when he changed the name of his adaptation of novel Twins to Dead Ringers to avoid confusion with the Arnie/DeVito gut-buster.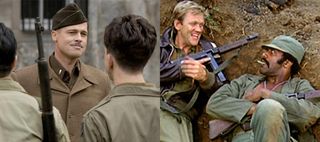 Inglourious Basterds (2009)
Not to be confused with: Inglorious Bastards (1978)
Plot comparison: Enzo G. Castellari's straight-forward WWII action movie, correctly spelled, versus Quentin Tarantino's postmodern WWII action/comedy/film-buff fantasy homage without a dictionary in sight
If they switched directors: Tarantino would add an hour of dialogue scenes to pad out the action set-pieces. Castellari would take 'em out.
Irksome to whom?: Tarantino fans who can spell. Inglourious (two Us) Basterds (with an E) is out on DVD this week. You have been warned.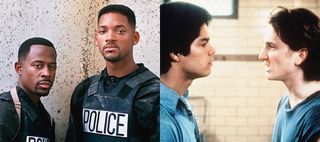 Bad Boys (1995)
Not to be confused with: Bad Boys (1983)
Plot comparison: Will Smith and Will Lawrence are the bickering cops roadtesting the Bayhem for Michael... erm, Bay, while juvie Sean Penn is struggling to go straight in Rick Rosenthal's reform school drama.
If they switched directors: We're guessing Bay's idea of a borstal brawl would somehow involve jump-jets, rocket launchers and as much ammo as his mates in the military can spare.
Meanwhile, Rosenthal's ultra-serious cop thriller proves to be Big Willie's sternest acting challenge yet, never mind Lawrence, whose inexplicable street-cred goes up in smoke the second he tries to play it straight. Hey, we can dream, can't we?
Irksome to whom?: Nobody, until somebody mentions Alexandra Burke. Now, there's a title clash too far.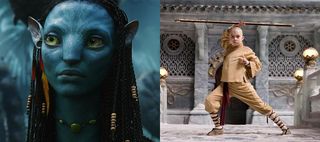 Avatar (2009)
Not to be confused with: The Last Airbender (2010)
Plot comparison: In the blue corner, James Cameron's imminent sci-fi extravaganza about a human soldier infiltrating the alien Na'vi by using a special half-human / half-Na'vi thingymajig called an avatar.
In the red corner, M. Night Shyamalan's forthcoming sci-fi extravaganza about an Airbender (not what it sounds like) who discovers he's the physical re-incarnation of the world itself, known as... keep up at the back... an avatar.
If they switched directors: Shyamalan cops out with a lame twist - let's say the human turns out to have been an avatar for an Na'vi all the time.
Cameron decides to literally bend air out of the screen and spends a decade perfecting the technology, which sadly proves to make it impossible for audiences to breathe and kills millions.
Irksome to whom?: Fans of TV show Avatar: The Last Airbender , on which Shyamalan's film is based. Despite being on telly since 2005, Cameron nabbed the screen rights to the Avatar name by dint of getting there first. Finders, keepers.
Bet it was an awkward meeting when M. Night's minions had to explain that one.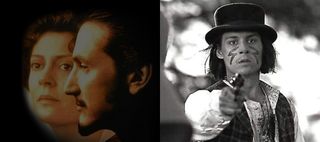 Dead Man Walking (1995)
Not to be confused with: Dead Man (1995)
Plot comparison: An enigma wrapped in a moral conundrum, as Jim Jarmusch's deadpan Western about a wounded accountant's (Johnny Depp) journey through cowboy country meets Tim Robbins' crusading drama about a nun's (Susan Sarandon) attempts to free an unrepentant rapist and murderer (Sean Penn) from the death penalty.
If they switched directors: Jarmusch films long scenes of whacked-out rabble rousers sitting around and acting crazy (so, pretty much like prison, then), while Robbins turns in an earnest liberal treatise on the mistreatment of native Americans (so, er, Dances With Wolves , then).
Irksome to whom?: The makers of rival 1998 movies Dead Man's Curve and Dead Man on Campus , who quickly found that audiences weren't ready for yet more movies with the words 'Dead' and 'Man' in the title.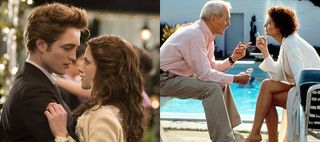 Twilight (2008)
Not to be confused with: Twilight (1998)
Plot comparison: In Robert Benton's wry thriller, an elderly private dick hobbles around solving one final case. In Catherine Hardwicke's little-known art-house romance an elderly vampire (well, he's 104) sashays about like a pop star.
If they switched directors: Hardwicke would get her cast of old-timers (Newman, Hackman, Sarandon) surfing and smoking weed. Benton would kick his cast of teen heartthrobs into shape with some Method-y emoting. Let's see some bloodsucking for real.
Irksome to whom?: R-Pattz fans confronted with wrinkles, liver spots and Stannah stairlifts.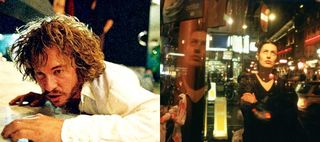 Wonderland (2003)
Not to be confused with: Wonderland (1999)
Plot comparison: Sex and violence in L.A. in James Cox's true-life thriller, as porn star John Holmes (Val Kilmer) gets involved in a bloody gangland killing. Ennui and fags in London in Michael Winterbottom's downbeat tale of three Cockney sisters.
If they switched directors: Winterbottom goes gonzo with Steve Coogan, as Holmes, doing the sex scenes for real. Cox delivers what he thinks is British kitchen sink realism. In other words, everyone speaks like Dick Van Dyke, takes a spin on the London Eye and meets the Queen.
Irksome to whom?: Lewis Carroll, probably. It was never like this for Alice.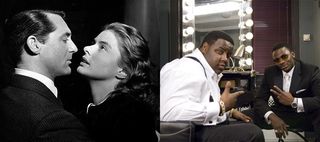 Notorious (1946)
Not to be confused with: Notorious (2009)
Plot comparison: Hitchcock's espionage thriller about an anti-Nazi seducer/destroyer (Ingrid Bergman), or George Tillman Jr.'s biopic about big-boned rapper the Notorious B.I.G. Life and death stuff either way.
If they switched directors: Tillman brings the bling to WWII, with pimped-up uniforms, bitchin' tunes and drive-by shootings.
Hitch sends Biggie on the run, pursued by the West Coast Crew and aided only by the mysterious 'Puff Daddy.'
Irksome To whom?: Hitch, obviously, whose titles seem to be fair game for anybody. First Mr and Mrs Smith , now Notorious .
Someone, somewhere is making a foul-mouthed comedy about a hen night called... yes, you guessed it... The Birds .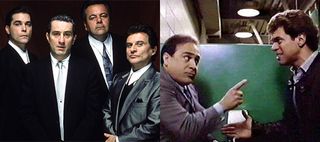 Goodfellas (1990)
Not to be confused with: Wise Guys (1986)
Plot comparison: Martin Scorsese's hard-hitting adaptation of Nicholas Pileggi's Mafia expose Wiseguy , versus Brian De Palma's floppy comedy about hapless Mob footsoldiers.
If they switched directors: Give Goodfellas to De Palma, and it would get bloodier and more operatic, if such a thing is even possible. But a Scorsese gangster farce – think Mean Streets meets After Hours – is something we'd have liked to see.
Irksome to whom?: In theory, nobody. Scorsese and Pileggi spotted the title clash early and replaced it with a genuinely iconic monicker. But poor De Palma, whose film bombed, could have done with a sprinkling of the stardust that sharing a title with Scorsese's classic might have brought.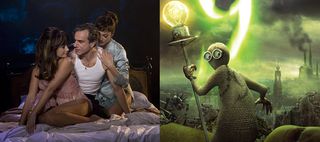 Nine (2009)
Not to be confused with: 9 (2009)
Plot comparison: Rob Marshall's all-singing, all-dancing musical about the complicated love life of director Guido Contini (Daniel Day-Lewis), versus Shane Acker's bobbing-up-and-down animation about the lives of nine stitchpunk homunculi surviving in a post-apocalyptic Earth. Also complicated.
If they switched directors: Hot animated women hoofing in CG suspenders, and Daniel Day-Lewis playing a sock puppet. Sounds like fun, if you ask us.
Irksome to whom?: The numbers 1-8. Even Neill Blomkamp went for the nonagon option with District 9 .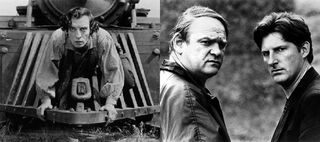 The General (1927)
Not to be confused with: The General (1998)
Plot comparison: Silent slapstick with Buster Keaton aboard American Civil War steam engine 'The General,' versus John Boorman's biopic of Oirish criminal Martin Cahill (Brendan Gleeson) – nicknamed, funnily enough, 'The General'.
If they switched directors: In Boorman's film, the Confederates are banjo-playing hillbillies using the train to find sissy Northeners to butt-fuck. Keaton turns Cahill into a well-meaning but inept gangster whose bank robberies always result in perilous, rib-tickling stunts.
Irksome To Whom?: Andy NcNab, no doubt disappointed that neither of these films is actually about, y'know, a general.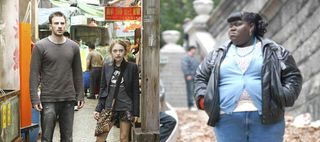 Push (2009)
Not to be confused with: Precious: Based on the Novel 'Push' By Sapphire (2009)
Plot comparison: In Paul McGuigan's adventure, a group of Heroes , sorry heroes, with special powers band together to take back charge of their lives.
In Lee Daniels' whatever-the-opposite-of-adventure-is, sexually-abused, obese teenager Precious (Gabourey Sidibe) has no powers and nobody to band with, but she takes back charge of her life anyway.
If they switched directors: Precious becomes an action hero, using her obesity to crush her haters.
Daniels reveals the grim flipside to having superpowers when the group realises it can get away with all kinds of bad shit.
Irksome To whom?: Fans of Sapphire's life-changing novel Push .
Yes, it's another 'first come, first served' deal where the screen original nicks the title already earmarked for an adaptation of an existing story. Still, it gives us something to write about.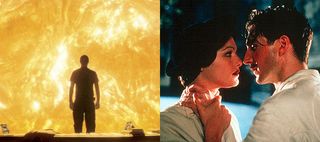 Sunshine (2007)
Not to be confused with: Sunshine (1999)
Plot comparison: Pulse-racing sci-fi from Danny Boyle, as astronauts take on the the unstoppable might of the sun. Title is literal.
Alternatively, austere miserabilism from István Szabó, as a family of Hungarian Jews takes on the unstoppable might of history. Title is ironic.
If they switched directors: Boyle dirties up Hungarian history with drugs, dance music and some form of toilet-related shitstorm.
As for Szabó... who cares? He's gone into space. Let's party.
Irksome to whom?: The Boogie, which continues to get the blame for pretty much everything.