E3 2021 might be over, but the summer of gaming is only just beginning. Running June 10 - 16, E3 2021 gave us a glimpse into the future of video games. The biggest game makers in the world packed the E3 2021 schedule and delivered a week of non-stop game reveals and announcements.
Of course, E3 2021 was an all-digital event this year. That meant publishers like Nintendo, Xbox, Square Enix, and Ubisoft were able to hold their own virtual showcases, while companies like EA and Gearbox decided to slip reveals into other partner events. Sony skipped E3 2021, although PlayStation did host a State of Play at the beginning of the month to give us a new look at one of its biggest games of the year.
There was some truly phenomenal reveals this year and a hell of a lot of games – it can be difficult to keep track. That's why you should think of this page as your E3 2021 guide, a home for all of our previews, features, interviews, and coverage out of the event. You can use the navigation bar to reach the different sections. E3 2021 Games should be your first destination, covering the biggest reveals and announcements of the show. E3 2021 Spotlight is a chance to check out some of the best looking indie games, while E3 2021 Conferences is where you'll be able to catch up on the biggest showcases of the season.
Be sure to continue refreshing this page for daily updates on E3 2021.
---
VIDEO: Best games of E3 2021
---
E3 2021 Games
E3 2021 is our chance to get new looks at the biggest games of 2021 and beyond. We want to make sure that you don't miss a thing, which is why we have collected our reporting, previews, features, and interviews on the best E3 2021 games below.
Battlefield 2042
Developer: DICE | Publisher: EA
Battlefield 2042 is a sweeping reinvention of DICE's iconic FPS. Coming to PC and console later this year, Battlefield 2042 is aiming to be the next-generation of all-out multiplayer warfare. The player count has been doubled, pushing the action to 128 players, the maps are the biggest in Battlefield history, and the spectacle is truly absurd. We sat down with DICE to learn more about the game, which you can read in our behemoth Battlefield 2042 preview.
---
Assassin's Creed Valhalla: Siege of Paris
Developer: Ubisoft | Publisher: In-house
Eivor's adventure isn't over yet. At E3 2021, Ubisoft confirmed that Assassin's Creed Valhalla is set to receive new content going into next year. This includes with free events, big quality-of-life updates, and even more brand new expansion packs to continue the story. Here's how Assassin's Creed Valhalla Siege of Paris sets the stage for another year of Viking adventures.
---
Bloodhunt
Developer: Sharkmob AB | Publisher: In-house
One of the most interesting games to emerge out of E3 2021 is Bloodhunt – battle royale with a Vampire: The Masquerade twist. Yep, you read that right. This is 45-players, free-to-play, and a hell of a lot of fun. We had the chance to play an early build of it already, so come find out what happens when battle royale rules meet amped-up vampires in our Bloodhunt preview.
---
Chernobylite
Developer: The Farm51 | Publisher: In-house
Chernobylite is one of those games that'll sneak up on you. As showcased in the Future Games Show, on the surface Chernobylite looks like the action of Metro Exodus mixed with the management of State of Decay – but there's so much more to it than that. Ahead of the game coming out of Early Access, we spoke with developer Farm51 to learn more about its authentic approach to survival horror: Chernobylite is imbuing survival-horror with terrifying levels of 3D-scanned authenticity.
---
Dark Pictures Anthology: House of Ashes
Developer: Supermassive | Publisher: Bandai Namco
House of Ashes is the latest installment to Supermassive Games' Dark Pictures Anthology. The malleable adventure is heading underground to explore the horrors of war, with House of Ashes pushing into monster horror territory, blurring the line between Aliens and Descent. We spoke to Supermassive to learn more about the third Dark Pictures Anthology episode in our House of Ashes preview.
---
---
Deathloop
Developer: Arkane Lyon | Publisher: Bethesda
Deathloop wants to make you feel like the ultimate assassin. Arkane Lyon is bringing '60s swagger to a complex sandbox of murder and mayhem for what might just be the smartest PS5 exclusive yet. We spoke to the studio behind one of 2021's most anticipated releases to learn why Arkane's ultra-stylish PS5 shooter is so much more than just Dishonored with bigger guns in our Deathloop preview.
---
Elden Ring
Developer: FromSoftware | Publisher: Bandai Namco
After two years of secrecy, Dark Souls developer FromSoftware finally gave us a look at Elden Ring in action. It's undoubtedly the most ambitious game from the studio to date, taking the punishing combat the studio is known for out into a gorgeous open-world. We have Elden Ring release date info for you here, as well as a comprehensive Elden Ring gameplay breakdown.
---
Evil Dead: The Game
Developer: Saber Interactive | Publisher: Boss Team Games
Evil Dead: The Game is the latest in a long line of classic horror franchises lining up behind online experiences. Coming from Saber Interactive, we were treated to a fresh look at the game in action at E3 2021 and it looks like a hell of a good time… even if Evil Dead: The Game is making me wonder why '80s horror is so fascinated with asymmetrical multiplayer.
---
Final Fantasy 7 Remake
Developer: Square Enix | Publisher: In-house
Final Fantasy 7 Remake may have launched last year, but its impending release on PS5 should have you itching to get back to Midgar. We saw brand new footage of the new-gen game in action and were able to get a sense of how Yuffie will change the game. You can read our first impressions of the add-on in our Final Fantasy 7 Remake Intergrade: Episode Intermission preview.
---
Far Cry 6
Developer: Ubisoft Toronto | Publisher: Ubisoft
Far Cry 6 is an ambitious game. Ubisoft is pushing its largest and most densely packed open world, letting us loose across Yara as we stoke the embers of revolution and attempt to burn a tyrannical regime to the ground. We spoke to Ubisoft Toronto to learn about its renewed interest in player agency and why Far Cry 6 wants you to explore Yara without a gun in your hand.
---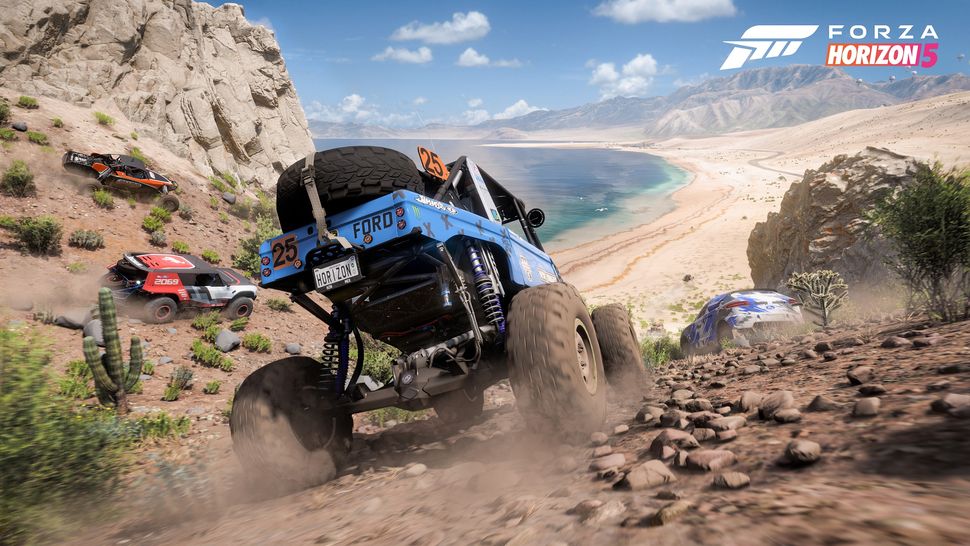 Forza Horizon 5
Developer: Playground | Publisher: Xbox Game Studios
While many of us had been expecting to see Forza Motorsport return in 2021, Microsoft surprised us all with the reveal of Forza Horizon 5. Not content with getting its head down on Fable 4, Playground has been hard at work on an all-new racing adventure. We've put together a Forza Horizon 5 gameplay breakdown for a quick hit of info, or you can read our feature on why Forza Horizon 5 is one of the most impressive Xbox Series X showcases so far.
---
Halo Infinite
Developer: 343 Industries | Publisher: Xbox Game Studios
Halo Infinite is back and looking better than ever. After its divisive showing last year, Microsoft delayed the flagship Xbox Series X game and vowed to give 343 all the time it needed to make Infinite as good as it can be. At E3 , Xbox gave a small tease of the campaign, and it finally showed the multiplayer side of the game in action – it looks like a fantastic evolution, just in time for Combat Evolved's 20th anniversary. In fact, Halo Infinite looks like it's doing free-to-play multiplayer in the right way.
---
Madden 22
Developer: EA | Publisher: EA Sports
EA might be saving the majority of its announcements for EA Play in July, but the publisher couldn't help but give us a little tease of its plans for the sports brands this year. We were given a brand new look at Madden 22, which indicates that EA is finally going big on franchise mode at long last. We explored the most significant changes to play – including MUT, Next Gen Stats, and the live service structure – and more in our Madden 22 preview.
---
Horizon Forbidden West
Developer: Guerrilla Games | Publisher: SIE
Horizon Forbidden West is undoubtedly the most anticipated of the upcoming PS5 games. Aloy is heading to a new frontier, equipped with new abilities and weapons to help her overcome her toughest challenge yet. We were recently given a fresh look at the game in action, running on PS5, and spoke with developer Guerrilla Games to learn new details from our Horizon Forbidden West interview.
---
Mario + Rabbids: Sparks of Hope
Developer: Ubisoft | Publisher: Nintendo
Mario + Rabbids: Sparks of Hope is the sequel to the celebrated Ubisoft-Nintendo crossover that no one knew they needed until they played it back in 2017. Channeling the real-time strategy combat of XCOM, Sparks of Hope expands the scale of Kingdom Battle with a galactic focus, new playable characters, and revisions to its already addictive tactical gameplay. You can read more about the game in our Mario + Rabbids: Sparks of Hope preview.
---
Marvel's Guardians of the Galaxy
Developer: Eidos Montreal | Publisher: Square Enix
The biggest announcement out of Square Enix at E3 2021 was for Marvel's Guardians of the Galaxy. This is the brand new action-adventure game from Eidos Montreal, the studio behind Deus Ex: Human Revolution and Shadow of the Tomb Raider. Ahead of the reveal, we sat down with the studio to learn more about the awesome single-player adventure, the choice and consequence at the heart of the story, the rad '80s soundtrack, and so much more for our Marvel's Guardians of the Galaxy preview.
---
Metroid Dread
Developer: Nintendo | Publisher: In-house
One of the biggest surprises of E3 2021 came from Nintendo. It's been 19 years since the last all-new 2D Metroid game and many of us had believed we'd never see another, especially with news that Metroid Prime 4 was in development. And yet here we are, looking at the long-awaited Metroid Dread in action. We sat down with the development team to uncover the protracted development, to better understand the Alien Isolation vibes, and learn so much more – all detailed in our Metroid Dread preview.
---
OlliOlli World
Developer: Roll7 | Publisher: In-house
When it was revealed earlier this year, the GamesRadar was immediately eager to learn more about OlliOlli World. When developer Roll7 showed the game in action at the Future Games Show, it became difficult to keep our excitement in check. Thankfully, the studio offered to help and gave us access to a new build of the game to play and then sat down with us to answer any questions. Here's what we learned: OlliOlli World is the fluorescent action platformer we all need right now.
---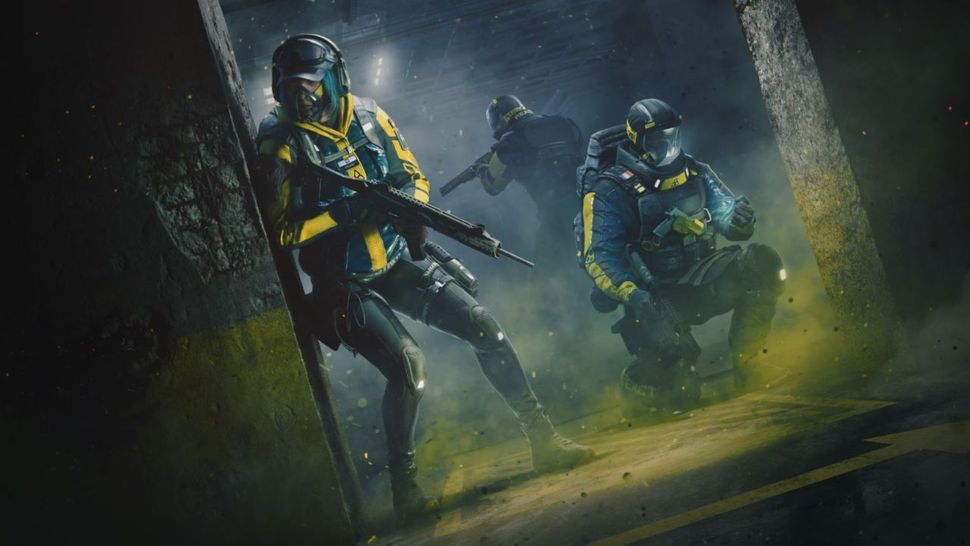 Rainbow Six Extraction
Developer: Ubisoft Toronto | Publisher: Ubisoft
Rainbow Six Extraction is back out of hiding, hoping to ride on the coattails of Siege's success while also distinguishing itself as a unique experience all its own. Ubisoft Montreal's co-op FPS pits you and two other player Operators against an endless horde of parasitic aliens, where strategy and caution are tantamount. Our Rainbow Six Extraction hands-on preview goes into more detail about what you can expect.
---
Ratchet and Clank: Rift Apart
Developer: Insomniac Games | Publisher: SIE
Ratchet and Clank: Rift Apart looks utterly delightful. It's a PS5 exclusive with heart and spirit, designed to give actual kids an entry-point into platformers, and us big kids an opportunity to relive the adventures we grew up playing. We spoke with Insomniac Games to dive deep into what we believe is the most persuasive PS5 showcase yet for our Ratchet and Clank: Rift Apart final preview.
---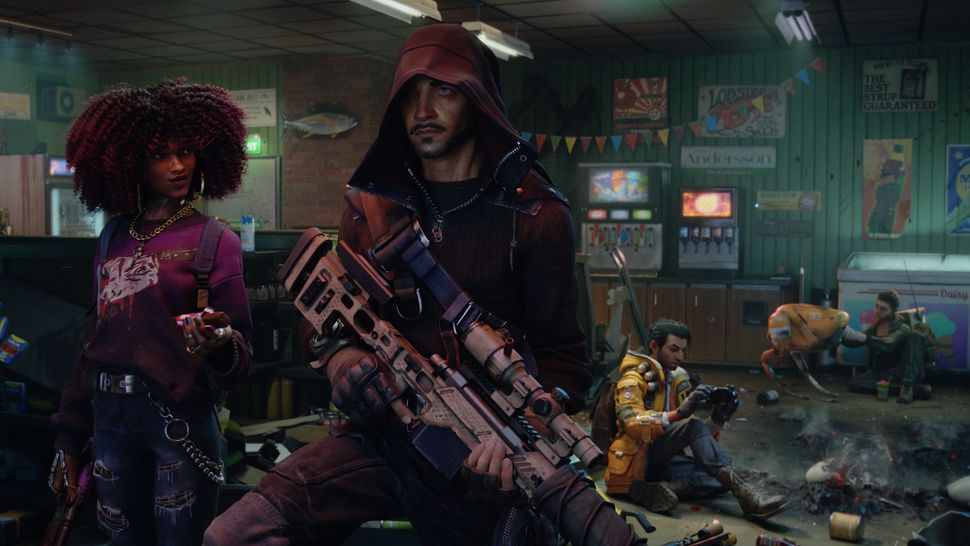 Redfall
Developer: Arkane | Publisher: Xbox Game Studios
Redfall is Arkane's play for global attention. The studio made a name for itself in core-gaming communities with Prey and Dishonored, immersive sims that are practically unrivaled in the last generation. Now Arkane is preparing to make its debut as a first-party Xbox studio with an open-world, co-op vampire shooter that looks completely rad. In our preview, we explore how Redfall and Game Pass could propel Arkane onto the global stage where it belongs.
---
Riders Republic
Developer: Ubisoft Annecy | Publisher: Ubisoft
Riders Republic is only three months out from launch, and we're already donning our kneepads in preparation. With dozens of races, play spaces, and everything in between, Ubisoft Annecy's multiplayer-focused sports action original really does look like a lot of fun. In fact, it looks so much fun that we believe that Riders Republic could be the breakout multiplayer hit of 2021.
---
Stranger of Paradise: Final Fantasy Origin
Developer: Team Ninja | Publisher: Square Enix
A surprise reveal at the Square Enix conference, Stranger of Paradise: Final Fantasy Origin is set in a twisted reinterpretation of the setting for the original Final Fantasy from 1987. Stranger of Paradise: Final Fantasy Origin is an action-RPG made in collaboration with Team Ninja, the studio behind Nioh and Ninja Gaiden. It's certainly a change of pace for Final Fantasy, and you can learn more about it in our hands-on impressions: Stranger in Paradise: Final Fantasy Origin will be a tough sell for some Final Fantasy fans.
---
Starfield
Developer: Bethesda | Publisher: Xbox Game Studios
Bethesda finally pulled back the curtain on Starfield. The upcoming sci-fi RPG is Bethesda's first new IP in 25 years, with the studio leaving the established worlds of Fallout and The Elder Scrolls behind to focus on a new experience set in the stars. We got a bunch of new information, including our first new details on the story, confirmation that Starfield will be an Xbox exclusive, and so much more. You can read the highlights in our Starfield trailer breakdown.
---
Scarlet Nexus
Developer: Bandai Namco | Publisher: In-house
Scarlet Nexus is an eye-catching action game. We've been following the latest from Bandai Namco closely for a while now and for good reason. Arriving in 2021 with a kinetic visual style, a fun crew of characters, and a combat system built around telekinetic powers that takes inspiration from some of the best action games of the last generation. Find out more in our Scarlet Nexus hands-on preview.
---
Sherlock Holmes: Chapter One
Developer: Frogwares | Publisher: In-house
Sherlock Holmes: Chapter One makes a good first impression. We played an early build of the game and spoke with developer Frogwares to learn more about the younger, criminally good-looking detective, the mysteries at the heart of the story, and the design evolutions that are driving this intriguing detective game to the next level. You can learn more in our Sherlock Holmes: Chapter One hands-on preview.
---
Tiny Tina's Wonderlands
Developer: Gearbox | Publisher: 2K Games
Tiny Tina's Wonderlands was a surprise announcement from Gearbox at E3 2021. The upcoming experience is adapting the studio's looter shooter template for a tabletop-inspired RPG like no other, a Borderlands spin-off that's taking aim at a brand new audience. Arriving with a cool concept, a truly awesome cast of voice actors, and a fun approach to familiar gameplay, we explore how Tiny Tina's Wonderlands is building a fantasy adventure from cult classic Borderlands DLC.
---
Two Point Campus
Developer: Two Point Studios | Publisher: SEGA
Two Point Campus was one of the most welcome surprises of E3 2021, arriving from the developers responsible for Two Point Hospital. The team gave us a sneak peak at the new sim in the Future Games Show and we loved what we saw so much that we just had to sit down with them to learn more. In our interview, we discover how Two Point Campus gives you control of the next generation of students and their world – god help them all.
---
The Legend of Zelda: Tears of the Kingdom
Developer: Nintendo | Publisher: In-house
The Legend of Zelda: Breath of the Wild sequel was given a little time in the spotlight at the E3 Nintendo Direct. While Nintendo is yet to officially name Breath of the Wild 2, it did note that the game is targeting a 2022 release date for Switch. There wasn't much information, although we did get a new trailer which has given us the chance to make some predictions. You'll want to read our Zelda: Breath of the Wild sequel gameplay breakdown for all the new details and hints we were able to spot.
E3 2021 Spotlight
Given the volume of announcements at E3 2021, it can be all too easy for great looking indie games to slip through the cracks. We wanted to spotlight some of our favorites from the E3 2021 showcases, so below you can find our features on the games that we believe should be on your radar.
12 Minutes
Developer: Luis Antonio | Publisher: Annapurna Interactive
We had the opportunity to get our hands on 12 Minutes, one of the most innovative indie games on the circuit. It's a murder mystery contained to a single location that's doomed to repeat itself, unless you can find a way to break the cycle of violence and get out of their alive. 12 Minutes gives you one apartment, three celebrities, and a time loop to play with, and you won't want to miss it.
---
Ghosts
Developer: Visible Games | Publisher: Limited Run
Host was one of the best horror movies of 2020, a product of the pandemic that perfectly captured the strange and unsettling circumstances we just experienced. Now the creative team behind that film is turning its attention to video games. In this interview, we explore how FMV horror game Ghosts channels an obscure Hideo Kojima game, and why you have to play it at 10pm.
---
Harold Halibut
Developer: Slow Bros. | Publisher: In-house
Harold Halibut is one of those games that you can't help but pay attention to. You must have seen it in the Future Games Show, the visually astounding puzzle game that's sure to garner the same love and attention as Cuphead once did as we inch closer to release. As we learned in our recent hands-on with the game, it looks as good as it plays too! In fact, we believe that Harold Halibut is an enchanting claymation story that's too weird to put down.
---
Kena: Bridge of Spirits
Developer: Ember Labs | Publisher: In-house
Kena: Bridge of Spirits has been on our radar for some time now. The Ember Labs adventure game looks like it's combining old-school Legend of Zelda action with the micro-management of Pikmin, viewed through the lens of a Pixar production. The studio recently gave us the opportunity to get our hands on the game and we weren't disappointed. You can read all about our time with it in our Kena: Bridge of Spirits hands-on preview.
---
KeyWe
Developer: Stonewheat & Sons | Publisher: Sold Out!
KeyWe was one of our favorite games in the Future Games Show. It's a quirky co-op experience when you and a friend take on the roles of Kiwis working at a post office. No, it doesn't make a whole load of sense but it does look like a whole lotta fun – sometimes, that's all that really matters. We sat down with the studio behind the game to learn more and discover how KeyWe reimagines the co-op chaos of Overcooked in the post office for family-friendly, flightless fun.
---
Last Stop
Developer: Variable State | Publisher: Annapurna Interactive
We had the chance to get hands-on with Last Stop, the latest game from the team behind Virginia.. If you don't remember it, that's the evocative and cinematic thriller that became something of a sleeper hit when it landed in 2016. We believe that Last Stop is a gripping anthology set in a supernatural London that you won't want to miss, particularly if you like your mysteries to come with a side of time tomfoolery.
---
Minute of Islands
Developer: Studio Fizbin | Publisher: Mixtvision
Minute of Islands was shown at the Future Games Show and then immediately released to the world. Naturally, we had to play it immediately. Studio Fizbin has created a gorgeous and imaginative puzzle adventure here and the game is absolutely worth your time and attention. If you'd like to learn more, you should read the feature which explores the full release: Minute of Islands takes you on a thoughtful journey through a beautifully unusual hand-drawn world.
---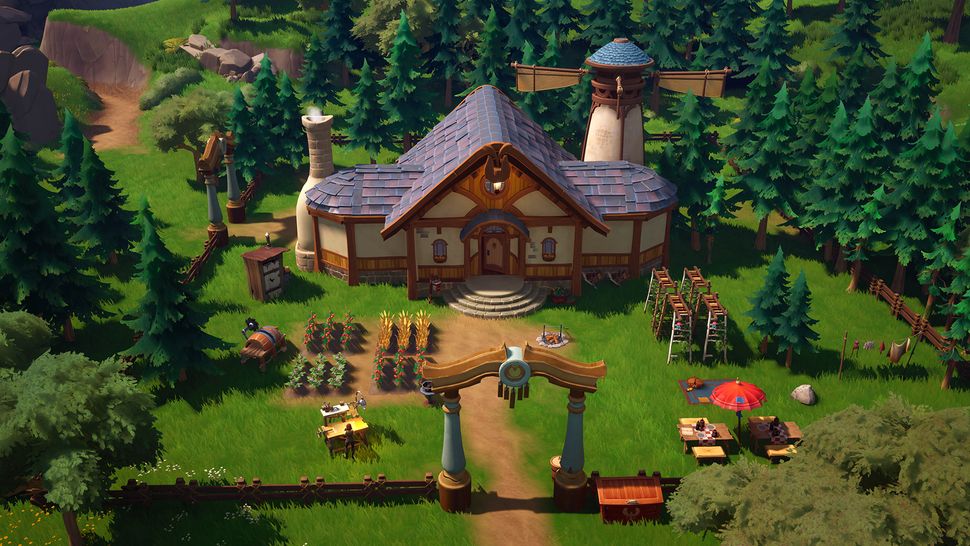 Palia
Developer: Singularity Six | Publisher: In-house
Palia is one of those games that, once you see it, it's difficult to forget . In fact, after our first look at the game and chance to speak to the studio behind it, we said that Palia is a community sim that sounds like Valheim meets Animal Crossing, which is an utterly irresistible combination. Coming from ex-Riot devs, Palia is one of the most interesting collaborative and community focused games on our radar.
---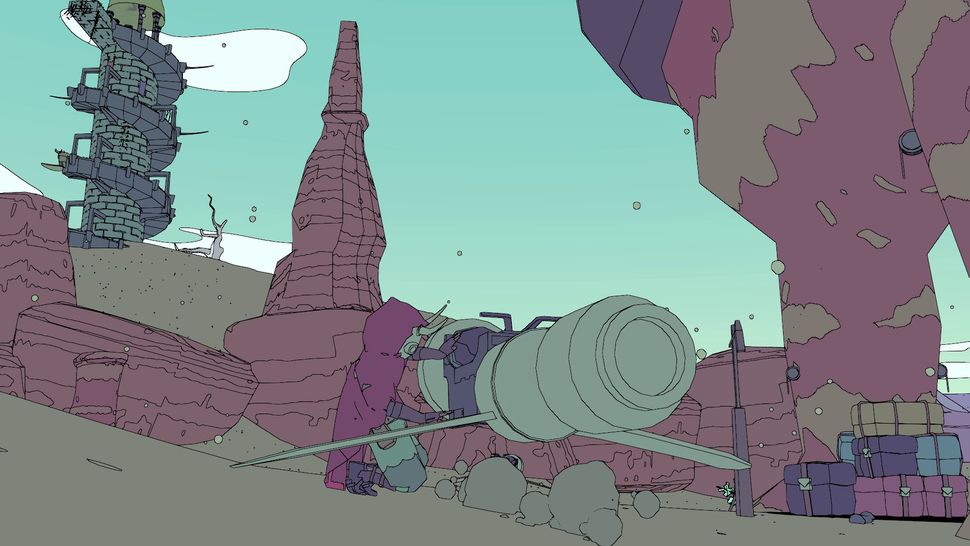 Sable
Developer: Shedworks | Publisher: Raw Fury
Sable is just so delightfully chill. Arriving with lo-fi vibes, a focus on exploration, and an art style that's difficult to forget is bound to be one of the indie hits of the year. By stripping combat out of the experience entirely, Sable is proving to be a non-violent adventure through a wild, untamed expanse. You'll meet the locals, explore the ruins of the old world, and make your own way through the world. We had a great time with the game, which you can read in our Sable hands-on preview.
---
Skin Deep
Developer: Blendo Games | Publisher: Annapurna Interactive
You should always pay attention to what Blendo Games is up to. The studio is responsible for some of the most innovative indie games of all time, from 30 Flights of Loving to Quadrilateral Cowboy. The studio's is a sci-fi action game about rescuing cats from the depths of space... in our preview, we said that Skin Deep is a first-person shooter about rescuing cats, doing the splits, and sneezing in space.
---
The Ascent
Developer: Neon Giant | Publisher: Curve Digital
This upcoming action-RPG from developer Neon Giant for Xbox Series X has been on our radar for a little while now. Can you blame us? The Ascent drops you into a living, breathing cyberpunk world that is "completely seamless from beginning to end" and is absolutely worth your attention. Don't let this isometric action game slip you by, because it might just be the sleeper hit of 2021.
---
E3 2021 Conferences
For the full list of times, dates, and attendees we are going to point you in the direction of our E3 2021 schedule. If you're looking for predictions, information, and roundups on the biggest E3 2021 shows, you'll find links to each of those below.
Summer Games Fest: Every game announced
Date: June 10
The summer of gaming conferences kicked off last night with Summer Games Fest. The 90-minute showcase had over 40 games, largely focused around updates to some of the biggest multiplayer and live service games in the world. There were a couple of new announcements though, from an Elden Ring release date to Death Stranding: Director's Cut for PS5. Click the link above for all the info and trailers.
---
Ubisoft E3 2021: Every game announced
Date: June 12
Ubisoft Forward took place on June 12 and it gave us a new look into the publishers plans for 2021 and 2022. This included our first look at Avatar: Frontiers of Pandora in four years, the new adventure game from The Division developer Massive Entertainment. We also saw the announcement of a new Mario + Rabbids game, and a new look at Ubi's biggest games for the year. Be sure to click the link above for a full breakdown of the show.
---
Xbox E3 2021: Every game announced
Date: June 13
Xbox and Bethesda stood side-by-side for the first time following the $7 billion acquisition last year. The result was one of the best E3 showcases that Microsoft has put on in years, a breathless parade of game announcements and reveals for 2021 and beyond. While Starfield, Redfall, and Forza Horizon 5 undoubtedly garnered the most attention, there was still another 27 games in there, the majority of which are coming to Game Pass. Click the link above for a full rundown of the show.
---
Square Enix E3 2021: Every game announced
Date: June 13
Square Enix decided to keep some of its biggest hitters close to its chest this year. We didn't get any news on Final Fantasy 16 or Forspoken, the PS5 exclusive we're desperate to see more of. However, we did get a massive new game from Eidos Montreal – Marvel's Guardians of the Galaxy – and a brand new look at Life is Strange: True Colors. All in all, a solid showing and you can get caught up by clicking the link above.
---
Nintendo E3 2021: Every game announced
Date: June 15
Anything could have happened in this Nintendo Direct. The company has so many dormant IP, and so many games in active development that have disappeared off of the face of the planet, that it was difficult to make predictions. Unsurprisingly then, the Direct was full of surprises. A Breath of the Wild 2 update took headlines, but it was reveals for the first new 2D Metroid in 19 years, an Advance Wars 1+2 remaster, and the return of WarioWare that had us excited. You know the drill by now, click the link above for the full rundown.
---
Sony E3 2021
Date: N/A
Sony skipped out on the E3 2021 festivities. PlayStation has been absent from both the 2019 and 2021 shows now, giving its closest competitors free reign to set the agenda and talking points coming out of E3 and into the summer. We were surprised to see that Sony didn't run its own State of Play during the week, especially as we believe the Sony PlayStation E3 2021 showing would have taken some of the wind out of Microsoft's sails.
---
EA E3 2021 Predictions
Date: July 22
While this isn't technically a part of the E3 2021 run of show, it's like we said before – E3 2021 basically runs an entire season now. EA Play will land on July 22 as a result, and we're expecting big things. Expect Battlefield 6 to take a headline slot, alongside updates on Dragon Age 4 and Mass Effect 5, a little insight into the Star Wars project Respawn Entertainment is working on, and some insight into the new generation of EA Sports titles at the EA E3 2021 presentation.
---
Future Games Show: Every game announced
Date: June 13
The Future Games Show returned for E3 2021 with a fresh look at some of our most anticipated games of 2021 and beyond. You can click the link above for a rundown of all of the announcements and reveals, including a first look at Sam Barlow's tantalizing new thriller, Immortality. The Future Games Show was hosted by Troy Baker and Laura Bailey, and you can watch the show again on GamesRadar's YouTube.
---
E3 2021 Dates
The E3 2021 dates are set to officially run June 12-15, which is Saturday through Tuesday. While the conference typically runs at the Los Angeles Convention Centre, developers and publishers are taking the show all-digital this year. As a result, E3 2021 has essentially transformed into a full seasonal event; the announcements have already begun and you can expect to see them coming all throughout the summer.
---