The Ubisoft Forward E3 2021 showcase provided us with fantastic new game announcements, title changes, and fresh updates for key titles including Riders Republic. Below we round up everything that was revealed and announced at the Ubisoft Forward E3 2021 showcase.
Rainbow Six Extraction
Say goodbye to Rainbow Six Quarantine, and hello to Rainbow Six Extraction. Ubisoft has made the name change to its Siege PvE spin-off for reasons that don't need to be explained to anyone who's lived on planet earth for the last 18 months, but that hasn't stopped the publisher from using the extra development time since the game's delay to conjure up something special for long-time Rainbow veterans and new recruits alike. Team Rainbow are up against a new threat, the Archaeans; a parasitic alien race with plans for world domination. It's up to you and two other friends to head into quarantine zones across the globe, complete a set of randomly selected missions, and save the world, all while keeping your Operator alive and out of trouble. You'll be able to drop into this sci-fi twist on Siege sooner rather than later, too, as Rainbow Six Extraction is slated to launch September 16 for PC, consoles, and Google Stadia.
---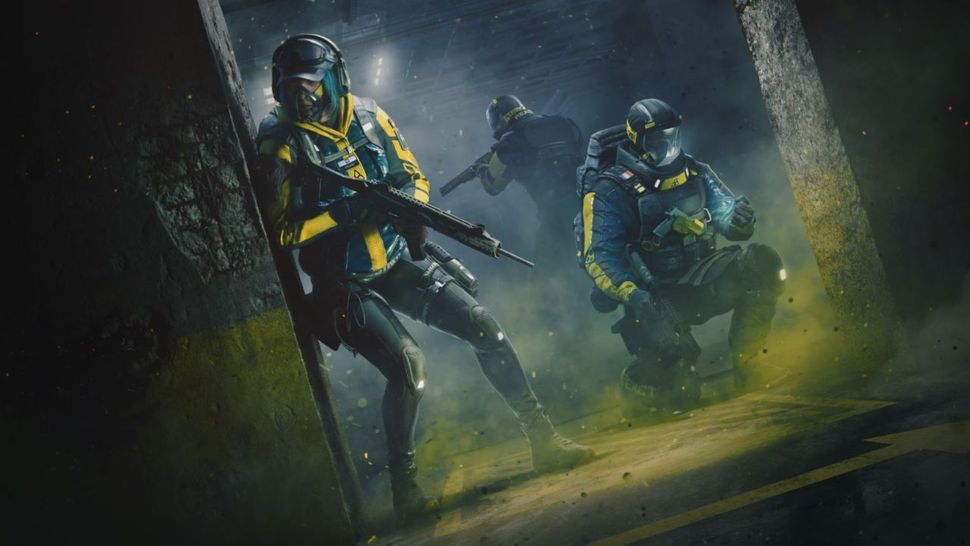 ---
Rocksmith+
Ubisoft's gamified guitar learning system is back as Rocksmith+. It's returning as a new subscription service that uses Guitar Hero style gameplay to teach you to play a real guitar. Unlike the previous game that used an adapter, this lets you use your phone as a microphone to track and score your progress on PC, console and mobile. Ubi is promising a huge amount of songs at launch, with a steady stream of new stuff once it's out. Using it you'll be able to play a real guitar and learn how to play real songs using in-game chord charts, note for note arrangements, and tab systems. It'll track you progress, technique and more, enabling you to up your playing skills and achieve whatever guitar dreams may be. If you want to know more you can register for the beta now at rocksmith.com/beta.
---
Rider Republic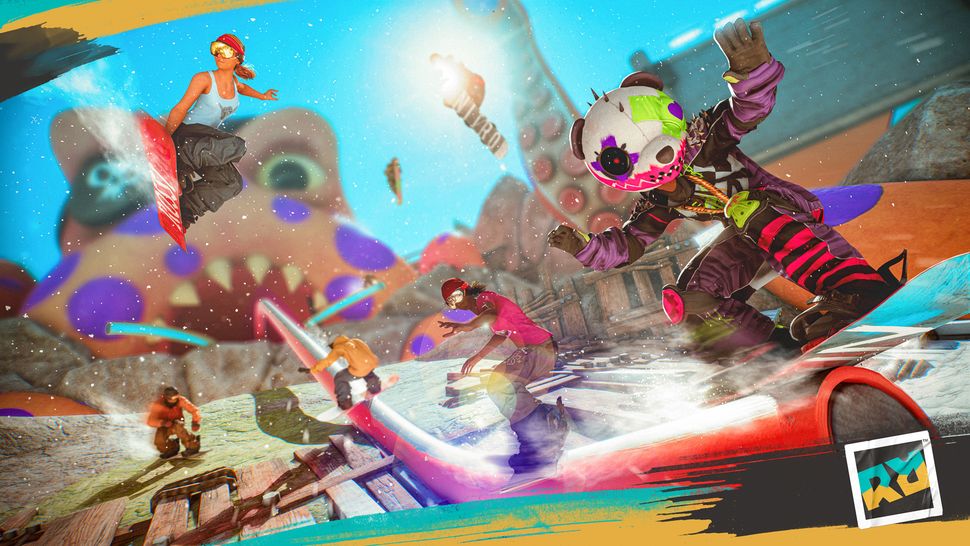 Riders Republic continues to look like the online game I'll be spending most of my time playing this year. Ubisoft confirmed the Riders Republic release date is set for September, alongside a new look at its massive multiplayer playground. There's a social space, open-world exploration, and a solid variety of competitive and cooperative challenges to enjoy with your buddies. And if you want to try before you buy, Ubisoft has promised that there will be limited betas running through to launch. Riders Republic is coming September 2, 2021 on PC, Xbox One, Xbox Series X, and PS4.
---
We chat to the developers behind Riders Republic about how this could be your next best digital social space.
---
Rainbow Six Siege
Siege's big announcement this year was that crossplay and progression were on their way to the game. Although it will have some limited functionality. PC and cloud based platforms like Google Stadia and Amazon Luna were becoming unified on June 30.
Console crossplay and progression is coming as well, though it seems it will just be between Xbox and PlayStation platforms. That functionality is not set to arrive in Rainbow Six Siege until early 2022.

The Siege team also brought an animated trailer for Thunderbird, who had been previously announced. The trailer showed the pilot saving a character in the Canada wilderness before getting attacked by a bear. Thunderbird will launch with the new North Star season next week.
---
Just Dance 2022
Ubisoft's beloved rhythm game returns this year. Just Dance is looking as flashy and fabulous as ever, and while today's trailer was a little light on details, we did learn that there'll be 40 new songs, and that this year's version will arrive on November 4 on all major last-gen and current-gen consoles, as well as Nintendo Switch and Stadia.
The game was introduced by singer, dancer, and choreographer Todrick Hall, whose song Nails, Hair, Hips, Heels is just one of the new arrivals. The song will also be getting its own Just Dance makeover, with brand new lyrics exclusive to the game.
---
Assassin's Creed Valhalla
We got several big announcements for Assassin's Creed Valhalla, including news on the next DLC and the return of Discovery Tour. First up we had Assassin's Creed Valhalla: Siege of Paris, the next major DLC release for the game following Wraith of Druids that launched in May. Arriving this summer, it will explore the titular Siege of Paris, aka the biggest battle in Viking history. Black box infiltration missions - originally introduced in Assassin's Creed Unity and Assassin's Creed Syndicate - are back for this expansion, where the game will give you one objective, but there are many ways in which to carry it out, including various distractions that you could explore. Plus expect new enemies, weaponry, gear, and Eivor tattoos and hairstyles. We also got confirmation that the Discovery Tour for Assassin's Creed Valhalla will launch this fall, which is Ubisoft's historical, gameplay free, exploration option that will teach you more about the world and its historical background. Ubisoft also confirmed that there are more expansion plans for Assassin's Creed Valhalla set for 2022 too.
---
Werewolves Within
Ubisoft's ongoing movie efforts take an unexpected turn with an adaptation of it's 2016 VR game, Werewolves Within. The game, originally based on an old party game, tasked players with trying to work out who were secret werewolves killing unsuspecting victims. The film takes that premise and places a forest ranger called Finn in the role of trying to keep the peace in the town of Beaverfield as a mysterious beast terrorises the inhabitants. It's a comedy horror that, from the trailer at least, has a fair few laughs to its feuding town population trying to stay alive while working out who are the werewolves within.
---
Far Cry 6
Plenty of new content for Far Cry 6 was debuted today during Ubisoft Forward. For starters, we saw a complete cinematic starring the villainous Anton Castillo, as the antagonist boarded a boat with soldiers to reclaim his son. Then, Season Pass offerings were unveiled for the first time, which revealed that past series antagonists Vaas, Pagan Min, and Joseph from the past three main Far Cry games are all going to be returning for their own playable DLC chapters through the Season Pass. Finally, a new, updated version of Far Cry 3: Blood Dragon was revealed to round out the Season Pass offerings. In all, it was a pretty impressive showing for Ubisoft's action-packed franchise, and it's clear there's a lot to look forward to even after Far Cry 6 launches later this year on October 7.
---
Mario + Rabbids: Sparks of Hope
Ubisoft revealed a surprise reveal of a new Mario + Rabbids crossover - Mario + Rabbids: Sparks of Hope. Sadly, the game leaked a few times - including via the Nintendo Store itself - which took some of the fun out of the reveal. But, this is a direct sequel to Mario + Rabbids: Kingdom Battle and will take the tactical battling on a new galactic-scale adventure. New villain Cursa is looking to absorb the energy of the entire universe, so it's up to our heroes - including new faces such as Rabbid Rosalina - to take them down. Developers Ubisoft Paris and Ubisoft Milan are removing the grid this time around, and opening up each planet for enhanced exploration too, giving the player more freedom than the original game. It's arriving sometime in 2022 exclusively for Nintendo Switch.
---
---
Watch Dogs Legion
Aiden Pearce, the hacker hero of the original Watch Dogs, returns in the story trailer for Watch Dogs Legion: Bloodline. The upcoming story DLC expansion serves as a prequel to the events of Legion, and it follows Pearce as he crosses paths with Wrench from Watch Dogs 2 - and their reunion isn't exactly a friendly one. With his mission compromised, Aiden sets out on a hunt to recover a key piece of tech before his nephew ends up paying the price for his failure - and Wrench tries to keep it out of corporate hands. Bloodline is coming on July 6 as part of the Watch Dogs Legion season pass.
---
Avatar: Frontiers of Pandora
Announced way back in February 2017, we had barely heard a whisper on Ubisoft's Avatar Project until today. The first trailer has now revealed the game's full name, targeted platforms (sorry PS4 and Xbox One owners, but current-gen consoles are out of the running), and visual style, which appears to be pushing developer Massive's next-gen Snowdrop engine to the limits with a photorealism that imitates its source material as best as possible. We still don't know whether Avatar: Frontiers of Pandora - also now confirmed to be a first-person, open-world game - is an experience independent of James Cameron's heavily delayed Avatar 2 or an echo of it, but now that Massive Entertainment is out of the weeds of development on The Division 2, that 2022 release date is hopefully going to stay firm from here on out.
---