We're now entering the final days of the current Fortnite season, which has run for longer than usual due to the Christmas break. To fill in the extra time after the week 10 Fortnite Battle Pass Challenges update, a new set of 20 Fortnite Overtime Challenges have been added. If you beat these then you'll unlock rewards such as loading screens, additional styles for some of the Battle Pass outfits and, most importantly, a shiny Fortnite Season 8 Battle Pass completely free for anyone who clears at least 13 of the free challenges before February 27! We've got the details of all of the available rewards, plus we'll explain what all the Fortnite Overtime Challenges are, and show you exactly what you need to do to beat them.
Fortnite Overtime Challenges Rewards
If you're a Battle Pass holder, then three of the Fortnite Overtime Challenges will get you new styles for your outfits. After reaching Tier 47 for Powder, 71 for Trog, and 87 for Onesie, you'll then be presented with part two of that challenge, which involves completing a certain number of Overtime Challenges to unlock a new style for that skin as pictured above. The remaining 17 free Overtime Challenges reward plenty of XP, a wrap, a contrail, and a couple of loading screens, though the prize everyone will be most interested in is the free Battle Pass for Season 8 once you've completed 13 of the free challenges in total.
Fortnite Overtime Challenges
All 20 of the Fortnite Overtime Challenges have now been revealed, and the details are as follows.
Battle Pass Overtime Challenges:
(1/2) Reach Battle Pass Tier 47 (1)
- (2/2) Complete Free Overtime Challenges (5)
(1/2) Reach Battle Pass Tier 71 (1)
- (2/2) Complete Free Overtime Challenges (10)
(1/2) Reach Battle Pass Tier 87 (1)
- (2/2) Complete Free Overtime Challenges (15)
Free Overtime Challenges:
Complete Free Overtime Challenges to get Season 8 Battle Pass (13)
Deal damage to opponents with Assault Rifles or Pistols (500)
Place Top 15 in Duos with a friend (3)
Deal damage to opponents with Shotguns or SMGs (500)
Search chests or ammo boxes at The Block (7)
Place Top 10 in Squads with a friend (3)
Follow our advice for the individual Fortnite Overtime Challenges below, and you'll be blitzing your way through them all in no time.
Collect Coins in Featured Creative Islands
To collect Fortnite coins, you first need to switch to Creative mode from the game mode selection screen. Once you're in there, hit Play then launch a server to get started. This will drop you into a lobby, where you'll be presented with a series of rifts leading to Featured Creative Islands. Approach one and check the description to make sure they have coins, then jump in. You'll then get to play the featured map, where you need to look out for large floating coins to collect by passing through them. We found MOVE! by tollmolia was simple to use for this, and at any point you can pause then either reset the map or quit and try a different one, and your coins will be retained - grab 15 in total and you're done.
Search chests or ammo boxes at a motel or an RV park
If you're not already familiar with these two locations, then the motel can be found between Junk Junction and Lazy Links, and the RV park is situated between Retail Row and Lonely Lodge. You'll need to search chests or ammo boxes in those locations, which isn't difficult but there will be an increased number of players around due to this challenge so be wary. Both locations are marked on our map below:
Regain health from a campfire in different matches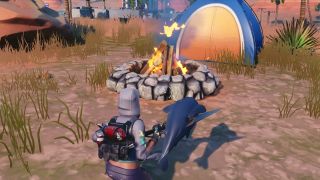 There are two different ways you can regain health from a campfire - either collect and deploy a Cosy Campfire 'trap', or visit one of the Fortnite Campfires dotted around the map and activate them. There's over 40 of them in total, but each of them can only be used once per match, so if another player gets there before you then you'll have to try elsewhere. Naturally, you also can't regain health if you're already on 100, so you may need to drop from a height to give yourself a bit a fall damage before triggering the healing. There's a full map of the campfire locations below:
Visit different Named Locations
There are currently 21 named locations on the Fortnite map, and for this challenge you have to visit 10 different ones. If you mix up where you drop at the start of each match and move around the island then this shouldn't be a problem, and you can always jump in one of the Fortnite planes to fly over multiple areas quickly. If you want to tick them off as you go, these are all of the named locations:
The Block
Dusty Divot
Fatal Fields
Frosty Flights
Happy Hamlet
Haunted Hills
Junk Junction
Lazy Links
Loot Lake
Lonely Lodge
Lucky Landing
Paradise Palms
Pleasant Park
Polar Peak
Retail Row
Salty Springs
Shifty Shafts
Snobby Shores
Tilted Towers
Tomato Temple
Wailing Woods
Search a Supply Drop in different matches
Finding a Supply Drop in a match can be tricky, as they normally don't appear until the later stages of the battle and are highly sought after. However, the recently added Driftin' LTM spawns a large number of Supply Drops near the start of the round, so for most players this will offer the best chance of grabbing one. If you deploy your glider as soon as you leave the battle bus, you can scan the area below you then hone in on a Supply Drop when they appear.
Revive a player in different matches
To have the option of reviving another player, you need to be in a Duos or Squads mode with at least one other person on your team. For this challenge you need to revive another player in three different matches, and the easiest way to get it done quickly is to pair up with a friend. Once you land, have them grab some materials and build a ramp high enough to knock themselves out with fall damage from the top, then revive them and that's one ticked off - return the favour if you can, then finish the match and repeat a couple more times to be done with this one.
Visit different waterfalls
You may not have paid much attention to Fortnite waterfalls in the past, but it's important to know where they are for this challenge. We've marked all of their locations on the map below, including the three small waterfalls in the middle of Loot Lake which all count individually: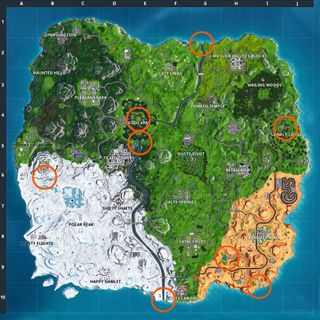 Play matches of Driftin' with a friend
We were originally meant to receive Fortnite Driftboards back in December 2018, but they have now finally made an appearance with the recent 7.40 update. For this challenge, you'll need to Squad up with a friend, then play three matches of the Driftboard LTM with them.
Thank the Bus Driver in different matches
Since the feature was added, you can't help but notice the flurry of activity on the game feed at the start of each match as players thank the driver for their tireless service. Hopefully you've been polite and doing the same, but if you're still not sure how to thank the driver in Fortnite then all you need to do is push down on the d-pad while you're still aboard the battle bus. "Cheers, drive!"
Search chests or ammo boxes at a racetrack or a dance club
Here's another challenge for searching chests or ammo boxes in specific locations, and hopefully by now you'll know where the racetrack is as it's pretty obvious on the map. The dance club, however, has a great concentration of chests and ammo boxes, and being less well known may make it a safer bet for this challenge. The dance club can be found to the northeast of Happy Hamlet, in one of the warehouses surround by snow, and we've marked both locations for this challenge on the map below:
Outlast 75 opponents in a single match
If you've not been racking up the Victory Royales, then outlasting 75 opponents may sound like a daunting prospect, but don't stress as it's actually not that hard to survive until the final 25 or so players remain. If you remain on the battle bus until you're kicked off at the end, then immediately open your glider and slowly drift down to the island, you can often outlive at least 50 opponents by the time you reach the ground. If you're not confident with combat, then find a good spot to hide within the circle - crouching in a bush will allow you to hide in plain sight - and wait for your opponents to whittle each other down.
Dress to impress? This is the best Fortnite merch to wear as you floss your way to Victory Royale.