5. Overcooked 2
Co-op type: Local and online
Overcooked 2 sounds simple - prepare a bunch of meals as chefs within a certain time limit. Easy. Well, not so much. While there are up to four of you playing, it starts to get tricky to keep track of the game's various commands and stipulations, as well as avoiding various hazards and pitfalls in the kitchen itself. This can lead to some frantic play, and only the most cohesive of teams will get those dishes out on time.
The levels are insane, the menus increasingly complex and overall this is a mad, mad existence of a game. But, hilarious fun too. Warning: may cause bickering among even the closest friends, partners and family members.
Play it on: Xbox One, PS4, PC, Switch
4. Destiny 2
Co-op type: Online
Bungie's sci-fi epic is built on the ability to join up with other players as much as possible. Part FPS, part MMO, Destiny 2's outstanding shooting mechanics and tempting loot grinds will keep you and your friends in for the long run, or at least until Destiny 3 inevitably comes out and everyone jumps ship. Not only are there a ton of Adventures, Strikes, Nightfalls, and six-person raids to participate in, but you'll also find yourself working with random players you encounter in the world.
Public Events literally fall out of the sky, tasking you and anyone nearby to fight off hordes of enemies for that extra piece of loot. If you've somehow never jumped on the Destiny train, you still have time to find and friend and become a Guardian pf the galaxy today.
Play it on: PC, Xbox One, PS4
3. Minecraft
Co-op type: Local (on console and PC) and online
Yes, Minecraft gets everywhere but for good reason: its digital building block world has endless imagination-filled potential. You can team up with friends to build pointless structures, or grand engineering feats of construction. Or you can just bounce about the place creating chaos and generally hanging out. It's lack of rigid structure means you and your friends can get up to anything - whether that's an evening of messing about or a longer term project you can take your time over.
Play it on: PS4, Xbox One, Switch, PC, iOS, Android
2. Fortnite
Co-op type: Online
Fortnite is a shining example of a game that gets more fun the more friends you have playing with you, and what's even better is that its insanely popular Battle Royale mode is totally free. Weekly challenges keep things fresh so you have something new to do every week, and as each season comes and goes there are new updates thrown in and major map changes as the story subtly evolves.
Even still in Early Access, Epic's charming Save The World base-defense/shooter/survival game hybrid is a better platform for cooperative play than many full releases. Not only does playing with a handful of friends give you a better chance to fend of waves of husks or construct the ultimate base, those friends can also provide you valuable XP boosts and a better chance to nab some of Fortnite's massive catalog of rare loot.
Play it on: PS4, Xbox One, PC
1. A Way Out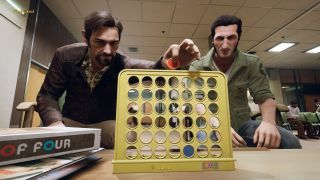 Co-op type: Local and online
It's rare that a game is only playable in co-op, but that's exactly what A Way Out does. Whether you're splashing the water to usher fish to each other; going back to back to shimmy up a wall gap; passing a chisel between cells to find an exit route; or even just playing Connect Four or a game of basketball, the co-op never feels like an added extra, it's all built for you to enjoy together in a way that's satisfying and worthwhile regardless of the scale of the interaction.
You're two criminals trying to find a way out of prison and a step closer to redemption, but more importantly this is one story that you must experience together. And it's the best co-op game we've ever played.
Play it on: PS4, Xbox One and PC
Some online stores give us a small cut if you buy something through one of our links. Read our affiliate policy for more info.