Tis the season for the best co-op games, a way to keep cabin fever at bay while when it's cold outside and you've already watched everything new on Netflix. Twice. These games are a great way to connect with family and friends, and to see which one of your siblings is the most competitive. There's something for everyone here, young and old, strategic or silly, whether you can be in the same room as your co-op buddy or not. 
This list is the one to grab is you want to know what the 25 very best co-op games are, so you can skip that part where you argue over what's worth downloading or try three or four terrible games before finding a winner. 
Oh, and if you need a spare pad, check out our guide on how to buy an extra PS4 controller cheap or Xbox One controller cheap. And, if you're feeling frugal there's always the best free PS4 games help spread the cost. 
Check out our video for the best co-op games below:
30. Lego Marvel Super Heroes 2
Co-op type: Local and online
If you've never sat on a couch and played a Lego game with your child, friend, sibling, or significant other, you're really missing out on the great things in life. Yes, there are a ton of co-op Lego titles out there, but Lego Marvel Super Heroes 2 is our favourite. 
You get to play as just about any Marvel character you can think of, from Rocket Raccoon to Squirrel Girl. The cute aesthetic, simple gameplay, and adorable cutscenes are incredibly charming, and they can be enjoyed by everyone. Except people who hate Marvel, whoever the hell they are.
Play it on: PC, PS4, Xbox One, Switch
29. Trine 4: The Nightmare Prince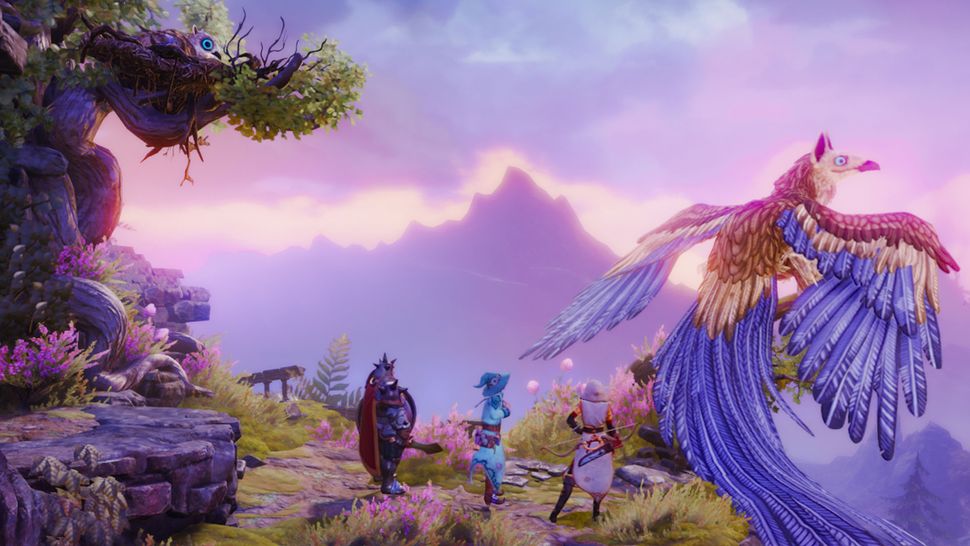 Co-op type: Online and local
Trine 4 is a dream-like puzzle platformer that's better when you break the rules. There are two ways to play online co-op: in the classic mode, three players each pick a class – wizard, thief, warrior – and combine abilities to solve challenges and beat down enemies. Played solo, Trine 4 is a little too simple, but in co-op some of the puzzles are made trickier, and having to coordinate with friends adds another layer of challenge. A trickle of new abilities keeps it from growing stale, and a few standout moments punctuate what is otherwise a consistent, polished campaign.
In a second mode, up to four players can team up and swap between classes at any time at the press of a button. It's here that Trine 4 delights us most, with endless ways to sabotage your friends, as well as scope to race each other through levels, solving puzzles in unexpected ways. Try both modes to see which you prefer.
Play it on: PC, Switch, Xbox One, PS4
28. Rainbow Six Siege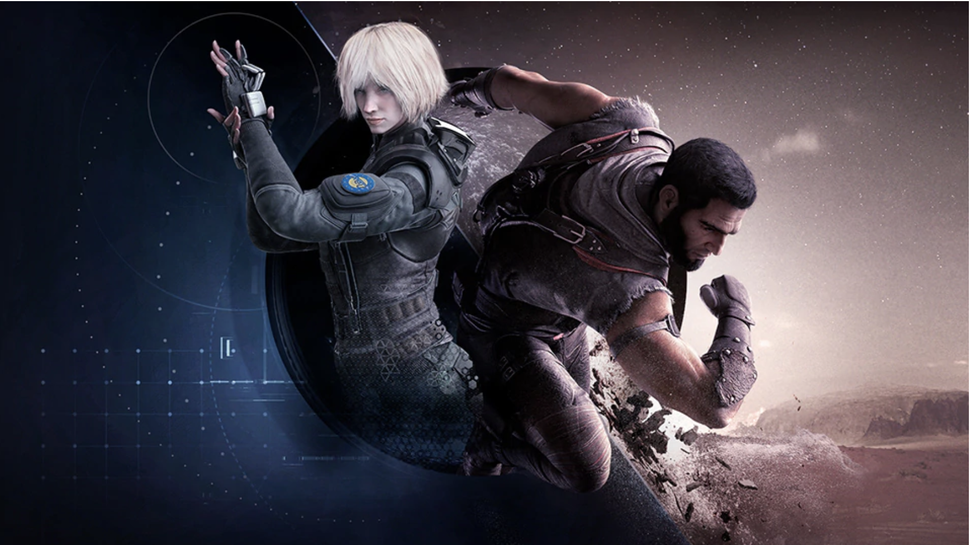 Co-op style: Online
Rainbow Six Siege is known for its tense, tactical PvP fights, but its co-op Terrorist Hunt mode, a staple of the series, is deserving of an evening or two of your time. Just like in previous instalments, your job is to clear your chosen level of terrorists as quickly as you can. Don't expect to go in all guns blazing: you'll have to clear traps, use your abilities and coordinate timings with up to four squadmates if you want to down all your foes.
Our advice is to dial up the difficulty as high as you can bear it. The greater the challenge, the more you'll have to rely on teamwork, and this mode is at its best when you're forced to create detailed plans and execute them flawlessly. Round by round, you'll feel yourself improving, until eventually you're able to sweep through a map like a real-life SWAT team.
Play it on: PC, Xbox One, PS4
27. Keep Talking and Nobody Explodes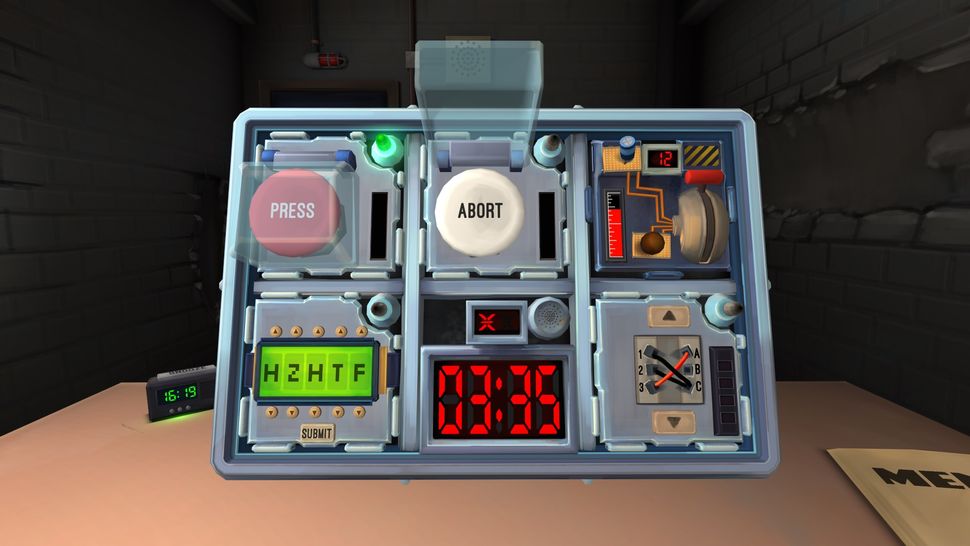 Co-op type: Local
Unless you've invested in a VR headset, you probably haven't even heard of this one. However, it's a uniquely brilliant take on co-op play, and demands your attention. One person wears the VR headset, while a number of other people sit - in the real world - and look at a booklet of bomb-defusal documents.
The person inside the VR headset sees a briefcase with a bomb in it, and various devices to disarm, which he/she describes to the people in the real world. The idea is to use the bomb disposal docs to defuse the device by... actually talking to each other and cooperating. It's all set to a time limit to add tension, and bombs get increasingly tricky to dismantle as you play. It's brilliant fun, and a perfect party game.
Plus, it's now on Switch, so one of you will have the console in your hands, the other the instruction manual. It's a great piece of teamwork, and a word of warning, may ruin families. 
Play it on: PC, PS4, PS VR, Oculus Rift, HTC Vive, Nintendo Switch
26. Don't Starve Together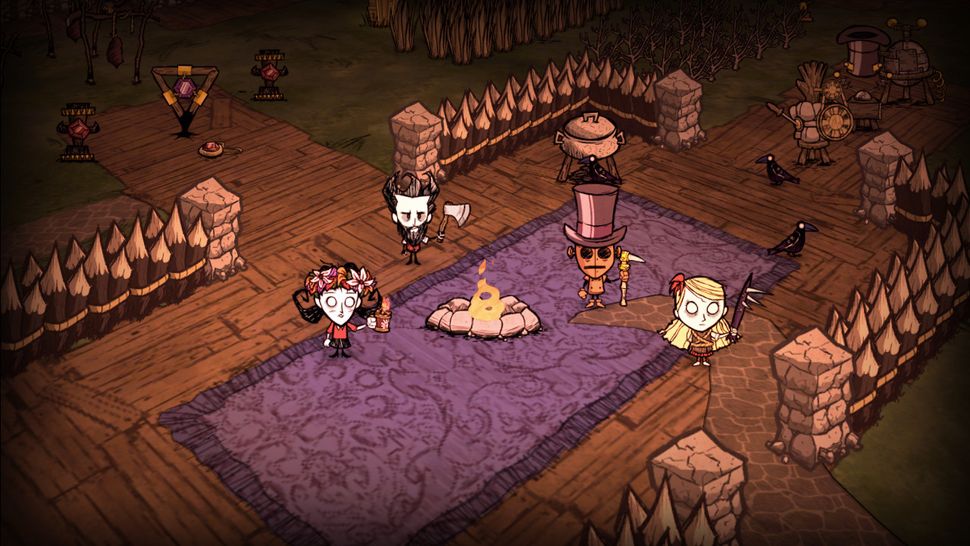 Co-op type: Local and online
The threat of permadeath is somehow softened when it's shared. I mean, you'll all still die but at least there's comfort, and blame, when you're playing co-op. Don't Starve's resource gathering, base building challenge was already great fun, but it's even more so with a friend. Especially as you can split the workload and responsibilities as you tend to your home or farm, and explore the world to find more of whatever you need to make it through another day. 
Play it on: PS4, Xbox One, PC
25. Far Cry 5
Co-op type: Online
You might want to call your dad. You're in a cult. Or, at least fighting one. As you explore the violent-rocked landscape of Montana in Far Cry 5 , it might be safest to rope in a friend. With drug-fuelled cultists ready to kill you with a baseball bat, others setting anyone who doesn't believe on fire and eating them, or even just willing die for Eden's Gate leader Joseph Seed, turns out this place is a dangerous one. 
Fight bears, fly planes, soar across the treetops in a wingsuit... whatever you do is only better - and safer - with a friend in toe. And what fun you'll have.
Play it on: PC, PS4, Xbox One
24. Deep Rock Galactic
Co-op style: Online
Think Left 4 Dead with space dwarves and you won't be far off. Deep Rock Galactic is a team-based shooter where you and up to three stout friends rocket into a procedurally-generated planet in search of minerals. To find what you want, you'll each have to use your class-specific abilities, slinging grappling hooks, creating platforms, lighting up dark caves and blowing holes in the scenery to create new paths. Every so often, a swarm of alien spiders will jump on you, and you'll be forced back to back, pulling your trigger for dear life.
It's still in Early Access, but it's stable and looks fantastic. Its varied, colourful environs never seem to repeat, and when the lights dim and smoke rises, it's properly atmospheric. 
Play it on: PC, Xbox One
23. Warframe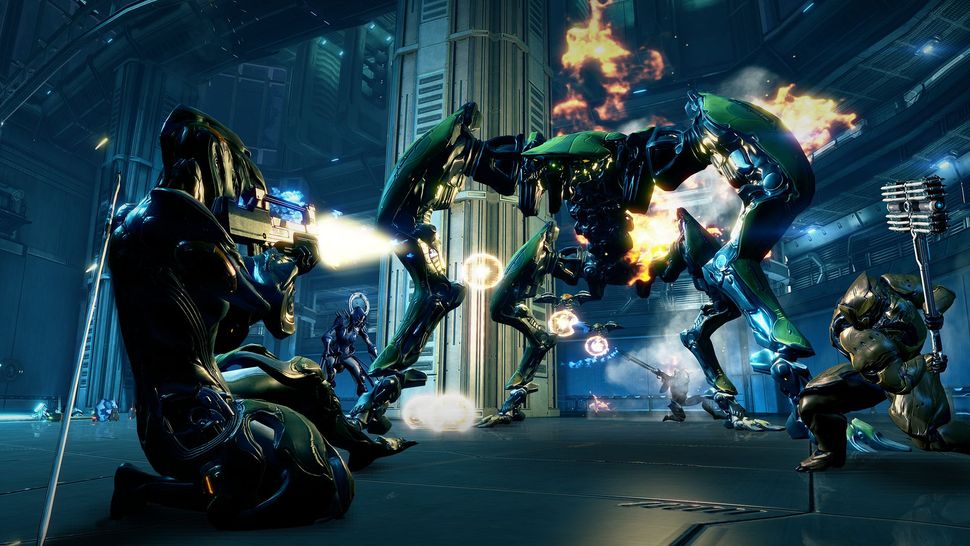 Co-op type: Online
Tens of millions of people play Warframe so it must be doing something right. It's an online four player co-op shooter where you explore and fight your way through space in ultra futuristic suits, gaining powers, abilities and new weapons along the way. That's basically the main draw here - battle things to get more gear to battle more things. Like the Destinys and Monster Hunters of the world this is all about chasing better shotguns and space boots. 
Play it on: PS4, Xbox One, PC 
22. Human Fall Flat
Co-op style: Online or Local
There's more depth to Human: Fall Flat than you might suspect by glancing at its goofy physics and non-descript characters. Yes, its deliberately complicated controls make for lots of wacky fails, and trying to do something as simple as climb up a wall makes you look like a flopping fish out of water. But there's some serious puzzling here, and you'll need a fair amount of brainpower and coordination, not to mention luck, to pull off the toughest tasks.
The muted visuals belie the variety of the challenges ahead: you'll pull the levers of a crane to send a wrecking ball through a wall, pilot a giant freighter ship into port, and switch conveyor belts on and off to move blocks around in a power plant. While the singleplayer can be frustrating at times, having a friend makes everything funnier. A missed jump (and don't worry, they'll be plenty), is cause for celebration rather than despair. When playing solo, hanging on for dear life while failing to reach a ledge is frustrating – in co-op, your partner can reach down, grab you by the head and fling you over their shoulder. Job done.
Play it on: PC, Nintendo Switch, Xbox One, PS4
21. We Were Here
Co-op style: Online and local
The We Were Here trilogy is all about clear communication. Two adventurers are split up and put through a series of escape rooms. While one person tries to solve the puzzle, the other feeds them clues from their own room. By describing your environment and observing how it changes, you'll be able to puzzle your way out together, often by matching symbols between rooms (which is harder than it sounds when you're trying to describe a bunch of squiggly lines that all look the same).
The first game is the shortest, but it's also completely free, so it's where you should start. Here, one player takes the role of explorer while another is a librarian. The librarian is the one with all the clues, but in We Were Here Too and We Were Here Together, the roles are more equally split. 
Play it now: PC
Turn to page 2 for more of our best co-op games...