'90s Films That Shouldnt Be Remade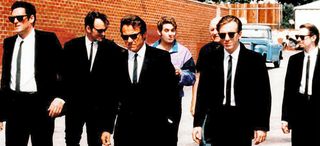 Reservoir Dogs (1992)
The '90s Film: The defining U.S. Indie of the 1990s, cutting a swathe through formulaic moviemaking with shaggy-dog tangents, whipsmart dialogue and shocking violence.
Clearly, a big-budget remake would miss what made Quentin Tarantino's debut such a treat: the ability to use wit and intelligence to turn the gaps betwen set-pieces into set-pieces themselves.
If They Have To Remake It: Somebody may as well take the money and run, by shooting all the stuff QT couldn't afford: the heist, the army of cops taking down Mr Pink, yer actual moment of ear-slicing gore.
Oh, and while we're at it, let's explain the title. How's about a flashback explaining how Mr Orange decided to become a cop after accidentally killing some dogs by a reservoir.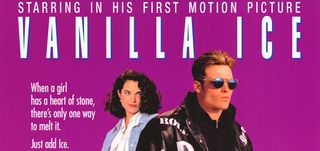 Cool As Ice (1991)
The '90s Film: Vanilla Ice's shot at cinematic immortality bridged the hitherto unexploited gap between biker movies and rap, as his Harley-riding drifter faced off against corrupt cops with the power of rhyme.
The film exists solely as a cautionary tale to Eminem, whose 8 Mile is surely the only 'white rapper' movie we need to see. And yet...
If They Have To Remake It: A year ago, the chances of a V-Ice comeback were off the chart. Now he's back at the top of them.
So it's only fair to give his young proteges a crack at the whip. Yes folks, we're going there. Jedward: The Movie .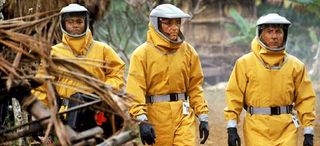 Outbreak (1995)
The '90s Film: For roughly one afternoon in the early '90s, the big media panic / health scare story was the flesh-eating Ebola virus. Inevitably, Hollywood forked out on a lavish Wolfgang Petersen thriller with an A-list cast.
Alas, by the time it got into cinemas, everyone was over Ebola and we were all terrified by Liam Gallagher or something.
If They Have To Remake It: It'll probably be about recent 'killer bug' swine flu, and will feature shots of pigs shuffling about looking suspicious, before coughing into John Cusack's face.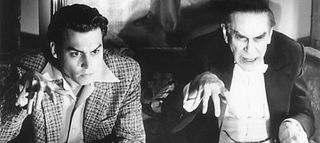 Ed Wood (1994)
The '90s Film: Tim Burton's love letter to the so-bad-he's-good maker of killer Bs would fall on deaf ears nowadays.
Let's face it, to a generation of kids who watch movies on Blu-ray, Burton's pitch-perfect B&W pastiche would just look like another cheap old movie.
If They Have To Remake It: It won't be Edward D. Wood Jr who gets the cult icon treatment, it'll be German Scheißemeister Uwe Boll.
Given its ironic journo-thumping climax, we kinda fancy David Fincher and Brad Pitt for the gig.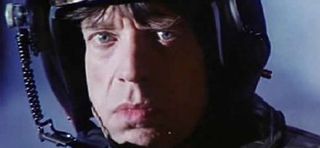 Freejack (1992)
The '90s Film: Petrolhead Emilio Estevez, about to die in a car smash, is instead whisked away by mercenary Mick Jagger (!) to a future where dying billionaire Anthony Hopkins will 'bonejack' Estevez's body to stay young.
The year of this dysyopian vision: 2009. Yup. If it was laughable back then, it's downright stoopid in retrospect.
If They Have To Remake It: With a minor tweak to the date, the original's future becomes the remake's present.
As cops investigate how the rich can stay so young, they discover the shocking truth: the bodies are being snatched from the past! Still be bloody daft, whatever the year. Especially if Mick gets a cameo.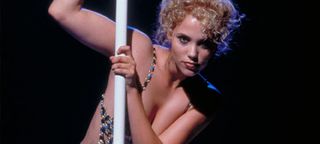 Showgirls (1995)
The '90s Film: Amazing to think that it's only 15 years since this became a cause celebre. Nowadays, its mix of soft-porn and camp theatrics looks bizarre.
Adolescent pervs can get harder stuff online, while there's a whole industry of Saturday night talent shows for anybody who wants to see toned dancers strutting their stuff, if that's what floats yer boat.
If They Have To Remake It: Can we have it in 3D?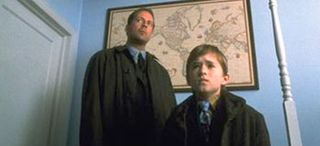 The Sixth Sense (1999)
The '90s Film: As with so many of the decade's tricksters (hello, Keyser Soze!), is there anybody who doesn't know the twist to this? What'd be the point of a remake?
M. Night Shyamalan's breakthrough hit traded on its unreatable sleight-of-hand, not to mention the good luck of finding Haley Joel Osment, that rare child actor who can be both sympathetic and creepy.
If They Have To Remake It: Ditch the kid, and make the wife the psychic. She knows Dr Crowe is dead and has to prevent him finding out otherwise he'll leave the land of the living.
Of course, all her friends and neighbours think she's gone crazy with grief. Hilarity, as they say, ensues.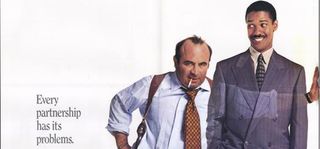 Heart Condition (1990)
The '90s Film: As the new decade begat a golden age of African-American directors led by Spike Lee, race was at the forefront and Hollywood execs took note / cashed in.
Twenty years on, it's inexplicable that this crass, insensitive comedy - about a racist cop (Bob Hoskins) is haunted by the ghost of the dead black lawyer (Denzel Washington), whose heart has been transplanted into Hoskins - was greenlit.
Certainly, never ever mention it to Washington, who sacked his agent after filming.
If They Have To Remake It: Something this bad taste can only be played for sick, satirical laughs.
Let's make the racist is an Islamaphobic Iraq vet, whose new heart came from a suicide bomber, who's now aggrieved at not getting the 72 virgins he was promised.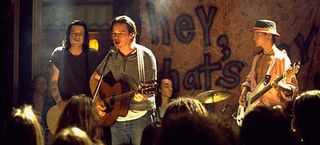 Reality Bites (1994)
The '90s Film: A defining statement of 'Woe is me' Generation X slacker-y angst, alternating between aimless McJobs and coffe-house naval-gazing... Which is, oddly, directed by Ben Stiller.
One of those films destined to give guys and gals over the age of 30 a severe embarassment flashback.
If They Have To Remake It: Same cast, same director - but played as a piss-take.
The biggest joke being that 40-somethings Winona Ryder, Ethan Hawke and Stiller are all still behaving like they're at college.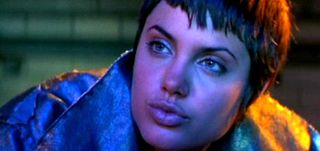 Hackers (1995)
The '90s Film: Back in the day, before Google, eBay and Youtube, the Internet was the playground of anti-establishment geeks, all going under silly names like Crash Override, Acid Burn, Cereal Killer and The Plague.
Hollywood thought: that sounds cool and made a film that, to all intents and purposes, consists entirely of people typing. See also: The Net .
If They Have To Remake It: At least make it look interesting, maybe by having the hackers actually need to get inside the computers to do their dirty work.
...Hang on, that's a bit like The Matrix , isn't it? Or Tron . Oh well, back to shots of people typing - although at least nowadays they can do it on a iPhone.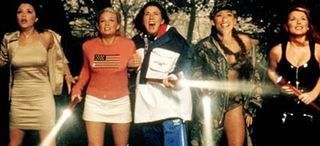 Spiceworld: The Movie (1997)
The '90s Film: Five caricatures of feminity bring Girl Power to Cool Britannia from a double-decker bus.
A time capsule of a bygone age when we all thought Tony Blair would change the world for the better, and naming your bandmates Sporty, Scary, Baby, Posh and Ginger seemed like a good idea. What relevance could it possibly have now?
If They Have To Remake It: It should be an X Factor satire, as an anarchic new judge bets The Cowell that he can win by assembling the least likely girl group in history.
Obviously, Mel, Mel, Emma Victoria and Geri can play themselves. It's not as if they're doing anything else.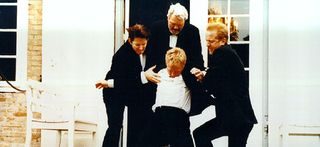 Festen (1998)
The '90s Film: The Danish flick that kickstarted Dogme 95 made the most of its lo-fi digital technology, looking not unlike a nightmarish version of You've Been Framed .
Scuzzy grain and in-your-face compositions provided the perfect visual metaphor for a family celebration gone horribly awry. A remake could only prettify things.
If They Have To Remake It: It'll likely be an adaptation of the successful stage version, which maintained the story's frisson of voyeurism by making the audience uncomfortable witnesses.
The only way to stop a big-screen revival from being merely a glossy record would be to bag the best cast possible. Smart money's on Michael Gambon as the bad dad.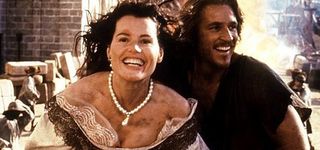 Cutthroat Island (1995)
The '90s Film: One of the last BIG flops, whose sea-sick reputation was so bad Hollywood thought Titanic would sink simply because, like Cutthroat , it was expensive and involved water.
Really, though, it faltered because its big idea of a twist of ye olde pirate saga was to cast a woman (Geena Davis) as a pirate. We now know it takes Johnny Depp and a treasure chest full of CGI beasties to make that one sail.
If They Have To Remake It: Post-Sparrow bloat, audiences might just be hunkering for something simpler and back-to-basics. Andt that means making it cheap.
Our advice: set it entirely on the island and do it as a pirate slasher movie, as a shipload of buccaneers arrives to bag the treasure only to find someone will go to any lengths to stop them having it.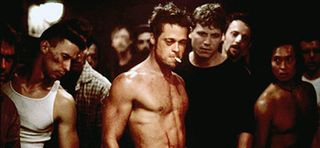 Fight Club (1999)
The '90s Film: Unlike so many '90s Zeitgeists, Fincher's fin de siècle fable hasn't really dated at all: consumer alienation, cathartic pummelling, bring down the banks morality...
That's not all: Fincher's style was so ahead of the curve there are still only a few filmmakers who can see far enough around the bend to emulate him.
Remaking it would be both pointless and disastrous, like eating rice pudding in a wind tunnel.
If They Have To Remake It: Sod it. Let's make Fight Club 1899 , as a repressed Victorian gentleman has enough of etiquette and starts an East End bare-knuckle boxing den with the mysterious Ritchie Guy (see what we did there?).
Features a cameo by a young Sigmund Freud, who, in realising the truth about The Narrator, inadvertently invents psychoanalysis.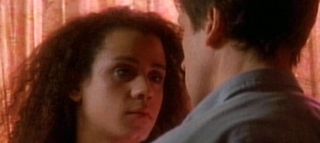 The Crying Game (1992)
The '90s Film: Neil Jordan's unique blend of IRA thriller and gender-bending romance was both topical and radical in 1992.
Nowadays, with sectarian violence eclipsed by Muslim fundamentalism, and transsexual identity not the taboo it used to be (hey, a trannie's even won Eurovision since then!), it's difficult to see the point of a remake.
If They Have To Remake It: Another one where 'insensitive jihad drama' is the only way to go, as a counter-intelligence op falls in love with a terror suspect, only to find "she" is a bloke in a burkha.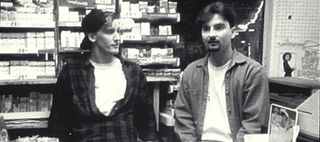 Clerks (1994)
The '90s Film: At the time, Kevin Smith's comedy was a defining document of no-budget slacker filmmaking, with its slapshod camerawork, shaggy-dog dialogue and on-the-pulse video store setting.
Nowadays, apart from still being hilarious, it's a period piece. The technical ability bar has been raised for budding auteurs, and - as Clerks 2 confirmed - nobody rents anymore.
If They Have To Remake It: It should be topical. Let's set it in the vast warehouses of Lovefilm.com, with Dante and Randall bitching and moaning all day long as they traipse to the stockroom to post yet another boxset of The Hills .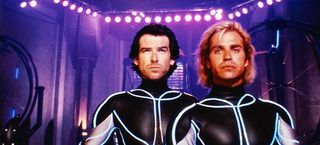 Lawnmower Man (1992)
The '90s Film: Virtual reality fear was a big fad of the 90s, reaching its peak in The Matrix .
Before then, though, we got a pre-Bond Pierce Brosnan slumming it as a scientist whose experiments on mentally challenged gardener Jeff Fahey go awry when the hardwired boffin goes bonkers with virtual power.
So silly and instantly dated even Stephen King - who provided the title but not the story - denounced it.
If They Have To Remake It: King's original version of The Lawnmower Man was a Pan's Labyrinth -esque satyr doing horticultural jobs to fund his grass habit. Weird, huh?
So let's bolt that character back into the VR stuff to create a techno-fantasy mash-up, halfway between Cameron and del Toro. Mo-cap'll do the rest.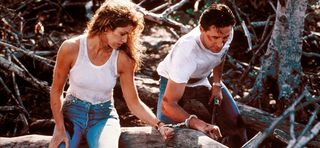 Fair Game (1995)
The '90s Film: In 1986, Paula Gosling's novel - about a cop falling for the murder target he's protecting - was turned into Sly Stallone action flick Cobra , with real-life missus Brigitte Nielsen.
A decade later, someone had the bright idea of a new film with the emphasis on the crusading-but-sexy lawyer whose life is at risk. This being the 90s, instead of a reputable actress they chose supermodel Cindy Crawford, and instead of a leading man she got...William Baldwin.
If They Have To Remake It: Given the decreasing plausibility on show, they'll probably cast Justin Bieber and Miley Cyrus as the heroes. However, that's too easy.
Logically, the one adaptation they've not tried is to tell the story from the PoV of the assassins on their back. So let's buddy-up a couple of sarcastic villains (say, Thomas Jane and Parker Posey) and let them loose on the teen-pop sensations.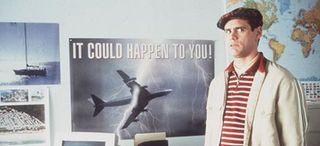 The Truman Show (1998)
The '90s Film: In 1998, Peter Weir's fable about Jim Carrey's whole life being an elaborate TV show was science-fiction.
A decade and a bit on, after Big Brother , I'm a Celebrity and Love Island , would anybody even notice if a remake came out?
If They Have To Remake It: Make it a satire about someone so desperate for fame that they willingly sign their entire life over to a TV channel, drag their partners and kids through 24/7 observation and eventually be forced into increasingly drastic stunts to overcome audience fatigue.
And then get sued by Jordan.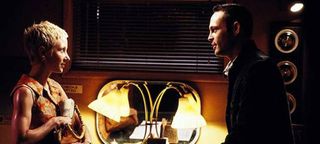 Psycho (1998)
The '90s Film: Gus Van Sant's shot-for-shot remake of some obscure old slasher movie.
If They Have To Remake It: We'll all be moved into the next Circle of Hell.