One aspect the series continues to get right is the FIFA 19 stadiums. EA Sports has license to use numerous real stadiums from all over the world, so there's a good chance you can buy your favourite stadium and use it in Ultimate Team, There's just one problem; a lot of the stadiums in FIFA 19 have severe lighting and shadow problems, rendering the game almost unplayable.
FIFA 19 tips | FIFA 19 review | FIFA 19 Career Mode guide | Best FIFA 19 formations | FIFA 19 wonderkids | FIFA 19 The Journey rewards | FIFA 19 Ultimate Team coins | FIFA 19 Squad Battles | FIFA 19 TOTW | FIFA 19 SBC | FIFA 19 Icons | FIFA 19 ratings | FIFA 19 kits | FIFA 19 stadiums | FIFA 19 Weekend League tips | FIFA 19 Weekend League rewards | FIFA 19 Web App guide | FIFA 19 player faces | FIFA 19 Usain Bolt
How to combat that? By using our guide to the best FIFA 19 stadiums to use in FUT. Below I'll present nine stadiums you should be looking to add to your club. Most are for practical reasons, but there's a couple of more left-field choices too – beginning with a new addition to FIFA 19, brilliantly unveiled by the team it belongs to…
1. Molineux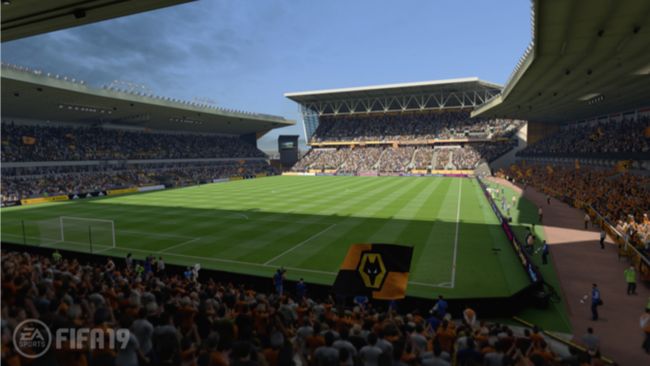 The name 'Ivy Lane' will resonate with long-term players: for close to decade of FIFA it's been the de facto home for every large English club missing their real stadium. This tradition gave cause for the quite brilliant tweet below when, over the summer, Wolverhampton Wanderers' famous real ground was finally scanned and confirmed for FIFA 19. That alone means it merits a place on this list – though the grand old dame of Midlands football looks and feels the part, too.
We'd like to take this opportunity to thank Ivy Lane for being a fantastic host to the club over recent years. We leave with a heavy heart but the time has come for us to return home.🏟🐺 pic.twitter.com/7n2H7R1U1KSeptember 10, 2018
2. Coliseum Alfonso Perez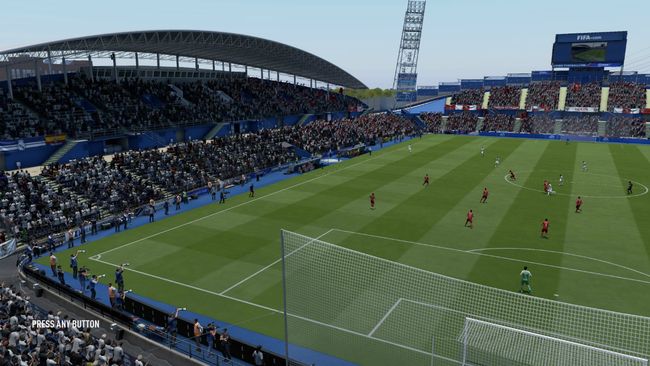 Home to Getafe and one of 16 new Spanish stadiums in FIFA 19, Coliseum Alfonso Perez is equally parts pretty and practical. With a modest capacity of 17,393 its stands cast no shadow on the pitch, and its simple, two-tone pitch pattern reduces visual noise as you knock the ball about. There's also a pleasing linearity to the way its stands are tiered, which almost give it an advanced create-a-stadium feel. A real gem.
3. CenturyLink Field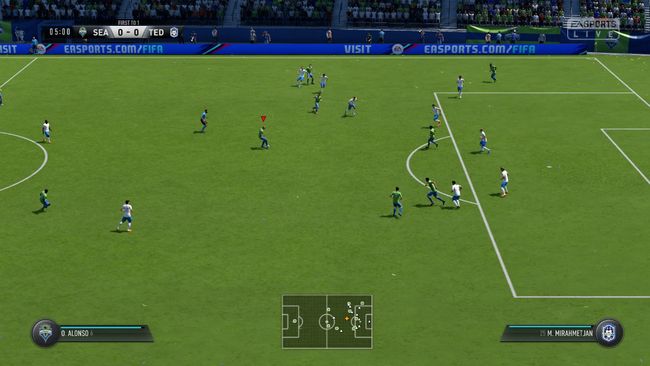 Seattle Sounders' – and Seahawks' – home ground is another that has no shadows to wreak havoc on the playing surface, but an even bigger plus is its default camera angle. High and wide, it enables you to view almost your entire team on the pitch at any given time. Keep possession at the back and you see all midfielder runs with clarity, while it's deadly for ping-pong counter attacks with overlapping full-backs. No radar needed at CenturyLink, giving it strong consideration for long-term usage.
4. Tottenham Hotspur Stadium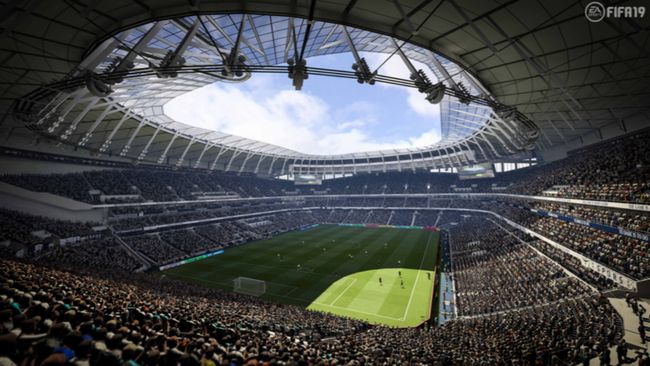 Spurs' new ground makes our list for a very specific reason: it's the only stadium in FIFA 19 that (at least for now) is exclusive to the videogame. Originally scheduled to be open in time for the 2017/18 season, construction delays have seen its real-life unveiling repeatedly pushed back – yet in FIFA it's been available since the game's September release date. Shadows can be a pain at the right-hand end of the pitch, but it's still worth toying with given its unusual status.
5. Euro Park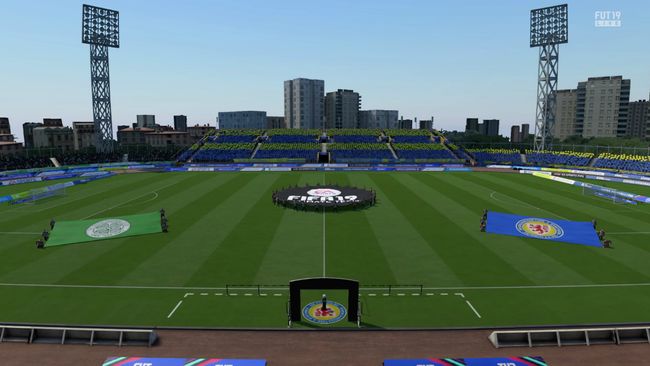 There's a theory among the FIFA community that using grounds with smaller capacities makes the Frostbite engine handle more smoothly, because it isn't having to render in thousands of fans and other assorted paraphernalia. After much testing it's not a theory I subscribe too, but it's only right that you make up your own mind. The fictional, EA-created Euro Park is a fine setting in which to do that, available as a bronze card for just 150 coins, and with an athletics track around the pitch helping to reduce onscreen clutter.
6. Fratton Park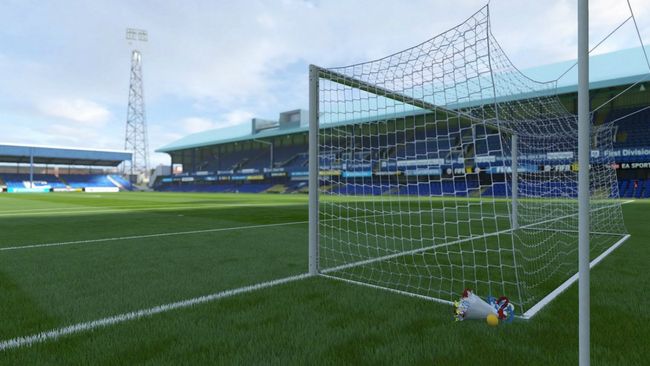 Pompey's home ground is excellent to use from a gameplay perspective, with the only shadows cast by the low-roofed stand nearest to camera, and not at all problematic. But that's not my reason for including it here. Instead it's for one lovely, intricate detail behind the goal at the left-hand end: a wreath in honour of FIFA developer Simon Humber. The series' former creative director passed away from ocular melanoma in 2015, and as a long-time Portsmouth devotee the wreath honours his memory in a subtle yet touching way.
7. Municipal de Ipurua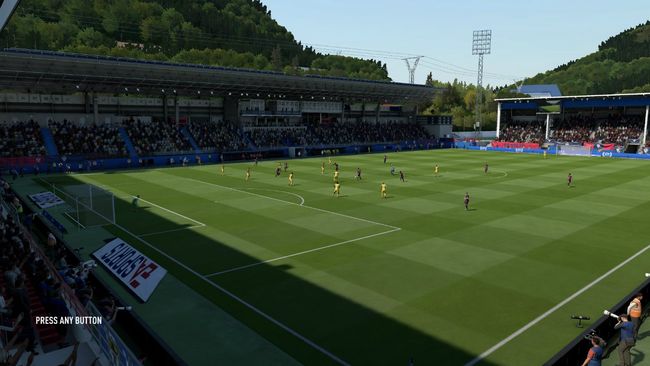 With lustrous foliage behind three of its stands and two tall apartment blocks looming over the fourth, Eibar's home ground is a FIFA setting like no other – literally, as with a capacity of 7,083 it's the smallest licensed stadium in the game. It's exactly the type of ground English fans are used to seeing in TV broadcasts of third round FA Cup ties between a minnow and a Premier League club, and thus the perfect Ultimate Team setting for a footballing romantic. If such a things exists any more.
8. Mercedes Benz Stadium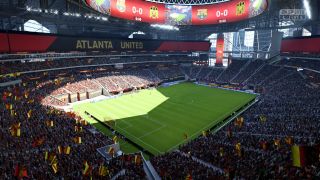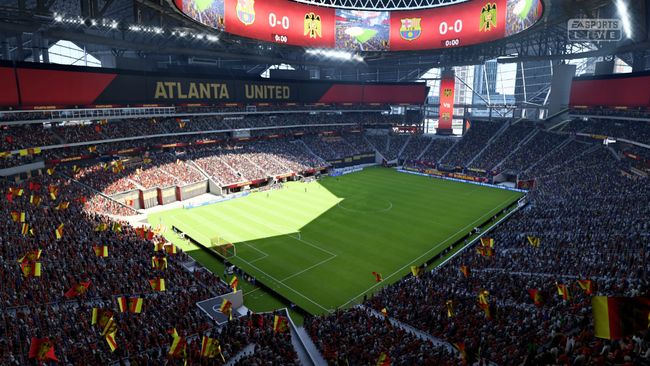 Atlanta's new stadium isn't idea in terms of on-pitch shadow, but still warrants a look because of its uniqueness – albeit in a very different sense to Eibar's ground. The only area of brightness on a sunny day is in the bottom-right hand-corner of the pitch, and your eyes do acclimatise to this after a few games – giving a sneaky online advantage if you want to play things naughtily. It's also a stadium full of unorthodox visual flourishes, such as the massive circular scoreboard looming above the centre circle.
9. Anfield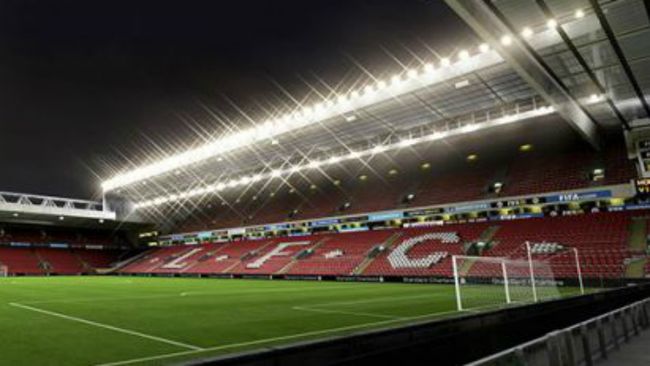 Love or hate Jurgen Klopp's men, there are few greater sights and sounds in football than the entire Kop singing You'll Never Walk Alone. Anfield enables you to replicate that atmosphere through Ultimate Team, in a stadium with no bothersome shadows on a sunny matchday. Note, however, that chants in this mode are tied to your club badge rather than stadium. That doesn't mean you have to shell out for Liverpool's crest though: Celtic, whose fans also belt out the Gerry & The Pacemakers hit before and during matches, will work just as well.
FIFA 19 is out now. More concerned with spending your FUT winnings on players than stadiums? Then check out our in-depth guide to making FIFA 19 Ultimate Team coins.