10. Half Life: Alyx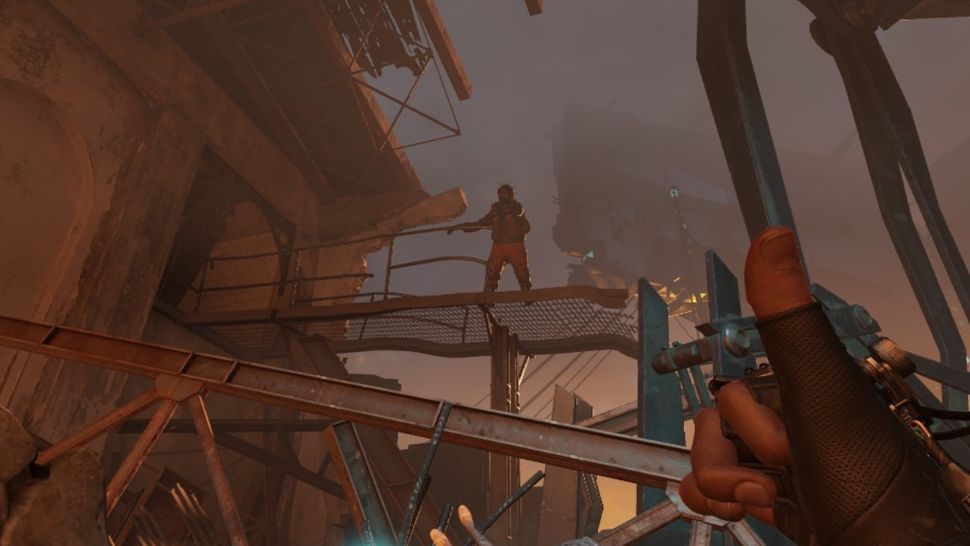 Alyx is the best VR game to date, and feels like a proper evolution of Half-Life 2, one of the greatest shooters of all time. It combines a gripping, emotional story with the most detailed level design you've ever seen. It feels like every object can be picked up, examined, and smashed. Sometimes, that's incidental – when you're opening draws, crushing cardboard boxes or plucking bottles of vodka from shelves – but often, it's central to progression. At one point, you must cover your mouth to stop Alyx coughing as you sneak past a blind monster, for example. This level of interaction makes the whole game feel alive, and makes you feel like a very real part of it.
The shooting isn't half bad, either. You don't have many weapons, but your arsenal is punchy and lethal, and feels perfect in your hand. Reloads are done manually, which feels fiddly at first, but speeding up over time is satisfying, until eventually sliding magazines into place is second nature. Frantic firefights are broken up by smart puzzles and slower, atmospheric sections when your only light is a torch. Being in VR makes City 17 feel far spookier than we remember.
The action is driven by a narrative worthy of the series. As Alyx Vance, you journey through City 17 trying to find your father Eli, while your witty sidekick Russell chats away in your ear. Your quest acquires larger stakes, but we don't want to ruin anything – suffice to say the spectacular ending is worth waiting for.
Buy it now:
9. Minecraft
Much like the structures you can build in its world, Minecraft just keep getting bigger. Among other sandbox games, it stands alone in delivering on its promise of total freedom: you can break and place blocks in any way you choose, recreating the whole of Game of Thrones' Westeros – or crafting a simple seaside shack and living off the land with a fishing rod.
Its multiple modes mean you can play it any way you like, which is a liberating feeling, but the presence of enemies, hidden treasure and twisting cave systems help lend it structure. Its sandbox world never fails to throw ambitious ideas into your head, and then before you know it you've spent five hours working, block by block, towards your next self-made objective. Mods and custom maps broaden its scope even further, and it's at its best when you're building your next project collaboratively with a friend.
Play it now:
Mojang
8. Spelunky 2
During the golden age for indie games that was the last decade, everyone seemed to be playing Spelunky, a roguelike that was notorious for being tough as nails but also rich with hidden secrets and opportunities for fun emergent gameplay. All of the high points of the original stay intact with Spelunky 2. It's big, procedurally generated tombs are still full of traps and monsters out to kill you. To make dying less frustrating than its predecessor, you now start at a hub that allows you to choose what biome you tackle next, which helps with variety. Speaking of variety – there's a host of all-new enemies, a much larger world including an area filled with lava, and mounts that will die in gruesome ways for you as they help you get ahead.
As before, the magic of Spelunky lies in how everything that the game throws at you can also be used by you in ways to aid you on your journey. It's a game of inventive interlocking systems where nothing is ever quite the same, so if you can get past the frustration of dying, there's always lots to see.
Play it now:
Steam
7. Rainbow Six Siege
The best multiplayer shooter on PC, and it just keeps getting better. Siege punishes you for going in all guns blazing: instead, you need to think about your approach, and co-ordinate with your teammates. The best plans come together like clockwork as your squad shoots out CCTV cameras, breaches the wall on an enemy's position and holds the perfect angles, pinging headshots.
It can feel overwhelming to new players, but the depth of its roster means you're bound to find your groove. Each operator has a role to play, whether you're a marksman, a demolitions expert or just a muscly man with a giant hammer, and out-thinking your opponents feels as good as out-gunning them. Ubisoft continue to support Siege with regular new maps and operators, and improved tools for new players, as well as an unranked playlist that was added last year, means there's no better time to pull the trigger.
6. Hades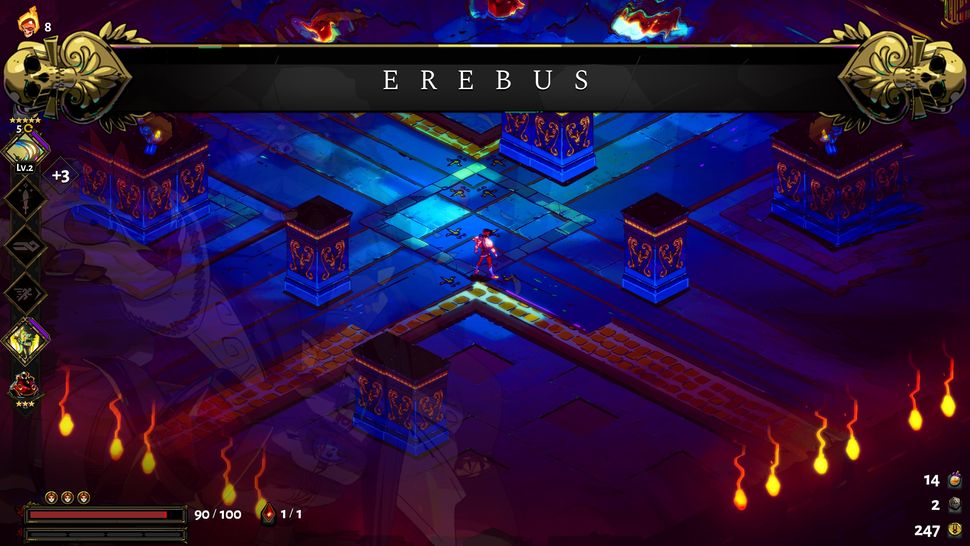 After a successful Early Access period of almost two years, the rogue-like by the makers of Bastion is now out in full. Hades combines the best of Supergiant – stunning art direction, sound and music, and of course a story full of characters that will grow on you for more than the fact that they make for great cosplay. From the get-go, this is supposed to be an inclusive roguelike, dipping its toes into roguelite territory for some permanent buffs to your character.
Zagreus, the prince of the underworld, is looking to escape, battling through several dungeons on his way to Olympus. Not only is this the best attempt at genuine storytelling in a roguelike, with plenty of surprises, Hades is also just genuinely great on a technical level, featuring speedy combat with different skills and weapons to fit your preferred playstyle. Since losing doesn't feel like a punishment, you'll soon find yourself in the flow of "just one more go", getting to know a varied cast of gods better with every run.
Play it now:
Steam
Epic Game Store
5. Dishonored 2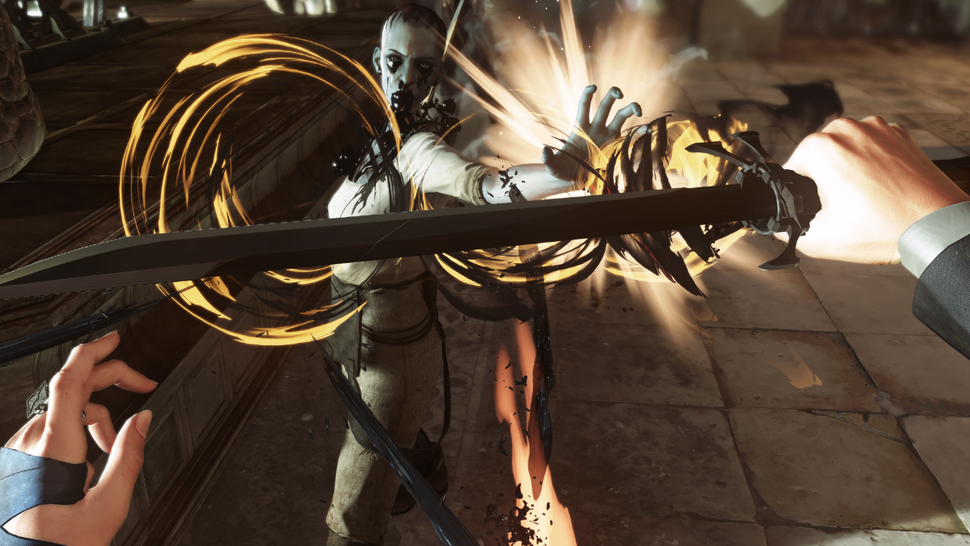 Dishonored 2 is a near-perfect assassin sim. In the original, you were hunting a target in a huge level, and you could kill them in any way you liked: in this sequel the maps are bigger and more intricate, your supernatural powers more impressive, and you have the option to play as a second character, Emily, who has her own murderous style. 
Every level is full of lavish detailed, and every avenue to your target feels like its own, perfect assassination. The smooth traversal makes it easy to get around and explore every corner of the map, searching for clues until you've planned your route to your final target. Maybe you go in shotgun blaring, maybe you spirit blink to a rooftop and sneak in through a window, or maybe you trick enemies into walking into their own electricity traps until all the guards are dead. And then, in a flash of metal and a blur of blue magic, your blade is in your target's neck, and you're vanishing into the night. It's simply glorious.
Play it now:
Steam
Humble Store
4. Red Dead Redemption 2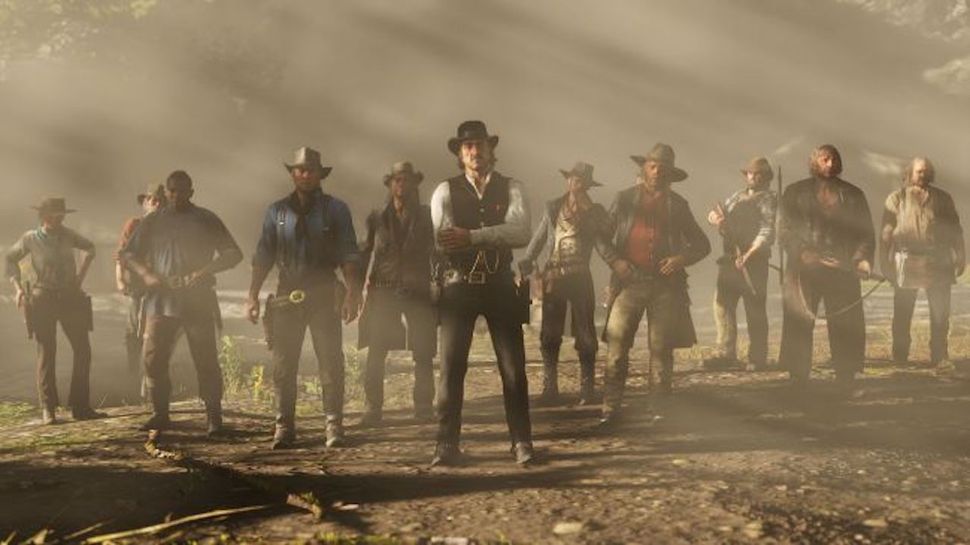 It's finally here. After more than a year of waiting, the previously PS4-exclusive cowboy simulator from GTA giants Rockstar galloped onto PC in 2019, and it's the definitive version of the game. It's the same story of Arthur Morgan's quest for redemption in the US wilderness, with the same complex characters and detailed world to explore, but with improved graphics and the option to add Red Dead Redemption 2 mods that let you skip the prologue, transform into an animal, or turn Arthur into the Joker. No, seriously.
Red Dead Redemption 2 on PC should run better than the console versions: it had some issues with stuttering at launch but those appear to be fixed, and if you have the right rig you can run it in 4K or across multiple monitors. The Wild West never looked so beautiful. 
Play it now:
Rockstar
Epic Games Store
3. Into the Breach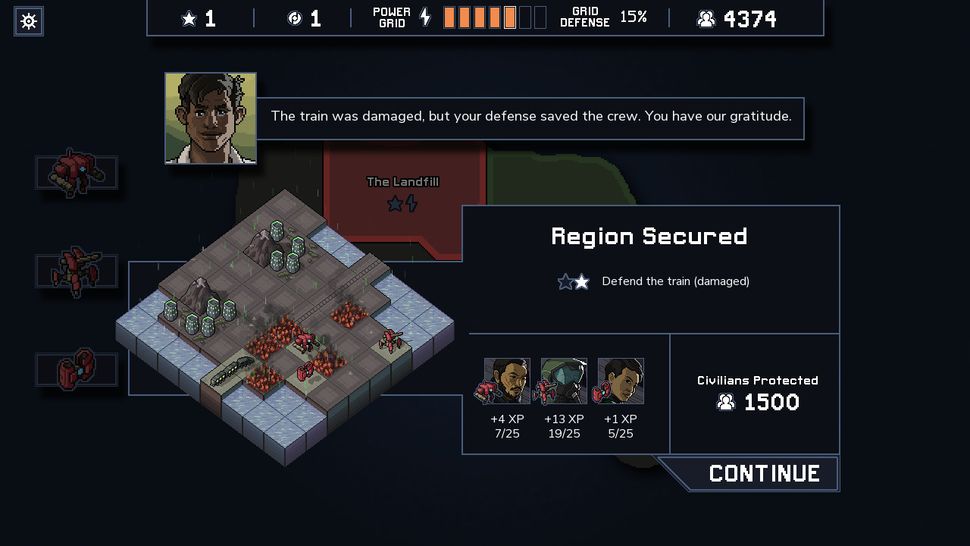 Into the Breach's predictability is its strength. Its rules are so clearly explained, so explicitly laid out, that it leaves no space for chance or mystery. All of your focus can go into finding the ideal place to move your tank, or the perfect spot for a missile strike – and when you inevitably cock it all up, you'll know exactly where you went wrong. 
It's part strategy game, part puzzle game in which you move pixel art pieces across a chessboard-style map, squashing alien invaders. Each squad you can control has their own gimmicks. One relies on pushing enemies into danger zones rather than dealing direct damage, another is an expert at freezing aliens with icy attacks. Its brilliance comes in applying your arsenal to any given situation, taking 15 minutes to stare at the board until – Eureka! – the perfect next step finally hits you. 
And it has near-endless replayability: if you overcome the final boss you can try again with a new squad that feels completely different. And even if you fail, the randomised, rogue-like world structure means you can instantly load up another round, complete with a fresh set of challenges to scratch your head at.
Play it now:
Steam
Humble Store
GOG
2. The Witcher 3: Wild Hunt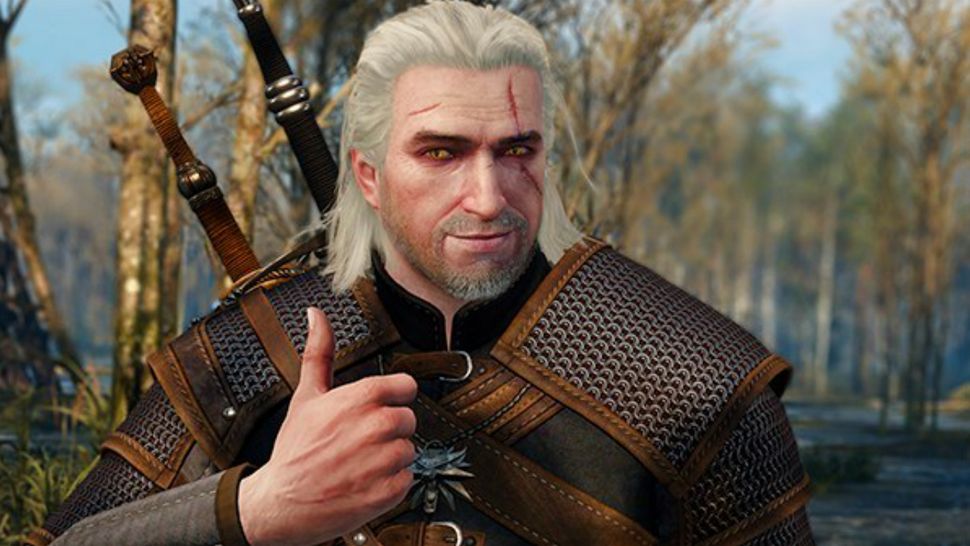 The first two Witcher games showed flashes of brilliance in their believable, gritty characters and low-fantasy setting, but lacked polish. The Witcher 3 pairs CD Projekt Red's excellent writing with compelling gameplay, and one of the most expansive, beautiful worlds ever created. 
The Northern Kingdoms, inspired by European mythology, are populated by fascinating creatures and, more importantly, multi-dimensional characters. They're all flawed, not least protagonist Geralt of Rivia, but whatever you feel about them, you can't help but become invested in their fates. Speaking to any of them might launch a five-hour side quest that takes you across mountain and bog, vineyard and dusty city. Perhaps you're hunting a mythical creature, or simply trying to solve a lovers quarrel: either way, you'll care about what you're doing, and you'll visit some stunning locales while doing it.
Play it now:
Steam
Humble Store
GOG
1. Divinity: Original Sin 2
Divinity: Original Sin 2 is a glorious homage to the bygone days of isometric RPGs. But rather than relying on pure nostalgia, it takes the best bits of the classics – the branching stories, evocative writing, complex characters, and party building – and mixes them with sleek modern design ideas, such as physics-based spells and mod support. It sets up a clear set of rules and then encourages you to break them, something that's even more fun when you're playing with a friend, where you can settle arguments about what your party should do next via a rock paper scissors-style mini-game. 
The combat is the best you'll find in the genre, and relies on smart thinking and inventive elemental combos rather than random dice rolls. And when the fighting is done, your characters will always have something profound or witty to say to each other: it's worth listening to every incidental conversation as you delve deeper and deeper into its fascinating fantasy world.