20. Divinity: Original Sin 2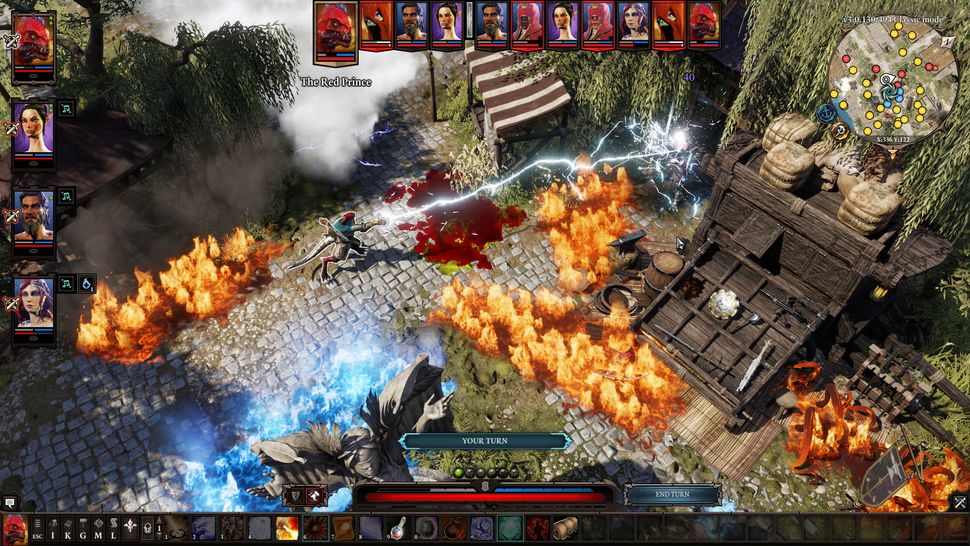 Co-op type: Online
Perhaps not one for a quick casual game with a friend, given this is a huge RPG environment filled with more potential, stories and events than most of us will ever see in one go. But, if you fancy a really deep co-op experience then this will keep you busy for years. As well as an entire nuanced world to explore you can play co-operatively or competitively, with players potentially trying to complete missions in different ways, or to different ends.
Play it on: PC
19. Payday 2
Co-op type: Online
Sometimes you just feel like robbing a bank. Payday 2 might only do one thing but it does it well as you and four friends case joints, play with alarms, and try to rob a bank as much as possible before the police get involved. It's a much more focused experience than some co-op games but that clear direction makes for some some great tension as you rely on your friends to stick to the plan and not shoot the first customer that looks at them funny.
Play it on: PS4, Xbox One, PC, Switch
18. Warframe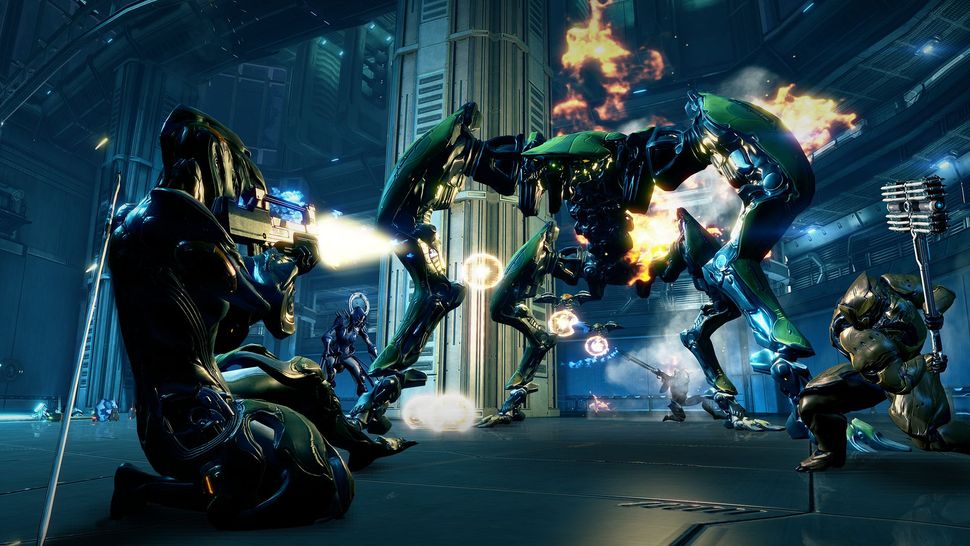 Co-op type: Online
Tens of millions of people play Warframe so it must be doing something right. It's an online four player co-op shooter where you explore and fight your way through space in ultra futuristic suits, gaining powers, abilities and new weapons along the way. That's basically the main draw here - battle things to get more gear to battle more things. Like the Destinys and Monster Hunters of the world this is all about chasing better shotguns and space boots.
Play it on: PS4, Xbox One, PC
17. Lego Marvel Super Heroes 2
Co-op type: Local and online
If you've never sat on a couch and played a Lego game with your child, friend, sibling, or significant other, you're really missing out on the great things in life. Yes, there are a ton of co-op Lego titles out there, but Lego Marvel Super Heroes 2 is our favourite.
You get to play as just about any Marvel character you can think of, from Rocket Raccoon to Squirrel Girl. The cute aesthetic, simple gameplay, and adorable cutscenes are incredibly charming, and they can be enjoyed by everyone. Except people who hate Marvel, whoever the hell they are.
Play it on: PC, PS4, Xbox One, Switch
16. Mario + Rabbids Kingdom Battle
Co-op type: Local
If you fancy something a little lighter, that you can take your time with, then Mario XCOM's turn-based battles are perfect for an afternoon of strategising with a friend. If you've not played it before then don't be fooled by the happy plumber and the fat rabbits in costume. This is a challenge that starts off simple and slowly ramps up to seriously involving multistage battles and boss fights. Before long you'll be pacing the floor to discuss tactics and planing your attack before grabbing the Joy-Cons and (hopefully) making the winning move.
Play it on: Switch
15. Knights and Bikes
Co-op type: Local
Taking on the roles of tough girls Nessa and Demelza, Knight and Bikes sees you exploring Penfurzy Island in a Goonies-inspired tale where bikes are king, and mischief is paramount. It's made by Moo Yu and Rex Crowle, who are both ex-Media Molecule, so, as you can imagine, it's infused with quirk, cuteness, and the kind of spirit you can only find in a Famous Five book. Yes, the gameplay is about puzzle solving, mini-games of crazy golf and riding your bike as fast as you can humanly pedal, but it's also a heartfelt adventure about two kids that offers the kind of gameplay experience that you can rarely have. And it's even better with a real-world friend by your side.
Play it on: PS4, PC
14. Keep Talking and Nobody Explodes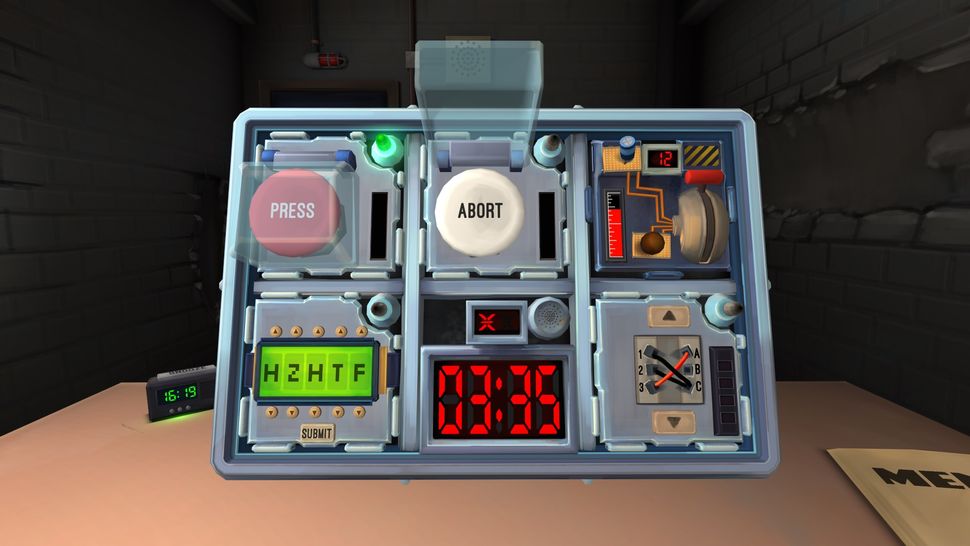 Co-op type: Local
Unless you've invested in a VR headset, you probably haven't even heard of this one. However, it's a uniquely brilliant take on co-op play, and demands your attention. One person wears the VR headset, while a number of other people sit - in the real world - and look at a booklet of bomb-defusal documents.
The person inside the VR headset sees a briefcase with a bomb in it, and various devices to disarm, which he/she describes to the people in the real world. The idea is to use the bomb disposal docs to defuse the device by... actually talking to each other and cooperating. It's all set to a time limit to add tension, and bombs get increasingly tricky to dismantle as you play. It's brilliant fun, and a perfect party game.
Plus, it's now on Switch, so one of you will have the console in your hands, the other the instruction manual. It's a great piece of teamwork, and a word of warning, may ruin families.
Play it on: PC, PS4, PS VR, Oculus Rift, HTC Vive, Nintendo Switch
13. Call of Duty WW2 Zombies
Co-op type: Local and online
This is one of the consistently enjoyable and rewarding co-op games around - a four player horde mode battle against the undead. The key to Call of Duty WW2's zombie success is the way it balances its progression. Each wave of zombies gets more powerful whatever happens, but you can only unlock upgrades and better gear by opening new areas of the map, making it harder to keep track of all the threats. The clever thing is that it's not impossible to beat, just very hard, requiring good planning, teamwork and clear coordination. Or you can just Leroy the place and hope for the best.
Play it on: PS4, Xbox One, PC
12. Sea of Thieves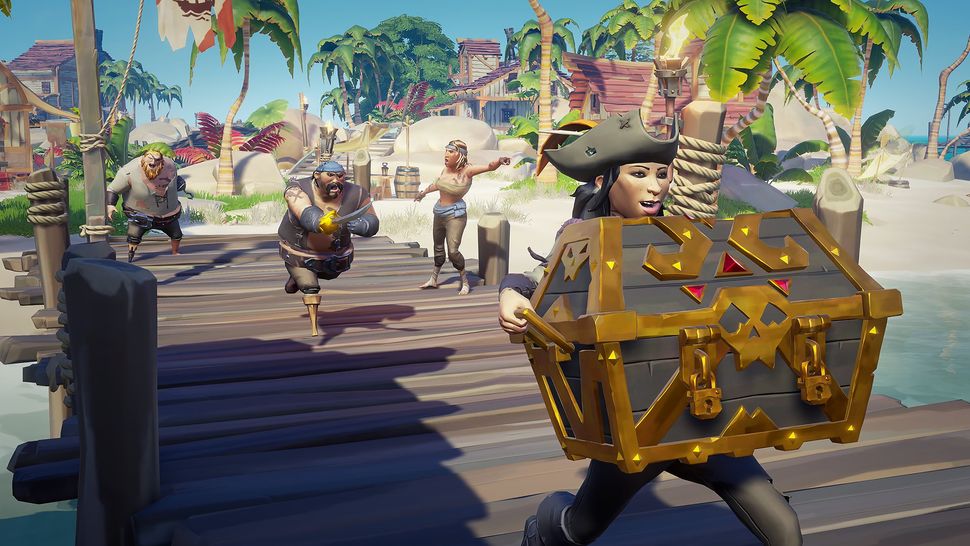 Co-op type: Online
Although you can play Sea of Thieves solo, this is very much a game that encourages you to tell stories, and, more importantly create those tales with other people. Galleons can be sailed by crews of up to four, with adventures spinning out from the various voyages you undertake. That might be finding buried treasure, collecting goods to trade with the merchants, or hunting down undead pirate captains. Or, you know, fighting a Kraken or taking on a huge Skeleton Fort.
Whatever you do in Sea of Thieves, you'll need a crew. Then just let the hilarity commence.
Play it on: Xbox One and PC
Click 'next page' to see our top 10 best co-op games...