Birds of Prey (And the Fantabulous Emancipation of One Harley Quinn)
Release date: February 7, 2020
Margot Robbie's baseball bat-wielding Harley Quinn was one of the few things DC fans liked about the spectacularly mediocre Suicide Squad, so it's not surprising she's the character who gets to come back and headline the upcoming movie with the biggest mouthful of a title. Harley's not traditionally affiliated with the all-female superhero team in the comics, but rumour has it she's left the Joker to go solo in Gotham City, which may have prompted a change of allegiances.
A brief trailer that feels more like a fashion video than a movie promo gives the briefest of introductions to the characters: alongside Ms Quinn, there's Mary Elizabeth Winstead as the Huntress, Rosie Perez as Gotham detective Renee Montoya, Jurnee Smollett-Bell as Black Canary, Ella Jay Basco as Cassandra Cain and Ewan McGregor as the villain of the piece, Black Mask.
We're not sure how Birds of Prey fits in with the wider DCEU continuity – Winstead has said "it's sort of a spin-off of Suicide Squad", though the Suicide Squad movie James Gunn is shooting before Guardians of the Galaxy Vol 3 is "a total reboot" – but it certainly promises something different to the usual male-dominated comic book action.
Fun fact: Victor Zsasz, played by Chris Messina in Birds of Prey, previously appeared on screen in Batman Begins, with Tim Booth (lead singer of Brit indie band James) in the role.
The King's Man
Release date: February 14, 2020
After Kingsman: The Secret Service announced the arrival of a fun new spy saga, follow-up The Golden Circle fell a little flat. Now director Matthew Vaughn gets a chance to reinvigorate the series (based on Mark Millar and Dave Gibbons' comic book series) by going back to the early 20th century in this prequel – we're thinking of it as The League of Extraordinarily Tailored Gentlemen.
A big advantage of visiting the origins of the titular undercover organisation is the chance to roll out a lot of famous actors playing even more famous historical figures: Ralph Fiennes is T.E. Lawrence (of Arabia fame), Liam Neeson is Lord Kitchener, Rhys Ifans is Rasputin, Gemma Arterton is Mata Hari, and Tom Hollander is King George V, Kaiser Wilhelm II and Tsar Nicholas II – the three monarchs were cousins, and the spit of each other, so it's a cunning bit of casting. Expect ridiculous gadgets, over-the-top action and plenty of innuendo.
Sonic the Hedgehog
Release date: February 14, 2020
The Sega icon's journey from videogame to movie screen was meant to take place before the end of 2019, but negative fan reaction to the famous blue hedgehog's live-action look has prompted a delay as studio Paramount give him a makeover – or as director Jeff Fowler diplomatically put it, they're "taking a little more time to make Sonic just right".
Seeing as the record of film adaptations of game characters is patchy at best, this upcoming movie will need to worry about more than aesthetics if it's going to win over cinema audiences. The first trailer gives an indication of how the filmmakers are translating Sonic's signature moves to the big screen – and reveals a very broad Jim Carrey as Big Bad Dr Robotnik – but after that initial backlash, the famous blue blur faces one of his biggest ever battles if he's going to conquer the box office.
Mulan
Release date: March 27, 2020
Aside from owning Star Wars, Marvel and Pixar, the best thing about being Disney is that you have a massive back catalogue of animated classics you can remake in live action. So, the latest cartoon to get the Beauty and the Beast, Dumbo and Aladdin treatment is Mulan, the 1998 story of a young woman in Imperial China who pretends to be a man to join the army.
Chinese/American actor and pop star Liu Yifei takes the title role with support from Rogue One's Donnie Yen as mentor Commander Tung, and Jet Li as the Emperor. Whale Rider's Niki Caro directs, though there's no confirmation yet on how faithful the upcoming movie will be to the original – the Disinsider reports that the cast won't be singing songs from the animated version, and that dragon sidekick Mushu will be replaced by a phoenix.
The New Mutants
Release date: April 3, 2020 (US)
We were supposed to have seen The New Mutants long ago. In fact, the X-Men spin-off was originally set to come out in April 2018 – before both Deadpool 2 and X-Men: Dark Phoenix – until reshoots and Disney buying fox pushed it back to its current April 2020 berth
It's not usually a good sign when a film gets pushed back so much, but the official line is that Fox wants to make it scarier! Yes, the word is that The New Mutants (almost definitely the last film in the current iteration of the X-universe) is putting a horror spin on the X-Men universe – with a cast that includes Game of Thrones' Maisie Williams, The Witch's Anya Taylor-Joy, and Stranger Things' Charlie Heaton this sounds like it could be a very good thing.
Directed by Josh Boone, The New Mutants will follow a group of teen mutants trapped in a research facility against their will. They have to face up to their powers – and their personal demons – to survive and escape.
There's actually already been a trailer thanks to the film's earlier release date, but with those reports of extensive reshoots (including the addition of new characters), who knows what The New Mutants will look like once it actually hits cinemas? Not even Maisie Williams, it seems… "Who knows when the fuck that's gonna come out?" she said in an interview with Rolling Stone earlier this year…
James Bond 25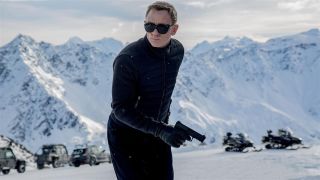 Release date: April 3, 2020 (UK)/April 8, 2020 (US)
After the departure of original director Danny Boyle and an injury to leading man Daniel Craig, Bond 25 has taken its time getting to the big screen. Hopefully it's a case of better late than never, however, because the follow-up to 2015's SPECTRE is not only likely to bring the story arc started by Casino Royale to a close – it's also set to mark Craig's last outing in the tuxedo before he hands back his licence to kill.
Plot details are unsurprisingly scarce – even the title is need-to-know at the moment – but we do know that the movie kicks off in Jamaica, with Bond enjoying some R&R after the events of SPECTRE. Bohemian Rhapsody Oscar-winner Rami Malek will be making 007's life difficult as the main villain – rumours suggest he's wielding some kind of dangerous new tech – while the cast is rounded out by Lashana Lynch (Captain Marvel), Ana de Armas (Blade Runner 2049), and the returning Léa Seydoux, Ralph Fiennes, Ben Whishaw, Naomie Harris, Rory Kinnear and Jeffrey Wright. Behind the camera, True Detective and Maniac director Cary Fukunaga becomes the first American to helm an official Bond movie, while Fleabag creator/star Phoebe Waller-Bridge is on the writing team.
Onward
Release date: March 6, 2020
Pixar's been prioritising sequels of late, with Coco standing out between Finding Dory, Cars 3, Incredibles 2 and Toy Story 4 as the only newbie. It's a state of affairs that's set to change in 2020, however, as both of the studio's upcoming movies are complete originals.
First out of the blocks is Onward, a fantasy tale with a difference – its world may be populated with elves, gnomes, dragons, unicorns and centaurs, but as the first trailer shows, it's also evolved to look like modern American suburbia, with houses, cars and rock music. Marvel veterans Tom Holland and Chris Pratt are the elf brothers who set out on a quest that looks a lot like a road trip, while Monsters University helmer Dan Scanlon calls the shots.
Untitled Marvel movie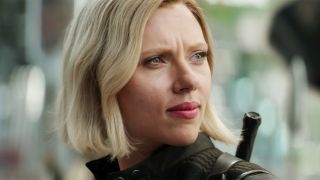 Release date: April 24, 2020 (UK)/May 1, 2020 (US)
Beyond Spider-Man: Far From Home we know very little for certain about what's happening next in the Marvel Cinematic Universe. Disney has, however, locked down a couple of 2020 release dates for new Marvel movies and we do know that newbies The Eternals and Shang-Chi, and follow-ups to Black Panther, Doctor Strange and Guardians of the Galaxy are in development. The smart money for the identity of the first movie of the Phase 4 era, however, has to be on the long-awaited Black Widow solo movie, seeing as it's already in production, with Stranger Things and Hellboy star David Harbour in the cast.
Continue to Page 4 for more of the biggest upcoming movies of 2020