PS5 stock is now available at Amazon. This is not a drill. We repeat - this is not a drill. No waiting, no queues, and no invite needed; PS5 stock is readily available to buy at the retailer today. Since the console launched in November 2020, stock issues have plagued many parts of the world – especially the US. It finally seems that the drought might be over.
Until now, the only way to get a PlayStation 5 via Amazon was by signing up for its invitation system where anyone could sign up for the opportunity to purchase the console. Then 72 hours before the restock was set to happen, an email would land in your inbox with a link taking you to the page to make the transaction. However, you still weren't guaranteed a PS5. That changes today. Simply head over to Amazon, add the PS5 to your basket, and you can start playing next-gen games for $499.99 (opens in new tab).
While no discount has been applied to the console with $499.99 being the standard price in the US, it's still a big deal that stock is simply up for grabs. Imagine being able to walk into your local retailer and walk away with a console in hand. That's finally closer than ever to reality. We're also now coming across more PS5 bundle opportunities, so that's worth checking out too if you want to save some cash on new games.
Today's best PS5 deal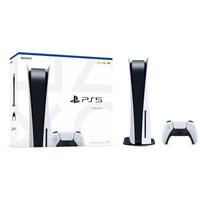 (opens in new tab)
PlayStation 5 | $499.99 at Amazon (no invite) (opens in new tab)
For the first time in months, PlayStation 5 stock is readily available to purchase at Amazon. This has taken more than two years but we're hoping it means that stock issues are over for good.
So is it worth getting a PS5 in 2023? In our humble opinion: yes. Sony has plenty of exclusive games, such as Demon's Souls, Ratchet & Clank: Rift Apart, Returnal, The Last of Us Part 1, and Ghostwire Tokyo. It's also set to get Horizon Forbidden West exclusive DLC in the coming months with Final Final 16 and Marvel's Spider-Man 2 also planned for later this year. This doesn't even include the multitude of third-party games.
For those in the US, it's also a great time to invest as no price increase has come into effect for the country (unlike Europe). So you can still pick up a console at $499.99, the same price it was at launch. There are also bundles that arrive with God of War Ragnarok for $559.99 (opens in new tab) or Horizon Forbidden West for $547.00 (opens in new tab), if you fancy picking up one of Sony's blockbusters. There's very little difference in price and to be honest, by picking up the console separately, there's a good chance you will be able to pick up these games even cheaper.
More of today's best PS5 deals
Unsure what to play first? Here are the best PS5 games to play right now alongside how to upgrade your PS5 storage for under $100 to help increase performance. We've also got the best PS5 accessories in 2023 to help you get everything you need to fill out your PS5 setup.