Deciding when and how to upgrade your PS5 storage is a conundrum every console owner will face at some inevitable point. With everyone feeling strapped for cash right now, knowing how to do it cheaply and upgrade your PS5 storage for under $100 could be just the ticket and provide a great value solution.
With an abundance of titles to play, the last thing you want to come across is a 'no storage available' message – or even suffer the fate of having to delete your precious games off your hard drive. It's a route I've taken myself time and time again. The freedom to jump in and out of games as you please without having to wait for a massive install to clear or delete games from the dashboard may only seem small, yet gives me great pleasure. I first took the plunge with my PS4, pushing it from 500GB to 2TB, and then last year decided to upgrade my PlayStation 5 from its standard 825GB. Like many others, I was incredibly excited when Sony finally made it possible via a new update - having the ability to choose your own SSD to boost the storage broadened choice and thus value propositions.
Value and price are generally the biggest concerns that need addressing when choosing a new drive for your console. While many of the best PS5 SSDs will offer up to 2TB of storage to play with, it's not the cheapest of options out there: you're essentially looking at over $200 without a good deal available. As a result, going smaller is the smarter option. By adding in another 500GB, or even stretching yourself to 1TB (which is, generally speaking, only just above the $100 mark now, in early 2023), you can immediately gain incredible convenience and great performance too.
We've already rounded up the best SSDs for gaming as well as the best PS5 external hard drives to get you started. Better yet, to help with this common issue, here's how to upgrade your PS5 for under $100, both internally and externally with some of the latest prices on great drives.
Upgrade your PS5 storage for under $100 - Internal options
When looking for an internal SSD, there are a couple of things to be aware of. The limit for PS5 internal storage is 4TB, which is plenty (trust us) but you can always go bigger with an external SSD. It also needs to be a Gen 4 M.2 SSD and run at 5,500MB/s or faster to be compatible, so it can slot in nicely to the PS5's storage case. It's a simple process, one we previously laid out in an M.2 SSD guide for PS5.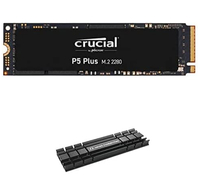 Crucial P5 Plus SSD + Heatsink | 500GB | $110.98 $75.98 at Amazon
Save $110.98 - This is an extremely cheap way of upgrading your PS5 storage as it gets you both a quality SSD and a heatsink in one tidy bundle. At under $76, this is a real bargain.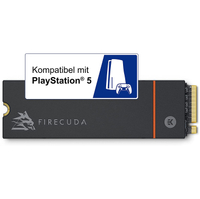 Seagate FireCuda 530 | 500GB | $89.99 at Amazon
Another great solution is this Seagate FireCuda 530 that already has a heatsink pre-installed, so it's ready to use straight away. This is also the lowest price the storage device has been, and it's our favorite PS5 SSD of them all.

WD_BLACK SN850 | 500GB | $84.30 at Amazon
This is a great price on the SSD of choice for the PS5's own architect, Mark Cerny. With blistering speeds, known-brand quality and pedigree, and a built-in heatsink for less than $85, you can't go wrong.

Upgrade your PS5 storage for under $100 - External options
For an external drive, you will often find models offer more storage for more money - especially so in the case of traditional HDDs. You can deploy an external drive with your PS5 with a capacity of anywhere between 250GB and 8TB of storage. External SSDs used to be far more expensive but are more affordable than ever now; these will offer greater and quicker performance than HDDs but the latter still can't be beaten on value for money, especially if you need a large amount of storage space. They are also just generally better for portability and can be rugged too for extra protection.
Remember you can only store PS5 games and not play them directly on an external drive. PS4 games can be played from them though, through the magic of backward compatibility.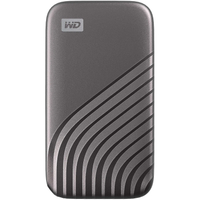 WD My Passport SSD | 1TB | $199.99 $99.99 at Amazon
Save $100 - This 1TB WD My Passport external SSD has a whopping 50% off and is great value for money. It's also only $10 off the cheapest price we've seen too. There's also a slightly cheaper 500GB one.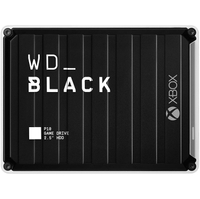 WD_Black P10 HDD | 2TB | $89.91 at Amazon
For something with a bit more storage, you can't go wrong with this WD_Black P10 external hard drive. There are various versions from 1TB to 5TB but this 2TB offers great value with a one-month Xbox Game Pass subscription too.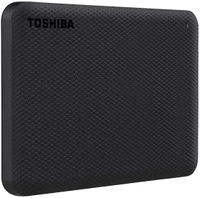 Toshiba Canvio Advance HDD | 1TB | $51.99 at Amazon
This Toshiba external hard drive with a USB 3.0 is handy for on-the-go and is super cheap - it's one of our top picks from this generation and last for a budget-friendly external hard drive. You can even get it in Black, White, Green or Red if you have a preference.

What are the PS5's storage capabilities?
Both the standard PlayStation 5 and PlayStation 5 Digital Edition arrive with 825GB. Sounds not too bad, right? Well, due to numerous system files and whatnot, you are actually left with 667.2GB of internal storage space. When you take into consideration that Call of Duty: Modern Warfare 2 requires over 150GB of storage and God of War Ragnarok requires around 84GB, that memory can deplete surprisingly fast.
In brief, the maximum internal storage you can upgrade a PS5 to is 4TB - though it has to be Gen 4 NVMe SSD to be compatible - while the maximum for external hard drives is a whopping 8TB.
Should you get an SDD or HDD for PS5?
One question you may have in mind when addressing PS5 storage as a whole is whether to go for an SSD or HDD. Internally, it's actually rather moot, as you can only install SSDs (and of a particular specification) inside the PS5. These can then be used just like your PS5's own internal storage, playing and storing PS5 and PS4 games to your heart's content.
However, externally, you can use both SSDs and HDDs. From the off, however, it's worth noting that any kind of external drive will only allow you to play PS4 games and store PS5 games. An external SSD will still offer better loading speeds and performance than an HDD but will also cost a bit more. HDDs will run slower but do still offer great bang for buck in terms of how many terabytes you can get.
I'd personally recommend getting an SSD – just like this Crucial M.2 SSD for $64.99 at Amazon, which is installed in my own PS5 – as it gives you more freedom and better performance for your console. But if you're looking for maximum value for money (and you have a big PS4 library) then an external hard drive is the way to go and is also great for portability - see this WD 4TB My Passport that is going for under $97.99, as an example. It's all dependent on your own personal preference.
How much does it cost to upgrade your PS5 storage?
While we're mainly concerned with giving you options to upgrade your PS5 storage for less than $100 here, naturally, the more you can spend, the more storage is afforded to you.
We've seen crazy prices that can range up $1,000! You really don't need to spend that much with the highest ones, such as this Corsair MP600 Pro LPZ 4TB, being at the top of the market in terms of price.
If you opt for a 500GB SSD, you should really be expecting to spend anywhere from $55 to $85 depending on the brand and whether or not a heatsink is included. As an example, this Sabrent 500GB Rocket 4 Plus is $59.99 without a heatsink and $109.99 on Amazon with one. By purchasing a heatsink separately (around $10), you save a good $40 here.
By stretching to a 1TB SSD, you are all but guaranteed to be spending upwards of $100 in 2023. The average price is anywhere from $110 to $150, again depending on whether a heatsink is included. A 2TB and 4TB will then start to stretch to/upwards of $200. On occasion, you might be able to find a 1TB SSD if you're lucky but more often than not this storage size is averaging closer to $120. We did spot this Nextorage 1TB with a heatsink which would do the job, however.
The price range for external SSDs and HDDs, however, is much closer, meaning you should never pay anything upwards of $200 unless you are going for an 8TB. This Seagate HDD game drive with 4TB is going for $119 and is exactly the sort of great value you can find. A 500GB external HDD can go as low as $30 (check out this Avolusion Mini Pro-5X) with 1TB to 2TB ranging from $50 to $80. Don't pay more than this.
More of today's best PS5 storage deals
If you're looking for even more storage options, or have a bit more of a budget to play with, then our price-finding tech below is constantly digging out the latest and lowest prices across a range of drives.
Don't have a PS5 yet? Make sure to check out all the latest PS5 prices and bundles on the market right now. Don't forget to check out the best PS4 SSDs either to help upgrade last-gen consoles' storage as well as the best external hard drives to help boost your multi-purpose portable storage.