Having the best PS4 external hard drive solves a lot of problems for you, as a PlayStation owner. Connecting an external HDD to your console allows you to store loads of digital games, and to install more physical games, meaning that you don't have to delete items on your hard drive to make space for new things. Not only that, you can take your games and your saves anywhere you go, because if you have a PS4 external hard drive, it's as simple as unplugging it from the USB slot at the front of your console, and taking it with you. What's more, all modern HDDs come with USB 3.0 connects, for faster transfer speeds, and they're compatible with PC and Mac too, so you can store other files on there - like movies and music - alongside your PS4 games. That means there are a wealth of options, but which one is right for you?
Generally speaking, what should you be looking for? Most people will opt for a PS4 external hard drive, because they're portable and extremely easy to set-up. If you're going for a portable HDD, you need to look for one with USB 3.0 as that's the fastest connection, and will allow better transfer and data speeds between your PS4 and the hard drive. External hard drives are often cheaper, easier to use. You can choose between regular HDDs, which are cheaper, and Solid State drives, which are more expensive but offer quicker speeds. They are, simply, the ideal solution.
However, you can also opt for an internal hard drive for your PS4. This was a more popular choice before Sony introduced full support for external drives, and it's certainly a tidier solution to the problem of expanding your console's storage space. It used to be that transfer and read speeds were quicker, but that's rarely the case now. You may find these links useful if you're going for an internal: How to upgrade your PS4 hard drive and How to upgrade and change your PS4 Pro hard drive. Importantly, changing your internal hard drive won't affect your warranty, so you don't need to worry.
Best PS4 external hard drives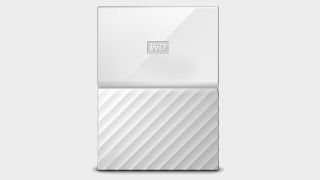 1. WD My Passport 4TB Portable Hard Drive
The best PS4 hard drive - storage and reliability on a budget
Capacity: 4TB | Storage Type: HDD
Masses of storage
Really great price
Great transfer speeds
Not quite as fast as SSD
Thanks to a recent drop in price at retailers like Amazon, this whopping 4TB drive is currently the best PS4 external hard drive you can buy. It has great transfer speeds, so is ideal for moving games, save data, and footage from/to your PS4, and the fact it's 4TB means you're unlikely to run out of storage space this side of PS5. Yeah, it's that spacious - you can easily get our entire suite of the best PS4 games on there. The patterned design even makes it look a little like the PS4. There's a white model and a black one, matching PS4 console colors, so you can pick something up that looks an awful lot like a mini-companion for your console. Definitely the HDD to buy now, unless you're looking to spend money on an SSD drive, in which case... look below.
2. Samsung SSD T5 500GB
Technically the best PS4 external hard drive you can buy... but it's expensive!
Capacity: 500GB | Storage Type: SSD
SSD means faster loading
Adds an extra 500GB of storage
Expensive compared to HDD
Yes, it's expensive, but this is technically the best PS4 external hard drive we've tested. The difference in price is down to the fact this is an SSD (solid state drive), which essentially means it does everything faster. That means quicker loading times for you, and faster transfer speeds between drive and PS4. It's different for PS4 but SSDs generally offer 3-4 times the read-speed (although don't expect to such a huge difference with game loading), and 3-4 times the file transfer speed over standard HDDs. They're more reliable, with a lower read fail-rate, although this is a pretty marginal benefit. It's silent too, as there are no moving parts in SSD hard drives. If you're spending this much money, it's worth considering the 1TB model and the 2TB model... although you can expect an eye-watering increase in price. As a rough guide, you'll get between 12-15 full-sized games on here, if you assume download sizes to be between 30GB-50GB. If you throw in DLC and updates for persistent online games like Destiny 2, Elder Scrolls Online etc then you may want to start thinking about 1TB. The SSD makes a difference overall, but you really pay for it.
3. Seagate STEB6000403 6TB HDD
The best for big storage and it's much cheaper
Capacity: 6TB | Storage Type: HDD
Great price
Holy hell, that's a lot of storage
Again, HDD speed
Increase your storage again with this ridiculously well priced 6TB offering from Seagate. It's slick, slim and you can get versions from 2TB upwards - although this 6TB model represents the best value for money. There's no need for any mains cables either, just plug and play, and USB 3.0 will keep things transferring speedily. The price is kept low by the fact this is a standard HDD, so read speeds won't be as fast as the SSD hard drives like the Samsung. If you get a 6TB drive... that'll probably store between 80-100 PS4 games, so you'll never need to worry about space again.
4. Adata SD700 SSD
A durable, high-spec SSD hard drive going cheap
Capacity: 512GB | Storage Type: SSD
Tough and very well made
Incredible read-speeds
Currently on offer
Less storage space than regular HDDs
If you're keen to get an SSD, to take advantage of the incredible read and copy speeds they give you (this one manages up to 440MBps read and write speeds, which is FAST), this Adata SD700 is the one to buy right now. The 256GB version is normally sub $80 / £80, which is great, but you can currently get the 512GB model for about 30% off the normal price. Here's the link to the best offer. The Adata drive has one of the sturdiest casings of all HDDs, and it's actually waterproof, dust-proof and shock-proof. So, if you're carrying your HDD around to work or your friends' houses... this tough little cookie will store everything very safely. It's fairly light too, not that most HDDs on this list weight much, but it's another benefit to consider. Sure, you can get more storage with regular HDDs, but this is a great price for an SSD.
5. Toshiba 1TB Canvio Basics
Capacity: 1TB | Storage Type: HDD
Budget price
Decent transfer speeds
Not the biggest
Not the fastest
Here's a decent way to simply triple / double your PS4's hard drive space on a budget. Plug in this slick little number, which will happily match your PS4, forget it's there and then bask in the all the bytes you've now got free. Cheap, cheerful and plenty of storage... It's USB 3.0 so the transfer speeds are pretty good. The only real drawback is that it's standard HDD speed, so there's no boost in load times like you get with the SSD models. And there are larger HDDs available now, for decent prices.
Best PS4 internal hard drives
1. Seagate FireCuda 2.5" 2TB SSHD
The best internal HDD you can buy
Capacity: 2TB | Storage Type: SSHD
Four times the size of the standard PS4 hard drive
SSD-like performance
More expensive than traditional HDD
If you want even more storage, Seagate's FireCuda 2.5" 2TB drive is ideal for quadrupling the space on your PS4 and it ups the speed too with its hybrid drive functionality. It's a case of balancing up how much you think you'll really appreciate the speed boost but the FireCuda is ideal in terms of size and is priced competitively for a SSHD drive. While it's not fully solid state, you'll definitely notice the difference in speed so if you're not too worried about your budget, the 2TB FireCuda is one of the best PS4 hard drives around. Say hello to storing endless videos of your Fortnite Battle Royale near-misses.
2. Seagate 2TB Laptop HDD ST2000LM007
Loads of storage for a great price
Capacity: 2TB | Storage Type: HDD
Quadruples storage vs. PS4 stock HDD
Great storage-to-dollar ratio
5400 RPM spindle speed
Not an SSD
If maxing storage and affordability is a bigger priority than improving access speed, you're not going to do better than Seagate's 2TB Laptop HDD. This drive gives your PlayStation 4 quadruple the storage capacity that it came with, which should keep you knee deep in PlayStation Plus games well into the foreseeable future. The main downside with this drive is that unlike Seagate's 1TB SSHD, this drive is a traditional hard drive spinning at 5400 RPM, which is the same speed as the stock PS4 hard drive. This means that, while you'll have plenty of space for games, they're not going to load or install any faster.
3. Seagate 1TB Gaming SSHD ST1000LM014
Best balance of price and performance
Capacity: 1TB | Storage Type: SSHD
SSD-like performance without the SSD price
Doubles storage capacity over stock PS4 HDD
5400RPM spindle speed
The Seagate 1TB Gaming SSHD offers some of the improvements granted by a full SSD (shorter load times, faster installs, etc) without the enormous markup. The caveat, of course, is that since this SSHD does also rely on a physical disk spinning at 5400RPM, the improvements may not be as dramatic as with a traditional SSD. In practice though, this isn't that huge of a concession to make for the money you're saving, as different games will/won't take advantage of your drive's enhanced capabilities on a case-by-case basis. Regardless, this drive will double your storage capacity and in many cases increase performance, which are great benefits to walk away with for less than $100/£100.
4. Samsung 850 EVO 1TB
Capacity: 1TB | Storage Type: SSD
Full SSD
More reliable than traditional HDD/SSHD
An expensive option
No guarantee of dramatic results
From a technical standpoint, solid state drives are superior to hybrid and traditional disk drives in every way. Read/write speeds are much, much faster, power consumption is lower, and since solid state drives have no moving parts, they're immune to many of the common ailments that so often malign disk drives. SSDs are fast, efficient drives that provide huge theoretical performance boosts while simultaneously reducing the number of possible complications over time. The catch, of course, is in the cash.
SSDs have the worst storage-to-budget ratio of any type of drive, meaning that you'll pay a lot more money for a lot less storage. In a PC, this is usually an acceptable trade due to the proven performance enhancements associated with an SSD. In a PlayStation 4, however, these enhancements are less of a guaranteed constant. They definitely exist, but the degree to which they exist will change on a game-by-game basis. Only you can decide whether the cost of entry is worth the peace of mind that comes with having the highest potential for performance. The Samsung 850 EVO is a great choice and for the ultimate PS4 hard drive upgrade you can also pick up a massive 2TB version of the Samsung 850 EVO... or even a 4TB version if money is no object!
5. Western Digital Black 6TB WD6001FZWX
Massive storage... with some drawbacks
Capacity: 6TB | Storage Type: HDD
Tremendous storage capacity
Faster than stock PS4 HDD
Additional accessory required
Slower than SSHD or SSD
The WD Black 6TB is your gateway to nigh unheard-of amounts of storage, provided that you're willing to drop some coin and increase the size of your console. The WD Black is a 3.5" HDD, which means it's the type of drive normally found in a desktop computer, rather than the laptop-sized 2.5" drives the PlayStation 4 was designed for. This means that it won't actually fit inside the PlayStation, and will instead have to live on the hood of the console in an external enclosure -- specifically, the Nyko Data Bank. This enclosure wraps over the top of the console and routes its SATA/power connections through the PS4's 2.5" drive bay, allowing for the installation of a 3.5" drive.
PlayStation 4s with a model number below CUH-1200 can accommodate drives up to 4TB in capacity, while PS4s with a model number above CUH-1200 can handle up to 8TB. We selected the WD Black 6TB over an 8TB drive as a comfortable compromise between capacity and price, but if cost is no object, the Seagate Enterprise 8TB is also a tremendous hard drive. Regardless, this endeavor is primarily recommended for those who plan on buying and simultaneously installing several hundred games. The average consumer, while sure to appreciate the luxury of such an enormous drive, can likely get by without it.
Some online stores give us a small cut if you buy something through one of our links. Read our affiliate policy for more info.