The one thing you can never have enough of is Xbox One storage. Especially with Xbox One X Enhanced games taking up more space than ever. With a 1TB you'll be lucky to get 10 4K games squeezed in. Which is why you need an external hard drive.
There are options here for any budget that will give you up to an extra 5TB to play with. That's a lot of ultra HD games, and probably way more backwards compatible titles than anyone knows what to do with.
And there's no need to worry about cracking open any cases, because the Xbox One does it all by USB, meaning you can just plug in and play, as well as take your games with you. Word of warning though, you can only format a drive for game storage, or media like movies and capture - not both. So bare that in mind before you buy.
Buying a new Xbox One?
The Xbox One's USB 3.0 ports mean you can plug in some pretty fast-moving drives, and you can always buy an enclosure and fill it with a loose drive if you don't wan't to have to use just the traditional portable USB. TL:DR? If you're looking for more space, you've come to the right place. Let's check out the best Xbox One external hard drives. Oh, and if you're looking for more games to fill up your new purchase, check out our best Xbox One games.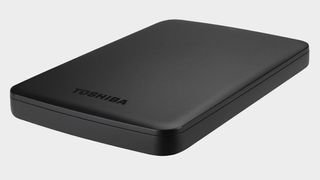 1. Toshiba 1TB Canvio Basics
A no-brainer to double your original Xbox One HDD
Capacity: 1TB | Storage Type: HDD
Great price
Small and slick
Standard HDD speed
This slimline external drive is both a bit of a bargain and big enough to either double or triple your Xbox One's storage capacity, depending on your console's starting point. It will sit unobtrusively next to your Xbox One and deliver a full 1TB of extra game storage across the speedy USB 3.0 interface for a great price.
2. Western Digital 2TB My Passport Ultra
Heaps of storage at a great price
Capacity: 2TB | Storage Type: HDD
Loads of space
Great for budget
Again, HDD speed
Western Digital is probably the biggest name in traditional spinning platter hard drive storage, and its My Passport Ultra is a massive external drive in capacity only. Despite the fact you can get up to 3TB of storage the device itself is pleasingly diminutive and comes in a range of shades. Pro-tip: berry is the cheapest option. The 2TB drive though is probably the best-value version for Xbox One gamers.
3. Seagate 2TB/4TB Xbox One Game Drive
Capacity: 2TB/4TB | Storage Type: HDD
All the space you'll ever need
Looks great
A little on the expensive side
Coming in two sizes and a stylish white Xbox One Special Edition, Seagate's Game Drive makes a slick addition to your under TV set up. Once again, all you have to do it plug in and play and the fact that there's a 4TB version available means you'll just be downloading games because you can, instead of asking yourself if you'll ever play them. Go on, be decadent.
4. Seagate Expansion 5TB
For when you never want to run out of space
Capacity: 5TB | Storage Type: HDD
Huge storage space
Great price
Needs plugged into the mains
Not exactly small
If you never want to worry about storage ever again, look no further than Seagate's 5TB affair. With USB 3.0 it's up to speed in terms of transfer rates and did we mention that it's 5TB? It's not going to win any awards in terms of style (it's a big box that weighs 948g) and you'll need to plug it in but it definitely gets the job done in terms of storage. You're going to end up just downloading Games with Gold because you can.
5. Seagate 1TB SSHD
A speedy budget DIY option if you're happy to buy a caddy
Capacity: 1TB | Storage Type: SSHD
Combination of SSD and HDD means faster loading times
You'll need a caddy
There are a couple of options if you're going for a do-it-yourself drive - this Seagate SSHD is a hybrid of traditional spinning platters and solid state storage giving you a large amount of space for a good price with a bit of a speed boost thanks to a small cache of SSD-like storage. You will though need either a USB 3.0 caddy to house it, if you want a neat finish, or a simple USB 3.0 to SATA adapter if you don't mind the bare hardware aesthetic.
6. Samsung 500GB 850 EVO
The best DIY SSD solution
Capacity: 500GB | Storage Type: SSD
All the benefits of SSD
Again, you'll need a caddy
Expensive to go bigger
The other option is to go for performance and use an SSD for your external storage. Samsung is the current king of the SSD world and its 850 EVO drive is a great example of the company's ability to balance performance and price. You are sacrificing capacity for speed - though you can spend more on 1TB or 2TB options - but if game load times are currently getting you down an SSD will help. Remember you'll also need a USB 3.0 caddy for this one too.
Some online stores give us a small cut if you buy something through one of our links. Read our affiliate policy for more info.