Xbox One games can take up a lot of storage space and quickly fill your console's hard drive. The simple – and cost-effective – solution is to add more storage space, so we've compiled this list of the best xbox one external hard drive options available right now to suit all requirements and budgets.
What do you need to consider?
You can use your Xbox One external hard drive (HDD) for storing digital games, plus media like films and game capture. Enhanced 4K Xbox One X games average nearly 100GB, and you can only fit around eight on your 1TB internal drive before having to remove titles from your library which you'll need to re-install to play again.

It's worth noting that your Xbox will reformat any external HDD you plug into the console, deleting anything else you'd stored on the drive. If you want an external hard drive for game storage, it's best to get a large Xbox One external HDD (2TB+). However, if you want to watch movies or save in-game capture a smaller Xbox One external hard drive is all you need (500GB to 1TB).

The Xbox One is only compatible with external hard drives that use USB 3.0 ports. This is standard for all newer hard drives, but take care when considering an older, possibly cheaper, hard drive. You can also use an older internal hard drive that you may already own from a PC or previous console. However, to make this work, you'll need to buy what's called a USB 3.0 compatible enclosure – a form of case for the internal drive that allows it to act as an external drive. You can find a selection of suitable USB 3.0 enclosures for your internal hard drive on Amazon.
Best Xbox One external hard drive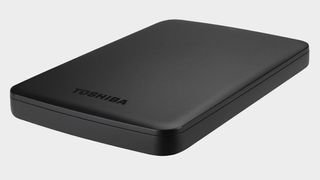 1. The best Xbox One external hard drive you can buy: Toshiba 1TB Canvio Basics
Our recommended low-cost option to double your original Xbox One hard drive
Capacity: 1TB | Storage Type: HDD
Great price
Small and slick
Standard HDD speed
If you're primarily looking to store in-game video capture or maybe the odd game then the Canvio Basics is a great external hard drive on Xbox One. We've listed the 1TB option but a 500GB option is also available. It's cheap and features a speedy USB 3.0 connection. As long as you're not expecting to store a huge amount, it will boost your storage at a great price.
2. The best mid-range Xbox One external hard drive: Western Digital 2TB Elements
The best all-rounder if you're unsure how much space you'll need
Capacity: 2TB | Storage Type: HDD
Loads of space
Great for budget
Again, HDD speed
If you're looking to future-proof yourself and are less price-sensitive, then the 2TB Western Digital Elements is probably the best mid-range external hard drive on Xbox One. It has way more than enough space for movies and in-game capture, and will allow you to comfortably store around 20 games, even on Xbox One X. There's an older version available, but it's bulkier and more expensive, so there's no reason to look back. You might also consider the Western Digital (WD) 2TB My Passport series of external hard drives, which are essentially the same, but more expensive, since you get a choice of flashy colours. The less popular colours (like orange) are a touch cheaper than gold (if that's your thing) – but are still more expensive than this sleek black WD Elements drive, with no practical benefits.
3. The best official Xbox One external hard drive: Seagate 2TB/4TB Xbox One Game Drive
The best hard drive if you want lots of space and value the official branding
Capacity: 2TB/4TB | Storage Type: HDD
All the space you'll ever need
Looks great
A little on the expensive side
This officially branded external hard drive on Xbox One comes in 2 or 4GB options giving you a choice depending on if you want to go for media storage, or games. It's basically a regular Seagate drive in a flashier case, and you're paying about $15-20 extra for having the (admittedly quite nice) embossed Xbox logo and official green case colour. If your budget allows, and aesthetics are important to you, it's functionally still a great choice.
4. The best large Xbox One external hard drive: Seagate Expansion 5TB
Our pick of the biggest hard drives if you never want to run out of space
Capacity: 5TB | Storage Type: HDD
Huge storage space
Great price
Needs plugged into the mains
Not exactly small
The Seagate's 5TB affair is the external hard drive on Xbox One if all you want is the most storage. It's not the prettiest things and in a 948g box, isn't subtle but absolutely wins in terms of Gigs. If you're planning to download all the game and never delete them then this is the way to go.
5. The best high-speed Xbox One external hard drive: Samsung 500GB 850 EVO
Our pick of the fastest hard drives provided you're willing to do a little DIY
Capacity: 500GB | Storage Type: SSD
All the benefits of SSD
Again, you'll need a caddy
Expensive to go bigger
You will need to buy a separate USB 3.0 caddy to use this, and at 500GB you're not getting the best price-to-storage ratio, but what you are getting is the speed of an SSD external hard drive on Xbox One. That means it's solid state memory, rather than an actual spinning disk. That won't make much difference if you're looking to store media files and in-game video, but can save a few seconds off loading times here and there. In all honesty, the amount of time you save isn't life changing but if you play a lot of loading-heavy games this might ease the pain a little.
Some online stores give us a small cut if you buy something through one of our links. Read our affiliate policy for more info.