Marvel may have a head start when it comes to building a multi-faceted cinematic universe, but DC isn't far behind. Its theatrical assault admittedly got off to a shaky start with Batman v Superman: Dawn of Justice and Suicide Squad, but the release of Wonder Woman has made everyone sit up and take notice. Next up is another superhero team-up in the form of Justice League, but that's not all - Warner Bros. and DC are looking to release two films a year from now until at least 2020, including a solo Aquaman movie, a Justice League sequel, and a Shazam movie (yes, really). Here's every upcoming movie in the DC Extended Universe for the next few years...
Read more: Every upcoming Marvel Cinematic Universe movie until 2020
Aquaman
Release date: December 21, 2018
When Warner Bros. announced it was launching the DC Extended Universe with Batman v Superman and the Justice League, it also confirmed that some more solo superhero movies would be coming. Unlike the MCU, which went from solo movies to crossovers, the DCEU is starting with the crossovers and then focusing on the solo films, the next of which will be the Aquaman movie. Directed by Saw and Furious 7's James Wan expect a very different feel to the original comic Aquaman (well, have you seen the costume?!) and it will star Game of Thrones' Jason Momoa as the sea-based hero, as well as Amber Heard as Queen Mera. We've already seen Aquaman in action in the Justice League trailers but very little is know about the story of his solo movie. We do have a little to go on from how Wan has described the movie in interviews, saying: "The spirit that I'm going for is like a classic sort of swashbuckling action adventure, sort of high seas adventure story."
Read more: Watch Aquaman's Queen Mera practice her fighting skills
Shazam
Release date: April 5, 2019
Shazam, aka Captain Marvel before DC officially changed his name back in 2011 (and not to be confused with Marvel comic's Captain Marvel who will soon be played by Brie Larson in the MCU), will be getting his own film in 2019. Production is still incredibly early on the project, but Dwayne 'The Rock' Johnson has been cast as Shazam's arch-enemy Black Adam (who's also getting his own movie - more on that later), and the script is being written by Turbo's Darren Lemke. Lights Out director David F. Sandberg has signed on to helm the project and is currently busy getting to know the character. "There's a lot to read and that's also interesting because he sort of has a couple of different origin stories or a couple of different takes on it," he told Film Riot. It sounds like the storyline is still in the works, but New Line President Toby Emmerich described the film back in 2014 as having "a tone unto itself", so expect a more light-hearted and family-friendly DC movie.
Read more: The 25 best superhero movies of all time
Wonder Woman 2
Release date: November 1, 2019
Given the success of the Wonder Woman movie, it's unsurprising that a sequel was confirmed at SDCC 2017. Scheduled for 2019, Warner Bros. isn't hanging around, but at this point, we know very little about the sequel other than the fact that director Patty Jenkins and star Gal Gadot have both signed on to return. Rumour has it that Wonder Woman 2 will have a more modern setting with the '80s even being suggested by some but none of this is confirmed.
Read more: 8 questions I have after watching Wonder Woman
Cyborg
Release date: April 3, 2020
Next up on the list of 'characters who'll be getting a solo movie after appearing in Justice League' is Cyborg. Ray Fisher will obviously be playing the lead after his role in Justice League, but that's all we really know about the movie so far. With the release date so far off, the movie has no director, script, or supporting cast yet so watch this space. If it follows the pattern of other Warner Bros./DCEU movies, it won't be an origin story so don't expect to see Victor Stone's transition from high school football star who superhero cyborg.
Read more: 14 heartbreaking superhero movie deaths that hit us where it hurts
Green Lantern Corps.
Release date: July 24, 2020
Forget 2011's Green Lantern ever happened because Warner Bros.' is hoping for a more successful do-over with Green Lantern Corps. You're in for a pretty long wait though, as the movie won't appear in the DC Extended Universe until 2020 at the earliest. David S. Goyer and Justin Rhodes have signed on to co-write the script (with Goyer also producing) but that's basically all we know. The movie's been described as "Lethal Weapon in Space" and will reportedly feature both Hal Jordan and John Stewart as its lead characters. No word yet on who'll be playing them yet but we think it's safe to say it won't be Ryan Reynolds.
Read more: Green Lantern review
Justice League Dark
Release date: TBC
Because one Justice League just isn't enough, Warner Bros. also has planned a Justice League Dark movie, as yet untitled. Guillermo del Toro originally worked on the movie, which he reportedly said would see John Constantine recruit members of the Justice League Dark, but by 2015 he was no longer attached to the project. A year later, Warner Bros. hired Edge of Tomorrow's Doug Liman to direct the film, with Scott Rudin producing, and Michael Gilio writing the script, but then Liman dropped out due to scheduling conflicts... and that's kind of where we're at with this movie. In fact, everything is so unconfirmed that anything could happen from the movie being scrapped all together, to it suddenly getting a new director and full cast announcement.
Read more: 30 superhero movies with secret (and not-so-secret) political messages
Flashpoint
Release date: TBC
Indefinitely delayed and without a director, The Flash seems to be getting further and further away from cinemas. Pride and Prejudice and Zombies author Seth Grahame-Smith was set to make his directorial debut with The Flash but left over creative differences - Warner Bros. did keep his script though. Then Rick Famuyiwa signed on to direct and cast Billy Crudup as Henry Allen, and Kiersey Clemons as Iris West, but also left due to... you guessed it, creative differences. The movie is still currently searching for a new director, but we know it takes place after the event of Justice League so it won't be an origin story. Warner Bros. also revealed at SDCC 2017 that the title of the movie is Flashpoint so it's a good bet the storyline will be based on the comic book of the same name. Interestingly, DC's Extended Universe of films aren't connected to its slate of television shows (which is why TV's The Flash, Grant Gustin, was not cast), but don't rule out a crossover between the show and film versions just yet, as Kevin Smith revealed that "doors are being left open" should.
Read more: Is it just me, or do we need more superhero movies, not fewer?
Untitled Justice League sequel
Release date: TBC
This movie was originally suppose to be the second, and concluding part, to Justice League - Part One, directed by Zack Snyder and slated for June 14, 2019. As you can see, it's been pushed back indefinitely and turned into an untitled and unspecific Justice League sequel instead. With that in mind we literally know nothing about it as it's story will no doubt depend on what happens in Justice League. Check back later for more details as and when they come.
Read more: 8 superhero showdowns we'd pay good money to see
The Batman
Release date: TBC
This is another of Warner Bros. movies which feels like it's changed directors about a million times, but thankfully things look to be on track now. With everyone else in the Justice League getting their own solo movies, it seems only fair the Ben Affleck's Batman gets one too - especially considering that the Christopher Nolan/Christian Bale trilogy isn't really considered DCEU. As well as reprising his role as the Dark Knight, Affleck was originally set to write and direct the movie too, but eventually stepped down from directorial duties to focus on the lead role. Cloverfield's Matt Reeves is now directing and the only other details we have to go on is that it will feature Deathstroke (played by True Blood's Joe Manganiello) and that Jeremy Irons will be reprising his role as Alfred. Watch this space...
Read more: The secret history of the Batman and Superman movies you never got to see
Untitled Man of Steel sequel
Release date: TBC
Warner Bros. also has a Man of Steel sequel in development which will see Henry Cavill reprise his role as Superman. In November, Amy Adams (AKA Lois Lane) confirmed that work has begun on the script but gave few details.
Read more: Mad of Steel review
Suicide Squad 2
Release date: TBC
Despite the mixed reviews from critics Warner Bros. is keen to make another Suicide Squad movie but that's pretty much all we know about the project. A few directors have been passed around the rumour mill - including Mel Gibson - but as of now, nothing is confirmed.
Read more: Every Suicide Squad member explained - the good, the bad, and the ugly
Gotham City Sirens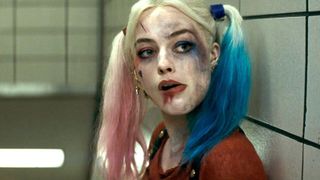 Release date: TBC
Suicide Squad director David Ayer won't be returning to direct the sequel, but will instead be making a Harley Quinn spin-off called Gotham City Sirens. Featuring other female villains, it's basically Suicide Squad if everyone was a woman. Margot Robbie is set to reprise her role, as well as serve as executive producer, and the screenplay has been penned by Geneva Robertson-Dworet.
Read more: Harley Quinn gets her own movie starring Margot Robbie – here's everything you should know
Untitled Black Adam movie
Release date: TBC
Anti-hero Black Adam will be getting a solo movie, as well as appearing in Shazam, and actor Dwayne Johnson is confirmed to reprise the role. Other than that, very little is known about the project.
Read more: It's a bird! It's a plane! It's the best superhero games of all time!
Untitled Nightwing movie
Release date: TBC
Warner Bros. is also developing a film centered on Dick Grayson - the original Robin - and the superhero he became after leaving Batman and Gotham, Nightwing. The LEGO Batman Movie's Chris McKay set to direct with a script from Bill Dubuque. More details as and when they come.
Read more: Zack Snyder reveals how Robin's tragic fate shaped Ben Affleck's Batman
Batgirl
Release date: TBC
The most recent Warner Bros./DC addition comes in the form of a Batgirl movie to be directed by The Avengers' Joss Whedon. While the swap from the MCU to the DCEU might seem odd, the Buffy the Vampire Slayer creator is known for his strong female characters so is the perfect fit to helm this story. At the moment, he's got his hands full finishing Justice League but once that's out, he'll no doubt turn his attention to casting Barbara Gordon.
Read more: Here is the frontrunner for Batgirl - and 3 other reasons to be excited