Marvel Studios may have a head start when it comes to creating a cinematic universe, but Warner Bros. is hot on its heels with a whole host of new DC Extended Universe movies planned from now until 2020 and beyond. The Aquaman movie is up next and we've just had a first trailer from San Diego Comic Con 2018, which promises that it will be both fun and action-packed. After that we have the Shazam! movie - which we were a bit unsure about when it was first announced, but has since won us over - and then Wonder Woman 2! The jewel in the DCEU crown is getting a sequel and we can't wait. There's plenty of new DC Extended Universe movies planned after Wonder Woman 1984 as well, but the further away they get, the less we know about them. Read on and find out about every new DC Extended Universe movie Warner Bros. has planned.
Aquaman
Release date: December 21, 2018
It feels like the Aquaman movie has been a long time coming - probably because we've known about it for a while and the underwater superhero made his DC Extended Universe debut way back in Batman v Superman . While casting Game of Thrones' Jason Momoa as Arthur Curry/Aquaman is probably the best decision anyone's ever made, BvS and Justice League didn't exactly get us hyped for this new DC Extended Universe movie. And then director James Wan released one hell of a first trailer at this year's Comic Con. Packed full of epic underwater action, cheeky one-liners, and a straight-forward family drama/civil war storyline, the Aquaman trailer proves that this film can have fun with itself, as well as delivering on the action. Add to that some star-studded casting in the form of Nicole Kidman, Amber Heard, and Willem Dafoe, and Warner Bros. might just have another DC hit on its hands. Well, Wonder Woman needs some company, doesn't she?
Shazam!
Release date: April 5, 2019
Shazam! sounds like the most ridiculous superhero movie ever planned... and yet, it also sounds like exactly what the DC Extended Universe needs. Shazam (aka, Captain Marvel before DC had to change his name because of rights issues with Marvel's Captain Marvel) is actually a young boy who gets imbued with the powers of Shazam and turns into an adult superhero when he yells... well, Shazam! I told you it sounded silly. From the looks of the first trailer though - also released a Comic Con 2018 - this movie is about to inject some much need heart and humour into the DCEU. Directed by David F. Sandberg and starring Zachary Levi as the grown-up superhero Shazam and Asher Angel as the young boy he really is Billy Batson, this new DC Extended Universe movie promises something most DC films have lacked so far - fun!
Wonder Woman 1984
Release date: November 1, 2019
Given the success of the first Wonder Woman movie, it's unsurprising that a sequel is on its way, but what is a little shocking is that it's set in the '80s and will see Chris Pine return as Steve Trevor. Yes, really! If you've seen the Wonder Woman ending then you'll understandably be a little confused, but returning director Patty Jenkins assured fans at Comic Con 2018 that "it's a very important part of [the] movie". Of course, Gal Gadot will also be back as Diana Prince/Wonder Woman and she'll be joined by Kristen Wiig, who'll be playing villain Cheetah, as well as Game of Thrones' Pedro Pascal, who is rumoured to play a god in hiding. Plot details for Wonder Woman 2 - or to give it its official title Wonder Woman 1984 - are thin on the ground right now, but with exclusive footage being shown at Comic Con, could we expect a teaser soon?
Cyborg
Release date: April 3, 2020
Next up on the list of 'characters who'll be getting a solo movie after appearing in Justice League' is Cyborg. Ray Fisher will obviously be playing the lead after his role in Justice League, but that's all we really know about the movie so far. With the release date so far off, the movie has no director, script, or supporting cast yet so watch this space. If it follows the pattern of other Warner Bros./DCEU movies, it won't be an origin story, so don't expect to see Victor Stone's transition from high school football star to superhero cyborg. The lack of the news surrounding this new DC Extended Universe movie has some questioning whether it's still happening, but until we hear otherwise from Warner Bros., it's staying on the list.
Green Lantern Corps.
Release date: July 24, 2020
Forget 2011's Green Lantern ever happened because Warner Bros. is hoping for a more successful do-over with Green Lantern Corps. You're in for a pretty long wait though, as the movie won't appear in the DC Extended Universe until 2020 at the earliest. David S. Goyer and Justin Rhodes have signed on to co-write the script (with Goyer also producing) but that's basically all we know. The movie's been described as "Lethal Weapon in Space" and will reportedly feature both Hal Jordan and John Stewart as its lead characters. No word yet on who'll be playing them yet, but we think it's safe to say it won't be Ryan Reynolds.
Justice League Dark
Release date: TBC
Because one Justice League just isn't enough, Warner Bros. also has planned a Justice League Dark movie, as yet untitled. Guillermo del Toro originally worked on the movie, which he reportedly said would see John Constantine recruit members of the Justice League Dark, but by 2015 he was no longer attached to the project. A year later, Warner Bros. hired Edge of Tomorrow's Doug Liman to direct the film, with Scott Rudin producing, and Michael Gilio writing the script, but then Liman dropped out due to scheduling conflicts... and that's kind of where we're at with this movie. In fact, everything is so unconfirmed that anything could happen with this film!
The Flash
Release date: Unknown
The Flash movie hasn't had much luck so far. Having lost two directors, it eventually found a third in the form of duo act and Spider-Man: Homecoming writers John Francis Daley and Jonathan Goldstein. All this uncertainty meant that it lost its confirmed release date and we currently don't know when we'll be getting it (although it will probably be at some point in 2020). It's also had a title change too - original called Flashpoint, it's now just The Flash, but will probably still focus on the storyline from the Flashpoint comics. We can probably say with some confidence that Ezra Miller will be back to play Barry Allen/The Flash, as well as Billy Crudup as his Dad, and that's about all we know. Or don't know as the case may be, but can at least guess.
Untitled Justice League sequel
Release date: TBC
This new DC Extended Universe movie was originally intended to be the second, and concluding part, to Justice League - Part One, directed by Zack Snyder and slated for June 14, 2019. As you can see, it's been pushed back indefinitely and turned into an untitled and unspecific Justice League sequel instead. With that in mind we literally know nothing about it and there's even some speculation that it might not happen at all now given the reaction to the first Justice League film. Don't write it off just yet though. While Justice League might not have been a big hit with critics and some fans, it still made a killing at the box office so Warner Bros. is probably reluctant to scrap this one for now.
The Batman
Release date: TBC
This is another new DC Extended Universe movie, which feels very much up in the air. With everyone else in the Justice League getting their own solo movies, it seems only fair the Ben Affleck's Batman gets one too - especially considering that the Christopher Nolan/Christian Bale trilogy isn't really DCEU. As well as reprising his role as the Dark Knight, Affleck was originally set to write and direct the movie too, but eventually stepped down from directorial duties to focus on the lead role. Cloverfield's Matt Reeves is now directing and the only other details we have to go on is that it will feature Deathstroke (played by True Blood's Joe Manganiello) and that Jeremy Irons will be reprising his role as Alfred. Having said that, it's been a while since we've heard anything and as you can see, it has no confirmed release date as of writing... is it still happening? I've no idea!
Untitled Man of Steel sequel
Release date: TBC
Warner Bros. also has a Man of Steel sequel in development, which will see Henry Cavill reprise his role as Superman. In November, Amy Adams (AKA Lois Lane) confirmed that work has begun on the script, but gave few details.
Suicide Squad 2
Release date: TBC
Despite the mixed reviews from critics, Warner Bros. is keen to make another Suicide Squad movie. With original director David Ayer working on Gotham City Sirens, a few possible replacements were passed around the rumour mill - including Mel Gibson - before The Accountant director Gavin O'Connor was confirmed. We haven't heard much since then, but it's scheduled to start filming in October 2018.
Gotham City Sirens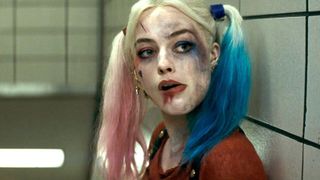 Release date: TBC
As I said above, David Ayer won't be returning to direct Suicide Squad 2 because he'll instead be making a Harley Quinn spin-off called Gotham City Sirens. Featuring other female villains, it's basically Suicide Squad if everyone was a woman. Margot Robbie is set to reprise her role, as well as serve as executive producer, and the screenplay has been penned by Geneva Robertson-Dworet.
Untitled Black Adam movie
Release date: TBC
Anti-hero Black Adam will be getting a solo movie, as well as reportedly appearing in Shazam!, and actor Dwayne Johnson is confirmed for the role. Other than that, very little is known about the project.
Untitled Nightwing movie
Release date: TBC
Warner Bros. is also developing a film centered on Dick Grayson - the original Robin - and the superhero he became after leaving Batman and Gotham, Nightwing. The Lego Batman Movie's Chris McKay set to direct with a script from Bill Dubuque. More details as and when they come.
Batgirl
Release date: TBC
The most recent addition to Warner Bros.' DC Extended Universe slate is a Batgirl movie, which was original set to be directed by The Avengers' Joss Whedon, but who has since stepped down from the project. Currently, Bumblebee writer Christina Hodson is penning the script while the studio is actively looking for a director.