San Diego Comic Con 2018 is here! While Thursday July 19 is officially the first day of Comic Con 2018, today marks to beginning of the huge geek-tastic event as Preview Night kicks off with a couple of early screenings. Whether you're lucky enough to be attending SDCC yourself, or you're just looking to find out what's happening this year, we're here to help with a breakdown of the full San Diego Comic Con 2018 schedule, including how to watch it, what to expect, and what Comic Con exclusives you can get your hands on. With James Wan teasing the very first Aquaman trailer and James Gunn teasing... something, there's plenty to look forward to even with Marvel Studios giving it a miss this year, and we're going to bring you around the clock coverage of Comic Con 2018 all weekend, so you don't miss a thing. Read on and get ready for this year's Comic Con!
How can I watch San Diego Comic Con 2018?
Unlike a lot of similar events, San Diego Comic Con doesn't live stream its panels preferring to ensure the exclusively of the event for those who attend. Having said that, they usually appear on YouTube not long after, which is great if you want to watch all that Hall H action for yourself. Other than that, Marvel Entertainment usually has a SDCC stream on its YouTube (you can watch last year's here) and although Marvel Studios isn't attending Comic Con this year, Marvel Television is, so it's likely the stream will still go ahead. Also, in the past brands like IGN have teamed with Twitter to provide a live stream of SDCC, so it's possible something similar will happen this year too, and although such a stream will never be able to show everything that's happening at Comic Con (especially from the secretive Hall H), it's a great way to check out all the biggest and best moments from the event. For more details check out our how to watch San Diego Comic Con 2018 guide.
What's on the San Diego Comic Con 2018 schedule?
The full San Diego Comic Con 2018 schedule has finally been released, and it's packed to the brim with geek-tastic panels, discussions, and screenings of everything from the world movies, TV, games, and comics. Basically, you'd need a whole weekend just to sift through the entire line-up to find the talks you want to check out, so to make things a little easier, we've picked out the major events of interest from each day below, along with a link to the full schedule should you want to explore further.
The big Comic Con 2018 news is that Marvel Studios is giving it a miss this year, so there'll be no Captain Marvel, Avengers 4, or any other new Marvel movies at Comic Con. Don't expect any Star Wars 9 or Game of Thrones season 8 coverage either as Disney has revealed that it won't be showcasing anything from its new Star Wars movies and HBO won't be attending at all! In fact, this year's Comic Con is shaping up to be a little bare… so what can we expect from the San Diego Comic Con 2018 schedule? Read on to find out.
Wednesday, July 18 - Preview Night
Technically, the first day of San Diego Comic Con is always the Thursday, but on the Wednesday before, SDCC has its Preview Night when those lucky enough to have a full Comic Con pass can enjoy an early look at the convention floor and some evening screenings before everything kicks off the following day. This year, Warner Bros. Television is exclusively screening the pilot for its new series Manifest, plus an advance screening of the following week's episode of The 100 (18.00). Plus, New Line Cinema will be showing footage from some of its eagerly anticipated 2018-2019 upcoming horror movies, complete with special filmmaker guests (21.30).
18.00 - Manifest World Premiere and Special Sneak Peek Screenings
21.30 - New Line Cinema's "Scarediego"
Find the full SDCC Preview Night schedule here.
Thursday, July 19
The first official day of Comic Con kicks off with 20th Century Fox's Hall H panel (10.30) where the main subject of debate will be The Predator movie, which hits cinemas this September. We've already had a couple of trailers for the movie, so expect something more in-depth from the Comic Con panel hopefully with the entire cast. The other big panel of the day will be Doctor Who (11.45), which will give us our first proper look at new Doctor Jodie Whittaker and season 11. You might have already seen the leaked clip, which was planned for Comic Con (there's no word yet on whether a different one will be shown instead), but even if you have, there's sure to be plenty more Doctor Who goodies to feast your eyes on.
It's also worth checking out the Nightflyers panel (15.00). This is the new TV show based on George R. R. Martin's other book and with Game of Thrones absent from San Diego Comic Con this year, Thrones fans might find something to love here instead. Plus, Avengers: Infinity War directors the Russo brothers are stopping by the Assassination Nation panel (17.45) - could they tease us something about Avengers 4? Other events worth noting include an exclusive screening of the new Charmed reboot (11.15), panels for the new seasons of Better Call Saul (15.30), Van Helsing (16.00), Z Nation (17.00), Iron Fist (18.00), and Brooklyn Nine-Nine (19.00), and anniversary panels for Star Wars: The Clone Wars (11.45), 2001: A Space Odyssey (12.30), and Breaking Bad (16.30).
10.30 - 20th Century Fox: The Predator
10.30 - Blade Runner: Revelations: Storytelling in VR
11.15 - Charmed Exclusive Screening and Panel
11.45 - Celebrate the 10-Year Anniversary of Star Wars: The Clone Wars
11.45 - Doctor Who: BBC America's Official Panel
12.30 - 2001: A Space Odyssey 50th Anniversary Panel
13.00 - A Discovery of Witches
13.00 - Call of Duty: Black Ops 4 Zombies
13.00 - Marvel Games Panel
14.00 - So Say We All: 40 Years of Battlestar Galactica
14.15 - Dragon Ball Super
14.15 - Spyro: Reigniting a Legend
15.00 - Nightflyers
15.00 - In Conversation with Robert Kirkman
15.30 - AMC's Better Call Saul
15.30 - Pokemon GO, Ingress, and Everything Next from Niantic
16.00 - Van Helsing: The World Is a Vampire
16.30 - Breaking Bad 10th Anniversary Celebration
17.00 - Z Nation
17.00 - Marvel Studios: The First 10 Years, Visual Development
17.45 - Crazy Ex-Girlfriend: The Final Curtain Call
17.45 - Assassination Nation Panel with Cast and the Russo Brothers
18.00 - Black Summer: A Netflix Original Series
18.00 - Netflix: Marvel's Iron Fist
19.00 - NBC's Brooklyn Nine-Nine
20.00 - Stephen King's Mr. Mercedes: Season 2
20.15 - Harry Potter Fandom Panel: 20 Years in the Wizarding World
Find the full SDCC Thursday schedule here.
Friday, July 20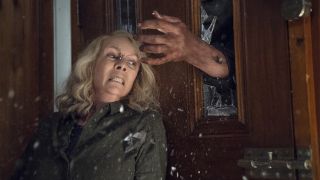 Friday is TV heavy with panels for the new seasons of Adventure Time (10.00), Fear the Walking Dead (11.15), The Walking Dead (12.15), Star Trek Discovery (13.30), Bob's Burgers (16.15), Marvel's Cloak and Dagger (17.45), Preacher (19.30), and more planned. There's also the world premiere of Hulu's new horror series Castle Rock (12.45), and an Amazon Prime Video Showcase (15.30), which will be talking about its upcoming original series Jack Ryan, The Tick, Homecoming, Good Omens, and The Expanse. Could it also tease us something about the Lord of the Rings TV show currently in development? It's a little early for that, but I wouldn't rule it out. It would be a great way to end the panel.
In terms of movies, Friday will see Universal Pictures shout about the upcoming Glass and Halloween (15.45). I'd bet good money that Jamie Lee Curtis will rock up with some spectacular footage to tease fans with, and we might even get a first look at Glass too. All we've had so far is a teaser poster and we know footage exists because M. Night Shyamalan and Samuel L. Jackson already screened it at this year's CinemaCon. Could it be San Diego's turn? There's also a Bumblebee panel (17.00), which will hopefully be attended by stars Hailee Steinfeld, John Cena, Jorge Lendeborg Jr. and director Travis Knight, but Paramount might also use this opportunity to tease its other big blockbuster Top Gun: Maverick. Could we see Tom Cruise at Comic Con? Finally, there's also a Sony Pictures panel (18.15), which will focus on the Venom movie, and with an October 2018 release date, SDCC is the perfect chance to win audiences over who have so far had a lukewarm reaction to trailers. Bring on Tom Hardy!
10.00 - Adventure Time
10.15 - Dreamworks Voltron Legendary Defender: A Netflix Original Series
10.15 - Inside The Big Bang Theory Writers' Room
11.00 - Star Wars Collectibles
11.15 - AMC's Fear the Walking Dead
12.15 - AMC's The Walking Dead
12.45 - Resident Evil Video Games
12.45 - Hulu's World Premiere Screening of Castle Rock
13.30 - Star Trek: Discovery
15.15 - Behind the Scenes of Overwatch's Newest Hero
15.30 - Amazon Prime Video Showcase
15.45 - Universal Pictures' Glass and Halloween
16.15 - Bob's Burgers
16.30 - God of War: Reimagining Franchises
17.00 - Bumblebee
17.45 - Marvel Television: Marvel's Cloak & Dagger
17.45 - Skybound Entertainment: What's Next
18.00 - The Passage
18.15 - Sony Pictures Panel
19.00 - The Last Sharknado: It's About Time
19.00 - World Premiere of The Death of Superman
19.00 - Tim Burton's The Nightmare Before Christmas 25th Anniversary Screening
19.15 - Twilight Zone Marathon Screenings
19.30 - AMC's Preacher
Find the full SDCC Friday schedule here.
Continue to Page 2 for more on the Comic Con 2018 schedule and exclusives