Marvel Studios is well into Phase Three of its plan to take over the world with above average superhero movies and with the release of Thor: Ragnarok it's time to get hyped for the MCU movies coming next year and beyond. And we all know where it's leading, right? Avengers: Infinity War.
There's a few more stops on the way to that epic showdown though, so to make sure you don't miss a single step in the vast movie universe which is the MCU, we've put together a list of every Marvel movie planned to 2020. With more solo outings (Black Panther), sequels (Ant-Man and the Wasp), and debuts (Captain Marvel) - here's your ultimate guide to every upcoming Marvel movie.
Want the MCU so far? Here's every Marvel Cinematic Universe movie, ranked from worst to best.
Black Panther
Release date: February 16, 2018 (US)/February 9, 2018 (UK)
Spider-Man isn't the only superhero getting his own movie after making his debut in Civil War - Chadwick Boseman's Black Panther will also be getting his own film directed by Creed's Ryan Coogler. Now that we're getting further away from this year's releases, details are scarce, but thanks to the first trailer, we do know that Black Panther will be set in Wakanda and will focus on the "family and royal struggle of T'Challa". Perhaps we can expect a different kind of civil war? The cast is filled out with The Walking Dead's Danai Gurira, Star Wars: The Force Awakens's Lupita Nyong'o, Fantastic Four's Michael B Jordan, and Star Wars: Rogue One's Forest Whitaker.
Read more: The first Black Panther trailer introduces us the badass world of Wakanda
Avengers: Infinity War
Release date: May 4, 2018 (US)/April 27, 2018 (UK)
This is what most of the Marvel Cinematic Universe has been building to: the war for the Infinity Stones. They're basically the Dragonballs of the Marvel universe, granting near-limitless power to whoever possesses them. They were first introduced in Captain America: The First Avenger, with the glove designed to contain them showing up in Thor, and then before we knew it various stones starting appearing in numerous MCU movies. Many MCU superheroes will converge in the Russo brothers' Infinity War, including the Guardians of the Galaxy (who have so far remained separate from the rest of the mostly-Earth bound superheroes) and Captain Marvel who will make her debut.
Read more: Spidey sense, badass Thanos, and pretty much every Avenger - here's what happens in the Infinity War trailer
Ant-Man and the Wasp
Release date: July 6, 2018 (US)/July 2, 2018 (UK)
Ant-Man was a huge gamble for Marvel Studios - relatively little-known hero, focus on comedy - but it seems to have paid off well enough for the studio to greenlight and fast-track a sequel to squeeze into the end of Phase Three. And, in case you hadn't noticed, this will be the first MCU movie which features a female lead in the title. Yes, Ant-Man 2 is actually Ant-Man and the Wasp, and returning director Peyton Reed promises there's a good reason for this. Unsurprisingly, Paul Rudd and Evangeline Lilly will be returning as Scott Lang and Hope van Dyne respectively, but Marvel Studios announced Michelle Pfeiffer will play Janet Van Dyne at SDCC 2017 and given this, it sounds likely Michael Douglas will reprise his role as the original Ant-Man Hank Pym.
Read more: Michelle Pfeiffer, the South Korean shuffle, and the Quantum Realm - the Ant-Man and the Wasp SDCC footage you didn't see
Captain Marvel
Release date: March 8, 2019
To the shock (and horror) of fans, the first female-led MCU movie won't be a Black Widow movie, but a solo movie for Captain Marvel (after her Infinity War debut). As this is one of Marvel's finale films of Phase Three, not much is known about the movie yet, but we do know who'll be playing the heroine (Oscar winner Brie Larson was welcomed to the MCU at SDCC 2016) and who'll be directing - dream team Ryan Fleck and Anna Boden, who directed Mississippi Grind together, will be responsible for the superhero's solo movie. This year's San Diego Comic Con also revealed that it will be Marvel's first prequel movie as it's set in the '90s waaaaaaay before Iron Man, and that classic comic book villains The Skrulls will feature in the story.
Read more: 5 things you need to know about Ryan Fleck and Anna Boden
Untitled Avengers: Infinity War sequel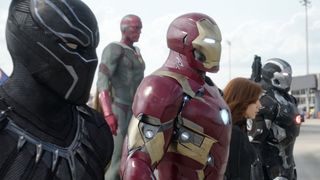 Release date: 3 May 2019 (US)/26 April 2019 (UK)
Marvel originally announced that we were getting Avengers: Infinity War - Part 1 in 2018 with Part 2 following the year after, but it's since been confirmed that the Avengers: Infinity War sequel is currently untitled. Does this mean the two movies aren't part of the same story anymore? Doubtful, but it does throw into question everything we thought we knew about this second movie. Basically, take what we know about Avengers: Infinity War and remove that for its sequel. We know nothing other than the fact that the Russo brothers are directing.
Read more: 11 Marvel comics to get you ready for the future movies
Spider-Man: Homecoming 2
Release date: July 5, 2019
Now Spider-Man: Homecoming is in cinemas we can start getting excited about its sequel. Unfortunately, we know every little (see: nothing) about it. I assume it's the same deal as with the first movie - so a Sony-Marvel Studios team-up rather than a straight MCU movie - but other than that, and the fact that it will almost certainly star Tom Holland as Peter Parker/Spider-Man, we're in the dark. However, if Holland and his big mouth is to be believed, this will be the middle movie of a planned Spider-Man trilogy.
Read more: 6 questions I have after watching Spider-Man: Homecoming
Three untitled movies
Release date: May 1, July 10, and November 6, 2020
We know Marvel Studios has plans for three, currently-unannounced movies in 2020, but we don't know what they are yet. Having said that, Guardians of the Galaxy 3 is pretty much confirmed at this point, and there's also a chance that the previously scheduled, but technically now scrapped, Inhumans movie could be one as well. Finally, if Spider-Man: Homecoming is the start of a trilogy, the third and final Spidey movie could be released in 2020. For now, we just don't know, but stay tuned because as soon as we know, you'll know.
Read more: How long do all the Marvel actors have left on their contracts?