Bad news Marvel fans, there's no more MCU movies coming this year. Don't worry though because Marvel Studios still has plenty of new Marvel movies planned for 2019 and beyond, including the start of the studios' much-anticipated Phase 4! If you already have MCU withdrawal from Avengers: Infinity War then check out the below breakdown of every new Marvel movie we know about.
This list will keep you going until Captain Marvel kicks things off next year, and then, before you know it, it'll be time for Avengers 4! Spider-Man: Far From Home is the third and final new Marvel movie of 2019 (as well as the first Phase 4 film), but Marvel has plans for even more films from 2020 to 2022, so don't worry, there's plenty to keep your occupied. While we don't know what films Marvel has planned past 2019, we do have the release dates and some pretty good guesses as to what we might see, so read on for everything we know about all the new Marvel movies planned for 2019 and beyond.
Captain Marvel (2019)
Release date: March 8, 2019
To the shock (and horror) of Marvel fans everywhere, the first female-led MCU movie won't be a Black Widow movie, but a Captain Marvel film - and after that Avengers: Infinity War post-credits scene, it's shaping up to be one of the most exciting films on Marvel Studios' upcoming slate!
Directed by Ryan Fleck and Anna Boden and starring Oscar winner Brie Larson in the title role, the Captain Marvel movie is sort of a MCU prequel as it's set in the '90s and will feature a young Nick Fury (with two eyes!) and Agent Coulson. It's not an origin movie though and will pick up with the superhero after she's become all powerful. The story focuses on the Kree-Skrull war from the comics, and rumour has it, it will tie in closely with the events of Avengers: Infinity War and Avengers 4, so it's definitely not one to miss.
Samuel L. Jackson and Clark Gregg aren't the only MCU alumni joining Larson as part of the Captain Marvel cast though, as Guardians of the Galaxy villains Ronan (Lee Pace) and Korath (Djimon Honsou) will also put in an appereance. As for newcomers, Jude Law, Ben Mendelsohn, Gemma Chan, and Lashana Lynch are all joining the MCU in this movie.
After months of waiting, we finally got our first look at Captain Marvel courtesy of some first look images and one hell of a kick-ass trailer, and if you thought you were hyped before, just wait until you see the footage.
Read more: 7 questions we have after watching the first Captain Marvel trailer
Avengers 4 (2019)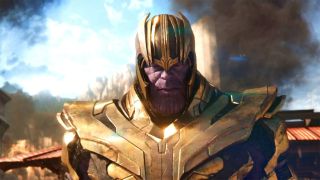 Release date: 3 May 2019 (US)/26 April 2019 (UK)
Avengers 4 is the final Phase 3 Marvel movie and according to Feige it will be "a finale" like we've never seen before in the Marvel Cinematic Universe. Are you scared? Because I am...
Up until the release of Infinity War, we really didn't know anything about Avengers 4 other than the fact that it's a sequel to Infinity War and was filmed at the same time with the same directors, the Russo brothers. Now that Infinity War is out, Marvel still hasn't told us anything (including what it's called!), but we can at least make some educated guesses as to what it will be about.
It's obviously going to deal with the aftermath of Thanos' click and hopefully see the remaining Avengers reverse his actions. Despite the directors and writers desperately trying to make us all believe that those deaths are real, I think it's safe to say that most of the dusted superheroes will be back - some of them have sequels coming up after all (more on them below)!
How that happens is still up for debate, but we've since had the Soul Stone theory confirmed, which offers us a few hints at how it might be possible, and some leaked Avengers 4 set photos, curious casting announcements, and that Ant-Man and the Wasp ending hints at a major time travel plot. For now, official Avengers 4 details are thin on the ground, but once Captain Marvel is out, we should find out a little bit more.
Read more: What does the Avengers: Infinity War ending mean? And 8 other questions we have
Spider-Man: Far From Home (2019)
Release date: July 5, 2019
After the "finale" to end all finales, Feige promises Phase 4 will kick off a new era for the MCU - and it's starting with a sequel to one of the best movies of 2017, Spider-Man: Homecoming. Up until recently, we didn't know much about the sequel other than the fact it was happening and a placeholder release date, but with Infinity War out of the way and Phase 4 in sight, details have stated to trickle through, starting with the official title.
Spider-Man: Homecoming 2 is actually called Spider-Man: Far From Home and it will again star the superb, but spoiler-prone Tom Holland as Peter Parker/Spider-Man. Jon Watts is also returning to direct and it was recently revealed that Samuel L. Jackson's Nick Fury and Cobie Smulders' Maria Hill are joining the cast.
As for the villain, rumour has it that Jake Gyllenhaal is in talks to play Mysterio, but that's currently unconfirmed. Other than that, expect most of Peter's high school pals back for the sequel and some MAJOR Avengers 4 happenings to bring him back to life in time for Far From Home.
Read more: Spider-Man: Homecoming ending - 6 questions we need answered
Three untitled movies (2020)
Release dates: May 1, 2020, July 31, 2020, and November 6, 2020
Marvel Studios has plans for three, currently-unannounced movies in 2020, but it hasn't revealed what they'll be yet. Up until recently, it was a pretty safe bet that Guardians of the Galaxy Vol. 3 would take one of these slots, but with director James Gunn's departure and production currently on hold, that's been thrown into some doubt, despite Sean Gunn recently saying that his brother's script will still be used.
As for the rest of the dates? There's also a chance that the previously scheduled, but technically now scrapped, Inhumans movie could be another (although it's looking unlikely), and the final date could see an entirely new property make its MCU debut. Rumour has it that The Eternals could be the new Marvel movie to watch out for with THR reporting that Chloé Zhao is onboard to direct, along with writers Matthew and Ryan Firpo. Marvel isn't just concerned with sequels and crossover movies after all and the start of Phase 4 has promised "new beginnings," according to Feige. For now, we just don't know what these new Marvel movies will be, but stay tuned because as soon as we do, we'll tell you.
Read more: Guardians of the Galaxy 2 ending - 9 questions we need answered
Three untitled movies (2021)
Release date: May 7, 2021, July 30, 2021, and November 5, 2021
As well as the 2020 movies, Marvel Studios has also earmarked six other dates across 2021 and 2022 for new Marvel movies. What are they? We've no idea... but we can make a few good guesses based on past releases. May 7, 2021 might be a good time for Black Panther 2 - especially considering how popular and successful the first movie has been - and July 30, 2021 could see another Thor movie hit cinemas (although that's been thrown into doubt since Chris Hemsworth revealed he's not contracted for anymore MCU appearances past Avengers 4). As for November 5, 2021, we could be looking at Doctor Strange 2, which Feige recently confirmed "we will do," but "it will be a number of years from the first Strange". A 2021 release would fit this statement by putting the Strange sequel five years after the first film's release, but other than that, there's always the chance that the long-promised Black Widow movie - which now has a director according to THR - could nab a spot.
Read more: Black Panther ending - 6 questions we need answered
Three untitled movies (2022)
Release dates: February 18, 2022, May 6, 2022, and July 29, 2022
Now onto the 2022 dates! Honestly, this is so far away and so dependent on the new Marvel movies that come before it that I'm basically just guessing, BUT Avengers 5 might be a good shout if, you know... they don't all die in Avengers 4. Also, if Spider-Man: Far From Home is the middle movie in a trilogy - which Tom Holland has suggested - the third and final Spidey movie could be scheduled for 2022. As for the last movie? Well, now would be a good time to introduce some characters from the Fox superhero universe if the Disney-Fox merger goes ahead. Deadpool 3, maybe? Or an MCU Fantastic Four reboot? All things are possible.
Read more: It's official! Disney is buying 20th Century Fox - here's 8 things that could happen