You'd be forgiven for thinking Avengers: Infinity War was the be-all and end-all of Marvel Studios' movie plans - it's hard to look past a superhero crossover epic that big - but now that the film has been out for a while, I'm hear to tell you that there's actually plenty of new Marvel movies coming soon. Yes, that's right, there is life after Infinity War, and it looks a lot like this...
Ant-Man and the Wasp will be the final Marvel movie of the year, and also the first one to share its title with its female lead, so you don't want to miss it! After that we have... well, a lot of superhero movies basically. Below you'll find a breakdown of every upcoming Marvel movie we know about, from the end of Phase Three (Avengers 4), to the start of Phase Four (Spider-Man: Homecoming 2), and beyond (there's currently nine unknown movie release dates set for 2020-2022).
While a lot of the upcoming Marvel movies are still unknown, we can make some educated guesses about what they might be (Guardians of the Galaxy Vol. 3, anyone?) and there's still plenty to get hyped about along the way (like Captain Marvel's debut). If nothing else, this list confirms what we've long known, that Marvel Studios has plans to release three superb superheroes films a year until the end of time. Or at the very least, until the end of 2022... Here's your guide to all the new Marvel movies coming soon.
Want the Marvel Cinematic Universe so far? Here's the best Marvel movies ranked from Iron Man to Avengers: Infinity War.
Ant-Man and the Wasp (2018)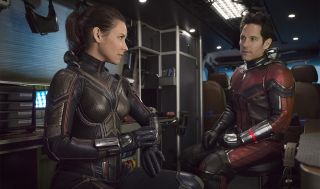 Release date: July 6, 2018 (US) / August 3, 2018 (UK)
Ant-Man was a huge gamble for Marvel Studios, but it seems to have paid off well enough for the studio to greenlight and fast-track a sequel to squeeze into the end of Phase Three. And, in case you hadn't noticed, this will be the first new Marvel movie to feature a female lead in the title. Yes, Ant-Man 2 is actually Ant-Man and the Wasp, and returning director Peyton Reed promises there's a good reason for this. Unsurprisingly, Paul Rudd and Evangeline Lilly will be returning as Scott Lang and Hope van Dyne respectively (with Michael Douglas as Hank Pym), and as if that wasn't enough star power for one movie, Marvel Studios also announced Michelle Pfeiffer will play Janet Van Dyne at SDCC 2017. Since then, we've had a few trailers, which not only emphasise the sequel's links it to the rest of the MCU, but plays with the shrinking and expanding action of its heroes. Oh, and if the gap between the US and UK release dates seems a bit unusual... yeah, we're not sure why it's being released a month later in the UK either.
Read more: Here's what happened in the Ant-Man and the Wasp SDCC footage you didn't see
Captain Marvel (2019)
Release date: March 8, 2019
To the shock (and horror) of fans, the first female-led MCU movie won't be a Black Widow movie, but a solo movie for Captain Marvel - and after the events of Infinity War, it's shaping up to be one of the most exciting films on Marvel Studios' upcoming slate. Not much is known about the new Marvel movie yet, except for the fact that Oscar winner Brie Larson will be playing the heroine (she was welcomed to the MCU at SDCC 2016) and dream team Ryan Fleck and Anna Boden are directing the solo flick (they made the Ryan Reynolds-starring Mississippi Grind together). SDCC 2017 also revealed that Captain Marvel will be set in the '90s, star a two-eyed Nick Fury, and feature classic comic book villains The Skrulls. Since then we've also had sneak peek at the Captain Marvel costume via some set photos - boy, does it look different! - and Guardians of the Galaxy villain Ronan has been revealed to have a role, hinting that it will involve the Skrull-Kree war.
Read more: 5 things you need to know about Ryan Fleck and Anna Boden
Avengers 4 (2019)
Release date: 3 May 2019 (US)/26 April 2019 (UK)
This is the final new Marvel movie of Phase Three and according to head honcho Kevin Feige it will be "a finale" like we've never seen before in the Marvel Cinematic Universe. Are you scared? Because I am... Up until the release of Infinity War, we didn't know anything about Avengers 4 other than the fact it will act as a sequel to the big superhero smackdown and it's also directed by the Russo brothers. Now that Infinity War is out, Marvel hasn't told us anything else, but we can at least make some educated guesses as to what we'll see in this movie given what happened in Infinity War. Spoilers to follow: It's obviously going to deal with the remaining Avengers trying to reverse what Thanos has done with the Infinity Stones and the only other thing we can say with confidence is that writers Christopher Markus and Stephen McFeely told me that the characters that didn't get much screen time in Infinity War (mainly Cap and Black Widow) will take centre stage in Avengers 4.
Read more: What does the Avengers: Infinity War ending mean? And 8 other questions we have
Spider-Man: Homecoming 2 (2019)
Release date: July 5, 2019
The first new Marvel movie of Phase Four will be a currently untitled Spider-Man: Homecoming sequel. After the success of the first movie, it's unsurprising that Marvel wasted no time in confirming a sequel, but, unfortunately, we know very little (see: nothing) about it. I assume it's the same deal as with the first movie - so a Sony-Marvel Studios team-up rather than a straight MCU movie - but other than that, and the fact that it will almost certainly star Tom Holland as Peter Parker/Spider-Man, we're in the dark. However, if Holland and his big mouth is to be believed, this will be the middle movie of a planned Spider-Man trilogy. Exciting!
Read more: Spider-Man: Homecoming ending - 6 questions we need answered
Three untitled movies (2020)
Release dates: May 1, 2020, July 31, 2020, and November 6, 2020
We know that Marvel Studios had plans for three, currently-unannounced movies in 2020, but we don't know what they are yet. Having said that, Guardians of the Galaxy 3 is pretty much confirmed as one of these, and there's also a chance that the previously scheduled, but technically now scrapped, Inhumans movie could be another (although it's looking unlikely). As for the other date, there's a good chance it'll be for an entirely new property. Marvel isn't just concerned with sequels and crossover movies after all and the start of Phase Four has promised "new beginnings," according to Feige. For now, we just don't know what these new Marvel movies will be, but stay tuned because as soon as we do, we'll tell you.
Read more: How long do all the Marvel actors have left on their contracts?
Three untitled movies (2021)
Release date: May 7, 2021, July 30, 2021, and November 5, 2021
As well as the 2020 movies, Marvel Studios has also earmarked six other dates across 2021and 2022 for new Marvel movies. What are they? We've no idea... but we can make a few good guesses based on past releases. May 7, 2021 might be a good time for Black Panther 2 - especially considering how popular and successful the first movie has been - and July 30, 2021 could see another Thor movie hit cinemas (although that's been thrown into doubt since Chris Hemsworth revealed he's not contracted for anymore MCU appearances past Avengers 4). As for November 5, 2021, we could be looking at Doctor Strange 2 (it will have been a while since the first movie), or maybe the long-promised, but sadly still not confirmed Black Widow movie will nab this spot.
Read more: Black Panther ending - 6 questions we need answered
Three untitled movies (2022)
Release dates: February 18, 2022, May 6, 2022, and July 29, 2022
Now onto the 2022 dates! Honestly, this is so far away and so dependent on the new Marvel movies that come before it that I'm basically just guessing, BUT Avengers 5 might be a good shout if, you know... they don't all die in Avengers 4. Also, if Spider-Man: Homecoming is the start of a trilogy, the third and final Spidey movie could be scheduled for 2022 and leave a nice gap between his last outing. As for the last movie? Well, now would be a good time to introduce some characters from the Fox superhero universe if the Disney-Fox merger goes ahead. Deadpool 3, maybe? Or an MCU Fantastic Four reboot? All things are possible.
Read more: It's official! Disney is buying 20th Century Fox - here's 8 things that could happen