It's another week and another new Lego set has been revealed, this time bringing Larry and Morton's Airships to the table. However, the Koopalings aren't the stars of this show if you ask us - we're bigger fans of the silly little pirate goomba, living his silly little pirate life.
Unveiled as a 1,062-piece addition to the best Lego sets, this pack bundles together Larry, Morton, and their galleon-style airships into one box. While the classic Super Mario baddies aren't digital themselves, putting Mario, Luigi, or Peach into the cockpits will activate sound effects and a "virtual cannon battle." However, that's if they can get past the pirate hat-wearing Goomba, who's clearly running this show because Larry and Morton are imbeciles. They'll have to overcome Morton's ship unfolding into a battle zone, too.
It won't ship until August (which sadly means it won't be included in this year's Prime Day Lego deals), but you can pre-order this set now for $79.99 via the Lego store. As for UK readers, it's £74.99 at Lego.
You'll find a full rundown of the set below.
Larry's and Morton's Airships
Swipe to scroll horizontally
| | |
| --- | --- |
| Price | $79.99 / £74.99 |
| Release date | August 1 |
| Ages | 8+ |
| Pieces | 1,062 |
| Minifigures | N/A |
| Item number | 71427 |
The Koopalings reinforce Bowser's sky fleet with this pack, and it gets you two airships and a pair of villains to bolster your existing courses. And even though Larry and Morton aren't digital figures themselves, they can still be interacted with if you have a Mario, Peach, or Lego figure ('jumping' on their backs defeats them). Similarly, the airships aren't battery-powered toys but Mario and Co will make digital sound effects if you put them in the cockpits.
Alongside a pirate Goomba, this set has a hidden extra feature - Morton's airship opens up to reveal a battlezone where "you must topple Morton to defeat him." That means this set has more utility if you'd rather use this kit as a more traditional obstacle course like the best Lego Super Mario sets.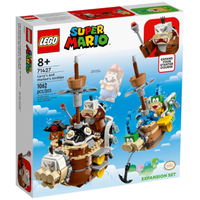 Pre-order Lego Larry's and Morton's Airships | $79.99 at Lego
Available August 1 - If you want to get a jump on this set, it's available to pre-order from the Lego site now. If you're signed up for Lego's free VIP program, you should earn yourself some points in the process.

UK price: 74.99 at Lego
---
It's been a busy few weeks for Lego. Alongside a new Lego Disney Castle, a Lego Hocus Pocus set was announced in June.