If you're looking for a cheap Ninty console this side of Christmas, you need to watch out for those Black Friday Nintendo Switch bundle deals. The Switch rarely drops in price, but during Black Friday anything goes, so this is the best time of year to get a good deal on a console and a couple of games. Many of the biggest retailers are kicking off their sales in the next week or two, and some have already started - the best price in the UK right now is this Switch + Mario Kart 8 for £299. That's a good deal, for sure, as you save about £25.
When you're hunting for the best Black Friday Nintendo Switch bundle, you need to consider how big the saving is, and what game you want to be included with it. The Switch is currently $299/£279 with no games, and most Nintendo games sell for about $60/£50 a piece. If you're not saving much on these prices, then it isn't worth buying. The games you want with your Switch are all the Nintendo classics - Zelda: Breath of the Wild, Super Mario Odyssey, Mario Kart - so if you get a bundle with these, you're going to get the most out of your console. Do you need extras with your bundle? Well, getting one with a Nintendo Switch SD card, or with a new case will certainly help, but it's often best to choose these yourself so you can see what value you're going to get from them. Our advice is to snap up any Switch bundle if it includes a top game and is priced at less than $300 / £280. Anything more than that is really down to how good you think the deal is.
If you're keen to know about the other deals you can expect, check out our Black Friday game deals hub, and our guide to the Black Friday Nintendo deals for offers on games and accessories.
Console only
US bundles

Nintendo Switch with Nintendo Labo Variety Kit + Customization Kit $429.99 from Newegg
Labo is the new, creative toolset for Switch and it's brilliant. This bundle gets you started with everything you need.View Deal
Nintendo Switch with Mario Tennis Aces and 1-2 Switch for $359.96 from Walmart
Two great games and a Neon Switch console for less than $360? This one is well worth grabbing for some family entertainment.View Deal
Nintendo Switch with Fortnite + 1000 Vbucks for $329.99 from NewEgg
A decent price on this Fortnite bundle, which is fast becoming collectable. You get 1000 Vbucks included, which is a bit of a boon.View Deal
UK bundles

Nintendo Switch + Mario Kart 8 for £299 from Currys PC World
You get a console with one of the best party games on Switch, all for under £300. That saves you about £23, which is a decent chunk.View Deal
Nintendo Switch Neon + Crash Bandicoot N.Sane Trilogy for £299 from Amazon
Nice little bundle this - console and a top Switch game for less than £300. An ideal place to start with Nintendo.View Deal
Nintendo Switch with Minecraft and Crash Bandicoot N.Sane Trilogy for £324.99 from Very A great starter pack for new Switch owners, this comes with a couple of games the whole family can enjoy and it's a top price. View Deal
Neon Nintendo Switch with Super Mario Odyssey for £318.99 from Amazon The best Mario game in years, and one of the console's must-play experiences. You save about a tenner here!View Deal
Switch games
Zelda: Breath of the Wild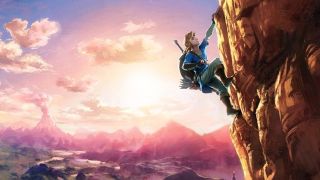 The biggest and best Switch game you can play. No wonder we awarded it 5/5 in our review, last March. This open-world game will keep you playing for 100s of hours, and there's extra content too, once you're done. Here are the best deals on Zelda.
Super Mario Odyssey
The most charming, delightful, family-friendly game you'll find on Switch. But don't let the cartoonish looks and universal appeal fool you - this is a challenging, deep game for those who want to get stuck in. Here are the best prices right now.
Mario Kart 8 Deluxe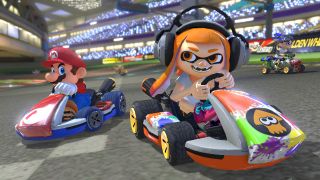 Wahoo! This is Switch's best multiplayer game, and the best thing about it is that you can use the Joy-Cons included with the console to battle in two-player, using the same screen. Here are the best deals on MK8 Deluxe.
Switch extras
Switch carry case
If you buy a console on its own, then you need TWO other items to really get the full experience: a case, and an SD card. In terms of cases, we'd recommend the official Nintendo Switch carry case set - it's a good quality case, and a screen protector. Here's today's best deals on this:
Micro SD card
And in terms of the SD card, to help you save games and download from the Nintendo Switch Online store... Any reputable memory card brand is fine, but SanDisk represents both brilliant value and reliability, so we'd go for this 64GB card:
Some online stores give us a small cut if you buy something through one of our links. Read our affiliate policy for more info.