You're shopping around for a Nintendo Switch SD card because you've run out of storage space on your console. That's understandable - that 32GB fills up pretty fast if you start downloading games, and you'll need an SD card to store more stuff, especially now the online service is up and running. Ideally, you're looking to spend as little money as possible on a new Nintendo Switch SD card, but you also want to get a reliable card that offers as much storage as possible. What are the options?
We've tracked down the best Nintendo Switch SD cards - the MicroSDs that are 100% compatible with the console - and tested them out. When buying an SD card you need to look for the amount of storage you're getting (really, for Switch, you should look for 64GB as a minimum - that's about 6-7 full-sized games, and maybe 10-15 smaller indie titles, depending on the mix) and the transfer speed offered by the card. This is, essentially, how fast it'll load your game and saves. The time difference is negligible, but it will make a difference. Aim for about 100Mb/s and you'll be fine. Finally, make sure you buy a reputable brand like SanDisk, Samsung, or Kingston - they're market-leaders for a reason. If you need somewhere to store your console and new SD cards, here's our guide to the best Nintendo Switch cases. Finally, if you're looking to subscribe, here are the best Nintendo Switch Online prices to start your subscription.
The best Nintendo Switch SD card on a budget
Want a solid amount of Switch storage while still remaining in the 'impulse purchase' price bracket? You'll want to check out this 64GB beauty. It'll take a respectable amount of games before filling up, adding double the Switch's onboard 32GB capacity for a total of triple what you get straight out of the box. That likely won't last forever, without intermittent deleting install management, but at the same time, it won't cost you must at all to get started and you'll still get all the current best Nintendo Switch games on there. Reckon you'll get between 7-15 games on this SD card, depending on what games they are. The biggies take up 5GB-15GB, whereas some indies only take up 500MB or less.
The best Nintendo Switch SD card for value
Hitting the 'Goldilocks window' for Micro SD cards (being more than big enough for most game storage needs, but not excessively so, at a price that's entirely fair), the 200GB SDXC will evaporate all your storage worries for a good, long time, without breaking the bank. For the price of roughly one AAA Nintendo Switch game, you'll get a home for dozens and dozens more – you could fit Super Mario Odyssey on this thing 33 times. If you're not on a particularly tight budget, and want a robust Micro SD card that still won't cost the Earth, this is the one to go for. It's worth noting that the cost of SD cards continues to fall, so you can pick this one up much cheaper today than it was 6 months ago, so it's worth stretching your budget a little.
The best, ultra-high capacity Micro SD card for Nintendo Switch
If you want a ludicrous amount of space with money no object? This nonsensical beast is the Micro SD card for you. Sporting half a terabyte of storage space (that's 85 Super Mario Odysseys, ie. Forget about Nintendo Switch storage for the rest of your life), it's near guaranteed to be the last card you'll ever buy for your console. It's more than enough to store many of the upcoming Switch games for 2018 and beyond.
The official Micro SD card for Nintendo Switch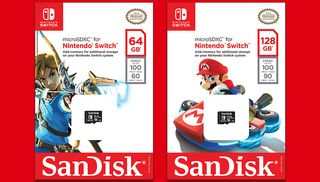 If you want to go for the officially licensed options, these are those. Coming in 64 and 128 GB flavours (don't lick them, they both taste the same really, and not very good), they also have Link (The Legend of Zelda: Breath of the Wild edition) and Mario (from Mario Kart 8 Deluxe) on the box, respectively. Also a Switch logo on the cards themselves. So that's nice. You will pay a price for that branding though, as these two come in a little more expensive than equivalently sized SanDisk cards without the Nintendo bells and whistles.
Some online stores give us a small cut if you buy something through one of our links. Read our affiliate policy for more info.