20. Borderlands 3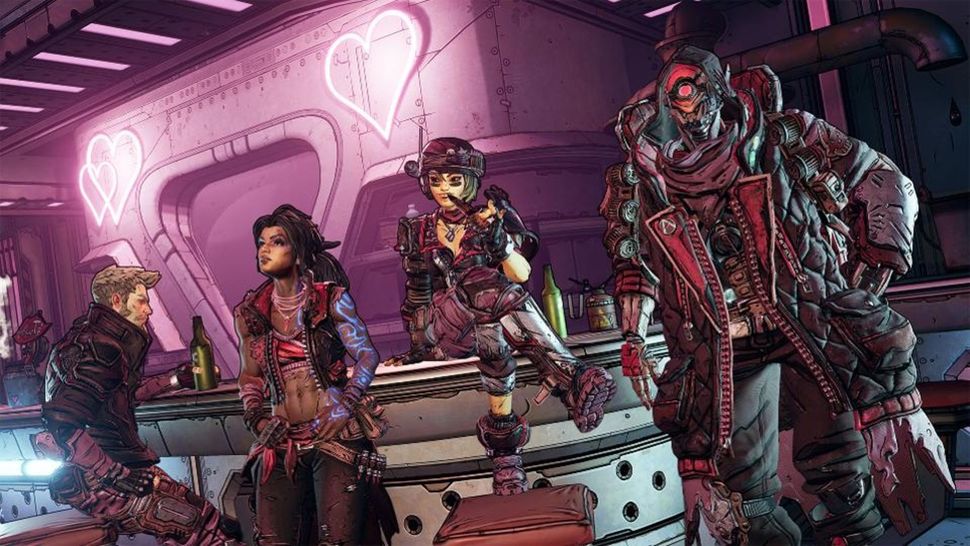 Co-op style: Online
Borderlands has always been better with friends. What good is a shotgun that chains electric damage between enemies, or a rifle that spits out bouncing saw blades, if you haven't got a buddy at your side to watch it in action? The main attraction of the series has always been finding ever-wackier guns to shoot at ever-wackier enemies, and Borderlands 3 is the wackiest in the series so far. Many weapons have absurd alternate fire modes, and the world is bigger and far more varied.
In previous Borderlands, loot was shared between players, which meant you had to fight over the best guns. You can play Borderlands 3 that way (its called Coopetition), but in Cooperation mode you'll get your own discrete pile of weapons showering out of enemies, so you never have to share.
Play it on: PC, PS4, Xbox One
19. Divinity: Original Sin 2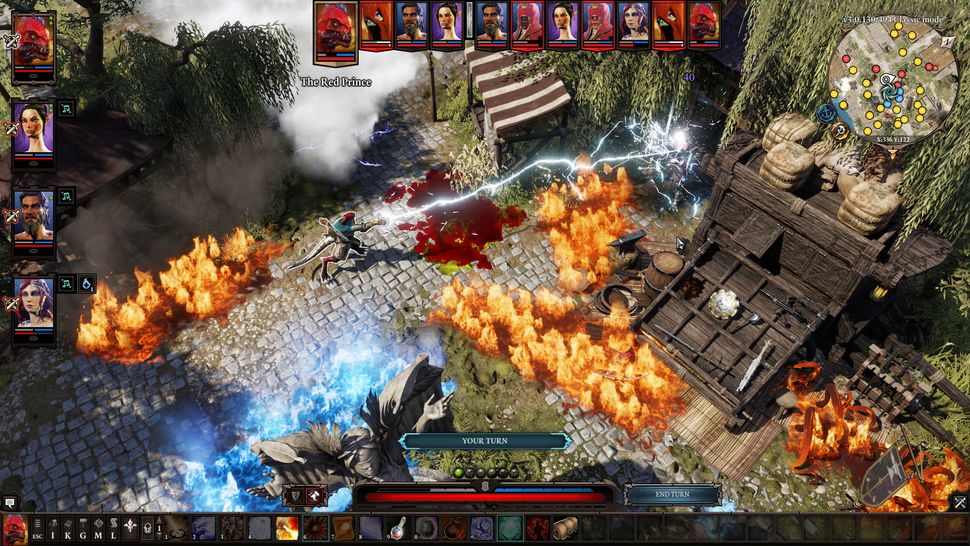 Co-op type: Online
Perhaps not one for a quick casual game with a friend, given this is a huge RPG environment filled with more potential, stories and events than most of us will ever see in one go. But, if you fancy a really deep co-op experience then this will keep you busy for years. As well as an entire nuanced world to explore you can play co-operatively or competitively, with players potentially trying to complete missions in different ways, or to different ends.  
Play it on: PC
18. Cuphead
Co-op style: Online and Local
Cuphead might just be the best-looking game of the last decade, or at least the most stylish. It looks like a mash-up of all the best cartoons from the 1930s – but you'd be forgiven for not noticing that when you're in the thick of it, because it's also an ultra-difficult boss rush platformer where you'll die hundreds of times trying to beat its imaginative enemies. 
Having another player on screen can actually make it more cluttered, and therefore more difficult. But the struggles are worth it when you finally down that boss on your 34th try, and whoop for joy over your headset. You'll face a casino owner with a dice for a head, a genie on a magic carpet, and a psychedelic carrot. They're all wonderfully-designed – but don't stop and stare, because a moment's hesitation means certain death.
Play it on: PC, Nintendo Switch, Xbox One
17. Monster Hunter World
Co-op type: Online
This might not be quite as welcoming to newcomers as regular players are so insistent to insist, but stick with it and Monster Hunter World is huge amounts of fun as you take down big monsters as a team. The online system is a bit weird, though - requiring several steps just to be online, then a few more to post a quest, and people can't join until you've cleared cutscenes and so on… but once you get use to all that, the interplay between you and your friends as you track and battle huge creatures is top stuff. There's a bewildering array of weapons and gear, meaning you and your team can explore numerous possibilities and combinations. 
Play it on: PS4, Xbox One, PC
16. GTA Online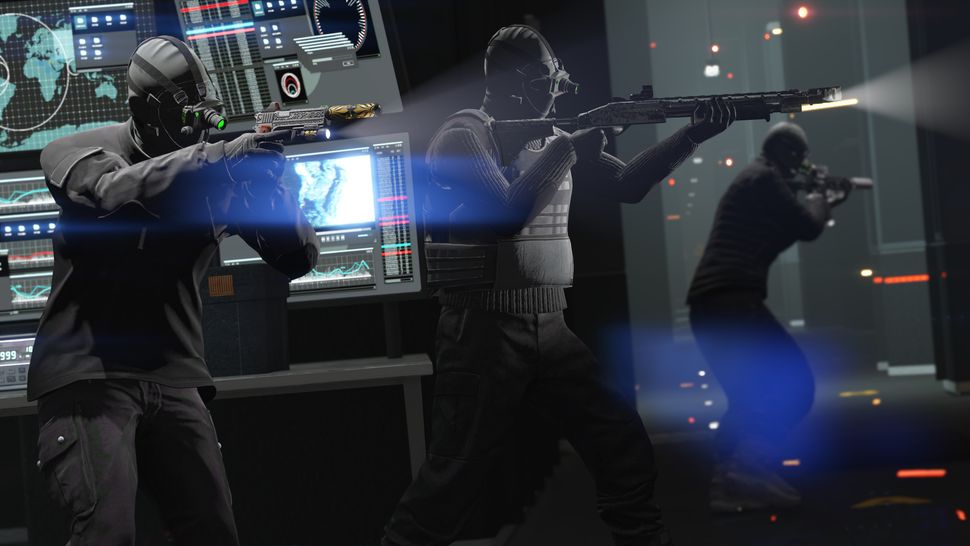 Co-op type: Online
There was a time where Grand Theft Auto 5's style of murderous online meant you needed a friend, preferably several, if you want to just survive for more than a few seconds. Now, however, there's a vast array of activities and things do, even without simple player created goals like 'breaking into the army base' or 'shooting everyone you can see'. After years of updates and additions, it has become and expansive digital playground of things to do with friends. Everything from team games to bank heists, races, stunt courses and more. 
Play it on: PS4, Xbox One, PC
15. PHOGS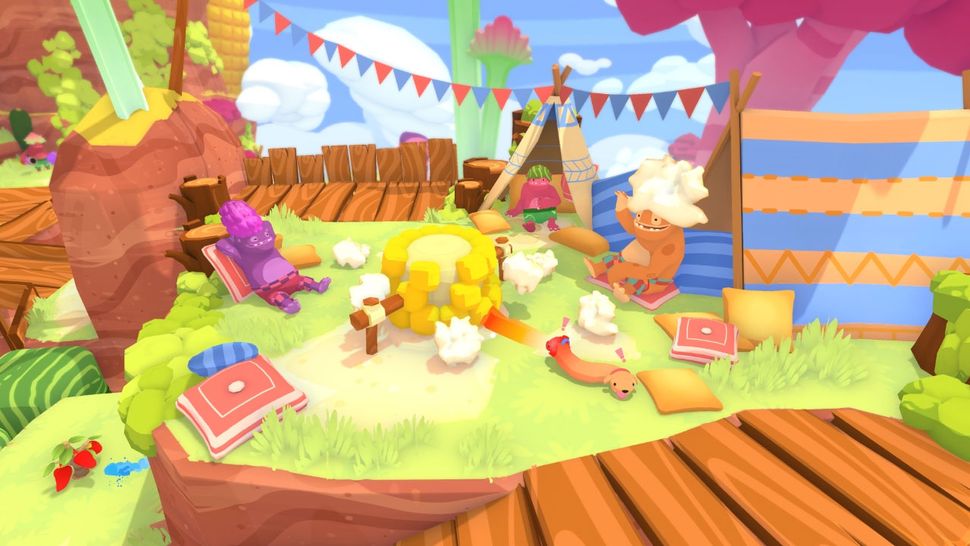 Co-op style: Online and local
Completing Phogs definitely requires plenty of co-operation as you and your pal will take control of a two-headed sausage dog - each of you taking one of its heads, connected together by a long, stretchy body. Together you'll have to bite, bounce, and bark your way through a series of puzzles set across three unique worlds. Each one is utterly adorable, and is themed around a phog's favourite things - Food, Sleep, and Play. As you work your way through them, it's easy to appreciate the fact each world - and the levels within it - offers a unique way to utilize your good phog abilities and your co-op power. It's a delight that also feels like going on a walk in a cheese dream with a friend. Just wait until you see the hat shops too. 
Play it on: PC, Nintendo Switch, PS4, Xbox One (also on Game Pass)
14. Stardew Valley
Co-op style: Online and local
Stardew Valley hands you the keys to a run-down farm in a small, lazy town and asks you to turn its fortunes around. But it's not pushy: you and your friends can do as many or as few chores as you want. You can chop up wood and plant crops, fish and trade, craft and scavenge, or you can just wander around town chatting to the pleasant townsfolk. This game became famous for its relaxing singleplayer mode, but the online co-op is, in our opinion, the best way to play. 
If you've already got a save going, you need to build some cabins to add your friends, or you can all start a new game with a shared farm (progress only saves for the host). With up to three co-op partners, you can come up with freeform projects, dividing up tasks to hasten production. Or just sit around, watching the sun go up and down – it's your farm, your rules.
Play it on: PC, Nintendo Switch, PS4, Xbox One
13. Knights and Bikes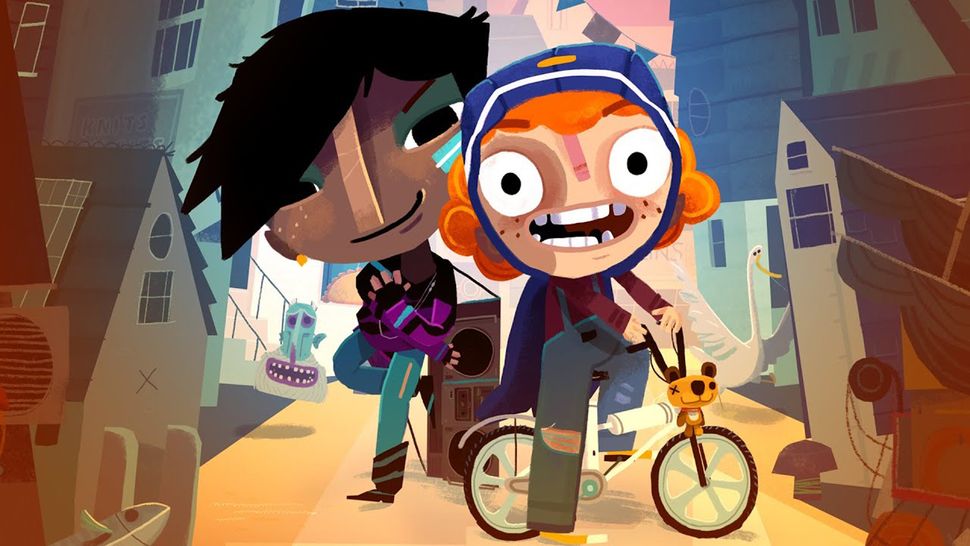 Co-op type: Local and Online
Taking on the roles of tough girls Nessa and Demelza, Knight and Bikes sees you exploring Penfurzy Island in a Goonies-inspired tale where bikes are king, and mischief is paramount. It's made by Moo Yu and Rex Crowle, who are both ex-Media Molecule, so, as you can imagine, it's infused with quirk, cuteness, and the kind of spirit you can only find in a Famous Five book. Yes, the gameplay is about puzzle solving, mini-games of crazy golf, and riding your bike as fast as you can humanly pedal, but it's also a heartfelt adventure about two kids that offers the kind of gameplay experience that you can rarely have. And it's even better with a real-world friend by your side. 
Play it on: PS4, PC, Xbox (Also on Game Pass)
12. Sea of Thieves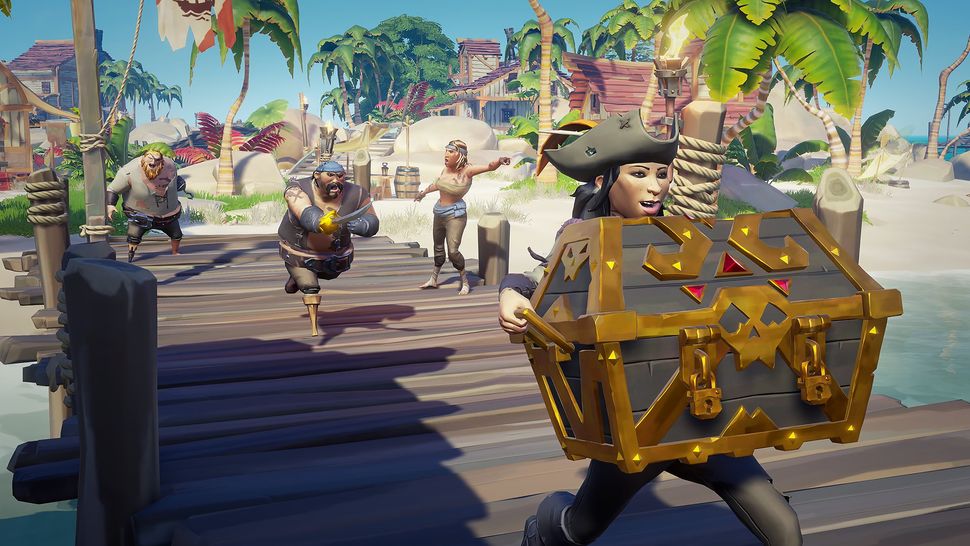 Co-op type: Online
Although you can play Sea of Thieves solo, this is very much a game that encourages you to tell stories, and, more importantly create those tales with other people. Galleons can be sailed by crews of up to four, with adventures spinning out from the various voyages you undertake. That might be finding buried treasure, collecting goods to trade with the merchants, or hunting down undead pirate captains. Or, you know, fighting a Kraken or taking on a huge Skeleton Fort. 
Whatever you do in Sea of Thieves, you'll need a crew. Then just let the hilarity commence.
Play it on: Xbox One and PC 
11. Diablo 3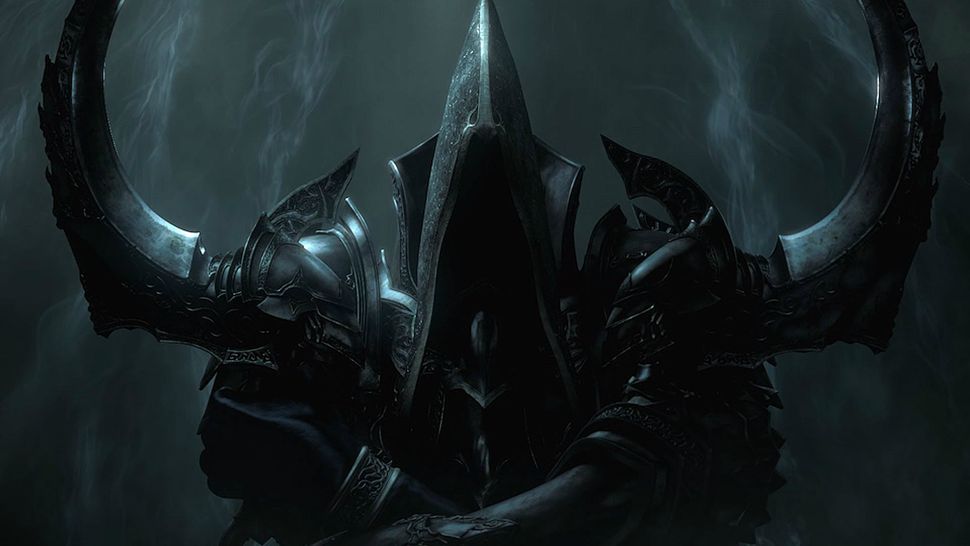 Co-op style: Online and Local
Blizzard's legendary action-RPG feels as tight and polished as it did on release eight years ago. Even if you've trounced its campaign several times, replaying with a friend always throws up new surprises, such as an unexpected build or combo that makes you see the combat in a whole new light. 
At their heart, the Diablo games have always been about the pursuit of ever-shinier loot. Having someone to share your latest, shiniest ring with makes those rare finds all the more thrilling, and being able to share drops between your party makes it easier to create powerful characters. Don't worry too much about picking complimentary classes: just jump in and start swinging (or casting, or punching, or throwing…)
Play it on: PC, PS4, Xbox One, Switch
Turn to the next page for our top 10 best co-op games...