Warzone Season 4 has arrived! The new Verdansk Resurgence Mini game mode and the super-speedy Dirt Bike are just two of the many things added in this next season of Call of Duty Warzone. There are also plenty of new weapons, a time-limited event, and three new operators. Later on in Warzone Season 4, we'll even get to experience its first objective-based battle royale game mode.
With so many new additions to the game, this Warzone Season 4 guide will come in handy. Let's take a look at all the new content, from the Ground Fall event to the Season 4 Battle Pass.
Warzone Red Doors | Warzone Special Weapons | Warzone Assault Rifle Golf | Nakatomi Plaza Warzone vault | Warzone Survival Camps | New Warzone map | Call of Duty Warzone tips | Warzone Error codes | Is Warzone down? | Warzone best guns | Warzone Patch notes | Best Warzone FARA 83 loadouts | Warzone best MAC-10 loadouts | Warzone best FFAR loadouts | Best Warzone M16 loadouts
Warzone Season 4 Ground Fall event
Warzone Season 4 starts with a new limited-time event: Ground Fall. Your task is to find and secure the remains of crashed satellites across Verdansk; the SAT-links. The satellite locations don't appear on the map, but they're big enough to spot from a distance while playing. Just interact with the satellite if you find one (such as securing Uplink Stations or collecting rewards), and it will count towards your Ground Fall event progress. Open Warzone and go to the Ground Fall event tab to see every objective and reward.
New Warzone combat modes: Verdansk Resurgence Mini and Payload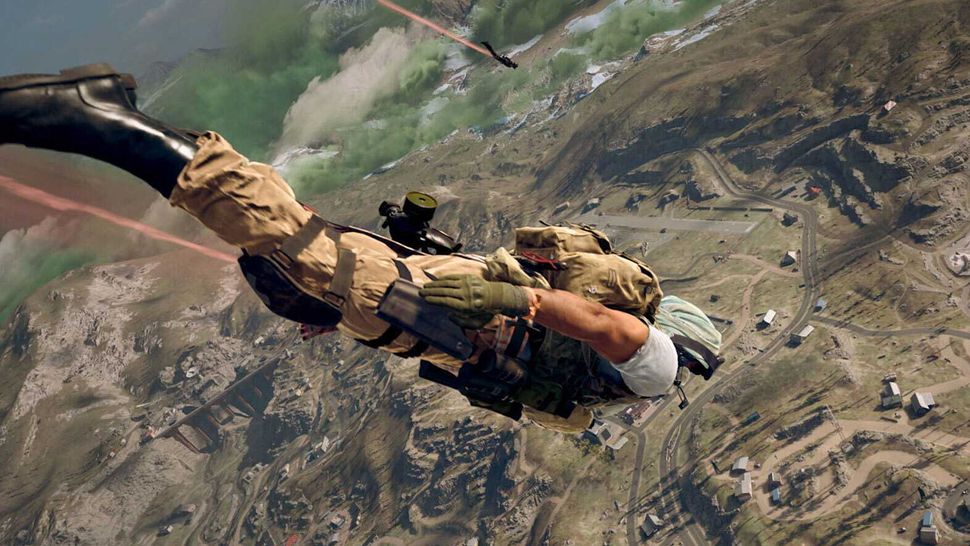 If you like smaller maps with extreme clarity on enemy positions and without a gulag, the Verdansk Resurgence Mini game mode is for you. This new Warzone Season 4 game mode has no more than 44 or 45 operators in one lobby. You can expect more action right from the start and a shorter game duration. Although Verdansk Resurgence Mini is quite intense, the large amount of high quality loot will offer more protection for you and your squad.
Another new Warzone Season 4 game mode will become available mid-Season 4. In this game mode, called Payload, forty operators will be tasked with either escorting or sabotaging two vehicle caravans. This will be the very first objective-based game mode in Warzone!
Warzone Season 4 new operators
Season 4 introduces three new operators. You can unlock them using the store or by purchasing the Warzone Season 4 Battle Pass. These are our new operators:
Jackal: Warsaw Pact. This masked mercenary leader is unlocked by purchasing the Call of Duty Warzone Season 4 Battle Pass. You get him at Tier 0, but his shiny iridescent suit is unlocked at tier 100.
Salah: NATO. Counterterrorism expert Salah will become available in Season 4 Store Bundle offerings.
Weaver: NATO. Get this one-eyed CIA officer through the Season 4 Store Bundle offerings as well.
Warzone Season 4 new weapons
You'll find five new weapons in total during Warzone Season 4. Here's the full weapon list:
MG 82: LMG. A fully automatic light machine gun with a very high fire rate. Get the MG 82 at Battle Pass tier 15.
C58: Assault Rifle. Slower fire rate, but high damage in close range. Unlock it by purchasing the Season 4 Battle Pass and reaching tier 31.
Nail Gun: Special/SMG. Slow rate of fire, but a high damage output. You can either buy it as a blueprint from an upcoming Season 4 Store Bundle or by completing an in-game challenge during this Warzone season.
OTs 9: SMG. The OTs 9 has a low magazine capacity, but a very high rate of fire. Get it from a Season 4 Store Bundle or as an in-game challenge reward.
Mace: Melee. Warzone doesn't forget about its melee weapons: a well-aimed blow with this mace will quickly take care of your enemies. Available in a Season 4 Store Bundle or obtained through in-game challenges.
New Warzone Season 4 vehicle: Dirt Bike
You'll find the new Dirt Bike vehicle all across Verdansk, ready to jump over cars and race down ravines. The Dirt Bike will be the fastest vehicle in Warzone, and it's also one of the most maneuverable ones. You can impress your squad by pulling off epic stunts, or you can simply use the Dirt Bike to flee from enemies. The Dirt Bike has wheel traction and can also slide or drift. As for its durability... Well, don't expect too much in that department.
Warzone Season 4 Battle Pass
A new season means a new Battle Pass. The Warzone Season 4 Battle Pass features plenty of colorful weapon skins, artsy calling cards, and edgy stickers. The main prize for many players will probably be the iridescent Jackal skin or the Forgotten Oasis assault rifle skin (both unlocked at Battle Pass tier 100).
You can get the Call of Duty Warzone Season 4 Battle Pass for 1.000 CP (Call of Duty Points). If you want to upgrade to tier 20 instantly, it's 2.400 CP. There's also a new Battle Pass feature allowing you to gift one to a friend. If you want to use this option, you must turn on two-factor authentication first.