The new Warzone map, the Pacific island Caldera, is nearly here. With just days to go before the free update that'll add it to Warzone for the foreseeable future, Caldera will act as the transitional moment that'll also add guns and elements from Call of Duty Vanguard into the new game. With new details emerging daily on what we can expect from Caldera, we've put together this regularly updated page on everything we know about the new Pacific map for Warzone and what people can expect from it.
So read on to find everything you need to know about the Caldera Pacific new Warzone map. We've got info on release dates, map size, locations, gameplay details and more. Whatever you want to know, we've got it for you below.
Call of Duty Warzone tips | Warzone Error codes | Is Warzone down? | Warzone Patch notes | Warzone best guns | Warzone best SMGs | Warzone best sniper | Call of Duty Vanguard release time
Warzone new map release date
Activision has confirmed that the new Warzone map will replace Verdansk at the same time Call of Duty: Vanguard launches its first season of content: December 8. From this point on, players will no longer be able to play in the Verdansk map (assuming Activision don't bring it back further in the future).
There'll also be a limited time event on the same day in Warzone called the "Last Hours of Verdansk", which'll start on December 6th 1.00 PM EST and act as a "spectacular and fitting end to your time in Verdansk as we say farewell to the Kastovian city... forever?"
Presumably this will last until the new map launches and replaces Verdansk. We don't know how it will happen, but it was teased with the phrase "bombs away", suggesting that Verdansk will get blown up like the previous event.
Warzone new map preview event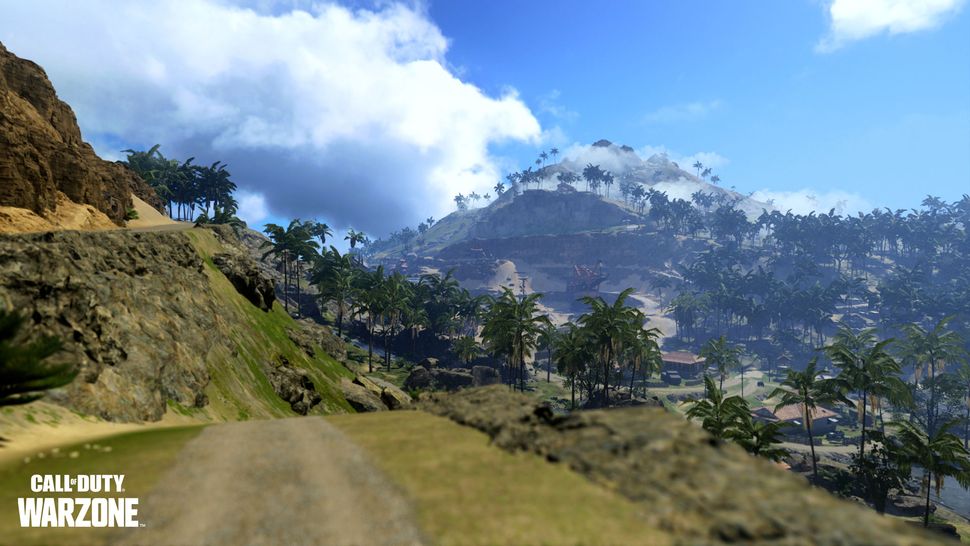 Warzone's new Caldera map won't be available until December 8, but it sounds like there's some sort of preview event to help you prepare. On November 24, a limited-time event Activision is calling "Secrets of the Pacific" will give players "vital information on Caldera and its various points of interest prior to its launch in December," but only if you complete certain challenges across Vanguard and Warzone.
Warzone new map size
Raven Software says the new Warzone map will be roughly the same size as the Verdansk map, though clearly with a very different kind of layout, look, and topography. There's also a decent chance we'll see some changes to the map past its release, in the same way that the Verdansk map has proven very changeable since it first debuted.
Warzone new map details and locations
Hard details on Caldera's 200-plus points of interest are yet to be revealed, but images show a large, lush tropical island with numerous settlements, rushing rapids, and overall a far greater sense of wilderness than Verdansk ever had. It's not clear at this point whether the map will be set chronologically during the Second World War, as Vanguard is, or whether it'll be closer to the present. Screenshots of the map feature WW2-era planes, but this next section of the guide would seem to suggest the map takes place in modern times.
The #Warzone Pacific Map 👁👃🏻👁 @CallofDuty #Vanguard pic.twitter.com/eGTyW62KQyNovember 4, 2021
There was also a recent tweet by Chief Creative Officer of Activision Pelle Sjoenell revealing a picture of the map itself - albeit a small one on the inside of a big Call of Duty Vanguard jacket. Still, we can get a sense of the general shape and topography of the map, as well as some of the names of the key areas. From the top-down, players should be able to find these Warzone locations.
Ore Processing Docks (north-east coast)
Naval Shipyard (north-west coast)
Unspecified location/name obscured (north-east coast)
Volcano (central island)
Ancient Structures (west coast)
Beach Defenses (east coast)
Phosphor Mines (west of Volcano)
Submarine Base (east coast)
Taro Farms (south of Volcano)
Air Port (south-west of Volcano)
Fishing Village (west coast)
City Capital (south coast)
❌ marks your drop.Where will you be dropping? #Warzone pic.twitter.com/F9btJRH0Q0November 30, 2021
Far more recently, Call of Duty have revealed a more detailed map of Caldera, one that features that the island is split up into 15 "areas" and has over 200 locations and points of interest within. It's unclear if these areas will have any effect on the map or gameplay or if they're just general ways to section up Caldera, but it does give some indication of the kind of environments, buildings and landscapes we can expect in each zone.
On top of all that, there's been a further update recently - the account COD Warfare appears to have leaked numerous "photographs" of areas within Caldera. If reliable, these indicate some of the general landscapes, landmarks and key locations that players can find within the game, with cities, military outposts, natural jungle and the aforementioned volcano clearly visible. Check below to see the full range of pictures.
While these don't seem to indicate any massive new changes or reveals, they do give us some specifics about what to expect. The volcano appears to have some structures built around it, for example, while many sections of the map seem to have a focus on verticality. Slopes, ridges, towers and pits all make it look like you'll be checking up-and-down as much as side-to-side.
Will guns and loadouts carry over into the new Warzone map?
Yes, it has been confirmed that any weapons, loadouts, and equipment bought or unlocked in Warzone previously will be usable as normal when the Pacific map is launched, including those from Modern Warfare and Cold War. You'll lose nothing, not to mention that Vanguard will likely add a whole new range of mid-20th century weaponry to try out and use along the way.
Obviously there's a lot here that may change over the coming months, so we'll be sure to update this page as new information is revealed along the way.
New Warzone map in 2022
Though details are currently thin on the ground, a leaked report has indicated that 2022's Call of Duty game will come with a new Warzone map (thanks VGC (opens in new tab)). Information at this stage suggests that this particular Warzone map will include various famous locales from the multiplayer of Modern Warfare 2, all stitched together into a single huge map. Still, it's worth keeping in mind that these are all very early reports and rumours, and that even if true, things might change in the coming months.