The upcoming release of the Monster Hunter World: Iceborne expansion has fledgeling and veteran hunters excited to explore the chilly lands of Hoarfrost Reach. Fans of Capcom's monster slaying franchise will soon be able to unleash their inner hunter and take on a variety of new toothy terrors, challenging master rank quests, and returning foes who await their arrival with unwelcoming jaws. Iceborne also features an exciting new story that continues on from the ending of Monster Hunter World, allowing players to transfer their current save file over in order to continue their adventure.
If that wasn't enough, Iceborne has also expanded the arsenal of available actions that your hunter can perform, so be prepared to use plenty of flashy new moves and sizzling slinger combos when fighting your gigantic foes. Make sure you check out all the confirmed, rumoured, and wanted monsters below in order to arm yourself with the knowledge needed to take them down. For in-depth guides on each of the monsters listed, where available, be sure to visit the individual links in the descriptions. Happy hunting!
Banbaro
Confirmed: Yes
Element: ??
Weakness: ??
Banbaro uses its two gigantic antlers to charge down hunters, launching anything that dares to get in its way. This rampaging Brute Wyvern is known to pluck trees from the ground and form snowy boulders by dragging its antlers across the snowy terrain, before sending them hurtling towards its foe. This beast's bulky nature can make it rather difficult to dodge, especially when Banbaro uses its enraged charge attack. Make sure to dive or block the charge as it will deal considerable amounts of damage and can even result in an untimely demise. Banbaro's bulky nature, gigantic antlers, and colossal tail make this Brute Wyvern a threat to those that underestimate its power.
Beotodus
Confirmed: Yes
Element: ??
Weakness: ??
Beotodus may be the first large monster you'll encounter when entering frozen fields of the Hoarfrost Reach, but that doesn't make it any less dangerous. This Piscine Wyvern loves to bury itself deep in the snow, remaining hidden until it is ready to launch a deadly ambush. The sharp fin atop its head allows Beotodus to swim freely through the snow and emerge for blisteringly fast takedowns. Fighting Beotodus can be a little tricky due to the thick snow which surrounds the area as it reduces your overall mobility, making it all too easy for the snow-loving shark to take a few hefty bites out of you. As a result, it's recommended that you pack a few Sonic Bombs to force Beotodus to the surface and reduce the time it spends lurking in the snowy depths below.
Nargacuga
Confirmed: Yes
Element: None
Weakness: Thunder and Fire
Nargacuga has been a fan favourite ever since its glowing red eyes struck fear into those that played Monster Hunter Freedom Unite for the PSP. This incredibly agile monster uses its bladed wings and spiked tail to unleash devastating attacks, while its strong leg muscles allow it to jump long distances and effortlessly traverse harsh terrain. When enraged, Nargacuga's tail spikes will start to protrude and its eyes will glow red. It's important that you know when Nargacuga is enraged, as it's the only time you'll be able to cut off its tail and use pitfall traps on it. You can force Nargacuga into its enraged state by throwing a Sonic Bomb at it, but if you throw one just before it leaps, you'll knock it over and be able to get some free hits. Just be sure to bring a Thunder or Fire element weapon to ensure you're dealing as much damage as possible.
Tigrex
Confirmed: Yes
Element: None
Weakness: Thunder and Dragon
Tigrex is no stranger to the chilly elements and it appears this nomadic monster will be gorging himself on the fresh meat present in Iceborne. Unlike many other monsters, Tigrex does not wield any elements. Instead, this Flying Wyvern uses its brute strength to force its opponents into submission. Tigrex's muscular forelegs allow it to charge down foes with incredible speed, while its serrated teeth and claws can effortlessly shred through both skin and bone. Even Tigrex's ear-splitting roar is strong enough to blow away and hurt nearby hunters, so be sure to keep your distance when this monster lets out its deadly war cry. Tigrex may seem like an unstoppable freight train at first, but if you avoid his charged attacks you'll be able to get a few hits on his head. Great Sword and Hammer are fantastic choices here, as they deliver enough single hit damage to flinch and knock him over.
Velkhana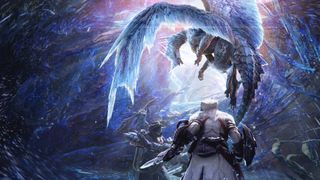 Confirmed: Yes
Element: ??
Weakness: ??
Monster Hunter World: Iceborne Velkhana is the main antagonist of the expansion. This mighty Elder Dragon has the power to freely control the cold, unleashing icy blasts of breath that freeze everything in its path. Information surrounding this mysterious Elder Dragon is rather scarce, but we expect Velkhana to be around the same difficulty level as Nergigante. Given the icy nature of Velkhana's appearance and general Elder Dragon classification, it will be likely that this wyvern is weak to fire or dragon element weapons.
Glavenus
Confirmed: Teased
Element: Fire
Weakness: Water and Dragon
While Monster Hunter World: Iceborne Glavenus hasn't been officially announced by Capcom, they did tease the sword loving T-Rex during the end sequence of the story trailer. The final sword swing and roar sounds very reminiscent of Monster Hunter Generations' Glavenus, so we're certain this Brute Wyvern will make its way into the icy tundras of Iceborne. Glavenus is feared by both fledgeling and veteran hunters alike due to its blade-like tail which it uses to slice and dice its prey. Its tail can also create fiery explosions that add even greater range to its attacks, forcing players to constantly weave in hits while dodging a flurry of fiery swings. Glavenus is also known to spit out molten projectiles that explode after a short delay, so you'll need to keep on your toes if you wish to take down one Generations' most feared monsters. Consider packing either a water or dragon weapon to cut down your kill times and increase your chances of success.
Shrieking Legiana
Confirmed: Yes
Element: Ice
Weakness: Thunder and Fire
Shrieking Legiana is a variant of Legiana that has adapted to the wintery lands of Hoarfrost Reach. This Flying Wyvern specialises in freezing its prey with the powerful chill it emits from its tail, so make sure you bring plenty of Flash Bombs to avoid a frosty fatality. Cutting off Shrieking Legiana's icy tail will make the fight a lot easier as its ability to freeze the terrain will greatly diminish, allowing you to be a lot more aggressive in your playstyle. Just like the regular Legiana, it's loudmouth cousin has very little health and you can make short work of this hunt by bringing Thunder/Fire weapons.
Gammoth
Confirmed: Wanted
Element: Ice
Weakness: Fire and Thunder
Woolly mammoths are synonymous with ancient arctic habitats and we think Gammoth would feel right at home in Iceborne's frozen landscapes. Gammoth's attacks would also make good use of the environment, especially its vortex move which pulls in hunters with its trunk in order to trample them. Watching Gammoth hoover up powdery snow and convert it into a deadly projectiles would certainly get our heart rate going. Interestingly, Gammoth are also known to be particularly hostile towards Tigrex due to them being the natural predator of young Gammoths. This would open up some pretty unique interactions between the two beasts, especially if they were to duke it out in one of the game's stunning turf wars.
Barioth
Confirmed: Wanted
Element: Ice
Weakness: Fire and Thunder
Barioth shares a lot of similarities to its Flying Wyvern relation, Nargacuga. This frosty feline shares the same model as Nargacuga, making it incredibly likely that we'll see Barioth prowling around icy dunes of Hoarfrost Reach. Barioth uses its fangs and claws to effortlessly run through the snow and its icy attacks are known to fatigue even the most seasoned of hunters. Trying to keep up with this monster when it's unleashing various movement impairing and stamina draining attacks can be incredibly difficult, especially when certain moves happen to take you by surprise. This fight is all about quick reactions and knowing when to punish Barioth's high-speed attacks, making it the perfect fight to teach new and existing players the importance of dodging and looking for those juicy counters. While Barioth has yet to be officially confirmed by Capcom, we think this feisty feline would make an excellent addition to Iceborne's roster.
Looking for some more help with Monster Hunter World? Then check out our complete Monster Hunter World guide or watch our tips video below: