Summer is just around the corner and the world is starting to open back up, but don't feel guilty if you stay inside some more and catch up on the best games to play on Xbox Game Pass. The library has seen another influx of great games as of late, so we've rounded up all the best games now available with your subscription. Here are our picks for the best Xbox Game Pass games.  
25. Psychonauts
As the first AAA third-party game to hit Game Pass on launch day makes Outriders a milestone no matter how well it plays, but thankfully for subscribers, it's fun in its own right too. As it's another loot-shooter, you may think you've seen it all before. But Outriders stands out among a crowded pack thanks to its innovative healing system that demands you leech health back from enemies, pushing you to go on the offensive when you're most vulnerable. Flipping this mechanic on its head as it does is just the start of a new sci-fi world worth exploring. 
24. Batman Arkham Knight
The conclusion to Rocksteady's Batman saga took some flak for a perceived overuse of the Batmobile, but I can't say I agree. There's still plenty of the free-flowing combat series fans have come to appreciate and the moments behind the wheel feel just as powerful as those in the cape and cowl. The Arkham saga concludes with one of its most gripping stories to date, mixing plot points old and new to create something special. Who is the Arkham Knight? If you haven't heard by now, it's a mystery worth unraveling. 
23. Tetris Effect Connected
It's nearly impossible to find someone who doesn't like Tetris. The perpetually falling blocks have been a staple of video games for decades, reinventing itself often, but never in a more satisfying way than Tetris Effect. Infused with party music and a visual display akin to a laser light show, Tetris Effect is one of the most dazzling games to soak in. The new "Connected" portion of the game denotes that there's now multiplayer too, which makes it a great socially-distanced party game for you and your friends.
22. Destiny 2
When we talk about live-service games on PC, none of them have mattered more than Destiny. Now thanks to Game Pass, players can be serviced live with a ton of additional content for Destiny 2. Those playing via Game Pass automatically get Shadowkeep and Forsaken included for no additional change, just in time to let you grind out the game's wealth of current content before the next chapter, Beyond Light, arrives this holiday season.
21. MLB The Show 21
MLB The Show 21 made waves when it was revealed as a Game Pass game despite being developed by Sony Santa Monica. We'll let the fanboys hash that one out while we enjoy the finest baseball sim on the market. With more modes than any other major sports game and a realism few even come close to, MLB The Show 21 is everything you've ever wanted in a baseball game, now finally on Xbox platforms.
20. Second Extinction
Second Extinction isn't even in 1.0 yet, as this Game Preview game continues to be shaped with the community's help, but it's already shaping up to be an explosive dinosaur-themed survival shooter best played with a few friends. With different character classes to try, a gorgeous open world, and tons to unlock, Second Extinction already plays like a game you can sink your teeth into for quite a while.
19. Red Dead Online
 The Red Dead Online world was always going to be more niche than GTA V, but for the right player, it's well worth saddling up. Red Dead Online recently split from the main game and became its own download in the store, and it's this that players can now access with their Game Pass subscription. Included in the experience is a lot more story than what you might expect, and after you make your character, you'll see just how your lively Red Dead Online world ties into the main story of Arthur Morgan in interesting ways. 
18. Dishonored 2
We give this stealth-action sequel the edge over its predecessor because it offers two campaigns with two unique protagonists, but really you can't go wrong starting from the beginning. Dishonored is a game drenched in style with the gameplay variety and world-building to match. It's the game that put developer Arkane on the map for so many fans, and it's why everything the team does these days has such high expectations.
17. Observation
If you enjoy movies like Alien, 2001: A Space Odyssey, and Moon, Observation is a must-play for you. Using a similar analog-heavy space station ripe with cinematic atmosphere, players control an AI assistant to a space station's only apparent survivor Emma Fisher. As Dr. Fisher works to unravel the whereabouts of her crew, a more pressing problem presents itself. The end results simply have to be seen. 
16. Peggle 2
You'd be hard-pressed to find anyone on earth who doesn't like Peggle. The satisfying pinball-meets-Plinko mechanics have sometimes earned this PopCap classic comparisons to Tetris. It may not have left its mark on the industry like that seminal puzzler, but Peggle is still an all-timer among all who have played it. Both the original game and the sequel are in Game Pass and they each deserve high praise. Peggle 2 gets the nod here because it's newly available in the Xbox Cloud library, included with your Game Pass Ultimate subscription, which makes it the best Peggle game available on mobile.
15. The Elder Scrolls 5: Skyrim
While several Bethesda games are already in Game Pass and many more are expected to trickle in now that Microsoft has purchased the publisher/studio's parent company (and seven other studios in the process), few of the team's games can elicit the excitement of Skyrim. Whether it's your first time arriving in the chillier region of Tamriel or you're loading up a saved game with hundreds of hours poured in, it's interesting to revisit the game, now almost a decade old, and see how it still holds up in most ways.
14. Fable Anniversary
Everyone has a favorite Fable, and maybe for many it will be the next one from PlayGround Games. But before we get there, catch up with the series starting with this remake of the classic original. Even Fable Anniversary is quite aged by now, but it still holds up as a fantasy RPG willing to poke fun at itself and its genre more than any other game like it. You can see so much of what drew Microsoft back to this unique world here in the first game. There's really nothing like Fable.
13. Knockout City
In a way, Knockout City is EA's overdue response to Rocket League, because it takes concepts we know and love and toys with them in a forever-replayable game. As a 3v3 multiplayer game, it cleverly reinvents the "shooter" by framing it all within the context of dodgeball, and to that end, it really shines. Velan Studios talked a lot about how hard it was to get the throw and catch mechanics to reliably work online, where latency dictates sometimes unapologetically, but because the team truly nails this aspect, Knockout City is fast becoming one of the breakout hits of the year. With a fun retro-futuristic world and tons of customization, this has a chance to be the next beloved EA Originals title and perhaps even the biggest game under that banner yet.
12. Outlast 2
Outlast 2 holds the remarkable distinction as being the scariest game I've ever played, and I think you'll get quite a fright from it too, especially if you haven't played the original. This sequel borrows a lot of the same scare tactics from the first game, which helped usher in the modern age of defenseless first-person horror, but the sequel goes bigger and more terrifying thanks to its central cult and unforgettable villains who relentlessly pursue you like a haunted hayride that follows you home. I nearly didn't finish my review in time because it was so challenging to get through, purely based on its scare factor.
11. Spiritfarer
What do you get when you combine the farm sim mechanics of Animal Crossing with the grief counseling storyline of Edith Finch? You get Spiritfarer, one of 2020's finest games in any format, so it's a real treasure to have it playable on Game Pass. Coming from indie team Thunder Lotus, Spiritfarer uses the same immaculate hand-drawn art as the studio's past games like Jotun, only it puts it all in a touching purgatorial plane where players guide loved ones to what lies beyond. Somber and heartfelt, Spiritfarer is totally one of a kind.
10. PlayerUnknown's Battlegrounds
The progenitor of the battle royale craze, PUBG has since been taken over in popularity by numerous genre competitors, but for purists of the genre, PUBG still reigns supreme. Nothing else has since cared to give players such a realistic, unforgiving world the way PUBG has, and if you like the concept of last player standing games, but could do without the wacky power-ups, the sliding and double-jumping, and the base-building in the blink of an eye, PUBG is still the go-to. I'll see you in the final circle. 
9. Sunset Overdrive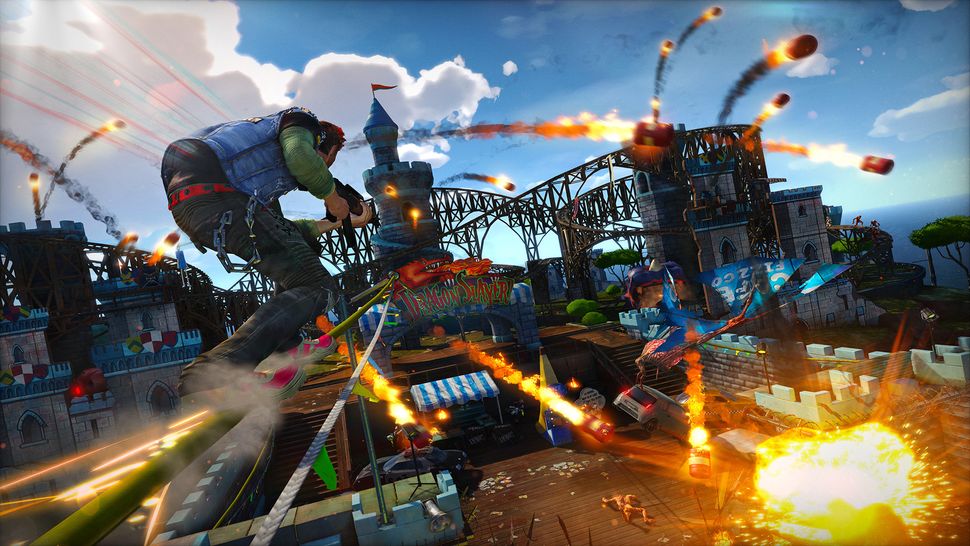 Insomniac is now a PlayStation studio, and though the IP rights are up in the air, one thing we know for sure is the team will never make another Sunset Overdrive for Xbox, and that's too bad. As an early-gen exclusive, Sunset Overdrive delighted fans with a vibrant playground of parkour and punk rock. Insomniac's penchant for ridiculous weapons is on full display as well, and the writing breaks the fourth wall as much as Deadpool or Abed Nadir. It's almost a forgotten exclusive these days, but it doesn't deserve to be. 
8. Ori and the Will of the Wisps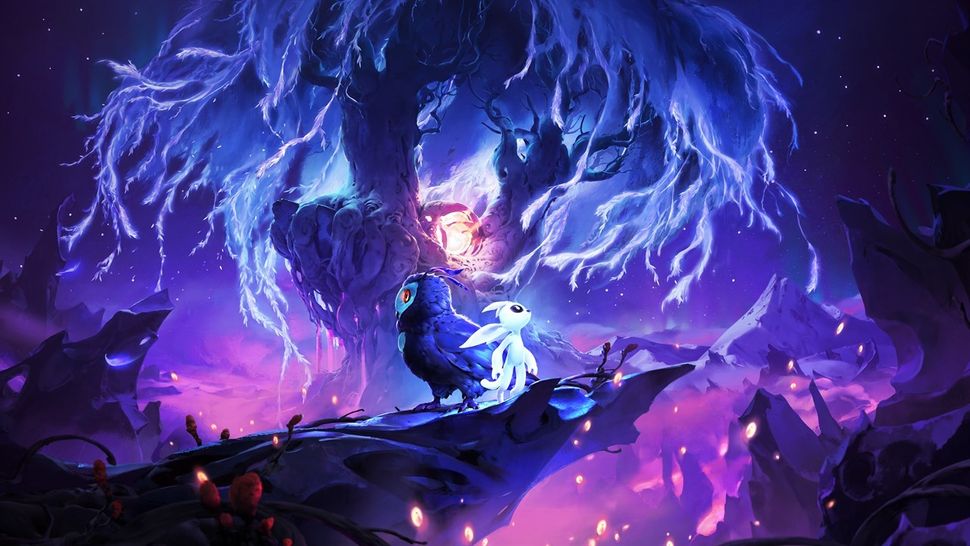 The sequel to Moon Studios' magnificent debut managed to take the little spirit animal to new heights - sometimes literally. With deeper metroidvania mechanics, more skills to unlock, and more ways for players to customize their builds, Ori and the Will of the Wisps is the complete package for fans of the genre. With two great games under the team's belt, it's made the wait for the studio's next game, announced as an unnamed action-RPG, even more thrilling. Moon Studios has cemented itself as a team to watch for years to come.
7. Prey
Criminally underplayed, Prey is the forgotten sibling to Arkane's higher-profile Dishonored trilogy. With a dash of BioShock, 2017's Prey reminds us why the immersive sim genre is consistently one of the most revered in all of games. The possibilities are endless in this creepy space station, Talos-1, and the story you find there no matter the path you take with leave you questioning the world around you all before you dive in for another playthrough.
6. Control
Control is a video game for almost every kind of gamer. Do you want dazzling third-person shooter gameplay? It's got it. Do you want an intoxicating story rich with lore? IThis is Remedy we're talking about. Do you want DLC that alters what you think you know about the characters, the strange world they inhabit, and what may come next? Control plays out like a New Weird mystery box filled with style and substance in equal abundance. It should not be missed.
5. Hellblade: Senua's Sacrifice
When Hellblade launched in 2017, it immediately received high praise for its focused, harrowing story of the Norse underworld. More than that, though, it's about living with mental illness, ostracization, and grief. Hellblade is a mature, nuanced, self-serious story that doesn't care to entertain as much as it wants to hit you right in the heart from every angle. It's also gorgeously directed, with some of the most realistic looking visuals ever put to games.
Its star, Senua, is played by a Melina Juergens, who worked at Ninja Theory simply as a video producer, but her role as stand-in for trailers and mocap and the like eventually led to her becoming the face of the franchise, and she does a remarkable job. Before Hellblade 2 arrives on Xbox Series X, play this memorable game where it all began.
4. Halo: The Master Chief Collection
What next? Oh, nothing, just every single game in one of the most iconic shooter series of all time. Whether you're a Halo veteran who just wants to play some Blood Gulch or a newcomer excited to see what all the fuss is about, the remastered charm of Halo: The Master Chief Collection is hard to ignore when it's at your fingertips with a Game Pass subscription. 
Halo's multiplayer combat is still the gold standard, and you'd be hard-pressed to find a more thrilling co-op experience than any of the available campaigns on Legendary. You can even stick the game-modifying skulls on if you think you're a tough cookie. Every facet of the Halo series holds up well in this console generation, and if you really can't wait for Infinite,  attempting to wrap up all the content in this ridiculous package will surely kill a good chunk of the time until launch.
3. State of Decay 2
State of Decay 2 has never turned any heads for its visuals or rich character work, but what it lacks in those areas, it makes up for in some of the deepest, most engaging systems the ever-popular zombie genre has ever seen. Everything from base-building to forming alliances with neighbors, to scavenging for supplies and more is on offer here, giving players the truest zombie event simulator there's ever been. If you want a game that invites you to live in its undead world for as long as you want, Undead Labs' State of Decay is the best in the business. 
2. Sea of Thieves
If your last interaction with Sea of Thieves came during its lukewarm launch in 2018, it's time you find your sea legs again. Rare's pirate adventure has undergone a host of major changes and has worked closely with its community to make Sea of Thieves one of the best new Xbox properties of the generation. 
Giant sharks, skeleton ship PvE battles, 15 new volcanic islands, a haunted fort, and so much more have turned Sea of Thieves' once shallow waters into something much deeper. Rare continues to support the game with a new content update and quality of life updates every single month too, and new systems like Doubloons, a second free in-game currency, has made chasing challenges extremely lucrative. Bring a crew or dare to sail solo, in any event Sea of Thieves is a live-service game done right.
1. Forza Horizon 4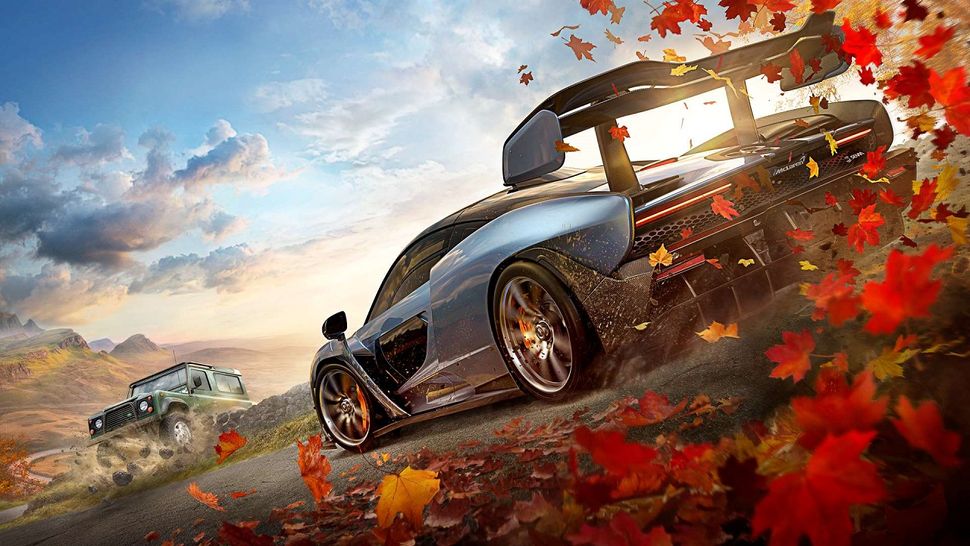 Even as someone who doesn't much care for realistic driving games, I absolutely understand the hype behind Forza Horizon 4. By threading the lines of realism with the festival narrative plus extremely cool Halo and Lego collaborations, Playground Games has crafted a near peerless toybox of unbridled joy for players and car fans of all creeds. 
There's nothing better than kicking back with some snacks, sticking on your favourite playlist and tearing through the countryside in a custom-painted F1 car. Leave and return as you wish. Genre sceptics with a Game Pass subscription, don't sleep on this one.