RTX 30-series PC deals are proving to be the best way to get the much-sought-after graphics cards into your setup. And we're increasingly seeing deals on them, too. Today's offering from Dell's current gaming deals is this Alienware R12 with a saving of nearly $300 that comes equipped with an RTX 3080 beast. It's a cracking gaming machine and it sits atop our best gaming PC guide - and for good reason.
Aside from this being a fully-fledged RTX 3080 PC, inside this monster of an Alienware gaming PC are strong supporting cast members too: an Intel i7 11700F processor, some of the best RAM for gaming in the form of 16GB of DDR4 3200Mhz memory, and a solid 512GB SSD + 1TB HDD storage combination make it one of the better RTX 30-series PC deals we've seen recently.
Not feeling some of those components? Don't worry. As it's a gaming PC, you'll have plenty of opportunity down the line to tinker with it and mould it to your future needs. You can also configure it and change some of the components right now before committing, too.
Either way, you're in for a treat. Alienware has excelled for years at premium gaming desktop packages that get you what you need or want, but often have steep prices of admission. But not with this offering. Plus, it's even more tempting as it bags you that excellent generational leap to a 30-series card. Getting such a machine on offer, or even an RTX 3080 laptop, is probably one of the safest ways of getting your hands on the best RTX 3080 price, to be honest - sad as the current state of affairs is.
RTX 30-series PC deals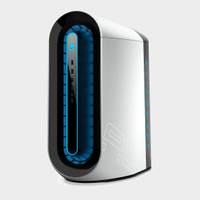 Alienware Aurora Edition R10 Gaming Desktop | $2,490 $2,199.99 at Dell
The headline act of this beefy 30-series PC is of course the RTX 3080 graphics card. This will absolutely nail a new-gen gaming experience at (nearly) every resolution. Given the discount, the fact you'll get a warranty, and the quality of the machine itself, this is a great deal.

While the RTX 3080 means this R12 can pull 4K gaming into genuine reach, its main strength might be to absolutely nail 1440p gaming and dominate 1080p (important for esports or competitive players). Add one of the best gaming monitors - or, possibly, one of the best 4K monitors for gaming if you prefer visual fidelity to speed and framerates - and you'll have a hell of a setup.
---
If you prefer your gaming machines portable, then check out the latest cheap gaming laptop deals, cheap Alienware laptops, and our guide to the best gaming laptop money can buy.