A dark and never-ending month it may seem, January will feel like a slog. So, why not treat yourself to Sony's premium gaming console to reinvigorate your setup and get into 4K gaming. The PS4 Pro is pretty much the definitive first Sony-console purchase now (given the prevalence of the best 4K TVs for gaming), plus the upgrade it offers from the original or slim models is exceptional - like I found out last January. If you're looking to go Pro, you're in the right place for the best PS4 Pro deals available.
Best deal now
PS4 Pro + Red Dead Redemption 2 is $437.95 at Walmart
This deal is basically the lowest going price we've seen for a Pro plus Rockstar's behemoth. Decent value.
The PS4 Pro is a consistent value-holder, and its price rarely goes much below what it was when it came out in 2016 - but the deals are out there, if you look for long enough and in the right places. Right now, the cheapest PS4 Pro deal in the US is this one at Walmart where you can get the console plus Red Dead Redemption 2 for $444.95, and in the UK its this one at Very.co.uk which gets you Spider-Man and the console for £349.99.
Where PS4 Pros are at the best value is when they are sold with a game. This often adds only a bit of price increase to the deal but sometimes you'll get both for effectively the cost of the console on its own. Even if it's not a game you particularly want, it's the best value method and if the game is a big-hitting, recent-ish release, you'll get a decent return on it by trading it in or selling it immediately.
For those looking to make the biggest jump into Sony possible, there are big bundles that will get you a Pro and a game, but also PlayStation Virtual Reality tech and games thrown in bundles too. These often have scary price tags, but the value works out. If you're looking for PSVR separately, then check out our guide to the best PlayStation VR bundles here, and if the slim PS4 is more for you then see our best PS4 bundle deals page here.
Why buy a PS4 Pro?
If you own a 4K TV (or you're considering picking one up - here are the best gaming TVs) you can use a PS4 Pro to actually get things in 4K. Most modern PS4 games have a 4K option, and you'll be able to access things like Netflix Premium, which has 4K and HDR enabled TV shows and movies. You can find out which PS4 titles support the feature in our list of every PS4 game with confirmed PS4 Pro support.
The best PS4 Pro deals - console only
The best US PS4 Pro deals and bundles
PS4 Pro 1TB console + Red Dead Redemption 2 for $439.99 from NewEgg
Red Dead Redemption 2 has taken the world by storm so grab this bundle and explore the vastness of the Wild West, this time from NewEgg.View Deal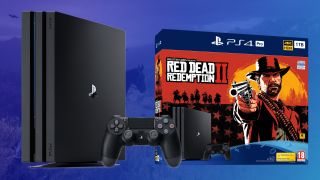 PS4 Pro 1TB console + Red Dead Redemption 2 for $444.95 at Walmart
One of the best games you can play on a PlayStation and one Ps4 Pro it's even better. A decent price of the two together.
Some online stores give us a small cut if you buy something through one of our links. Read our affiliate policy for more info.