Undoubtedly, the PlayStation 4 makes a superb Christmas present for someone - or to yourself, from yourself. And while the best PS4 bundles from Black and Cyber Week are gone, retailers still have some appealing bundles for those looking to jump into PlayStation for the first time, buy a truly memorable Christmas gift, or make a belated upgrade.
The catalogue of games and accessories that can enhance a PlayStation owner's gaming experience is now staggering. It has some of the best games around and also benefits from a variety of complementary peripherals such as headsets and hard drives too, as well as the unique experience of PlayStation Virtual Reality (PSVR). This can make find the best PS4 bundle for you a little overwhelming at first and the decision on what to get is critical: a whole mega-bundle with an array of gear right down to bundles with a game or two, or even a console on its own. Do not fear though as we are here to simplify what's on offer and point you in the direction of the best bundles currently available.
What's hot right now? How about this PS4 Slim 1TB console and Black Ops 4 bundle for $299.99 at Amazon or, if you're after the super-charged consoles, the PS4 Pro, there is this console and Red Dead Redemption 2 bundle going at BestBuy for $399.99. For UK buyers, get one of the best games for PlayStation in the form of Red Dead Redemption 2 in this PS4 bundle for £229.99 at Amazon UK or upgrade to the Pro with the same game for £349.99 at Argos. Whatever you're looking for, be it a standalone console or or a big bundle containing extras, we've got you covered.
Console Only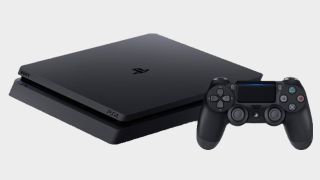 Maybe you don't want a PS4 bundle? Maybe you want to just buy a PS4 console and get your own games for it? After all, you only need a console and a PS Plus subscription to play the likes of Fortnite. Here are the best prices you'll find on just the console, on its own.
Sure, the PS4 Pro is an expensive console in its own right, so a PS4 Pro bundle might seem excessive, especially if you're just upgrading from your regular PlayStation console. Here are the current best prices on the PS4 Pro on its own.
PS4 Bundles - USA

PS4 Pro Bundles - USA
PS4 Bundles - UK

PS4 Pro Bundles - UK
PS4 Games
God of War
We gave God of War 5/5 in our review, and hailed it as the best PS4 game of all time. You'll find it at the top of so many 'best games of 2018' lists. It is absolutely essential, and if you haven't played it, you really should. Here are the best prices.
Red Dead Redemption 2
The latest, greatest game from Rockstar is an absolute masterpiece. We awarded Red Dead Redemption 2 5/5 at review, and hailed it as one of the greatest technical achievements in gaming, ever. It's the hottest game right now, and here are the best prices on it.
Spider-Man
The coolest superhero game ever made, and just heaps of fun, we awarded Spider-Man PS4 a 4.5/5 in our review. The feel of playing is amazing, and this one is a PS4-exclusive. Here's where to get it cheapest.
Horizon Zero Dawn
The best PS4 game of 2017, Horizon Zero Dawn is an absolute masterpiece of open-world adventure gaming, and it has a stunning story too. We awarded it 4.5/5 in our review, and hailed it as the best game to get if you own a 4K set-up. Here are the cheapest deals on Horizon.
PS4 Extras
If you need a spare controller for your console, you should check out our guide to finding PS4 controller cheap deals... or just choose a regular one from the price chart below. Always go official when it comes to controllers, and make sure you buy one from new...
PS4 bundles - Aus
If you still haven't quite made your mind up on which console is right for you, then check out our best Xbox One bundle deals and our best Nintendo Switch bundle deals for more hardware offers.
Some online stores give us a small cut if you buy something through one of our links. Read our affiliate policy for more info.