You're looking for a great price on the best PS4 bundle deals, but you don't know exactly what's available - welcome to our guide. Sony's console has been going from strength to strength in 2018, and if you want to play the likes of Spider-Man and God of War, you absolutely need a new PS4 console, because you can't play these games anywhere else. PS4 is the best selling console of this generation, and with good reason - it's a versatile machine with some great games. Snapping up the best PS4 bundle you can find is the best way to spend your gaming bucks.
The game you choose to get with your PS4 is all important. With the savings offered in most bundles, you essentially get a top game for free or at a vastly reduced price. It'll be the thing you play most for the first couple of months for sure. You also need to decide whether to go for a PS4 Slim console - the base model - or if you opt for a Pro - the more powerful, 4K unit. We have a guide to the best PS4 Pro deals right here, if you need it. Finally, you need to choose what size hard drive your console has, as the PS4 is available in 500GB and 1TB - letting you store more games. There are limited editions available too, so watch out for those.
The US bundle deals are up top, but you can skip straight to the UK bundle deals here or to the Australian bundle deals here.
The best PS4 console only deals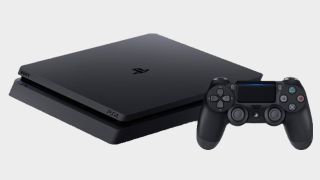 Maybe you don't want a PS4 bundle? Maybe you want to just buy a PS4 console and get your own games for it? After all, you only need a console and a PS Plus subscription to play the likes for Fortnite. Here are the best prices you'll find on just the console, on its own.
The best US PS4 bundle deals
The best US PS4 Pro bundles
UK deals
The best UK PS4 bundle deals
The best UK PS4 Pro bundles
The best PS4 Pro console only prices
Sure, the PS4 Pro is an expensive console in its own right, so a PS4 Pro bundle might seem excessive, especially if you're just upgrading from your regular PlayStation console. Here are the current best prices on JUST the PS4 Pro, on its own.
Need an extra controller with that?
If you need a spare controller for your console, you should check out our guide to finding PS4 controller cheap deals... or just choose a regular one from the price chart below. Always go official when it comes to controllers, and make sure you buy one from new...
Australian deals
The best Australian PS4 Pro bundle deal
The best Australian PS4 bundle deals
The best Australian PS VR bundle deals
If you still haven't quite made your mind up on which console is right for you, then check out our best best Xbox One bundle deals and our best best Nintendo Switch bundle deals for more hardware offers.
Some online stores give us a small cut if you buy something through one of our links. Read our affiliate policy for more info.