Demand for cheap PS4 bundles has skyrocketed of late all around the world thanks to Coronavirus forcing millions of people to stay at home more. This has made it extra hard to find stock, even at the biggest of stores. We're seeing a lot of third-party sellers on stores hiking up the prices to frankly ridiculous levels. With prices creeping up as high as they are though, you might be better off looking to buy a PS5 instead, especially as the console is backward-compatible with the vast majority of the best PS4 games.
Our comparison charts below are scanning for the cheapest PS4 prices around and we've also picked out a small number of bundles that, while not offering the biggest of savings, aren't overcharging either.
Why would you still want a PS4 now though? There's just so much to get out of one in terms of its bulging, peak-PS4 games library. So, be it as a good old fashioned single-player game machine - sporting behemoth's such as Death Stranding (opens in new tab), God of War (opens in new tab) and Spider-Man (opens in new tab), or a purely-online multiplayer game station for playing with your friends, or as a family-friendly couch multiplayer entertainment system, there's so much reason to explore jumping into all things PlayStation with a cheap PS4 deal.
On top of the games that are now ready for you to play, as a result of the time the PS4 has been out now (over six years), we are riding the crest of the wave in terms of the system itself: the console and its firmware and UI is super refined. For reference, prices of cheap PS4 bundle deals often hover around the console's $250/£250 price but usually with a game (or two) thrown in for free - before the pandemic threw pricing logic out the window that is.
Lastly, and if you're worried about being overtaken and made obsolete with the next generation of console, we know that the PS4 is still going to be great post-PS5, with Sony itself saying that it'll be long supported and offer a great way into all things PlayStation. Don't forget to check out the latest PlayStation Plus deals (opens in new tab) too.
PS4 deals
The best PS4 bundles - USA
The PS4 stock situation in the US is absolutely dire right now and we've not seen sensibly-priced stock anywhere. Prices from most third-party merchants start around $400 and the PS4 Pro costs more than a PS5! The price comparison widget above is capturing the latest prices, but most of them stink right now. This far into the PS4's lifespan we'd usually expect to pay around $250-$300 for a 1TB PS4 Slim with a game or two. So we'd hold out for a better deal for sure.

The best PS4 bundles - UK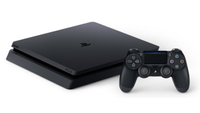 (opens in new tab)
PS4 Slim | £249 at Currys (opens in new tab)
Wow, PS4 stock is super hard to find right now. You can forget about bundles with discounted items too. The best we can find is the PS4 Slim on its own for £250. We're only highlighting that because many other retailers are charging way over this ordinary PS4 price so you're not getting ripped off here at least. If this sells out, Currys has the same offer on its eBay page (opens in new tab) too.

What about the PS4 Pro?
The PS4 Pro is even harder to find right now and has generally gone back up to its starting price, or even higher, making checking out the latest PS5 prices the more savvy option for our money. You'll find a selection of PS4 Pro deals below in our comparison chart, but for a more in-depth look at the options with games included too, head on over to our full PS4 Pro bundles page - truth be told though, it looks like Sony is ceasing production on the PS4 Pro, so bundles have really dried up too.
You might also like: PS4 accessories (opens in new tab) | best PS4 headset (opens in new tab)
PlayStation VR bundles (opens in new tab) | best PS4 steering wheel (opens in new tab)
If you need a spare pad for your console, you should check out our guide to finding cheapest PS4 controller deals (opens in new tab). We've compared the official models, along with some of the finest options from the third-party partners, including the ones aimed at pro gamers.
If you still haven't quite made your mind up on which console is right for you, then check out our best Xbox One bundles (opens in new tab) deals and our best Nintendo Switch bundles (opens in new tab) guides. Plus, double check whether you've got one of the rarest limited edition PS4 consoles ever.