Marvel Phase 4 is coming to a close and Kevin Feige is busily setting up the next stages of the MCU. The Marvel Studios president recently told our sister publication Total Film, "As we're nearing the end of Phase 4, I think people will start to see where this next saga is going. I think there have been many clues already, that are at least apparent to me, of where this whole saga is going. But we'll be a little more direct about that in the coming months, to set a plan, so audiences who want to see the bigger picture can see a tiny, tiny, tiny bit more of the roadmap."
Intriguing, no? Phase 4 has already dropped MCU newcomers, exciting new villains, and fresh takes on familiar faces. Below, we'll run through the rest of what to expect both on the big screen and on Disney Plus in the coming 12 months. We'll even cast a glance to everything that has been announced beyond Phase 4 but isn't expected to land anytime soon. That includes a new Captain America movie, multiple spin-offs, and a certain Fantastic Four...
Marvel Phase 4 recap: the story so far
Marvel Phase 4 is rumbling along at a pretty extraordinary speed. We've had a whole bunch of movies and Disney Plus shows – here's our brief recap of the story so far.
WandaVision (January – March 2021, Disney Plus)
Falcon and the Winter Soldier (March 2021 – April 2021, Disney Plus)
Loki (June 2021 - July 2021, Disney Plus)
Black Widow (July 9, 2021, movie)
Shang-Chi and the Legend of the Ten Rings (September 3, 2021, movie)
What If...? ( August 2021 – October 2021)
Eternals (November 5, 2021, movie)
Hawkeye (November 2021 – December 2021, Disney Plus)
Spider-Man: No Way Home (December 17, 2021, movie)
Moon Knight (March 2022 – May 2022, Disney Plus)
Doctor Strange in the Multiverse of Madness (May 6, 2022, movie)
Ms. Marvel (ongoing, Disney Plus)
WandaVision kickstarted Marvel Phase 4 in a particularly strange style, with each episode taking inspiration from a different era of sitcom. Elizabeth Olsen and Paul Bettany returned as Scarlet Witch and Vision, while Monica Rambeau (Captain Marvel 2), Jimmy Woo (Randall Park), and Darcy (Kat Dennings) also featured. The series finished with Wanda in solitude and a White Vision somewhere in the world.
Falcon and Winter Soldier saw Sam Wilson and Bucky Barnes team up to deal with a new set of villains: the Flag-Smashers. Baron Zemo tagged along for the ride, though was later captured by Wakanda's Dora Milaje, and Isaiah Bradley was introduced as a Super Soldier with a past marked by tragedy and torment. Oh, and there was a new Captain America, played by Wyatt Russell, who had the shield taken from him by the rightful new Cap, Sam Wilson.
Loki opened up the multiverse with some time travel shenanigans involving Kang the Conqueror. The God of Mischief was captured by the Time Variance Authority after scampering off with the Tesseract (as seen in Avengers: Endgame). He was then tasked with bringing in a Loki 'Variant' – another version of Loki from a branching timeline – who turned out to be a female Loki named Sylvie. The pair soon teamed up to take down the TVA and eventually managed to find the man at the end of time – an ancient Variant of villain Kang the Conqueror, who has been keeping all of time in order. Sylvie kills him, breaking the 'Sacred Timeline' and causing a temporal earthquake through the multiverse. A second season is on the way...
Taking place between Civil War and Infinity War, Black Widow dived into Natasha's past and set up Yelena as a major force in the MCU moving forward. Kevin Feige has revealed that the only major Phase 4 tweak due to COVID delays was an Easter egg that was originally due to appear in Black Widow before Falcon and The Winter Soldier – that would be the appearance of Julia Louis-Dreyfus' Valentina Allegra de Fontaine, who appeared in the Black Widow post-credits scene.
Shang-Chi introduced Simu Liu's hero into the MCU. He managed to control the Ten Rings, a mystical set of weapons held by his father, Wenwu, and in the process managed to take down Wunwu's crime organization.
What If...? marked the MCU's first animated series and was dedicated to exploring "different versions" of iconic MCU moments. The cast reads like a 'who's who' of Marvel icons, including Samuel L. Jackson, Hayley Atwell, and more, and Jeffrey Wright joined the MCU as the Watcher. While the stories began as anthological, they eventually come together for a very, very cool episode.
Eternals introduced a bunch of immortal beings who live among us on Earth. The cast is astonishing and includes Richard Madden as Ikaris, Angelina Jolie as Thena, Kumail Nanjiani as Kingo, Salma Hayek as Ajak, Brian Tyree Henry as Phastos, Don Lee as the hulking Gilgamesh, with Lia McHugh and The Walking Dead's Lauren Ridloff rounding out the cast, playing Sprite and Makkari respectively. Game of Thrones actor Kit Harington will also appear as the Black Knight. We'll say no more for now...
Hawkeye sees the titular hero reluctantly take mega-fan Kate Bishop under his wing after she becomes mixed up in New York's underground after wearing the Ronin outfit. There are plenty of fun cameos in this fun, festive Disney Plus series.
Spider-Man: No Way Home dived right into the multiverse, with returning villains Doc Ock (Alfred Molina), Electro (Jamie Foxx), Sandman (Thomas Haden Church), Lizard (Rhys Ifans), and Green Goblin (Willem Dafoe) making reappearances (along with certain other familiar faces...), and ended with the entire world forgetting Tom Holland's Peter Parker.
Moon Knight introduced a new character to the MCU as Oscar Isaac was cast as Steven Grant. Or is it Marc Spector? The lead's spotty memory and multiple personalities formed the crux of the show's mystery which saw him as the avatar for the Egyptian God Khonshu. As well as battling the show's villain, Arthur Harrow (Ethan Hawke), Marc worked through his own trauma as his origins as Moon Knight were slowly revealed over six episodes.
Doctor Strange In The Multiverse of Madness picks up in the wake of Steven Strange's forbidden multiverse spell in Spider-Man: No Way Home. The movie begins as he encounters a young girl called America Chavez (Xochitl Gomez) who has the ability to transport across the multiverse. Steven calls on Wanda Maximoff to help him ward off the mysterious creature on her tail. However, she has her own motives which cause havoc across the universe.
Ms. Marvel tells the story of Kamala Khan (Iman Vellani), a Pakistani-American from Jersey City who is imbued with superpowers thanks to a bangle passed down in her family. Kamala's journey sees her become a superhero-in-training (christened 'Night Light) by onlookers, before heading to Karachi in Pakistan to find out more about the origins behind her powers. In pursuit: a group who hail from another dimension called The Clandestines who want to use Ms. Marvel's energy to get home, potentially destroying our planet in the process.
Marvel Phase 4 release dates
Marvel Phase 4 release dates for both the MCU movies and Disney Plus TV shows were initially announced at San Diego Comic-Con (SDCC) 2019. However, due to the pandemic and other factors, these dates have shifted about quite a bit. Here is the latest update on Marvel Phase 4 release dates.
Thor: Love and Thunder (July 8, 2022)
She-Hulk (August 17, 2022)
Black Panther: Wakanda Forever (November 11, 2022)
Ant-Man and the Wasp: Quantumania (February 17, 2023)
Guardians of the Galaxy Vol. 3 (May 5, 2023)
The Marvels (July 28, 2023)
It's unclear whether Marvel will continue working in clearly defined phases, with the already-announced Blade and Fantastic Four seemingly part of Phase 5. That being said, we've put the upcoming Marvel movies into phases as best we can, and we'll start with the movies, then go into the Disney Plus shows.
Upcoming Marvel movies
Thor: Love and Thunder
Thor: Love and Thunder – initially the last movie of Marvel Phase 4 before a release date reshuffle – is coming on July 8, 2022, and will almost definitely shock you with its big reveal: Jane Foster (Natalie Portman) is the new Thor (now officially called Mighty Thor). Just let that sink in for a moment.
Not only that, but Chris Hemsworth is back at the OG God of Thunder, while Tessa Thompson is playing Valkyrie for the third time in the MCU. Taika Waititi is also returning to direct and write Love and Thunder. The villain of the piece is none other than ex-Batman actor Christian Bale. He'll be playing Gorr the God Butcher.
The official teaser trailer for the upcoming Marvel movie gave us our first look at Jane's Mighty Thor wielding Mjölnir. The storyline takes inspiration from Jason Aaron's Mighty Thor comic run, which introduced the concept of Jane Foster as Thor. If you need a primer on what to expect, check out what the comics tell us about Natalie Portman's character
It also revealed a more spiritual Thor, taking a step back from superhero duties to focus on himself. After speaking to Star Lord (Chris Pratt), we hear him saying he needs to "figure out" exactly who he is. However, the synopsis teases he'll be drawn right back in when Gorr threatens the universe. This reads: "Thor: Love and Thunder finds Thor (Chris Hemsworth) on a journey unlike anything he's ever faced – a quest for inner peace. But his retirement is interrupted by a galactic killer known as Gorr the God Butcher (Christian Bale), who seeks the extinction of the gods.
"To combat the threat, Thor enlists the help of King Valkyrie (Tessa Thompson), Korg (Taika Waititi) and ex-girlfriend Jane Foster (Natalie Portman), who – to Thor's surprise – inexplicably wields his magical hammer, Mjolnir, as the Mighty Thor. Together, they embark upon a harrowing cosmic adventure to uncover the mystery of the God Butcher's vengeance and stop him before it's too late." A second trailer has put more of a focus on Gorr's bloody quest.
Speaking about the upcoming film, Thor star Hemsworth told the Philadelphia Enquirer (opens in new tab), "[It's] Taika at his most extreme, and at his best. If the version I read is the one we get running with, it's going to be pretty insane."
Black Panther: Wakanda Forever
The Black Panther sequel has had to make several adjustments after the tragic loss of Chadwick Boseman who played T'Challa, and we've just now gotten the official title: Black Panther: Wakanda Forever.
Ryan Coogler reportedly re-shaped the sequel after Boseman's passing, according to star Lupita Nyong'o. "We have a leader in Ryan, who feels very much like we do, who feels the loss in a very, very real way as well," she said. The sequel will be "respectful of the loss we've all experienced."
Martin Freeman, who plays Everett Ross, has teased a tiny bit of information about the plot: "Some of it was really – some of it's very odd, and I think [Coogler] could see by the reaction on my face some of the things he was saying… He kept sort of stopping, and going... He kept on saying, 'Stay with me, but this is going to work.'" Expect something surprising, then.
There's no word yet on who will take up the Black Panther mantle (although rumors are swirling that it will be T'Challa's younger sister, Shuri). Black Panther: Wakanda Forever will also feature the MCU debut of Dominique Thorne's Riri Williams (AKA Ironheart). The sequel is set to debut on November 11, 2022.
Ant-Man and the Wasp: Quantumania
Aside from the release date – February 17, 2023 – there's not much else known about Ant-Man 3 at this early stage. We do know its villain (more on that in a moment) and general cast. Paul Rudd will return, as will director Peyton Reed.
The big arrival, though, is Jonathan Majors, who will play time-traveling villain Kang the Conqueror. You may remember him from such multiversal tragedies as the Loki finale.
Joining him, as per Marvel, is "Paul Rudd as Scott Lang/Ant-Man, Evangeline Lilly as Hope Van Dyne/Wasp, Michael Douglas as Dr. Hank Pym, and Michelle Pfeiffer as Janet Van Dyne. Kathryn Newton joins the cast as Cassie Lang."
Guardians of the Galaxy Vol. 3
While we initially thought Guardians of the Galaxy 3 would be a post-Phase 4 title, the recently video from Marvel suggests otherwise. It's set to release on May 5, 2023, and has been organized under the Marvel Phase 4 umbrella.
The curious case of Guardians of the Galaxy 3 has had as many twists, turns, and misdirects as a trailer for a Russo Brothers film. James Gunn was initially fired by Disney. Then he was re-hired less than a year later. Now, a Guardians of the Galaxy 3 script is bringing people to tears. Gunn, though, has The Suicide Squad sequel/reboot and won't be transferred back to the MCU until that's released. Disney has penciled in a 2023 release, with it expected to be Gunn's final movie as director in the franchise.
Expect Chris Pratt, Dave Bautista, Bradley Cooper, and Vin Diesel to return. The movie may even focus on the search for Zoe Saldana's Gamora after the events of Endgame, with James Gunn teasing on Instagram Live (H/T Screen Rant) that a character will die. However, this will all come after Thor: Love and Thunder, which includes the Guardians. How that will shake up Gunn's plans remains to be seen, but the filmmaker has been involved in Thor: Love and Thunder.
Will Poulter has been cast as Adam Warlock, after the character was first teased in one of Guardian of the Galaxy 2's post-credits scenes.
The Marvels
Captain Marvel 2 has a title, and it's called The Marvels. According to the official Marvel blog (opens in new tab), that 'S' in the movie's logo does indeed point to Iman Vellani's Ms. Marvel aka Kamala Khan, who will be joining Carol Danvers and WandaVision's Monica Rambeau (aka Photon) in the sequel.
The Marvels is directed by Nia DaCosta. It was originally due for release in theaters on February 17, 2023 before Marvel confirmed it was swapping places with Ant-Man and the Wasp: Quantumania. It will now be out on July 28, 2023. There's not much else known about the sequel yet, save for casting of Zawe Ashton as the main antagonist.
Upcoming Marvel TV shows
She-Hulk
One of a trio of new Marvel shows to be revealed at D23, She-Hulk is confirmed coming to Disney Plus on August 17.
Tatiana Maslany will play Jennifer Walters and the nine-part series is confirmed to be a comedy, with Walters defending various heroes in court. Could a Daredevil cameo be on the cards? Fans hope so. At the very least, Tim Roth is reprising his role as the Abomination from The Incredible Hulk, while Mark Ruffalo is also back as The Hulk. Jameela Jamil will be playing villain Titania and Benedict Wong is showing up as Wong.
The first footage from the series was released on Disney Plus Day, and can be found in a featurette on the streamer titled Marvel Studios' 2021 Disney Plus Day Special (opens in new tab). A later trailer revealed Walters coming to terms with her mean, green persona amid the world of law, order, and speed dating.
"I'm Jennifer Walters, I'm a normal lawyer. Well, not that normal," Jennifer says in a voiceover. There's also that iconic "don't make me angry" line, which appears to be part of an in-universe video featuring Jennifer and Bruce.
Beyond Phase 4 – AKA Marvel Phase 5
As we wrote earlier, it's unclear whether Marvel will officially break things up into Phase 4 and Phase 5, or simply continue releasing new movies and shows. Kevin Feige himself has recently denied giving any further info on when Phase 4 actually ends (via Cinema Blend), so the following entries may fall into Phase 4 or beyond that, depending on how things change. One thing that's not coming just yet is an Avengers movie in Marvel Phase 4. Feige told IGN this new chapter is all about "beginnings" but didn't rule out a future return for Earth's Mightiest Heroes.
So far, the following projects all seemingly land outside of Marvel Phase 4, and we'll start with the big movies that have release dates.
Blade
Marvel has announced that a Blade film, starring Mahershala Ali as the eponymous vampire hunter, is in development at the studio (opens in new tab). This will be Ali's second role within the MCU, having previously played Cottonmouth in the Netflix show Luke Cage, though the two will be completely unrelated. Not much else is known about Blade other than the fact Stacy Osei-Kuffour, who previously worked on HBO's Watchmen, will be writing the screenplay. Bassam Tariq will direct.
A tweet from the official Marvel India Twitter account suggests the movie will be arriving October 7, 2022, which would seemingly make it part of Phase 4. Until we hear it confirmed from Kevin Feige himself, we're leaving Blade as a Phase 5 title, though.
Secret Invasion
Samuel L. Jackson returns as Nick Fury, with Ben Mendelsohn back as the shape-shifter Talos, in Secret Invasion, an upcoming Disney Plus series. Emilia Clarke has been cast in an unknown role, as has Olivia Colman. Cobie Smulders is also reprising her role as former SHIELD agent Maria Hill.
The Secret Invasion storyline in the comic books sees several Skrulls infiltrate Earth and impersonate some of Earth's Mightiest Heroes. Don't expect it to be quite as expansive as that, however. Tempering expectations in an interview with Comic Book (opens in new tab), Feige replied, when asked if it would have the same amount of characters as its comic book counterpart: "Well, there were more characters in the Secret Invasion comic series than there were in Endgame so, no."
However, with Chris Evans potentially returning as Captain America, could we see something surprisingly big in the MCU show? Let's hope so.
The first look at Nick Fury in the series was released on Disney Plus Day – he's now sporting an impressive beard.
Deadpool 3
Yep, Ryan Reynolds' Merc with the Mouth is back for an R-Rated adventure in the MCU.
Not much is yet known about the threequel, but Reynolds had previously hoped for filming to start in 2022. Shawn Levy is on board to direct, while it looks likely that Blind Al actor Leslie Uggams is set to return.
Ironheart
The heir to Iron Man, Ironheart (AKA Riri Williams) will be played by up-and-coming actor Dominique Thorne. Nothing else is known about this Disney Plus series, which is still far from reaching TV screens.
Armor Wars
Another Disney Plus series, Armor Wars will see Don Cheadle return as War Machine, who "must face what happens when Tony Stark's tech falls into the wrong hands."
I Am Groot
We all love Groot. And now the Guardian of the Galaxy is returning in his own Disney Plus series. This will be a bunch of animated shorts, rather than a fully-fledged live-action show like the majority of others on this list.
Guardians of the Galaxy Holiday Special
Holiday Specials aren't normally things to get excited about. Star Wars fans know that pain all too well. However, James Gunn's on board to direct this festive film, which will be shot coinciding with Guardians of the Galaxy 3. The director has also teased that it will "be introducing one of the greatest MCU characters of all time." Expect it to arrive on Disney Plus around Christmas 2022.
In April, 2022, Gunn shared filming had finished on the show. He tweeted (opens in new tab): "We finished shooting the Holiday Special this week (out this Christmas). We finish shooting Vol 3 in about a week (out in May)."
Wakanda
Ryan Coogler is developing a new Disney Plus series that will tell stories from Wakanda. Nothing else is currently known, but Coogler has a lengthy deal in place with Disney, which could mean a variety of new shows from the Black Panther director. Fingers crossed.
Okoye spin-off
The most prominent member of the Dora Milaje, Okoye (Danai Gurira) is getting her own origin story on Disney Plus. Not much is known at this early stage, though Gurira is also back in Black Panther: Wakanda Forever.
Agatha Harkness spin-off
After winning over everyone in WandaVision, Kathryn Hahn's Agatha Harkness is getting her own spin-off show on Disney Plus, titled Agatha: House of Darkness. Get ready to witness a few more spells being cast on the unsuspecting public.
Hawkeye spin-off Echo
Echo, to be portrayed by Alaqua Cox in the upcoming Hawkeye show, looks to be getting her own spin-off. The character is a deaf Native American who is often seen in a supporting role in Daredevil comics. Maya Lopez – Echo's alter ego – is typically raised by the nefarious Kingpin after he murders her father.
We don't currently know what her origins will look like in the MCU, but we do know that she'll be tied to Clint Barton (Hawkeye) rather than Matt Murdock (Daredevil) when we first meet her in the franchise. Echo's skills include the ability to mimic anyone's movement or combat techniques. The currently untitled Echo spin-off will be penned by Etan and Emily Cohen, who will executive produce the series alongside the Marvel team.
What If...? season 2
A second installment of What If...? is in the works. One episode in season 2 will be the delayed Iron Man and Gamora episode from season 1, which was pushed back due to the pandemic.
Marvel Zombies
Not much is known about Marvel Zombies just yet, aside from the fact that it will be animated. Could this be a spinoff from the What If...? episode all about the undead? We'll have to wait and see.
Spider-Man: Freshman Year
Announced at Disney Plus Day, Spider-Man: Freshman Year is described as "an animated series that follows Peter Parker on his way to becoming Spider-Man in the MCU, with a journey unlike we've ever seen and a style that celebrates the character's early comic book roots. Executive producer Jeff Trammel serves as head writer." No further details on the series have been released, so it's unclear if Tom Holland will be reprising his role or not.
Fantastic Four
We had an inkling this was coming ever since Disney bought Fox. Still, it's nice to get official confirmation. Spider-Man's Jon Watts was directing the new Fantastic Four movie, though he's since dropped out. No cast members have been announced yet for Marvel's First Family.
A new Avengers movie
Not to be confused with New Avengers (though that could certainly make its way to the MCU beyond Phase 4), a new Avengers movie, or at least a new Avengers team, has been briefly touched upon by Kevin Feige. Feige told MTV News (opens in new tab) that "[The Avengers] will be a very different incarnation of the team with some people you've already met and some you haven't met yet."
No word yet on anything other than that, but expect Earth's Mightiest Heroes to make their presence keenly felt after 2022.
Captain America 4
Captain America 4 is reportedly on the way. While not confirmed, THR say The Falcon and the Winter Soldier showrunner Malcolm Spellman is penning the fourquel, along with Dalan Musson, a staff writer on the series. Spellman, Anthony Mackie, and series director Kari Skogland have all played down the news. Since the news broke, though, Mackie has been officially cast in the lead role.
The fourth Cap movie will focus on Mackie's Sam Wilson after the events of The Falcon and the Winter Soldier made him the new Captain America. We can probably expect Sebastian Stan's Bucky Barnes to reappear in the movie, too –though Deadline say Chris Evans' rumored return is actually for a separate project entirely.
Marvel producer Nate Moore has revealed more about the movie. "I think, he's not Steve Rogers and I think that's a good thing," Moore told ComicBook.com (opens in new tab)'s Phase Zero podcast. "Because to me, this new Cap is Rocky. He's going to be the underdog in any situation. He's not a Super Soldier. He's not a hundred years old. He doesn't have the Avengers. What happens with this guy who announces publicly kind of, without the support, 'I'm the new Captain America.' What happens next? I think is fascinating because he's a guy. He's a guy with wings and a shield, but he is a guy."
He continued: "So, we're going to put him through the wringer and make him earn it, and see what happens when he is outweighed, outclassed, out-everything. What makes somebody Captain America? I'm going to argue it's not being a Super Soldier. And I think we're going to prove that with Mackie and Sam Wilson."
Nova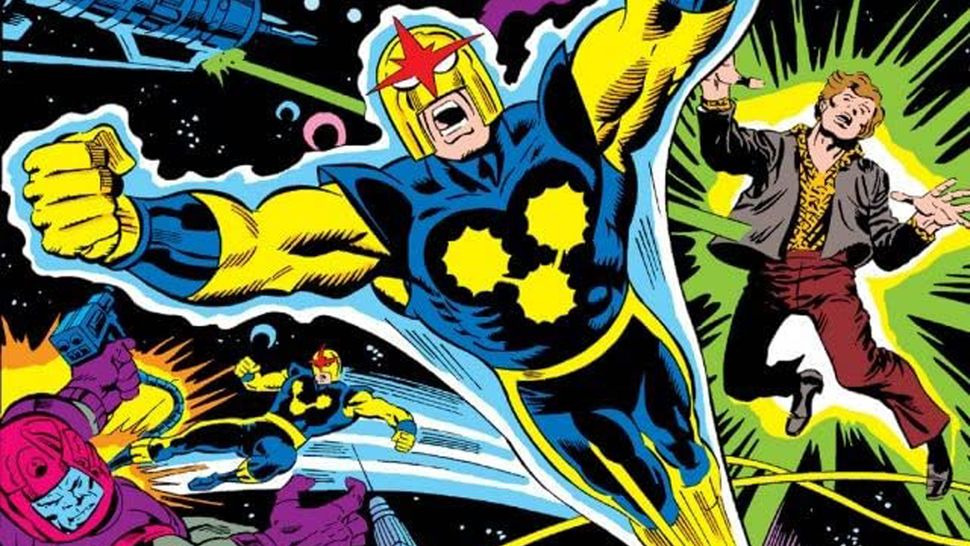 According to Deadline (opens in new tab), Marvel could soon be welcoming Richard Rider aka Nova to the MCU. Sources told the publication that Moon Knight writer Sabir Pirzada is on board to write but no word yet on whether it will be a series or a film. The comic book character first appeared back in 1976. He was introduced as part of the intergalactic police force called the Nova Corps.
Thunderbolts
By now, you might have noticed Valentina Allegra de Fontaine's attempts to put a shadowy team together. The likes of Florence Pugh's Yelena and Wyatt Russell's US Agent have all been in the firing line. The end result of Val's pursuit could be Thunderbolts, a film based on the comic book group that sees various Marvel baddies take on jobs for the government. Jake Schreier is currently set to direct the project, which has no casting news at the time of writing.
Daredevil
It's what we've waited years for. A new Daredevil series is in the works over on Disney Plus with Charlie Cox expected to return as Matt Murdock after his fan-pleasing cameo in Spider-Man: No Way Home. Matt Corman and Chris Ord are attached as writers/executive producers on the project, which is currently undated.
---
If you're after more deep dives into upcoming movies, check out our piece on all the new Star Wars movies and shows coming our way across the next few years.