A Lego BTS set has been announced by surprise today, and it features the K-POP band on the set of their 'Dynamite' music video.
If you've seen that, you'll know that it's pretty bright - so it's only appropriate that the Lego BTS set based on it is equally colorful. Actually, I feel like I've had a sugar overload just by looking at the promo images.
The kit is due to hit shelves alongside the best Lego sets this March 1 for $99.99 from the official Lego store (opens in new tab) (or £89.99 (opens in new tab) in the UK), and it comprises 749 pieces. Because it's an Ideas project, it came from the community - more precisely, Lego BTS was created by Josh (20, from Indiana) and Jacob (21, from New York). In the press release, Josh noted that "Jacob had the BTS knowledge, and he was able to direct my build in the proper way. I watched the music video over and over and tried to capture its essence in the Lego bricks. It was insane when the project went viral online overnight."
They're not exaggerating. According to head of Lego Product Group Federico Begher, "we knew it would be a hit and this was proved by how quickly they reached 10,000 views in the Lego Ideas voting. The BTS fans have already got behind the design and so it was important that we were as faithful to the original creation as possible. The set highlights creativity, passion and most importantly, fun! We can't wait to see the fans building and displaying it."
This isn't the only big Ideas success of recent months; back in January, the first official D&D Lego set was revealed. Chosen from a selection of concepts by the community, it'll arrive at some point in 2023 or 2024.
Here's a full breakdown of the Lego BTS Dynamite set: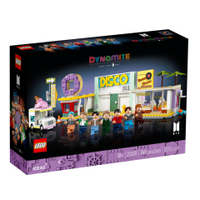 (opens in new tab)
Lego BTS Dynamite (opens in new tab)
Price: $99.99 / £89.99
Release date: March 1
Pieces: 749
Minifigs: 7

This Ideas set features each member of BTS along with a backdrop of buildings from the Dynamite music video (the donut shop, disco, music store, and ice cream truck). At more than 700 pieces it's a moderately-sized build but is stuffed with nods to the band and the price is roughly on-par with other Ideas sets like Seinfeld or the Icons Queer Eye kit. Naturally, all members appear too: you're getting mini versions of RM, Jin, SUGA, j-hope, Jimin, V, and Jung Kook.
More Lego
If you want to see what else is out there, particularly at a discount, don't miss the Lego deals our price-matching software has rounded up below. These are constantly being updated, so you'll always see the lowest available price.
---
It's been a busy week or so for Lego fans. New Lego Guardians of the Galaxy Vol. 3 sets have been revealed, and a Lego Rivendell set was just announced as well. Now all we need is some additions to the best Lego Star Wars sets…