The deals keep on coming. We've recently been treated to a whole host of reduced prices for several PS5 bundles – including, Sony's current flagship one featuring God of War Ragnarok – however, the latest offer is easily the best we've seen this year. It might actually be one of the best PS5 bundles we've seen since the console launch.
BT is currently offering a limited-time deal for a PS5 disc console with God of War Ragnarok and a free PS5 DualSense controller (Midnight Black) for £499.99. When purchased separately, the standard price of a PS5 is £479.99, God of War Ragnarok is £69.99 and a PS5 DualSense controller is £59.99, meaning this represents a huge £109.98 saving (18%). This is the cheapest price we've ever seen for this bundle – and that's not even taking into account the free controller.
It's always worth checking out the latest PS5 price and bundles on the market but we can assure you that this one won't be beaten for some time. In fact, it's so good that BT is only offering one per customer. No BT account is required either, just add the bundle to your basket through the BT Store and the DualSense free deal will be offered to your purchase. Delivery is expected between one to three working days.
Today's best PS5 deal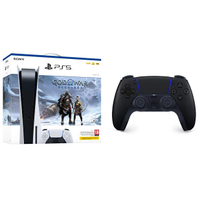 PS5 + God of War Ragnarok + free PS5 DualSense controller (Midnight Black)| £609.97 £499.99 at BT
Save £109.98 - One of the best PS5 deals we've ever seen. Not only does it give you a PS5 disc console with God of War Ragnarok, one of the best games of the last 12 months, but it throws it also throws in a free PS5 DualSense controller worth £59.99. Just add the bundle to your basket and the offer free controller is made available to you.
The PS5 has sold more than 32 million units since launching in November 2020. We were big fans since day one with our PS5 review stating that: "The PS5 is already doing everything right. By gambling on a complete redesign of its hardware, controller, and key UI features, PlayStation has unlocked the next-generation of gaming."
It's a great time to pick up a PS5 console with Star Wars Jedi: Survivor set to launch on April 28th, 2023. The upcoming action-adventure set in a galaxy far, far away is next-gen only, so unless you have a PS5, Xbox Series X/S or PC, it won't be available. Suicide Squad: Kill the Justice League, another next-gen game where you play as Harley Quinn, Deadshot, Captain Boomerang and King Shark, will also launch in May.
More of today's best PS5 deals
Prefer to pick up the console on its own? Here's where to find all the latest PS5 restock updates, so you can upgrade to next-gen without any fuss. On top of this, we've rounded up all the best cheap PS5 game sales alongside the best PS5 accessories, so you have everything you need for the next-gen console.