We're now into Week 2 of Fortnite Season 7, which means there are already two Fortnite Snowfall Challenges you could have completed if you've been cracking through the Fortnite Battle Pass Challenges, opening up some hidden Battle Stars and a hidden Banner for collection. If you're not sure how this type of challenge works by now, here's what you need to know - whenever you manage to complete all seven of the Battle Pass Challenges for the same week, you'll receive a new loading screen that includes a hidden clue. If you figure out where that clue is pointing and head to that location, you'll uncover either a Tier's worth of bonus Battle Stars or a new Banner to customise your flag with.
Remember - you most complete the Snowfall Challenge for the relevant number of weeks and unlock the loading screen before the hidden reward will appear for you, so don't just dash to the locations detailed here before you've put in the work or you won't find anything of note there.
Fortnite Snowfall Challenges rewards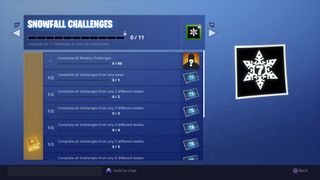 There's been a big change this season to how the Snowfall Challenges rewards unlock, which should make it easier for players to get the exclusive skin. This time around, you need to complete a total of 60 Weekly Challenges in order to unlock the legendary outfit, rather than having to complete all of the challenges for a certain number of weeks. We don't know what the outfit will be yet, but you can be sure that it will have a frosty theme to it. Complete all of the challenges from all ten weeks and you'll receive the reward item, which is a Season 7 snowflake banner.
Complete Snowfall Challenges for two weeks and you'll get this loading screen, featuring new character Lynx working at a bank of computers - one of which has a Banner on the screen. To find this location, we need to head over to Frosty Flights once again...
Glide towards the landing strip, then aim for the most eastern of the red buildings near to it.
Head inside then go up the stairs to the next floor, where you'll find the workstation pictured previously. Approach it and the Banner should appear, so collect it then sweep the building as there are a ton of chests to be found here.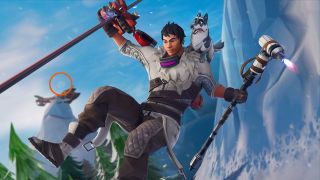 Beat the Snowfall Challenge for one week to receive this loading screen, showing new character Zenith riding a zipline. Look in the background and you'll spot a hidden Battle Star hovering over a submarine (!) perched on a mountain. If you completed the Week 1 challenges you'll have danced on top of it already, so head to the area southeast of Frosty Flights.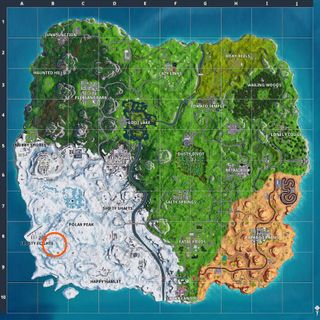 As you glide in over the frozen area, you'll spot the out of place submarine toward the airfield.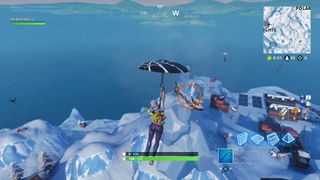 The hidden Battle Stars will appear when you land on top of the sub, so grab them and get out of there fast - between other players and planes flying around, this is a real danger zone!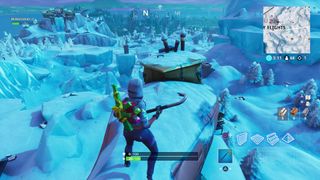 Want to take a break from all the challenges? Then find out how Fortnite's spectator cam messes with your brain to make you like your enemies.