As explained in GR's FIFA 19 review, EA has rung the changes this year – meaning you're probably searching high and low for tips that immediately bring you up to speed. You've come to the right place. In the coming days we'll have guides to career mode, player ratings and making coins in Ultimate Team, but here the focus is on essential gameplay stuff, in particular formations. Oh alright, I'll sneak a critical FUT one in too. It is the biggest mode in sports, after all.
1. Timed Finishing is hard - so practice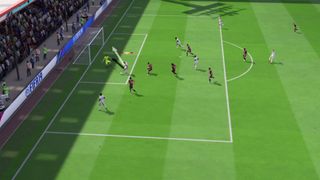 Timed Finishing, which dramatically changes the way you hit a moving ball (or a stationary one, for that matter) is one of the hardest-to-master additions to join the game in years. Pressing shoot as a ball comes in, and then shoot again as it's released triggers a Timed Finishing shot. Like the pros themselves, the only way to get good is to put some hours in on the training pitch. The Advanced Shooting and Attacking Scenarios Skill Games are godsends for helping you get to grips with the timing, particularly the latter with its emphasis on match-style scenarios. If all else fails, keep the FIFA Trainer on for the first week or so until you get into the, ahem, swing of things.
2. Game Plans are the difference between winning and losing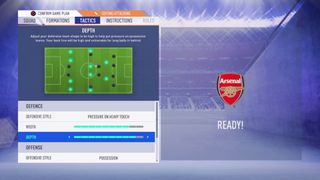 FIFA has taken a leaf out of Pro Evo's book with Game Plans – and it dramatically changes how you approach (and, crucially, adapt) to each game. Before you even step out onto the pitch, you're going to want to get waist-deep in the cacophony of choices available to you on the Team Management screen. Tap L2 and you can edit every single aspect of your game. Each flick of the d-pad in game – from Ultra Defensive to Ultra Attacking – can now be tweaked in intricate detail. Want to shut up shop when 1-0 up? Narrow the width of your team considerably and select Drop Back in the formations screen and set it to Defensive for use in-game. Voila. You have five plans for you to use at any time, no matter the situation.
3. There's no need to invest in pace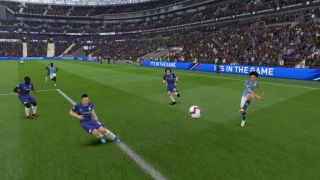 It can be tempting, especially in the first few weeks, to throw all of your hard-earned coins at snapping up some pacey players for your FUT team – especially if you've taken advantage of our FIFA 19 web app guide. But, praise be to the EA gods, pace is no longer the be all and end all. Instead, you'd do well to focus on how you want to play. The days of punting an aimless through-ball into the channels for a speedy winger to run on to are all but over, so scour the transfer market for more physical players with sleight-of-foot, especially as the Active Touch System now gives extra focus on those with better dribbling and physical stats than outright pass. That's not to say pace is toothless this year – it just isn't as effective as it used to be.
4. Get a second FUT squad ASAP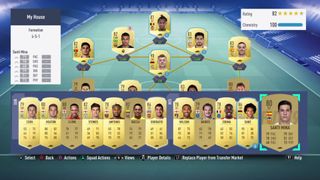 Want to get the edge in the early days of Ultimate Team? Get those coin boosts bought and play Single Player games until you have enough to buy a second basic gold squad. Now, you'll never have to worry about fitness cards again. Place your first-team squad on the bench and reserves of your second squad and vice-versa. Then, alternate between playing online with your first XI and offline with the second-string squad, and you'll find that no one's fitness will ever drop. It's the perfect foundation for you to build up some coins early doors without having to worry about taking morale (and fitness) sapping losses.
5. Formations 101: Use 5-2-3
Whether you're playing Ultimate Team or Career Mode, you'll soon find a pattern emerging on FIFA 19 pretty quickly: the wide channels are left so far open. It may not be pretty – or particularly sportsmanlike – but it's also worth exploiting. That's where the 5-2-3 comes in. It gives you the advantage of overloading each wing with two players at all times, while still maintaining a solid base in midfield. For extra help, whack up the width meter on both Defence and Offense under Game Plans. Also, moving Players in Box up to the seventh or eighth notch will always ensure someone's waiting to take advantage of those crosses you'll be bombarding the opposition with.
6. Formations 101: Struggling in defence? Try 4-5-1 Flat
It's not glamorous but sometimes you've got to unleash your inner Tony Pulis to get things done. In previous years, you'd be hard-pressed to work with such a defensive formation. This year, it's not only a viable option, but almost a necessity at times thanks to how you're allowed to frustrate the opposition by digging in.
Here's how to do it (and if you're worried about being ultra-negative, you can always have a backup game plan to be more expansive on-the-fly):
Defensive Style: Drop Back
Width: 2/10
Depth: 3/10
Offensive Style: Possession (not Long Ball, as logic might dictate; it only makes your team more fractured and isolated)
Width: 4/10
Players in box: 3/5
Corners and Free Kicks: 3/5
Specific player instructions should be as follows: CBs set to conservative interceptions, one CM set to Get Forward, while the rest should be left as normal. Your striker should also have False 9 set under Attacking Runs so they'll always be available as a quick passing option.
7. Formations 101: 4-2-2-2 is your best friend when chasing a game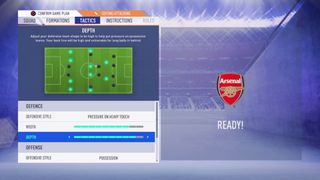 Sometimes you just desperately need a win, there's no two ways about it. But when you're down and needing to rush passages of play, it can be pretty disheartening. That's where 4-2-2-2 comes in. Having each of your attacking midfielders set to free roam can really cause havoc for the opposition, as you're essentially playing a 4-2-4, while still maintaining enough defensive rigidity so that you'll never truly get caught on the counter.
For an extra advantage, I've found that – especially offline – using the Defensive Style 'Pressure on Heavy Touch' can reap real rewards. The AI is still pretty green when it comes to being put under any real stress. The real kicker for this formation, though, comes in its flexibility: you can mould the attacking and defensive instructions to how you want to play, you'll just have the benefit of having an extra man over at all times.
Looking for more FIFA help? Then get the lowdown on FIFA 19 The Journey rewards and ending: what do you get for finishing each chapter?