Sony recently announced that PS5 stock issues were over, and they weren't exactly wrong. We've been seeing these consoles flying onto the shelves over the last couple of weeks, and holding their position for longer than ever before. Just long enough, it seems, for some PS5 deals to finally emerge.
If you're keen to pick up some of the first savings we've seen on the current-generation console, we'd recommend heading straight on over to ShopTo. There, you'll find the God of War: Ragnarok bundle sitting at the (pretty much) regular RRP of £539.85. Not only is that a whole 15p off the RRP (we told you it was good), but there's also a sneaky £20 gift card (opens in new tab) included here as well. That leaves us with the best-value PS5 bundle we've seen so far.
This isn't the first time ShopTo has taken a leap with its PS5 deals. We previously saw a similar offer sending punters home with the same God of War Ragnarok package and a £10 gift card over the holiday season. PS5 stock must be flowing, then, because those who held out can now enjoy double the savings. Considering ShopTo also offers plenty of discounts on the latest and greatest PS5 games, there's plenty to sink that coupon code into.
Of course, if you're not interested in picking up a bundle, there are plenty of standalone consoles up for grabs right now. We'd recommend heading to Currys (opens in new tab) where you'll find the PS5 available for its standard £479.99 RRP. You'll find more information about the ShopTo offer down below, and plenty more PS5 deals on a range of accessories further down the page.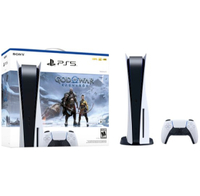 (opens in new tab)
PS5 | God of War Ragnarok | £20 gift card | £539.85 at ShopTo (opens in new tab)
Not only does ShopTo have the God of War Ragnarok bundle on the shelves, but it's had to step up its game with the wave of standalone consoles we're seeing at the moment. That means you can score yourself a £20 gift card on top of your order here - that's the best way to get the highest value for your money right now.

More of today's best PS5 deals
If you're after more discounts on some of the best PS5 accessories on the market, look no further. Our price comparison technology is constantly scouring the web for the lowest prices on some of our favorite gadgets, and bringing you all the latest PS5 deals just below - updating every half hour.
If you're looking to take things to the next level, we've just had our hands wrapped around the new DualSense Edge (opens in new tab) controller. Or, for more choice, check out the best PS5 controllers on the market right now. To nail that audio, we'd also recommend taking a look at the best PS5 headsets available as well.