Dead Island 2 and Star Wars Jedi: Survivor headline the latest pre-owned PS5 sale at GameFly. With these games topping out at $60 or $70 when bought new, saving nearly 50% on that MSRP is going to come in handy for anyone looking to keep that bank balance intact. These are just our top picks, though, there are plenty of titles taking part in today's PS5 deals - we just rarely see recently released games of this caliber taking such heavy price drops.
A previously played copy of Dead Island 2 comes in at just $29.99 right now - $30 away from the $59.99 MSRP and $5 off the usual $34.99 GameFly second hand price. Considering we've never seen a new copy go below $68, that's a stunning saving. That's the discount leading the pack right now, but Star Wars Jedi: Survivor is looking pretty good at $39.99 (MSRP new $69.99) as well.
Of all these PS5 deals, Dead Island 2 has us the most excited. That's an incredible discount on a long-awaited recent release, proving that buying used can save you some serious cash. After all, it's going to be a long time before new copies start turning up at these kinds of prices. You can browse the rest of the sale direct at GameFly, with names like Aliens Dark Descent, Lego 2K Drive, and Forspoken also taking some nifty price drops.
You'll find all these offers just below and plenty more PS5 deals further down the page.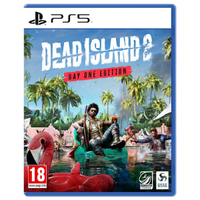 Dead Island 2 | $69.99 $29.99 at GameFly
Save $30 - You're saving $30 on Dead Island 2 by opting for a used copy rather than new. That's excellent considering this title hasn't dipped below $68 when bought new. This is a blockbuster recent release, so don't expect a $30 sales price on a new copy any time soon.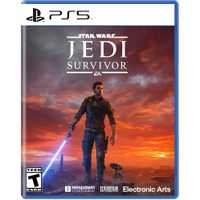 Star Wars Jedi: Survivor | $69.99 $39.99 at GameFly
Save $30 - We've only ever seen Star Wars Jedi: Survivor dropping its MSRP during major sales events like Prime Day before this - and never down to a $39.99 position. You're picking up this title pre-owned, but saving $30 in doing so.

These are both excellent games. In our Dead Island 2 review we called its gory violence "zombie hacking at its purest". You'll be hacking, slashing, and now trapping your way through the streets of Beverly Hills, liquifying, burning, and crunching through zombies all the while. It's dumb, yes, but it's fun dumb. Star Wars Jedi: Survivor is a little more serious, but we loved the heartfelt storyline and overall improvements over Fallen Order. Fans of the original will love these boosts to combat and movement, as well as the sheer scale of the new title.
More of today's best PS5 deals
If you're after more cheap PS5 games, we're rounding up all the latest prices on the recent releases just below. Our comparison charts whizz through all your favorite retailers to find the latest PS5 deals every half hour.
Of course, we're also rounding up all the best PS5 games on the market right now, as well as all the best PS5 accessories to enjoy them with. If you're looking to make the most out of those zombie bones breaking, though, we'd recommend checking out the best PS5 headsets we've tested so far.