Everyone is well aware of the quality that comes with Razer products. That's why we're always pleased when we see a sizable discount like the one on this Razer Blade 14 gaming laptop, which drops the price by a ginormous $1,000.
Offered by Razer itself, the Razer Blade 14 with an RTX 3080 graphics card can be purchased today for $1,799.99 (opens in new tab). With the gaming laptop typically costing $2,799.99, that huge 35% discount makes this deal the cheapest for this particular build we've ever seen. So what specs are you getting for your money here? Well, aside from the superb RTX 3080 graphics card that sports top 4K gaming capabilities, you also take home a 1TB SSD, 16GB RAM DDR4, an AMD Ryzen 9 5900HX processor and a free update to Windows 11.
An RTX 3080 gaming laptop usually comes in at around the $2,000 mark, so anything under is always worth considering. As we're constantly comparing the best gaming laptops on the market, you can be assured of the Razer 14's great value. Free delivery is available between March 6th to 8th if you order today.
Today's best gaming laptop deal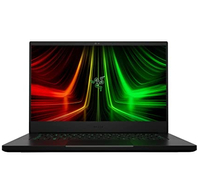 (opens in new tab)
Razer Blade 14 | $2,799.99 $1,799.99 at Razer (opens in new tab)
Save $1,000 - A huge 35% reduction drops the price of this sleek 14-inch QHD Razer Blade 14 by a grand. This is a great price for an even greater gaming laptop. Features: AMD Ryzen 9 5900HX Processor, 1TB SSD, RTX 3080, 16GB DDR4, Windows 10 (free update to Windows 11)

During our Razer Blade 14 review, we stated that "those looking for a premium gaming laptop that will crunch through anything, while also offering a great machine for home and office use, need look no further". Specifically, its tremendous component configuration and tangible benefits that come with the Ryzen CPU, alongside its brilliantly compact and quality design make it a winner.
We tested the Razer Blade 14 across a variety of games to see how it performed. We found that it ran Red Dead Redemption 2 close to 60fps in a 1440p resolution with only some minor adjustments needed to push it over that mark, making it more than a formidable machine. The only major downside noted at the time was the price, launching at the $2,799.99 price we mentioned prior. Now with a $1,000 reduction, we'd say this laptop offers some incredible value, so there's no excuse to not pick one up.
More of today's best gaming laptop deals
---
Looking for more Razer products? We've rounded up all the best Razer laptops as well as all the best Razer headsets in one place, so you can find the best for less. Alternatively, we've put together a guide on the best gaming PCs for 2023 if you fancy something more powerful.