Hasbro is bringing back the Marvel Legends Star-Lord helmet ahead of the final outing for this version of Guardians of the Galaxy, and it's set with light and music effects.
Although we've seen a Marvel Legends Star-Lord helmet before, that one is long, long out of stock and is almost impossible to get your hands on for a reasonable price - it launched over five years ago. As such, a new version is overdue now that Guardians of the Galaxy Vol. 3 is on the horizon... and Hasbro just happens to have obliged with a fresh take due to launch this March 31. However, all the good stuff is still there; besides being a 1:1 scale replica with screen-accurate weathering, it has 'Cosmic Light & Sound FX.' In other words? You can press a button to trigger audio based on the movie, and the lenses light up with that iconic red glow.
This update is available to pre-order now from Hasbro Pulse for $131.99 (opens in new tab) / £139.99 (opens in new tab), or from hobby retailers. We suspect the replica will be popping up on Zavvi shortly, for example - it's usually the go-to source of Hasbro gear.
So, does this one do anything differently compared to the previous model? The press release and the product listing doesn't call out any specific deviations, but it seems as if the built-in speakers of that old helmet have been ditched. Otherwise, it's very much the same as its predecessor - this is more of a straight re-release of a retired product than remaking the wheel. Which isn't a criticism, of course; that last version was awesome, so it's nice to see it back on shelves again.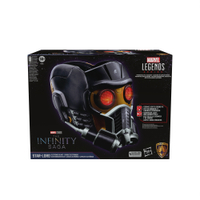 (opens in new tab)
Marvel Legends Series Star-Lord's Helmet | $131.99 at Hasbro Pulse (opens in new tab)
Available March 31 - This fresh take on Marvel Legends Star-Lord's Helmet is a 1:1 scale replica of the on-set prop. While I've only seen it via Hasbro Pulse at the time of writing, it should be available at other hobby retailers shortly. I'd recommend keeping an eye on Zavvi, because it always gets new Hasbro products in quick and has been known to knock prices down pretty generously after launch.

UK price: £139.99 at Hasbro Pulse (opens in new tab)
---
It's been a busy few days for cool franchise merch; new Lego Indiana Jones sets were just unveiled alongside our first look at the Sea of Thieves board game, and Lord of the Rings tabletop RPG The One Ring is getting its first dedicated adventure book later this year.